Sansa Stark's Hair Game of Thrones Season 7 Premiere
Game of Thrones Fans Noticed an Insane Detail About Sansa Stark's Hair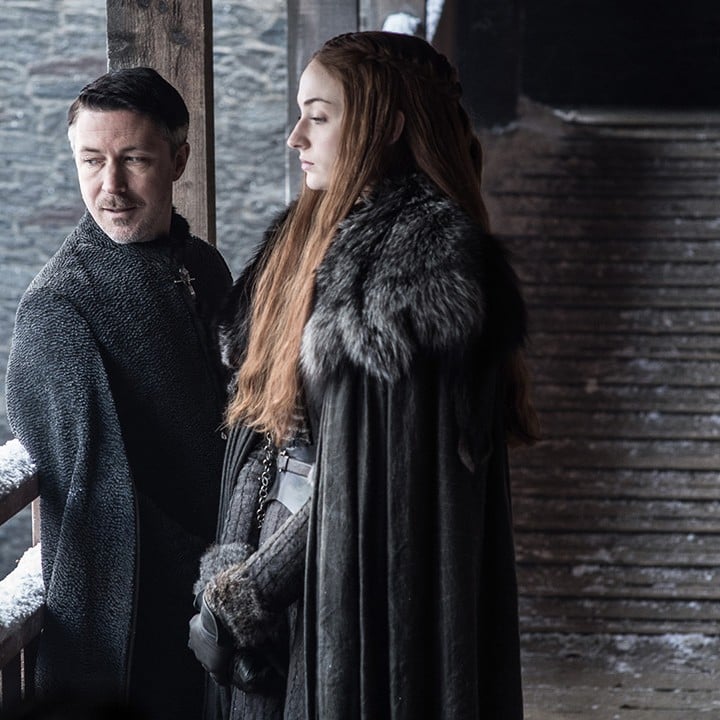 There was so much to absorb from the season seven premiere of Game of Thrones, you might've missed a key moment: Sansa's hair. No, she didn't wear a killer accessory á la Daenerys Targaryen, but she instead hinted at a possible plot development with her half-up look.
In a scene where she warns Jon Snow about how dangerous Queen Cersei Lannister can be, he says, "You almost sound as if you admire her." Sansa replies, "I learned a great deal from her." Fittingly, Sansa's braided style seriously channeled Cersei Lannister's hair looks from earlier seasons, as several Twitter users noted:
Is it me, or Sansa's hair looks just like Cersei's some seasons ago?#GameOfThrones

— Elvis (@ElvisPineWriter) July 17, 2017
Sansa certainly "admires" Cersei. Sansa's hair this season matches Cersei from season 3. pic.twitter.com/fJmkhjgX4i

— Mkbean (@mkbeanbuilds) July 17, 2017
That's super ironic that Jon said that Sansa must admire Cersei bc I was just saying to myself that her hair is serving Cersei szn 1 #GoTS7

— Dorothy Zbornak (@unprECEded) July 17, 2017
Also, Sansa is really channeling early Cersei with her hair style. #GamesOfThrones

— Andrea DeCamp (@andreamdecamp) July 17, 2017
This detail is subtle, but it could signal that Sansa wants more power and may be a threat to Jon Snow, the King in the North (and her half-brother . . . as far as she knows).
Sophie Turner herself has said her character's hair is a clever plot device. "She's a very silent character . . . you don't really know what she's thinking," Sophie told POPSUGAR back in June. "The only real way we knew what she was taking in and learning from these people [is] because she would mirror Cersei's hairstyle or Margaery's hairstyle. . . . It's really interesting to see that sort of physical representation of her adapting to each situation."
If this Cersei-like hairstyle is any indication of how Sansa's storyline is going to this season, it looks like there'll be trouble in Winterfell.