A Guide to Angelina Jolie's Meaningful Tattoo Collection
Angelina Jolie is the queen of body art. OK, there are a lot of other stars who have more ink than the actor, but Jolie definitely knows her way around a tattoo parlor and isn't afraid to get a bold design. In fact, she has so many tattoos that many of us have lost count. In early 2016, the total was up to about 17 designs for the "Eternals" star, and those are just the ones that fans know about (and can see). However, she recently added two more pieces to her collection and her tattoo artist gave fans a cheeky sneak peek. Spoiler alert: the placement is super trendy.
On Aug. 22, Jolie's artist Mr. K from Bang Bang Tattoos posted a picture commemorating the moments after completing the designs — one on each of her middle fingers. "@angelinajolie Still can't believe that I actually grabbed her hand and tattooed her," the caption read, alongside the blurred-out designs (the completed ink is supposed to be revealed at a later date). After asking fans what they thought she got, the artist quickly noted in the comments that the design is "NOTHING related with Brad Pitt." They were later revealed to be two daggers.
Since she loves her ink, we rounded up a handful of the tattoos Jolie has gotten over the years, as well as what they mean. As you scroll through this gallery, you'll see that some of her body art has been done overseas — she has a soft spot for Cambodian and Thai-inspired designs — and many have deep, culturally-significant ties. A few are for her family, and others are mottos that Jolie chooses to live by. Read through to see what each of her designs mean and why she got them.

— Additional reporting by Ariel Baker
01
Angelina Jolie's Hand Tattoos
Jolie's tattoo artist Mr. K gave fans a sneak peek of her latest ink on Aug. 23, and the following day he revealed the design: two geometric abstract daggers on the inside of her hands. The design was a combination of dots and lines that cover the lower two joints on her middle fingers.
02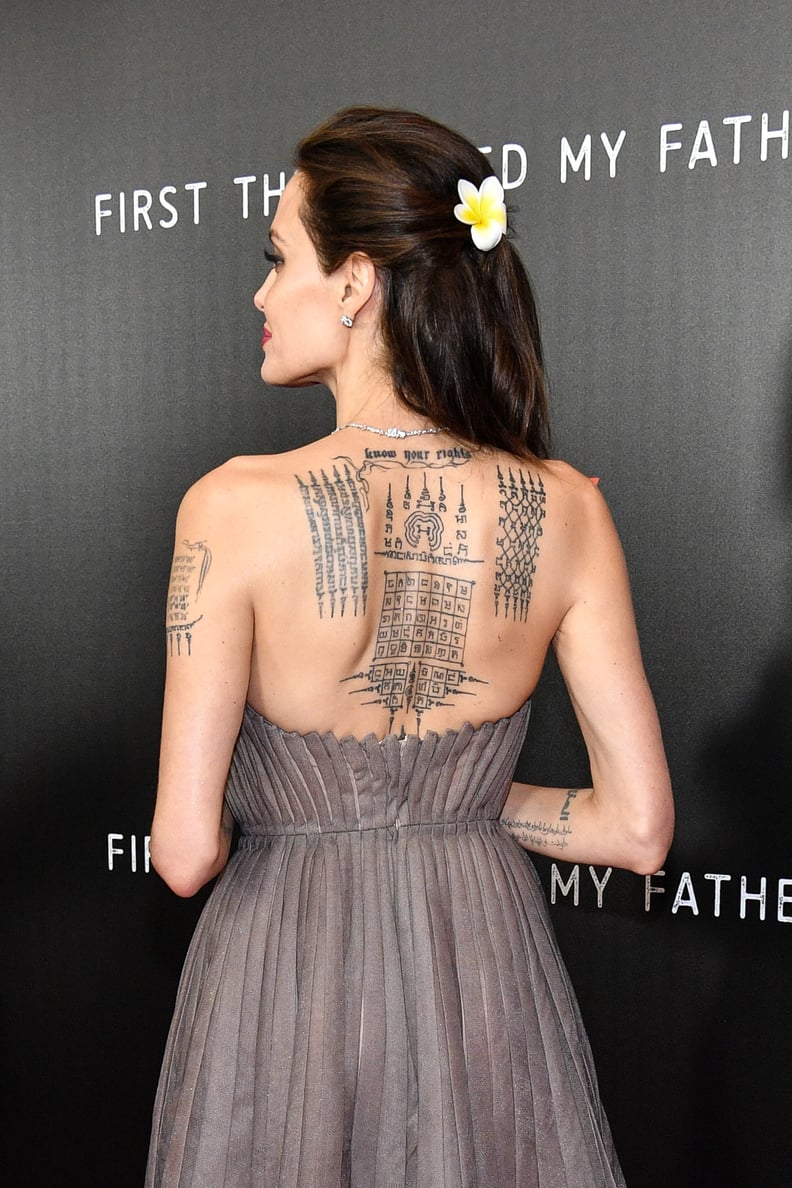 Angelina Jolie's Intricate Back Tattoos
In 2016, Jolie added three new tattoos while in Thailand, written in yantra style, to her back. The designs cover part of her spine and right shoulder and are the Buddhist blessings for peace, love, and a prosperous life.
03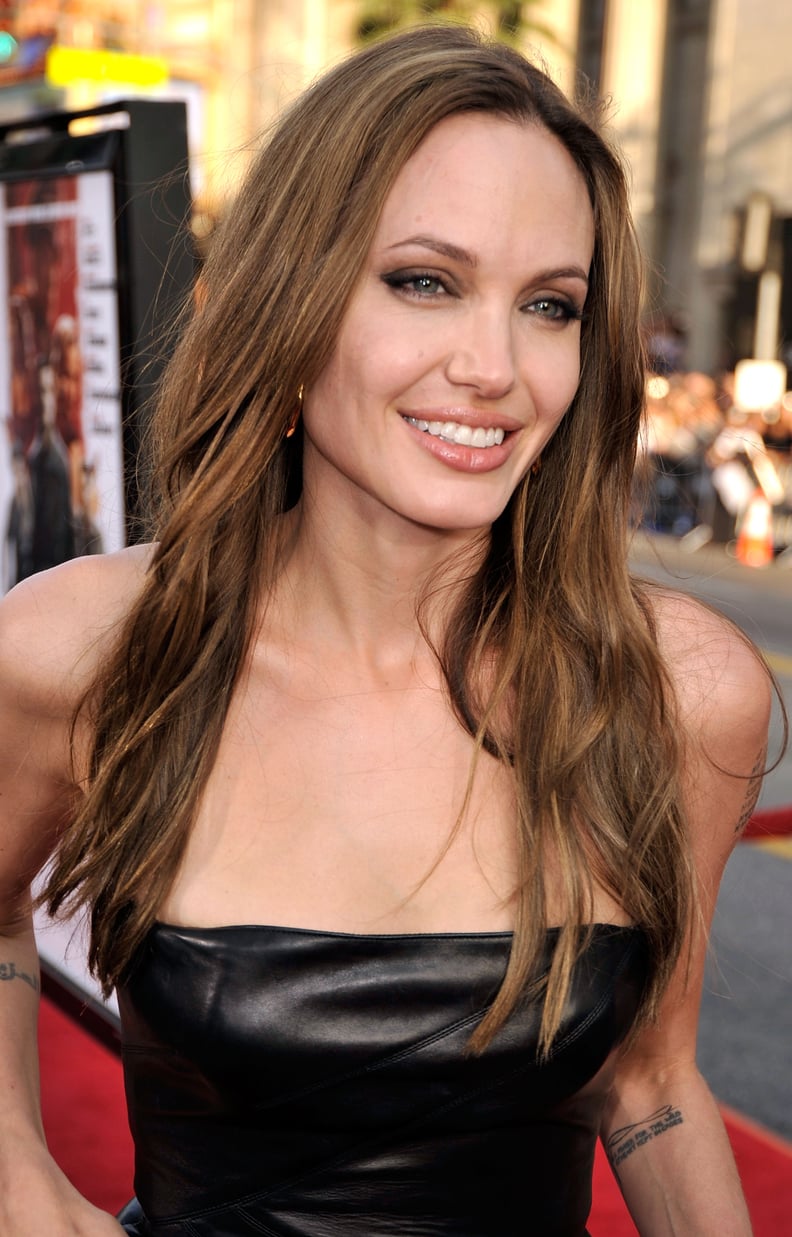 Angelina Jolie's Tennessee Williams Tattoo
The quote "A prayer for the wild at heart, kept in cages" by Tennessee Williams adorns the actress's inner left arm. She previously revealed that her mom went with her to get this design and that it isn't exactly about herself, but rather it's about everyone she knows.
"I don't think I know one person who I think can be completely who they are every second of the day, who feels completely free," she told "Rolling Stone" back in 1999. "So it's kind of a prayer for everybody to find their happiness, to break out."
04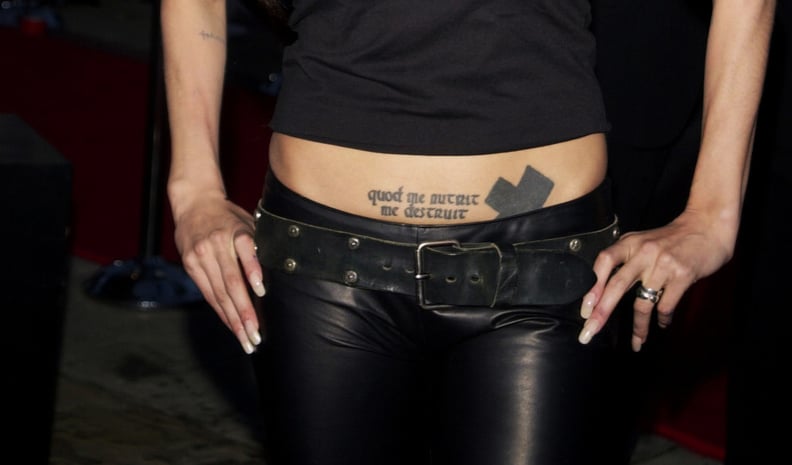 Angelina Jolie's Cross and Latin Motto Tattoo
Jolie has not one but two tattoos above her bikini line on her stomach. The first is a giant black cross, which covers an old, small, blue-tongued dragon tattoo that she had done in Amsterdam. She reportedly got the cross in 1995 before marrying Jonny Lee Miller.
Next to the cross, there is a Latin phrase meaning, "What nourishes me also destroys me."
05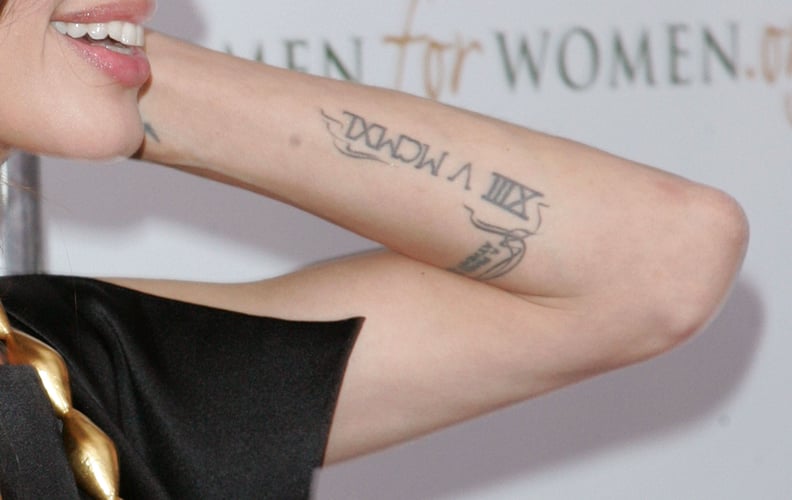 Angelina Jolie's Roman Numeral Tattoo
The producer, writer, and director has had the Roman numeral for 13, aka "XIII," inked on her left arm for years, because she doesn't believe in superstition. She eventually added "V MCMXL" next to the numeral to represent the date when Winston Churchill gave his famous speech (May 13, 1940) saying, "I have nothing to offer but blood, toil, tears and sweat."
06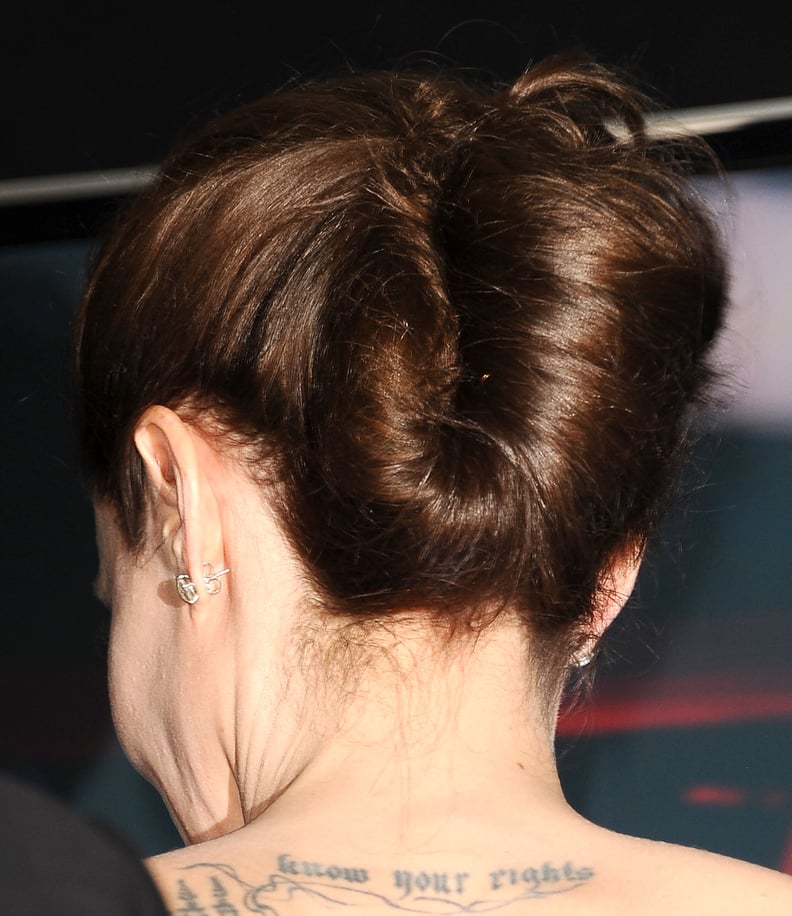 Angelina Jolie's "Know Your Rights" Tattoo
Jolie has the words "Know Your Rights" written in gothic lettering between her shoulders on the back of her neck. Not only is it an empowering statement to follow, but it is also the title of one of her favorite songs by The Clash.
07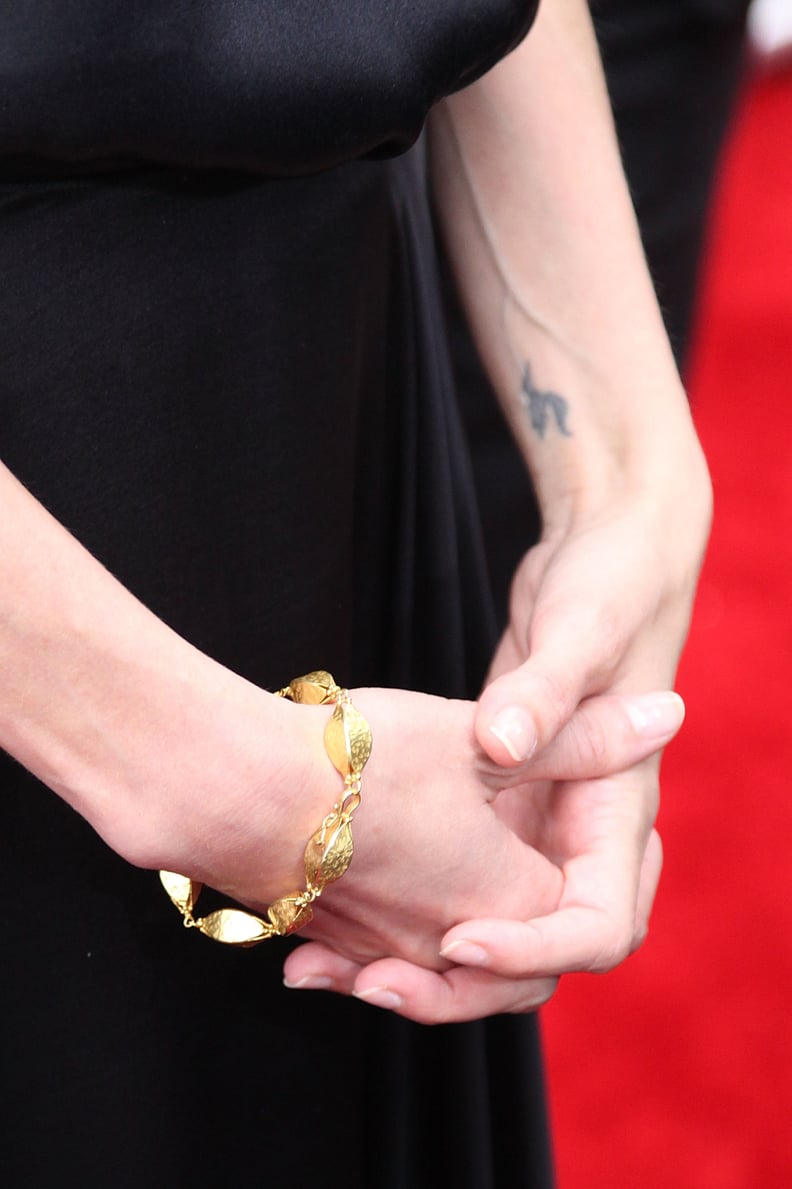 Angelina Jolie's "H" Tattoo
The star has an "H" in Rune style on her left wrist, which was allegedly added in honor of two of her loved ones. It is believed that those two people are her brother, James Haven, and her then-boyfriend, Timothy Hutton (whom she was dating when she got the ink in the '90s).
08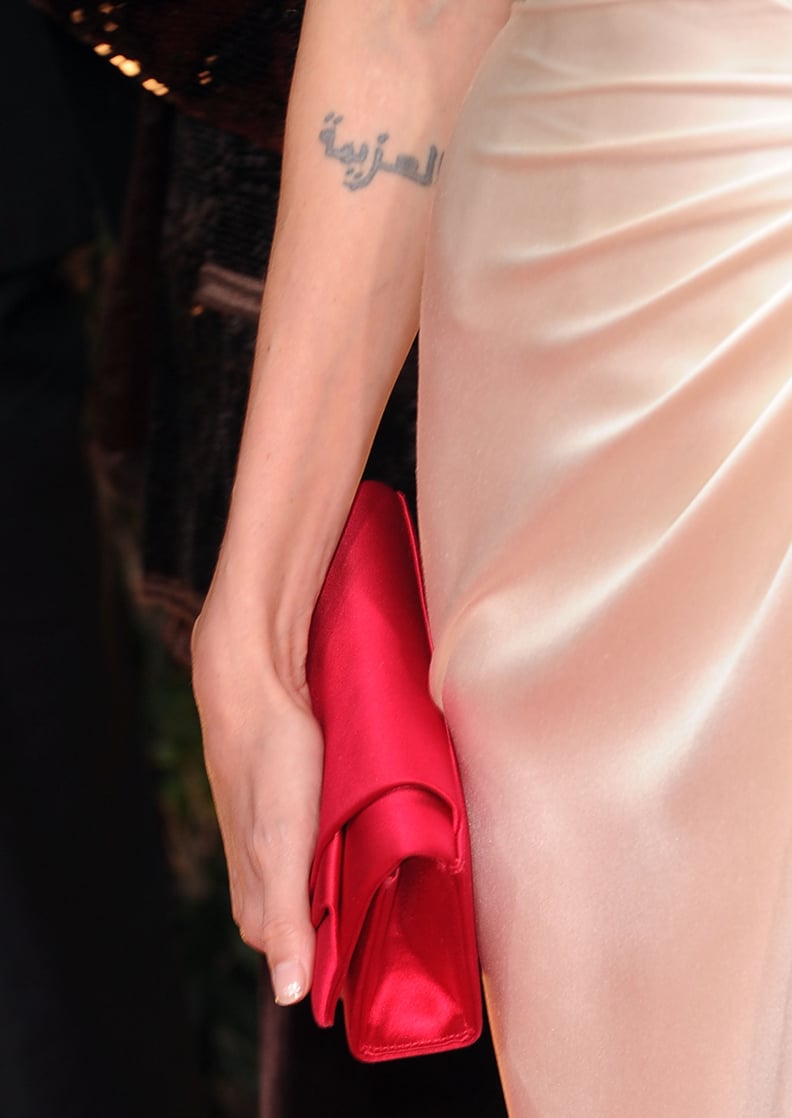 Angelina Jolie's Arabic Script Tattoo
This tattoo is one of Jolie's older ink design and means "determination" in Arabic.
09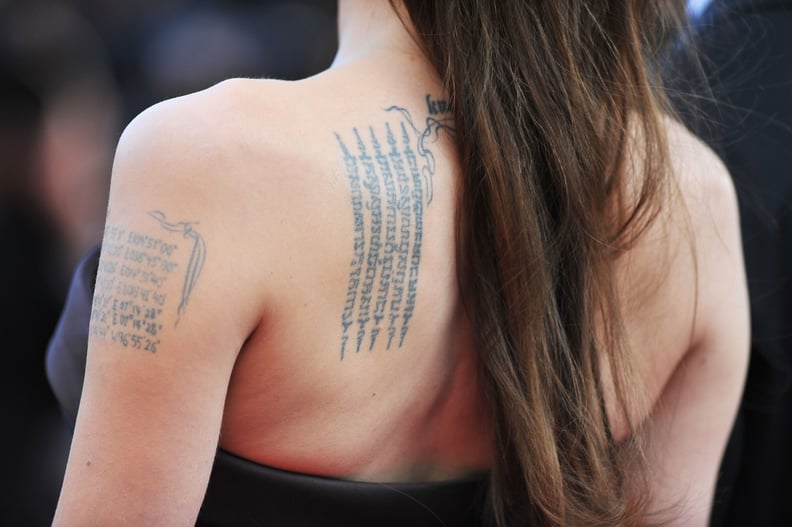 Angelina Jolie's Buddhist Pali Incantation Tattoo
The actor is no stranger to having Thai sayings or artwork put on her body, but this Buddhist Pali incantation might be one of the most intricate. It is written in Khmer script and was originally done to protect both her son Maddox and herself from bad luck.
Translated, the incantation reportedly means, "May your enemies run far away from you. If you acquire riches, may they remain yours always. Your beauty will be that of Apsara. Wherever you may go, many will attend, serve and protect you, surrounding you on all sides."
10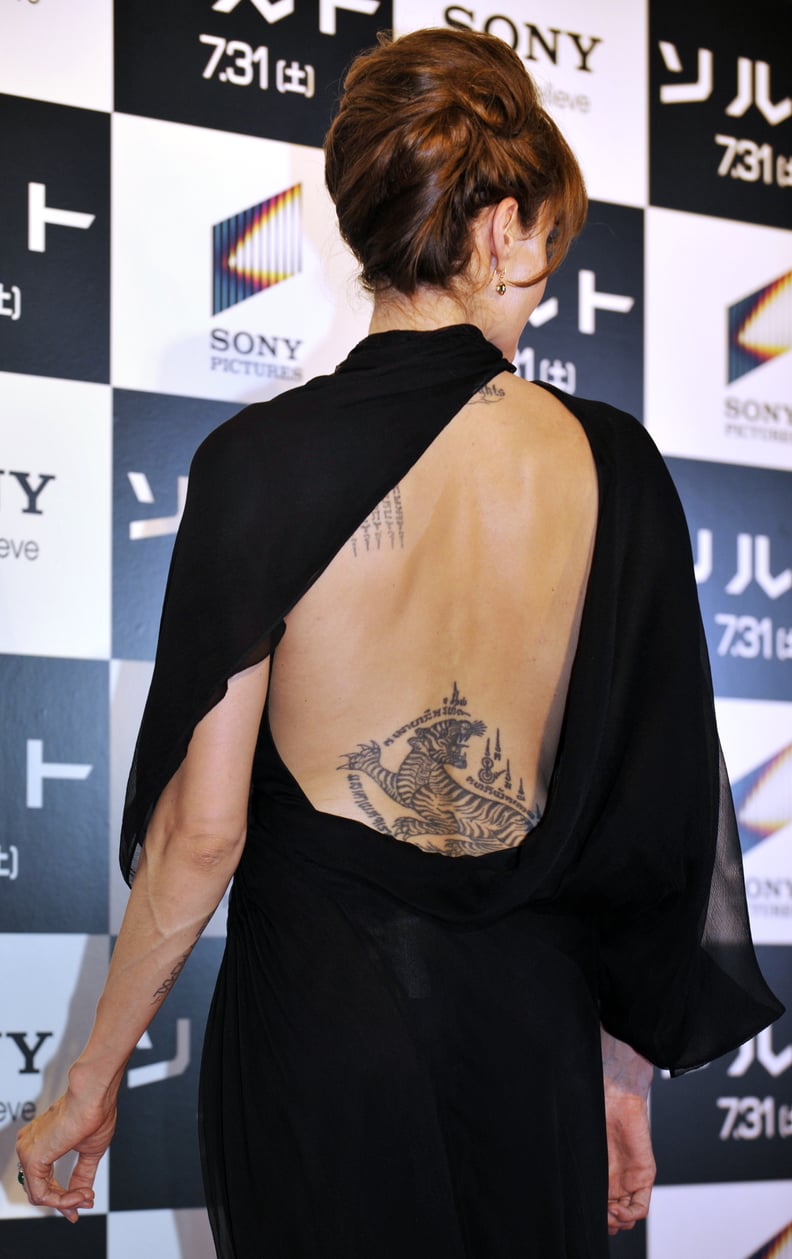 Angelina Jolie's Tiger Tattoo
Jolie might not be the girl with the dragon tattoo anymore, but she's definitely the one with the giant tiger. In 2004, Jolie had a 12-inch Bengal tiger tattooed on her lower back in honor of her Cambodian citizenship. She even had it done in the traditional Thai tattoo style, which involves a manual needle.
11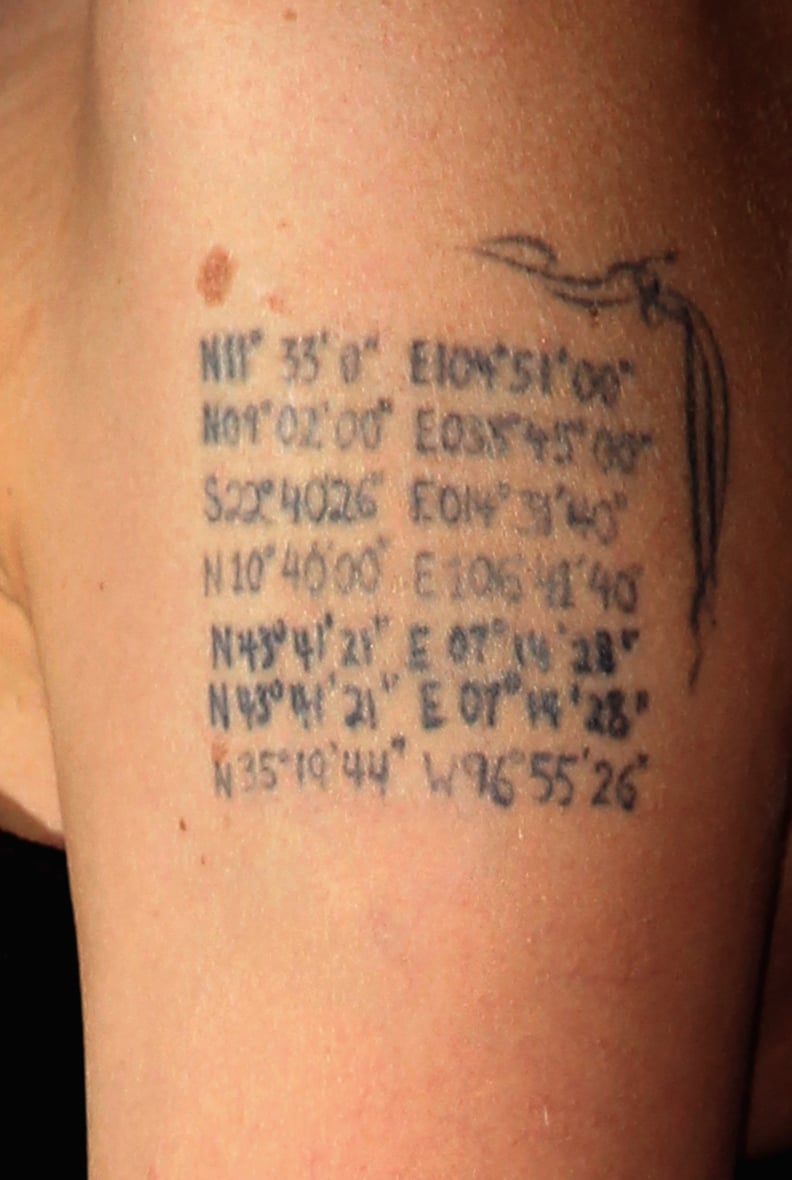 Angelina Jolie's Geographical Coordinates Tattoo
After getting her dragon tattoo removed, Jolie replaced the ink on her left arm with a series of geographical coordinates. Each one represents the birthplace of one of her children. In 2011, she added a seventh location to the tattoo for her now ex-husband Brad Pitt.
"Well if they know that it's latitude and longitude they would have figured out quickly that it was Brad's birthplace," Jolie told "Extra" about the coordinate. "It doesn't take much investigation to figure that one out. It's Shawnee, Oklahoma."
12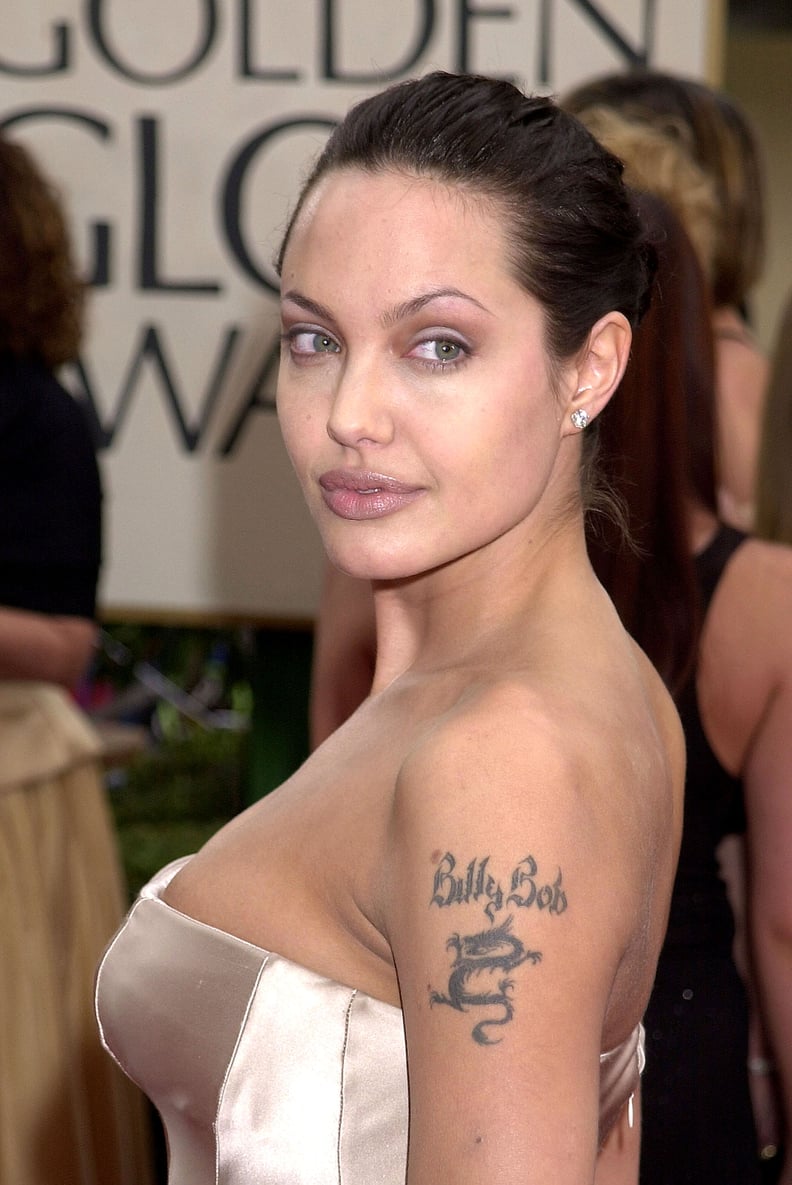 Angelina Jolie's Dragon Tattoo
This tattoo is one of Jolie's most recognizable and iconic designs, despite the fact that it no longer exists. In the early '00s, this Chinese-style dragon, which had her then-husband Billy Bob Thornton's name written on top, was very visible.
It was later replaced by another intricate tattoo all about her children. "I'll never be stupid enough to have a man's name tattooed on me again," Jolie said at the time of its removal.