Bet You Forgot About Angelina Jolie's Other Famous Flings
Angelina Jolie filed for divorce from Brad Pitt in 2016, and the news was met with millions of dropped jaws (including George Clooney's). While Brad and Angie's romance began on the set of Mr. and Mrs. Smith back in 2004, the stunning actress has a list of ex-lovers that includes Billy Bob Thornton, Colin Farrell, and model/actress Jenny Shimizu, whom she worked with on the movie Foxfire in 1996. New reports claim that the sultry star is having a low-key romance with a real estate agent, but we're looking back on who Angelina has loved (and lost) over the years.
01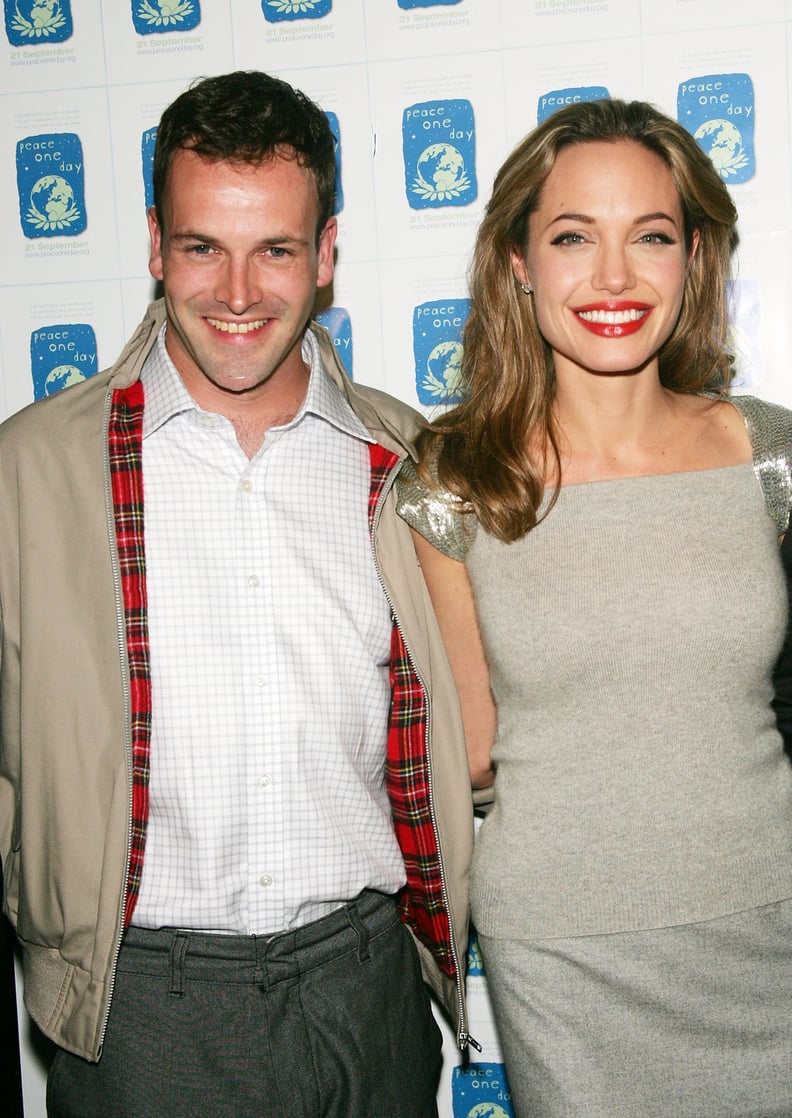 Jonny Lee Miller
Angelina met Jonny, a British-born actor now best known for his role on CBS's Elementary, while they were filming Hackers in 1995. They dated casually, as Angelina was also involved with model and actress Jenny Shimizu at the time. The couple tied the knot in March 1996, and at the ceremony, a 20-year-old Angelina wore rubber pants and a white t-shirt with Jonny's name written on it — in her own blood. They divorced four years later.
The two are actually still close friends, and linked up for a special screening of the film Peace One Day in 2005. In 2014, Angelina spoke of her ex, calling him "still a great friend," and that when she watches Hackers now, "I think of him. Although, I'm sure the movie looks so ancient now, but we had a lot of fun making that."
02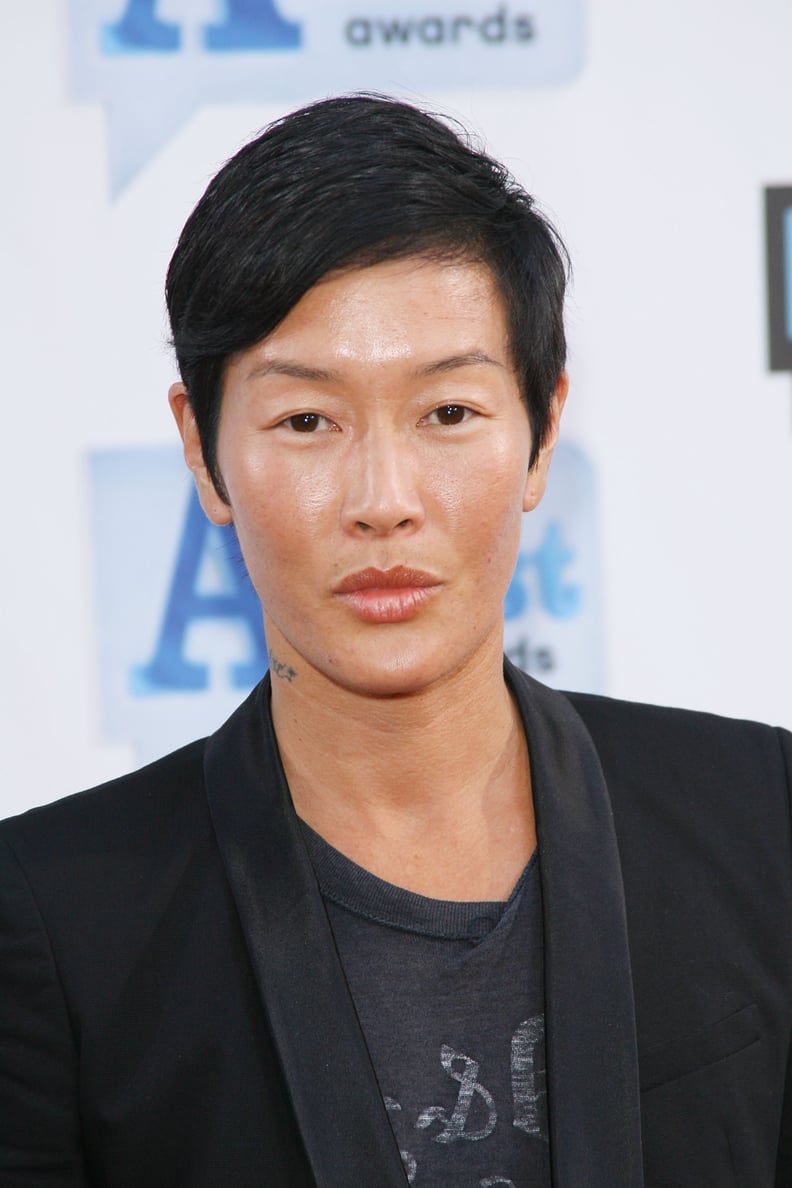 Jenny Shimizu
Angelina and Jenny met on the set of the teen drama Foxfire in 1996. The two struck up a romance, though Angelina would go on to reconnect with and marry her first husband, actor Jonny Lee Miller, in March of that year. In a 1997 interview, Angelina explained meeting Jenny during the Foxfire casting process and falling in love with her instantly: "I probably would have married Jenny Shimizu if I hadn't married my husband," Angelina said, adding, "I fell in love with her the first second I saw her."
Years later during an appearance on 20/20, Angelina told Barbara Walters, "[I was] surprised when I suddenly found myself having these feelings I always had for men, but for a woman. . . and wanting to kiss her and wanting to touch her."
03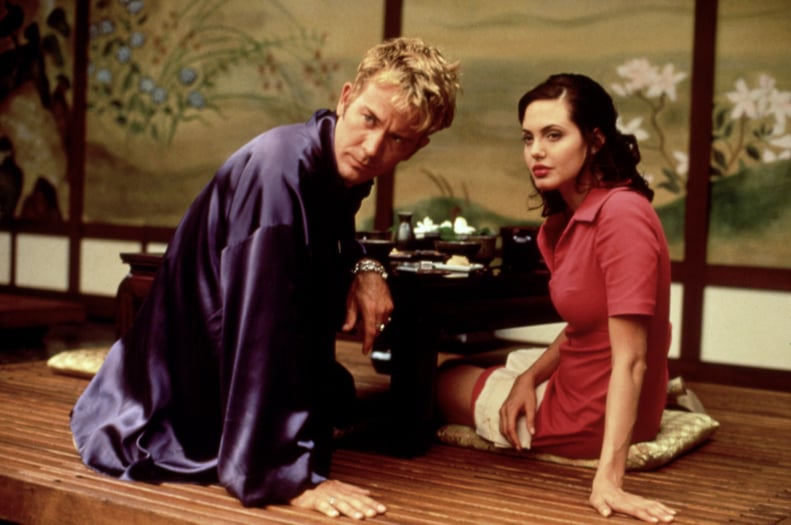 Timothy Hutton
Angelina and Timothy appeared together in 1997's Playing God and were rumored to have been dating while filming. The relationship was never confirmed, possibly because it would have meant that it overlapped with Angie's marriage to Jonny Lee Miller.
04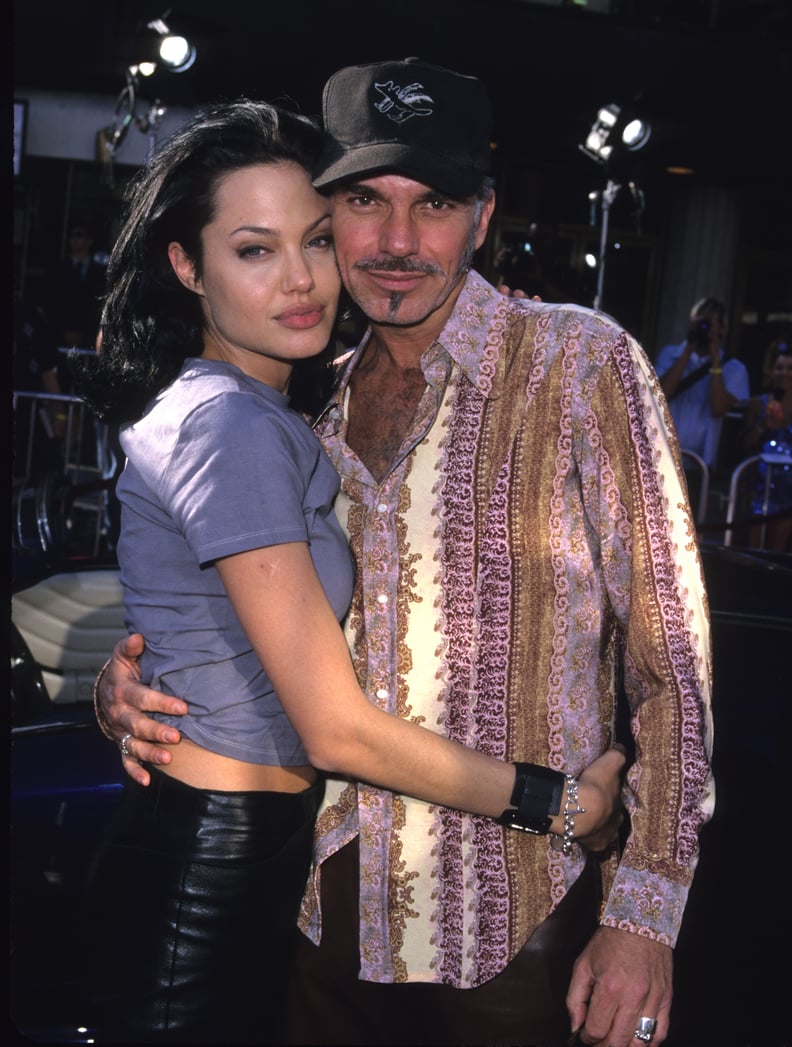 Billy Bob Thornton
It's nearly impossible to forget the union between Angelina Jolie and Billy Bob Thornton, from the candid quotes about their sex life to the vials of each other's blood that they wore around their necks. The two met while filming 1999's Pushing Tin — and while Billy Bob was engaged to actress Laura Dern. He left Laura for Angelina (who was 20 years his junior), and they got married that year. In March 2002, the couple announced that they had adopted a baby boy, Maddox, from Cambodia, though it was later revealed that Angelina adopted him as a single parent. She and Billy Bob separated in June 2002 and were divorced in 2003, amid rumors that Maddox's adoption caused a rift in their relationship.
05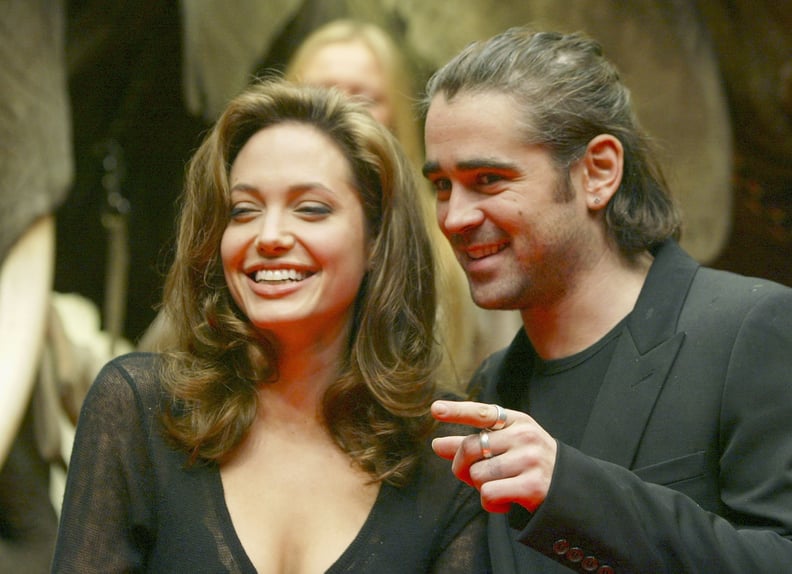 Colin Farrell
Angelina reportedly carried on a fling with her Alexander costar Colin Farrell back in 2003.
06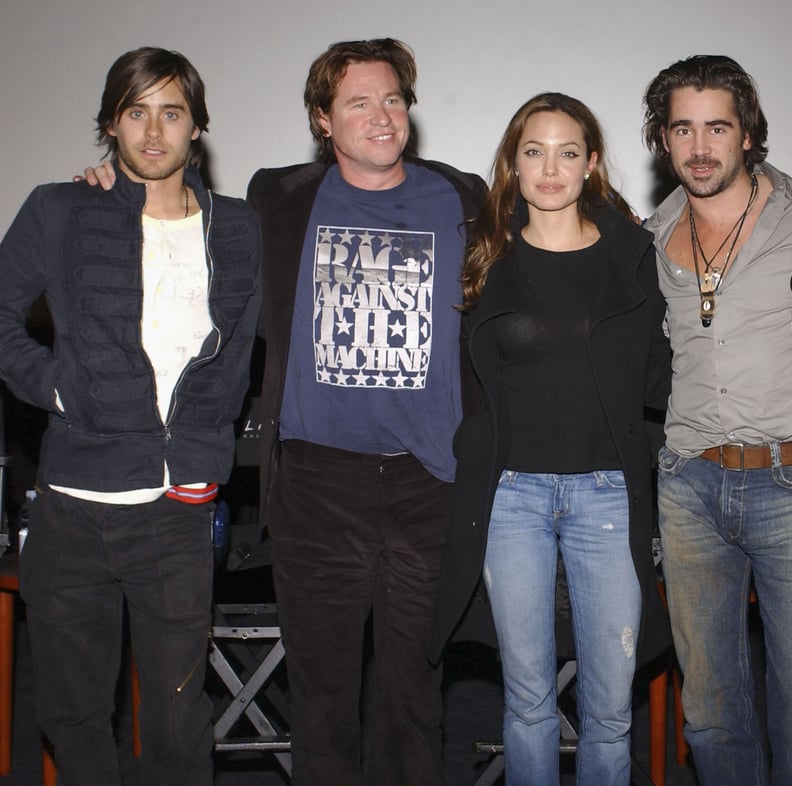 Jared Leto
Angelina was also rumored to have hooked up with Jared Leto during filming of Alexander in 2003.
07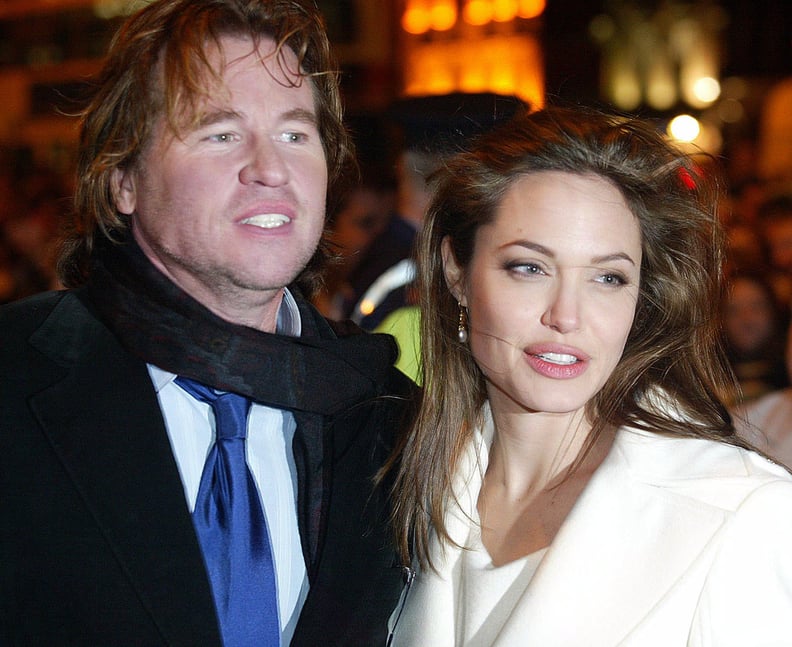 Val Kilmer
Val Kilmer was also in Alexander with Jared Leto and Colin Farrell, and was also rumored to have carried on a brief romance with Angelina in 2004, after the movie came out.
08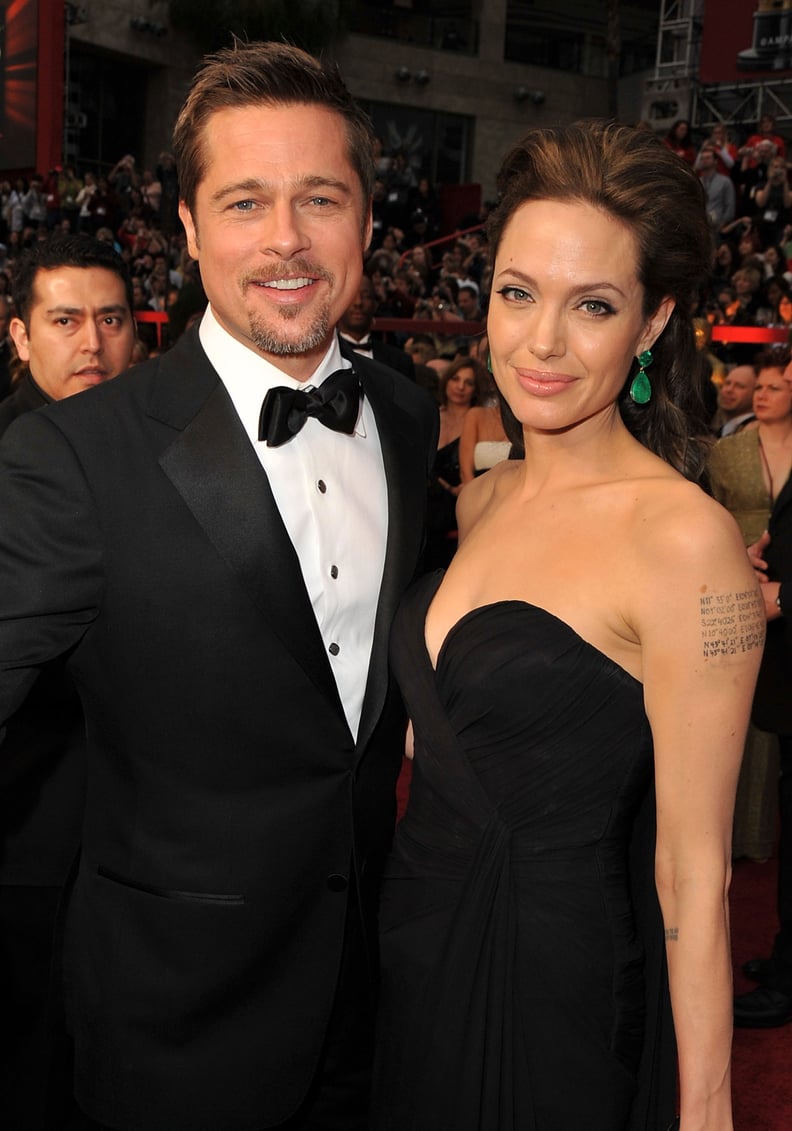 Brad Pitt
In 2005, the couple we've come to know as "Brangelina" was born. According to Angelina, she and Brad met and "fell in love" while filming Mr. and Mrs. Smith a year earlier, though Brad was still technically married to Jennifer Aniston. Brad and Angie kept their romance under wraps (despite a beach vacation, a handful of red carpet run-ins, and a controversial spread in W magazine) until October 2005, when it was revealed that Brad had adopted Angelina's children, Maddox and Zahara. In January 2006, Angelina confirmed that she was pregnant with Brad's child, and they welcomed their daughter Shiloh that June. It wasn't until December 2006 that Brad and Angelina finally walked the red carpet as a couple, and in 2007, the couple adopted their son Pax from Vietnam.
While attending the Independent Spirit Awards with Brad in 2008, Angelina unveiled a growing baby bump. Months later at the Cannes Film Festival, it was revealed that Brad and Angelina were actually expecting twins. At the time, the Oscar winner said, "It did shock us, and we jumped to six [children] quickly. But we like a challenge." Their son and daughter, Knox and Vivienne, were born in July 2008 and made their debut on the cover of People magazine. After much speculation about whether or not they would make things official, Brad and Angie got engaged in April 2012 and tied the knot at their chateau in France in August 2014. They spent their honeymoon in Malta with their kids while also filming their second movie together, By the Sea.
In September 2016, news broke that Angelina had filed from divorce from Brad, citing irreconcilable differences and requesting full physical custody of the couple's six children.