As POPSUGAR editors, we independently select and write about stuff we love and think you'll like too. If you buy a product we have recommended, we may receive affiliate commission, which in turn supports our work.
Before quarantine, I didn't even own a blow dryer. (No, that's not an exaggeration.) I did own one at one point (that I used three times total, tops), but one day, I went to turn it on, and it wouldn't. If I've ever needed a sign, that was it, and my love affair with salon blowouts was born.
This was at least 12 years, three apartments, and two cities ago and, reader, I would have happily gone 12 more years. Then, coronavirus happened and, like many people, I found myself with plenty of time on my hands and no salon options for my regular blowouts. So I decided to order a hair dryer and give the at-home process a try for the first time in more than a decade. What could possibly go wrong?
Luckily, I didn't set my apartment or my hair on fire. No tears were shed . . . although I could have cried tears of joy when I finished with the smoothest, sleekest style I've ever had — by a long shot. I could barely believe I did this on my own and, to be honest, I still can't. See my results — and the exact hair products I used — ahead.
Step 1: Mizani True Textures Moisture Replenish Shampoo
My routine came courtesy of five Mizani products (and perhaps divine intervention). If you're not familiar with this brand, it's new to Sephora, but has been helping multitextured hair from curly to relaxed at salons for much longer than that.
The first step was to clean my hair. What I initially noticed about this Mizani True Textures Moisture Replenish Shampoo ($18) was the lather. I usually cowash my hair, which doesn't produce much foam at all, and this was the total opposite.

These bubbles come from a skin-friendly, sulfate-free surfactant derived from the coconut oil inside. That ingredient — alongside olive and marula oils — offered a ton of moisture and frizz control to my dry hair that really needs it.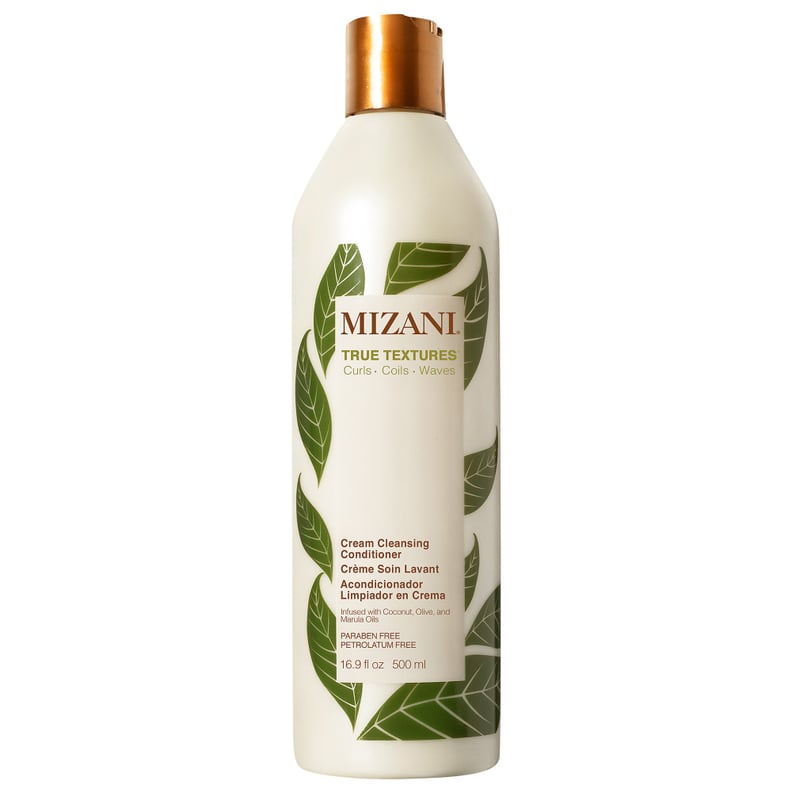 Step 2: Mizani True Textures Cream Cleansing Conditioner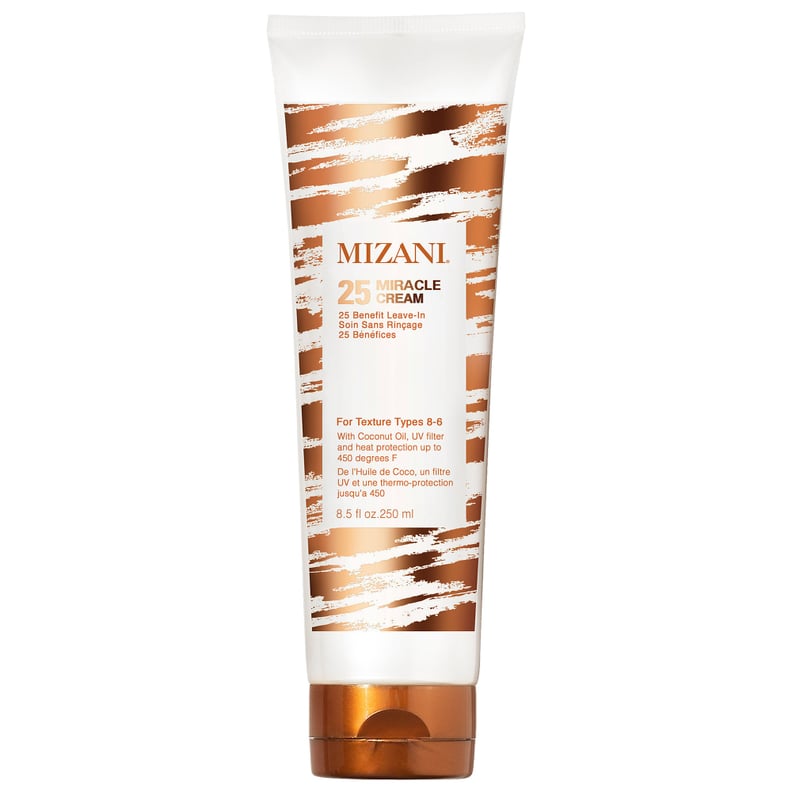 Step 3: Mizani 25 Miracle Cream
After I got out of the shower and squeezed as much water from my hair as possible, next up was the leave-in Mizani 25 Miracle Cream ($22).

The cream is a primer and heat protectant, especially good for color-treated hair (like mine). I was extra careful to not add too much as the instructions say to apply a nickel- to quarter-size amount and, let's just say, my natural inclination is more like a half-dollar . . . or two.

This felt lightweight (yet not at all watery) between my fingers, and I was able to spread it evenly throughout my hair. It does have a pretty strong smell when it first comes out of the tube — I personally liked it, but it's far from fragrance-free if that's a concern of yours.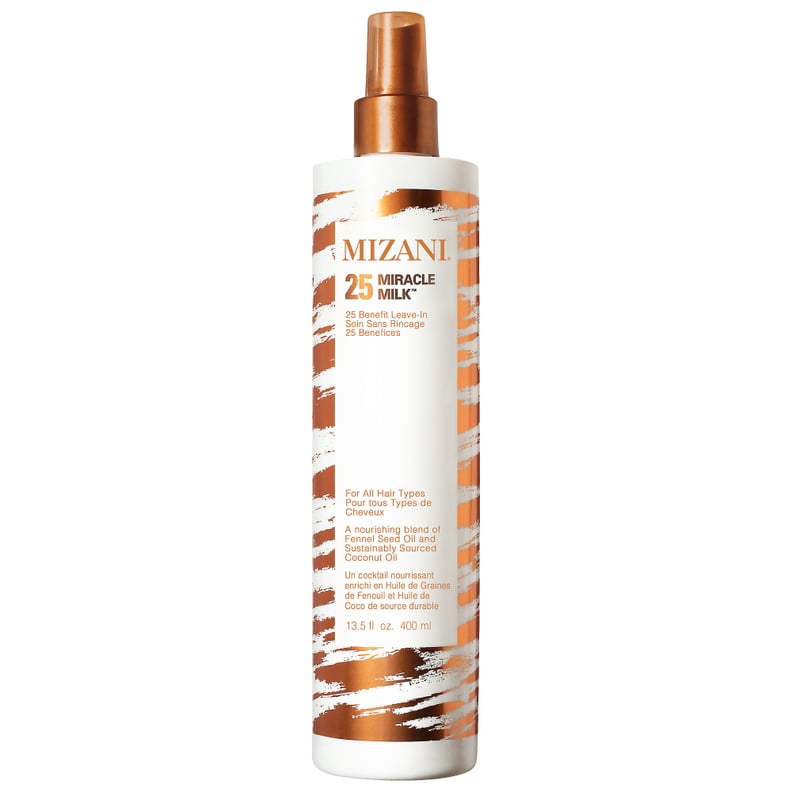 Step 4: Mizani 25 Miracle Milk Leave-In Conditioner
Next, I divided my hair into six sections. Before twirling the precombed pieces into a knot on top of my head, I sprayed one squirt of the Mizani 25 Miracle Milk Leave-In Conditioner ($8-$34) onto each near the roots. The consistency is thicker than a regular liquid, so smoothing it through with my fingers in smaller parts felt like the best way to get an even spread.

This product has the same coconut oil as the 25 Miracle Cream but also adds in fennel seed oil to strengthen hair and reduce breakage (along with added heat protection and frizz control).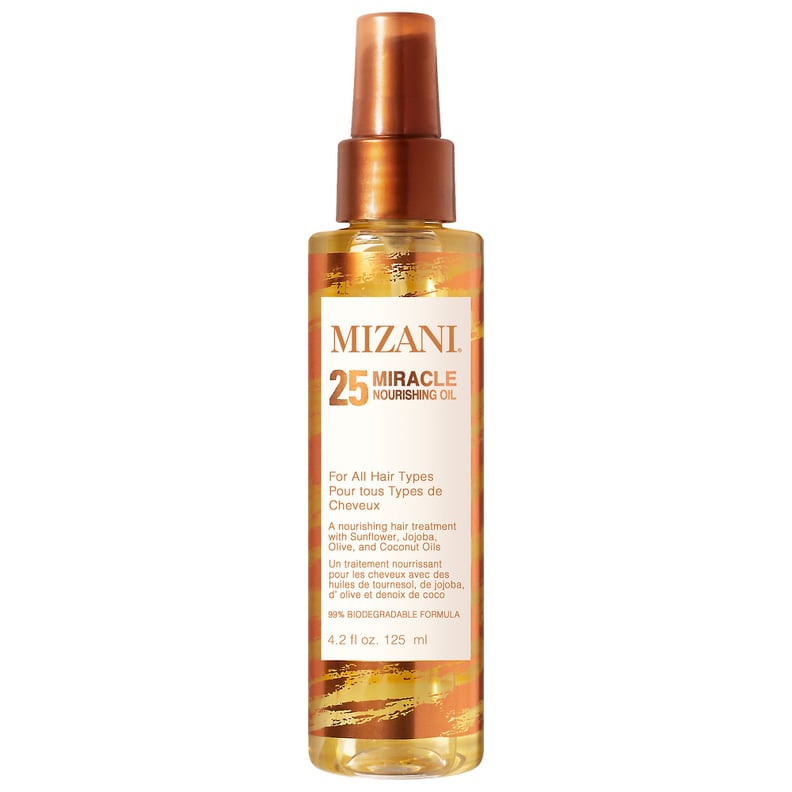 Step 5: Mizani 25 Miracle Nourishing Oil
Finally, I blow-dried my hair in sections starting with the knots in the back above my neck. I split each one up into smaller bits, so the barrel brush could get a good grip. I was able to straighten my roots this way but still work quickly enough that the front of my hair wasn't frizzy and half dry by the time I got there (something else that haunts me from previous attempts).

After I finished, I rubbed a couple drops of this Mizani 25 Miracle Nourishing Oil ($22) between my palms, then put a dab on my roots and a dab on my ends before using my still-slick hands to smooth throughout the rest of my hair. My hair didn't frizz up as the day went on, I must assume thanks (in part) to the jojoba and sunflower seed oils holding it down.

When I woke up the next morning, I gave myself another smug smile in the mirror for my newfound hair self-sufficiency. Sure, I haven't yet mastered an unusual hobby or artistic skill like DIY nail design while staying home, but I was finally able to give myself a blowout that resulted in sleek hair and no sore arms.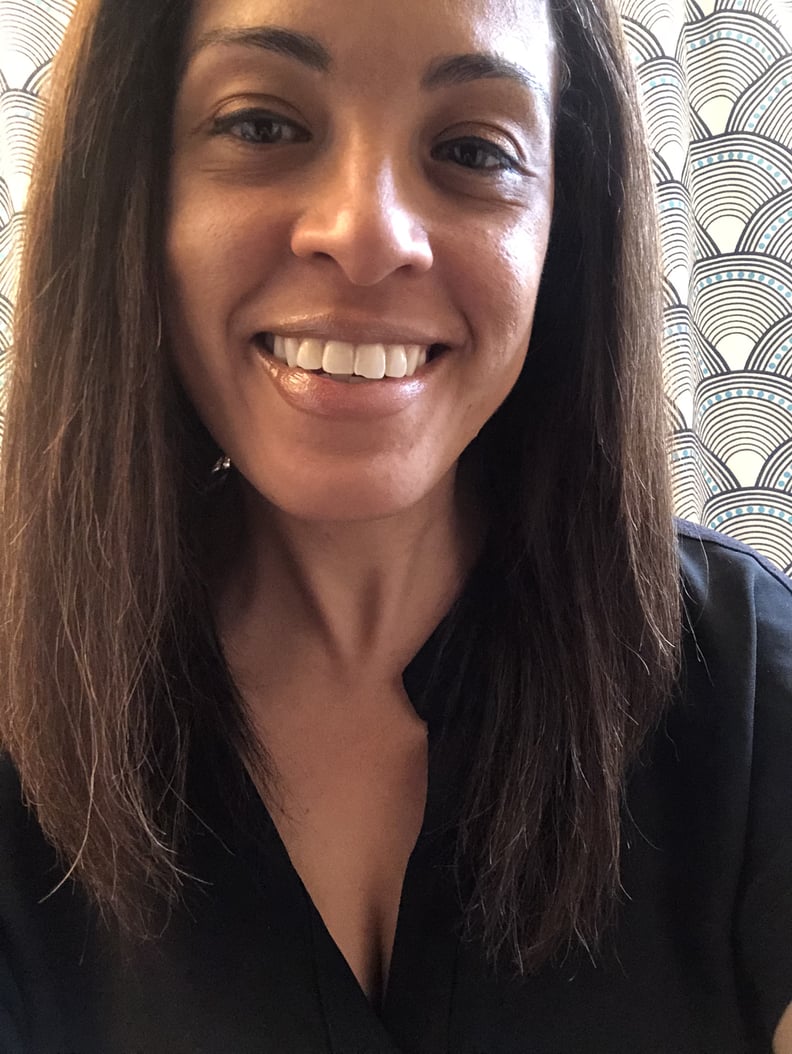 At-Home Blowout Results
Since I was little, stylists have constantly pointed out how much hair I have. (Yay? Thanks?) Even now, there's a special note in my Drybar blowout account that my appointment cannot be finished in the standard 45 minutes and that I need extra time blocked out. Now, I don't know exactly how long this at-home blowout took me but, for someone neither patient nor experienced, it was surely less than an hour starting from when I got in the shower and not so much time that I gave up halfway through (which definitely happened in the past).

When I finished this first attempt, my hair was totally dry, and I was even able to get my roots rather straight . . . and that's with a many-months' old relaxer growing out and no recent haircut either.

If you'd told me that back in January, I would have laughed in your face.

Now about those ends…