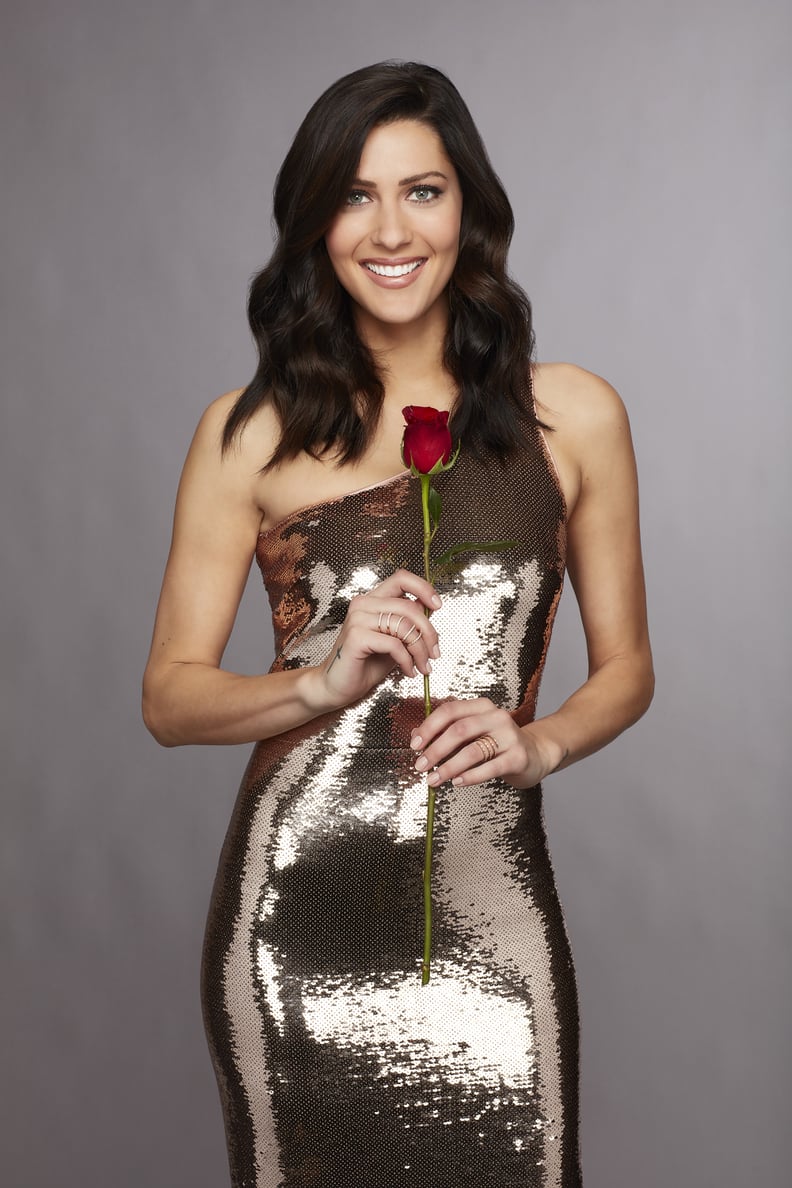 Source: ABC/Craig Sjodin
Source: Courtesy of Gina Modica.
Source: ABC/Craig Sjodin
Source: Courtesy of Gina Modica.
Let the Bachelorette contestants drunkenly bicker over their red roses and the 5.6 million people watching at home wonder why Joe the grocery store owner didn't get one. What we would really like to know is how in the hell Becca Kufrin's makeup always looks so perfect — through the messy breakups on live TV and date nights that extend into the wee hours and all. This, as you might imagine, is not exactly the kind of tea you can expect Reality Steve to spill, so we asked the show's longtime makeup artist Gina Modica to serve up the answers.
"Becca's approach to beauty is very laid-back," Modica said. "We worked together every day, from early morning until late evening, but she was so easy to work with. If you remember from the previous season, she always wore her makeup pretty natural — she doesn't need a lot — so I wanted keep her look true to who she is, but with a little edge."
Keep reading below for the series's juiciest behind-the-scenes beauty tips — like how to ensure your makeup lasts through crying, kissing, and rolling around in the sand on a secluded beach in the Bahamas.
Getting ready for the first night took 90 minutes — and $789 worth of beauty products.
Prepping for the first night of filming The Bachelorette is a lot like getting ready for a first date (minus the cameras, the free booze, and the whole dating 25 suitors at once thing), in that you'll usually give yourself enough time for trial and error. "The first rose ceremony always takes the longest because we're making sure the Bachelorette is comfortable with her whole look," Modica said. "It usually takes about an hour and a half in the hair and makeup chair just in case we need to tweak anything you can't predict until the night of — like if she wants more eye shadow or blush, or less. After you get [used to her preferences], the getting ready process averages about a half an hour for makeup, and even less for hair."
But just because Kufrin's beauty look is simple doesn't mean it's cheap. In fact, Modica said it took an arsenal of products from a range of price points — from prepping the skin with Glycelene's Rejuvenation Cream ($95) to using Temptu's airbrush system Perfect Air Canvas Foundation ($195) to applying Marc Jacobs's Cream & Sugar lip products in liner, lipstick, and gloss form ($82 total) — to get the final rose ceremony look. (She listed every single item used on Kufrin on her Instagram account, which adds up to a whopping $789.)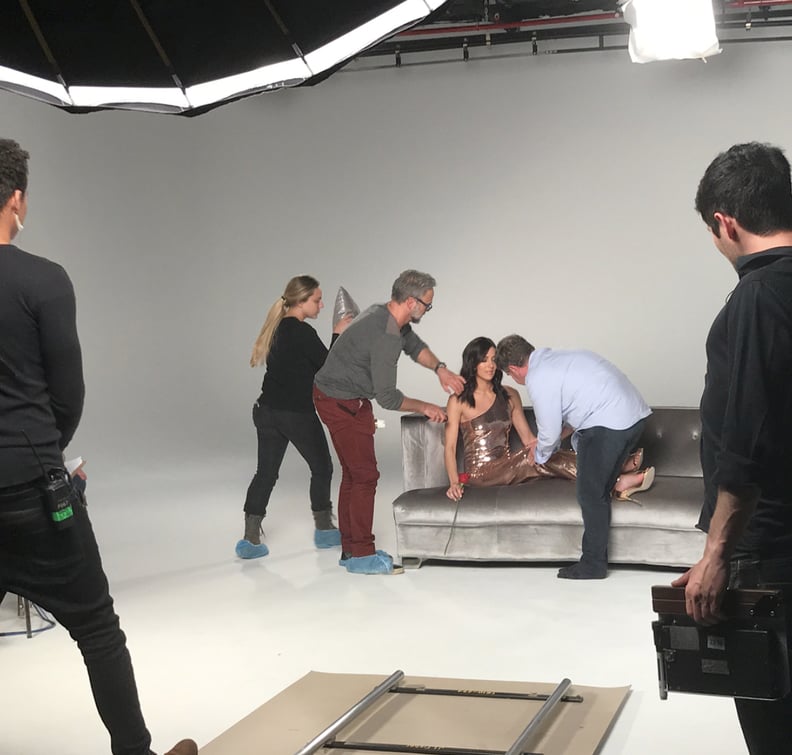 Exactly how to keep tears from messing up your makeup.
In comparison to other Bachelor and Bachelorettes, Modica claims Kufrin rarely cried this season (which, if you've seen that After the Final Rose episode with Arie Luyendyk Jr., is nice news indeed). The formulas that saved the day whenever tears did make an appearance? "I love using creams or gels — they really do last longer," she said. "They also won't streak if you cry." A few of her favorites: Make Up For Ever Aqua XL Color Paint ($25), Danessa Myricks Colorfix 24 Hour Cream Color ($18), and Giorgio Armani Liquid Eye Tint Eyeshadow ($39) for the eyes, plus Charlotte Tilbury Beach Stick ($45) for the cheeks.
"I'll also use the Temptu Perfect Canvas Foundation to clean up anything up if she did cry," she said. "It makes it really easy to blend everything out so I can just throw her liner, blush, and lips back on easily. It takes just a few minutes and she's good to go."
How she fights the humidity.
Anyone with sweat glands knows it can be hard to look hot when the temperature is, well, hot. But when you're in front of millions on TV, like contestants so often are, finding products that stand up to the heat is critical. For the Bachelorettes, Modica keeps it simple: "I keep it as natural as possible," she explained. "Because I use a lot of creams and waterproof or water-resistant products, I really don't have to change a lot in the way I do makeup with the exception of foundation. I use a minimal amount of foundation. I conceal only what is necessary so that the skin looks even. And because Becca would be in the sun all day, she had to keep reapplying sunscreen to her face, so the least amount of foundation we can use, the better."
The one thing you may not have noticed about every Bachelorette's lipstick.
Modica may have been working on the show since the very beginning, but there is still one beauty woe she hasn't solved yet: lipstick that lasts through multiple makeout sessions. "It's been years that I've been doing this and I still have not found a lipstick that is truly kiss-proof," she said.
While she swears by straight lip liner or lip stains (she likes the ones from Armani and Nars), "even they wear off after a while — especially with the amount of kissing we do on our show. That's why I like to keep the lipstick shades we use in the nude, soft pink, and neutral color family." This season, she used the Danessa Myricks The Nudist Lip Palette ($42), which she said have "beautiful colors and great pigment payoff." "I can pretty much make up any color that I wanted from just those two palettes," she said.
We suppose there are a few things that are harder to find than true love on a reality TV series. Who knew?