Everything You Ever Wanted to Know About Bath & Body Works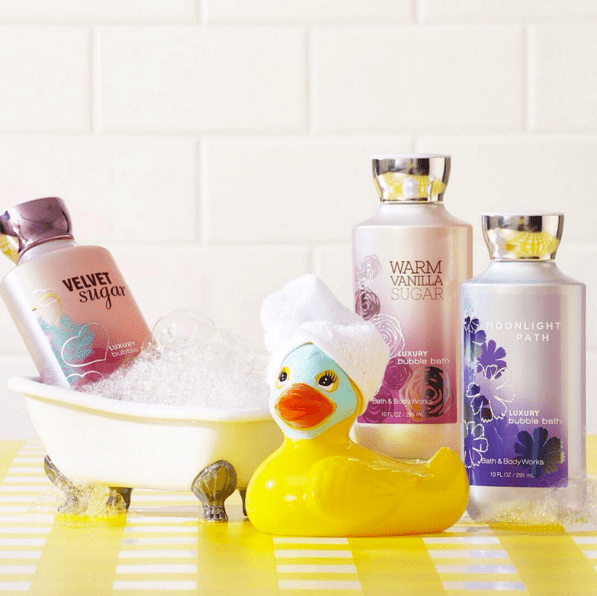 Instagram | bathandbodyworks
Chances are, your local mall has a Bath & Body Works inside — and your nose draws you right in. We can't blame you! Each year, the company produces around 200 new fragrances (yes, really!) for its fans to hoard. If you're like us and a sucker for the gingham-detailed stores and its scented beauty products, read on. We talked to the Bath & Body Works team to dig up 15 facts you didn't know about the beloved shop.
01
Bath & Body Works's Parent Company Is L Brands
L Brands currently owns Victoria's Secret and Henri Bendel in addition to Bath & Body Works. It has formerly owned companies like The Limited, Express, and Abercrombie & Fitch.
02
Bath & Body Works Was Founded in 1990
03
The Brand Has a Fictional Founder
Bath & Body Works actually started as a beauty line within Express stores. However, because the two companies are so different, employees at L Brands decided to create "Kate," an imaginary brand founder who embodies everything Bath & Body Works stands for. Each store location is supposed to feel like it could be Kate's home — cozy, welcoming, and well-fragranced.
04
Japanese Cherry Blossom Is Bath & Body Works's Top-Selling Fragrance
According to the brand, this is the bestselling scent in the United States! More than 30 million iterations of the fragrance are sold each year. With notes of Fuji apple, mimosa petals, and vanilla rice, Japanese Cherry Blossom launched in 2006.
05
You Can Try Before You Buy
Bath & Body Works keeps in mind shoppers who love to sample: each store has a sink, where you can lather up with your favorite scent. This allows you to see if you enjoy the way the fragrance wears on your skin.
06
You Can Still Snag Some Discontinued Scents
Bath & Body Works has a special section of its website that acts as a scent library. Though not all of the company's fragrances are listed here, some hard-to-find products can be found through this link until they've sold out.
07
The Bestselling Product Is Bath & Body Works Fine Fragrance Mist
This body splash allows you to spritz your favorite fragrance all over without suffocating your skin in scent. It also contains aloe to hydrate your hide.
08
Sweet Pea Has a Long History With the Brand
09
You Can Shop in Nearly 1,700 Different Locations
In addition to finding the products online, there are 1,600 stores in the United States and Canada, while 80 more stores operate abroad.
10
You Can Buy Bath & Body Works Products in 25 Countries
Going on vacation? Chances are, you'll be able to purchase your favorite soap abroad, too. There are stores in Mexico, the United Arab Emirates, Thailand, Australia, and more countries around the globe!
11
The Company Produces a Staggering Amount of Scents Each Year
Approximately once a month, Bath & Body Works releases a new fragrance collection including candles, hand sanitizers, and body care items. By the end of each year, the brand releases about 200 different scents.
12
The Brand Releases New Launches on Mondays
13
Shoppers Are Obsessed With the Company's Seasonal Scents
Many of Bath & Body Works's fragrances are only available during certain times of year. Sweet Cinnamon Pumpkin is a favorite in Fall, while Vanilla Bean Noel dominates shelves in Winter.
14
You Won't Believe How Many Women Shop There
According to the company, about 740,000 women visit Bath & Body Works stores every single day.
15
It Produces Many Travel-Sized Goods
Body wash, lotion, and fragrance mist are all available in small, packable sizes, but we're especially partial to the mini candles — each one is under $5 and burns for more than 10 hours.