Decluttering Your Beauty Stash Is Easier Than It Sounds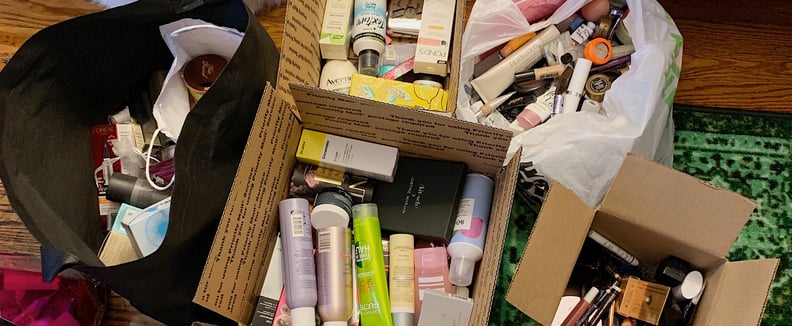 POPSUGAR Photography | Carrie Carrollo
As POPSUGAR editors, we independently select and write about stuff we love and think you'll like too. If you buy a product we have recommended, we may receive affiliate commission, which in turn supports our work.
I've never been a minimalist, and I never will be. I love color, live in patterns, and in general just like having options — lots of them. What I don't like, however, is clutter.
As a self-proclaimed "beauty girl" and collector for over 14 years (three of which were spent as a beauty editor), it's no surprise that I've amassed quite the product stash. Sure, I'd done several purges over the years, dividing some products between friends and throwing old ones in the trash. I'd also made my way through quite a few, using them up until the last drop or swipe. All that being said, I still had more than I would ever need. A massive beauty declutter was definitely overdue.
Long bubble baths, massages, and indulgent skin-care routines are often touted as popular forms of beauty self-care. But I'm arguing that purging your excess products — and reorganizing, cleaning, and maybe even donating in the process — trumps them all. So if you're looking for an excuse to get productive and take a much-needed internet break, this might be the perfect activity.
Keep reading as I share my approach to decluttering your beauty products once and for all, including a handful of pro tips, organizer recommendations, and the final results.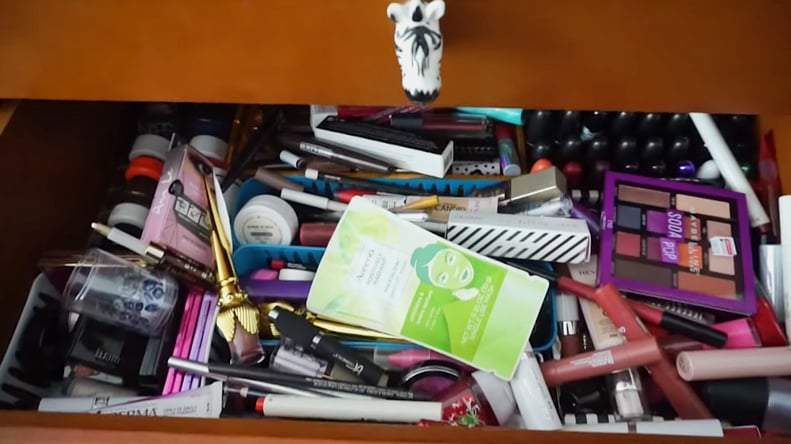 Decluttering Your Beauty Products, Step 1: Assess the Situation
With limited storage space in New York City, I'm forced to get a little creative with how I store my beauty products. Before I started my declutter, I had half a credenza (aka three drawers) hiding all my makeup, bathroom cabinets stocked with hair, skin, and body products, and a few tote bags overflowing with products in closets and under my bed.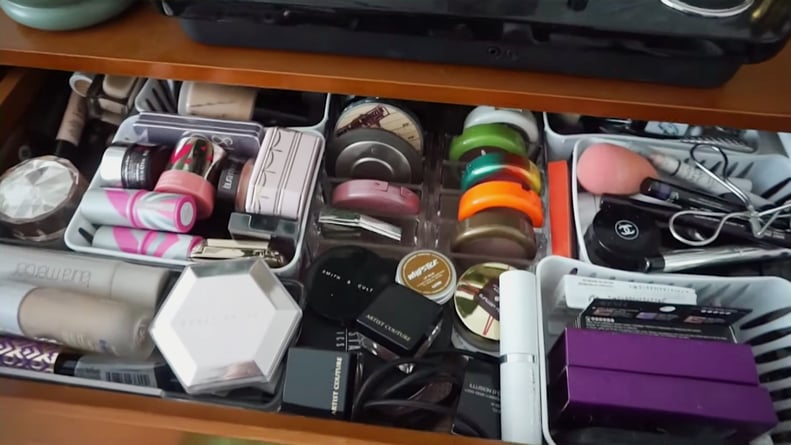 My main goal was to widdle my collection down to only what I had room for (but hopefully less). This meant that after the declutter, everything had to fit in its place — no squeezing into non-existent empty spaces or stacking products that weren't meant to be layered. I already had somewhat of an organization system — a variety of containers, certain areas delegated to hair products or palettes, etc — in my drawers and cabinets, so this gave me an even better idea of how much real estate I was working with.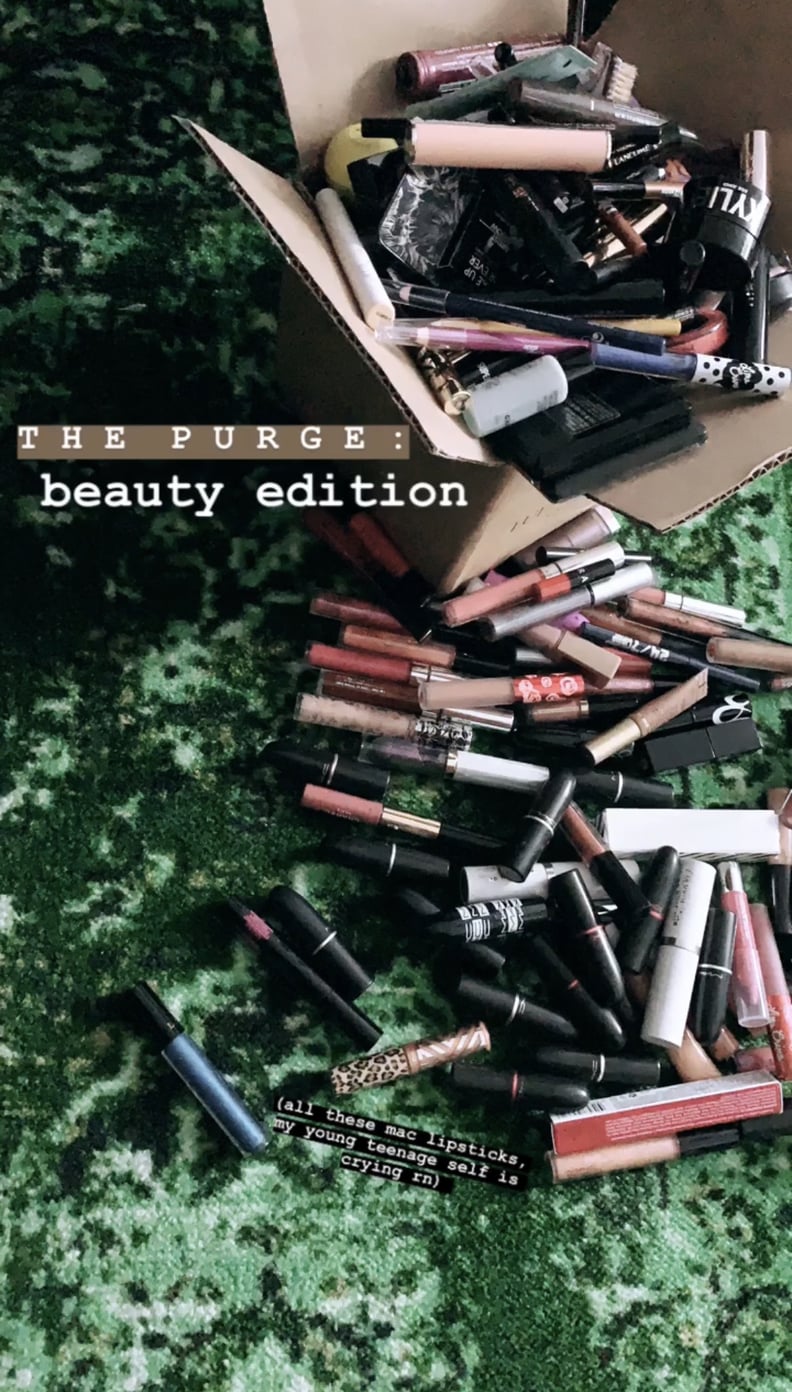 Decluttering Your Beauty Products, Step 2: Purge What You Don't Use
Let's get down to business. Everyone has their own process when it comes to decluttering, whether it's working section by section, doing a mass purge, or somewhere in between. I fall into the latter two categories; I like to see what I have all at once when it's in the same physical space, so I tackled each area of my apartment separately, but each section within that area simultaneously before reorganizing.
Starting with my makeup drawers and a cardboard box (which later multiplied) for all my "no's," I quickly split my collection in half using a specific set of criteria. Taking a note from Marie Kondo, I asked myself if each piece "sparked joy" — or, in other words, if it was something I'd be genuinely excited to use. Then I considered the more granular details: Was this product expired? Did it have any weird smells or texture? When was the last time I even picked it up (if ever)? Finally, I determined if it would better serve someone else — a friend, relative, or person in need. I used the same approach in my bathroom and when sifting through each tote bag.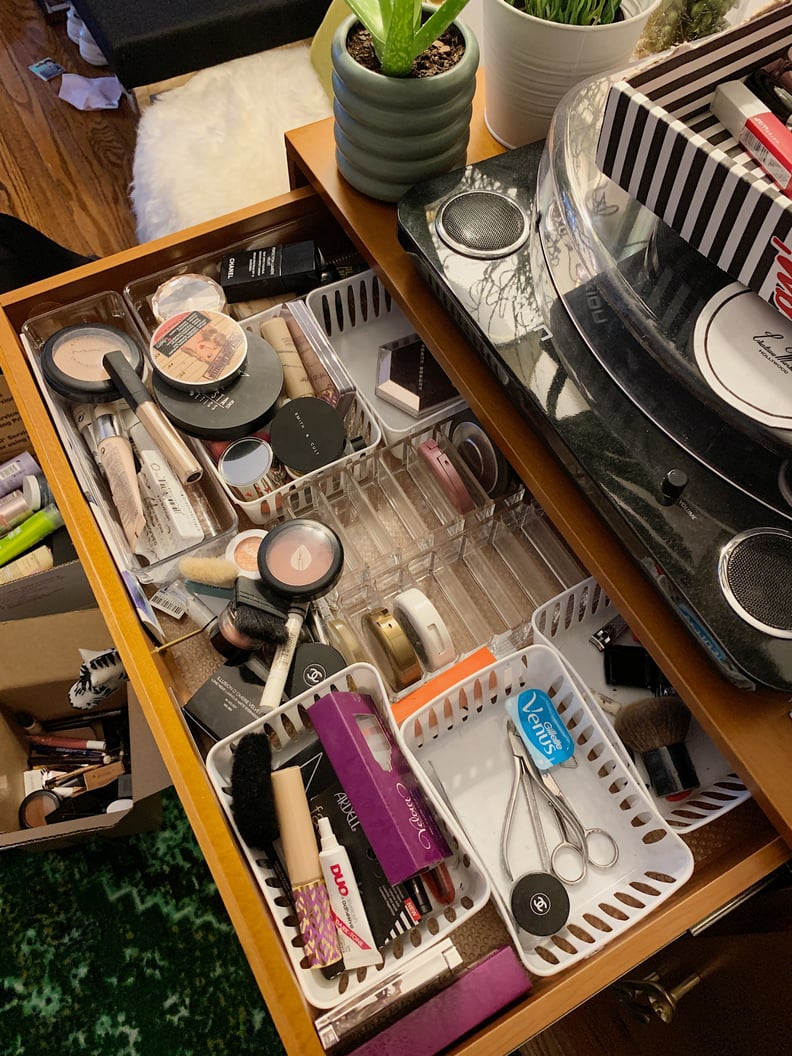 Decluttering Your Beauty Products, Step 3: Organize What's Left
Once this was complete, I organized the products that made the cut. For my makeup drawers, I rely on a mix of dollar store containers, compact organizers ($10), and lipstick holders ($8) to keep things in line. Then I divided the no's into shipping boxes for friends and family, a tote for donations (sealed, unused products), a bag for recyclables, and a bag for trash. It may seem intricate, but it was undoubtedly productive.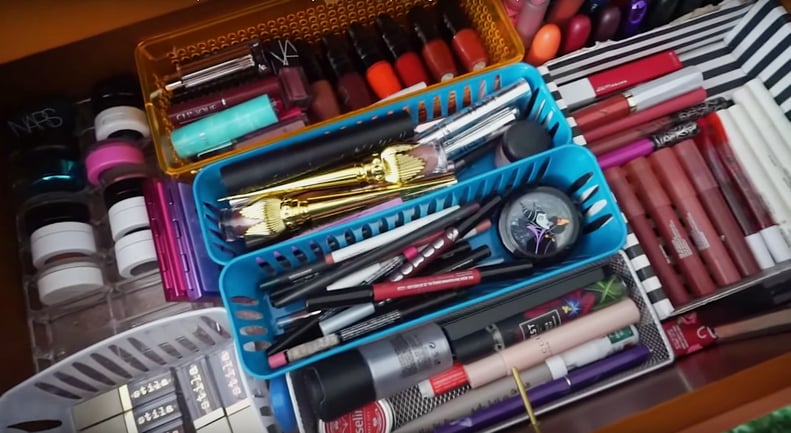 The Final Results
Who doesn't love a good transformation? Although my drawers might not look insanely different when you compare the before-and-after photos, seeing my purged products pile up felt good. I estimate I decluttered more than half of what I started with.
I moved quickly getting things out of my small apartment; I immediately contacted Share Your Beauty and arranged to drop off several bags of brand-new products. These would then be distributed by the organization to homeless women and victims of domestic violence. Then I shipped some well-stocked boxes off to my best friends and mom. For recyclable products, I suggest programs like Terracycle, or looking for local recycling events that can ensure the products are disposed of in the most responsible way possible.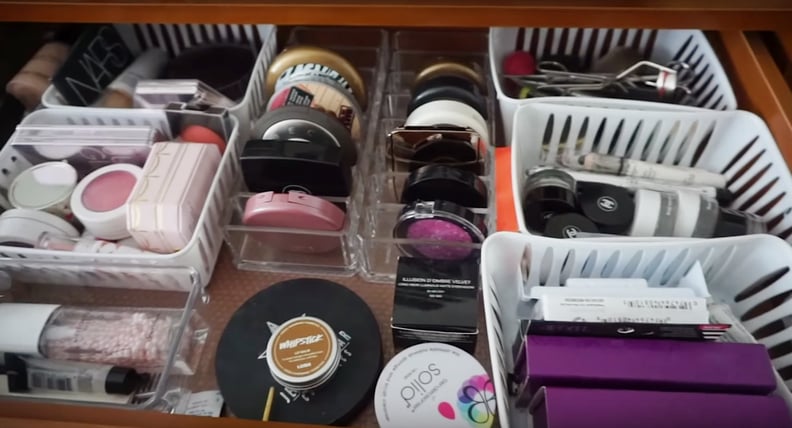 Unless you have a truly massive collection, sparing one day (or less) is all you need to declutter your beauty products. But the effects are long term. Since then, I haven't felt stressed out when opening a drawer or sifting through excessive lip liners to find the one I actually wear on a regular basis. I feel good knowing my unwanted products are being put to use, even if I still have more than I really need. Then again, I did say I'll never be a minimalist.