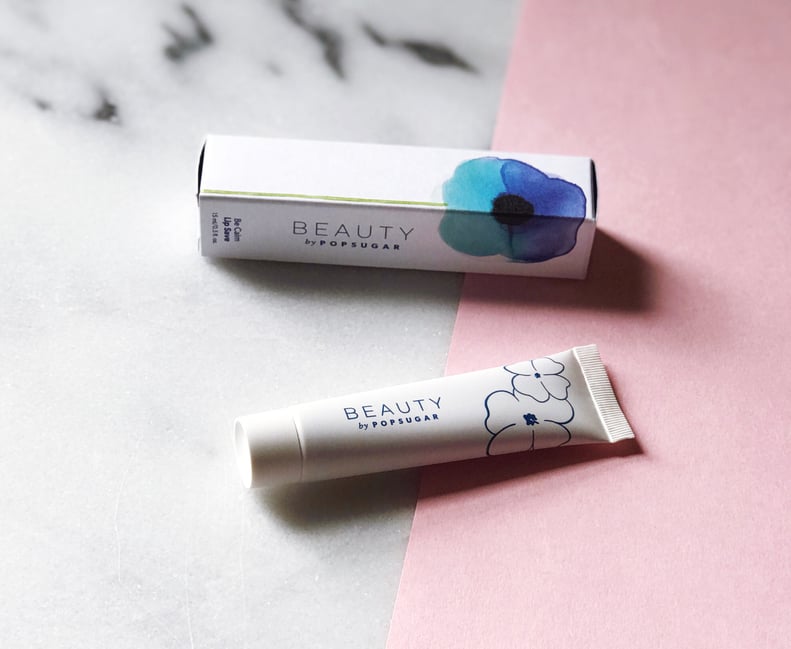 POPSUGAR Photography | Brinton Parker
POPSUGAR Photography | Brinton Parker
As POPSUGAR editors, we independently select and write about stuff we love and think you'll like too. If you buy a product we have recommended, we may receive affiliate commission, which in turn supports our work.
Hi, everyone. My name is Brinton, and I'm a lip balm enthusiast. As I type this, I can count at least six different types of lip balm sitting in various spots on my desk, and that's just what I can see — there are a handful of others in my purse, not to mention scattered around my apartment. From tinted to clear, potted to tubed, I've been around the block more than once when it comes to keeping my lips hydrated.
I was simultaneously struck with delight and an overwhelming craving for Girl Scout cookies — and the delight part isn't something I experience often.
When my boss Lisa Sugar asked me to help test and honestly review products as she developed for our new beauty line, I was most skeptical about the lip balm. How could Beauty by POPSUGAR Be Calm Lip Save ($20) possibly stand out from the countless others I've been through over the years?
But I needn't have worried about giving negative feedback on the balm — as it turns out, I should have been concerned that I'll bankrupt myself buying a million tubes of it.
For context, I judge a lip balm based on seven factors:
Consistency: Is it so sticky that my hair will get stuck to my mouth on a windy day or make my husband avoid kissing me?
Staying power: Am I going to need to reapply it every hour to keep my lips moisturized or will one swipe be good all day?
Appearance: Few things gross me out more than when a lip product ends up looking gunky on your mouth after a few hours, so I pay very close attention to how a balm looks over the course of a day.
Long-term effectiveness: Is this one of those shady balms that actually causes lips to become more reliant on a product or will it work to heal my perpetually chapped lips?
Ingredients: What's actually in the balm I'm using? Since I'll inevitably get it in my mouth, I don't want an ingredients list filled with chemicals and ingredients that make me feel icky.
Cruelty-free formula: Whenever possible, I strive to support brands that develop and manufacture products without animal testing.
Scent: This one is pretty straightforward — does the lip balm smell good? If it smells ultra synthetic or chemical, I'm not interested.
Luckily for me — and, I suppose, for all of us — the new balm blows all of my criteria out of the water. It's got a nonsticky formula that lasts all day (even through burritos, which I've tested more times than I'd like to admit), it stays consistently natural-looking without any gross buildup, and it's made with a natural, cruelty-free formula that actually treats your chapped lips rather than just lending temporary relief. But best of all, my friends, is that it smells like the very best Girl Scout cookie: Thin Mints. The instant I first applied Be Calm Lip Save, I was simultaneously struck with delight and an overwhelming craving for cookies — and the delight part isn't something I experience often.
Out of 80-plus products in the Beauty by POPSUGAR line, the lip balm is by far my favorite. It's got me ready to throw away all the rest of my lip balm collection . . . and for somebody with as many tubes of lip product as I have, that's not a small undertaking. But once I discovered that it can also be used as a treatment for dry hands and elbows, I knew I was hooked. Who can resist double-duty beauty that smells like cookies? I know I can't.