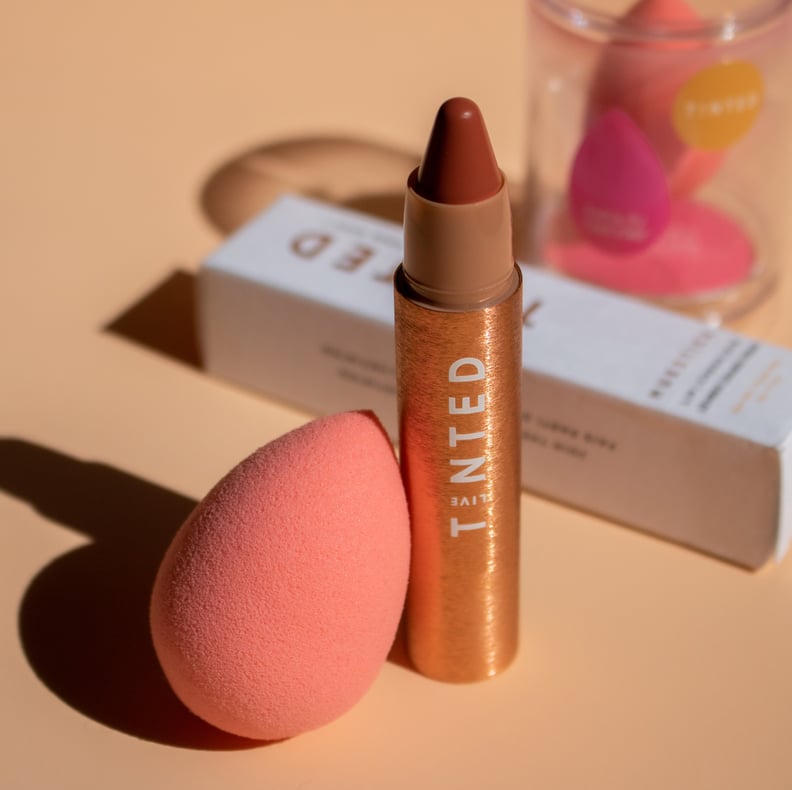 Courtesy of Live Tinted
Courtesy of Live Tinted
Two of our favorite brands, Beautyblender and Live Tinted, are coming out with an exclusive collaboration, and we've got the exclusive first look. We spoke with Beautyblender founder and CEO Rea Ann Silva and Live Tinted founder and CEO Deepica Mutyala about the exciting new collaboration called "A Balanced Blend Bundle." It includes a limited-edition coral Beauty.Blusher Cheeky and Live Tinted's earthy coral Huestick in Balance.
It makes sense that the longtime friends would team up, as many customers use the products together. "From the first launch of the Huestick, we've seen so many Live Tinted customers use the Beautyblender to apply and blend the product, especially as a color corrector. They truly are a perfect pair," Mutyala told POPSUGAR.
If you're wondering how the pair met, it's a pretty sweet story. It all started with Mutyala's viral video using red lipstick to mask dark circles. "I was invited to do a segment on the Today show. I used a Beautyblender, which got me formally connected to the brand and Silva. Beautyblender was also one of the first brands to pay me for influencer deals and support my career. Since then, Silva and I have continued to support each other and have stayed friends for over a decade," Mutyala said.
As for the reasoning behind the vibrant color of the collab, Silva said, "We wanted to choose a color that was bright and lively for spring. Live Tinted's most recent Huestick in Balance, which is included in the bundle, is an earthy coral color and the perfect springtime shade. And Beautyblender is known for vibrant-colored blenders, so it felt like the perfect match. For us, this coral shade signifies a renewed and balanced energy. It is joyful, positive, and we hope it ushers in the positivity that we're all looking for at this time."
If you're hoping to buy the $36 bundle, it will be available on April 19 exclusively at beautyblender.com and livetinted.com for a limited time only. Get it while you can, and check out some of the campaign images ahead.