The 1 Beauty Product That Behati Prinsloo Shares With Adam Levine Is Pretty Sexy
Between the demands of being an international supermodel, wife (her husband is The Voice star and Maroon 5 singer Adam Levine), and new mom to daughter Dusty Rose, Behati Prinsloo Levine doesn't have a lot of time to dedicate to her beauty routine. But she probably wouldn't anyway. The Victoria's Secret Angel has made minimalism a beauty must, and her no-fuss, perfectly tousled beach waves are the kind of effortless look most of us spend a lot of effort trying to get.
One beauty job she has made time for is becoming the new face SK-II. She fronts the brand's latest #OneBottleAwayFrom campaign, which intimately tracks her skin transformation as she uses the luxury brand's iconic Facial Treatment Essence. The easygoing Prinsloo Levine chatted candidly with us about how motherhood has changed her beauty routine, dished up some of her best gorgeous-skin secrets, and even filled us in on the products she and Adam share.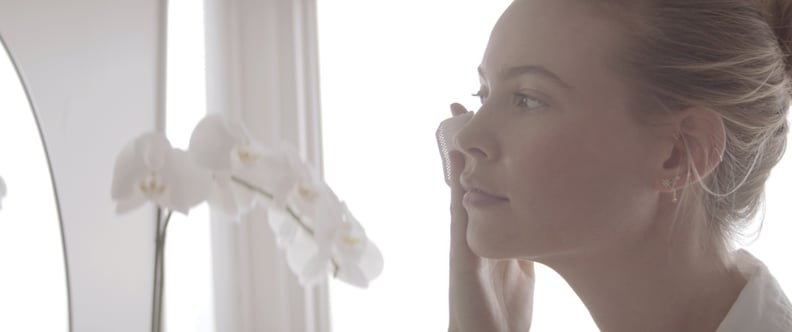 Behati's Favorite SK-II Product
"It's such an iconic brand; my whole life I've seen the name all over. So many women call [the Facial Treatment Essence] miracle water, so I wanted to see what the fuss was all about. I'm currently using it every day, morning and night. It's such an easy product and it feels really good on my skin. I've been using it probably for half a month now and I really love it. I mean, my skin definitely feels more hydrated, so it's working!"
How Motherhood Changed Behati's Beauty Routine
"I wouldn't say there's one specific thing that I've let go, but not having as much time as I used to have to myself . . . not that I spent hours to do my skin routine anyway 'cause I've always been very quick with it, and anything that will help me make it shorter I've always liked. This beauty essence kind of does that. If I don't have time to put on everything like an eye cream and a moisturizer and this and that, I can pat that on and feel like at least I have some moisture on my skin. So being a new mom, it's nice to have one thing you can use and feel like it's doing a bunch of different things."
Her Favorite Products For Moms-to-Be
"When I was pregnant, I was so worried about using anything with chemicals in it so I really loved any organic makeup — Josie Maran, RMS Beauty — and then just coconut oil. It made me feel really moisturized. I felt like I was gonna get no stretch marks, and it's so natural and good. Coconut oil was one of my big, big things that I lathered myself in."
Behati's Beauty Trick For Faking a Full Night of Sleep
"A lot of coffee [laughs]. That definitely helps, but if I'm jet lagged or just didn't get enough sleep the night before, a beauty thing that I usually like to do is, you know those little sheet eye masks? I put them in the fridge and then I'll put them on in the morning so they de-puff my face. Or I'll even take an ice cube and just rub it all over my face; it feels so good and it wakes you up."
What She Does For Shoot-Ready Skin
"I always use a sheet mask before — the SK-II sheet mask I love — I feel like that always helps my skin. I love salty food, so if I have a big lingerie thing coming up or a beauty thing, I always try to cut that out just 'cause I think that it make you a little bit more bloated. Salt and vinegar chips are definitely my downfall, but I think my skin acts better if I don't eat as much sugar and salt. And then hydrate; I think the best thing for your skin is to drink as much water as possible. And get enough sleep!"
Her Mom's Best Beauty Advice
"I grew up in Namibia. And Africa sun — it's just so intense. We were always outside as kids; we were never sitting inside watching TV all day. And my mom, also growing up in South Africa, just had this thing ingrained in her mind: sunblock. She said she made a lot of mistakes in her 20s. It was in the time that everybody was tanning; you'd put oils on yourself, and you'd lay out and burn. So when she had me, she was like, 'I'm going to ingrain it into my daughter to use sunblock.' As early on as I can remember, my mom was always lathering me in sunblock and I was so annoyed. But that stayed with me forever. Even when I moved away, every day, if I did nothing to my skin, I would always put sunblock on. I thank her for it because I feel like I probably would've had worse skin if I didn't use as much sunblock as I do."
The Advice Behati Will Give Her Daughter
"I definitely would like to instill a healthy lifestyle. Healthy eating and also taking care of your skin, I think that it all starts from a young age. If you educate your child on a healthy lifestyle and incorporate that as a young . . . like even a baby, like I give her a ton of vegetables, you know, that will carry on into her adult life and hopefully she'll use my amazing advice [laughs]."
On Sharing Beauty Products With Her Husband
"[Adam]'s such a dude when it comes to that stuff, he doesn't have a routine, like a lot of guys do. I've seen a lot of my friends' husbands have their cream that they put on or whatever. If he goes to play golf, I'll have to beg him to put on sunscreen. But then it's so funny, he'll see me wear a ridiculous mask, and he's like, 'Oh, I want to try that!' So he definitely gets into it a little bit here and there. And we actually do share [scents] sometimes, because I like really musky oils that I put on as perfume, and that's kind of for men too, so he'll sometimes put it on and I'll laugh 'cause he smells like me."
Behati's Ultimate Beauty No-No
"For me personally, it's just too much makeup. Or over-tanning. If you go to a tanning place and then put on thick makeup on top of that is a big beauty no-no for me. And then sometimes I sleep with my makeup on and that's one of the things that I tell myself I'll never do. I'm like, 'Don't sleep in your mascara!' I'm always scared that I'm gonna get a stye or something from it. Then I do it and can't open my eyes in the morning. So that's one of the things that I always try and do is just like take off my mascara if I had some makeup on."
How She Gets Those Perfectly Imperfect Beach Waves
"You're gonna hate me but I don't use anything in my hair. Then when I got pregnant and I was using all those vitamins, it even got thicker and longer and crazier. Now it's actually super curly and I have this coarse kink in the back; it's the weirdest thing. But I really like Oribe. If I do use something I'll use a thickening spray. One other product that I really like is a dry shampoo, any dry shampoo. I have a lot of hair, but it's fine, so it gets oily pretty quickly in the front. I usually travel with dry shampoo."
Her Go-To Lip Color For a Night on the Town
"I really like a lip pencil. Victoria's Secret just started making this velvet matte lip thing. VS is not really known for their lip stuff — they're underwear! — so I was surprised to find this. It's kind of a nudie pink color. I've been using it when I go out and it's amazing. Any kind of nude pinkish pouty lip color I'm all about right now. I love it. And if I really feel like it, I'll have no makeup on but have a really nice red lip. It's such a look with no eye shadow, no nothing, just a really clean face with a red lip."