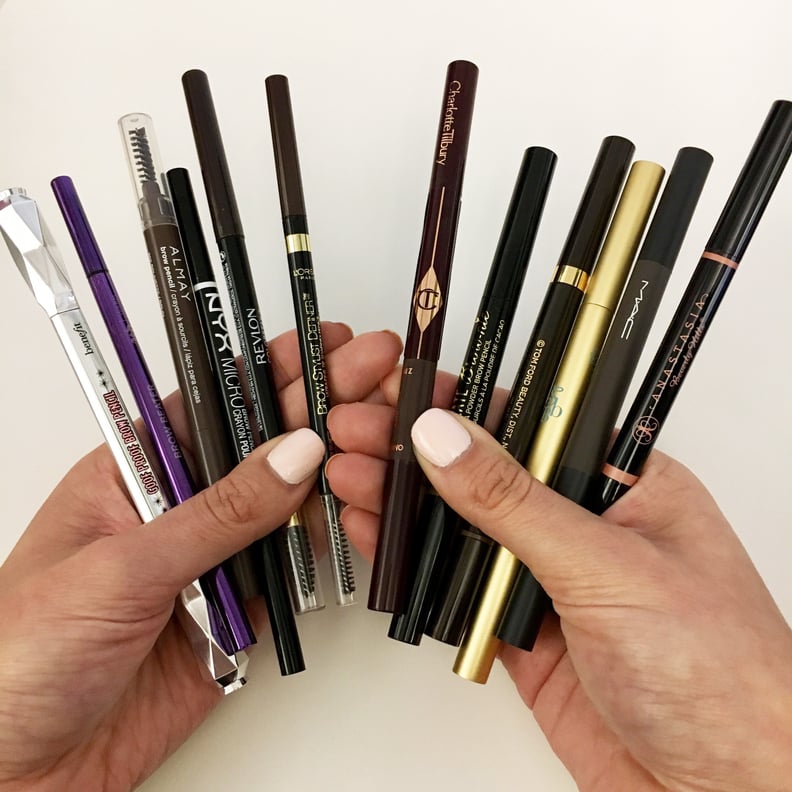 POPSUGAR Photography | Perri Konecky
POPSUGAR Photography | Perri Konecky
As POPSUGAR editors, we independently select and write about stuff we love and think you'll like too. If you buy a product we have recommended, we may receive affiliate commission, which in turn supports our work.
Like most millennials, my eyebrows suffered from the tweezing epidemic of the mid-2000s, but since then, I divorced my Tweezerman, I found solace in threading, and, luckily, I recovered. Now, I walk into every eyebrow appointment and the first thing that comes out of my mouth is, "Just clean 'em up; don't touch the shape." As someone with coarse brows, the shape is everything, and while I don't always leave my appointments with a smile on my face, the truth is, I can always rely on makeup to get these brows back to precise perfection.
Naturally thick, bushy eyebrows like Brooke Shields's in the '80s have been back in style for quite a few years now, and with celebrities like Lily Collins and Sofia Vergara boasting their thick arches, it's clear this "trend" is here to stay. With the burial of the overtweezed brow trend from the 2000s came a slew of new makeup products to help us get just a tiny bit closer to thick eyebrow symmetry. So like I said, when brows don't feel bold enough, there's a pencil for that!
I've been on the hunt for the perfect eyebrow pencil for coarse brows — one that won't make me look like an airbrushed Instagram star, but also will give my brows the respect and recognition they deserve — and thanks to the POPSUGAR Beauty editors' recommendations, I was able to test some of the best ones out there.
I tried 12 retractable eyebrow pencils to see how they fared on coarse eyebrows, and I was definitely surprised by the overall results. In each of the photos, I have my everyday makeup on — primer, foundation, cover-up, bronzer, blush, and mascara — and on the right eyebrow, I have the tested product topped with the Anastasia Beverly Hills Tinted Brow Gel ($22) in Espresso to keep the hairs in place. The only change that has been made to the left eyebrow in all photos is that it's been brushed through.
Read on to see the results of the products with my honest feedback and join me on this eyebrow journey.

Anastasia Beverly Hills Brow Definer
Anastasia is the queen of eyebrows and this triangular-tip retractable pencil ($23) is no joke. I use the Dark Brown for my dark brows, and it instantly filled the area. This is the perfect product for someone trying to get a bold brow, but it's definitely not for someone trying to pull off the no-makeup look. My advice is to be gentle when using this pencil — it's creamy and pigmented. So if that's what you're looking for, this pencil is grade A. The angled tip makes it very easy to control, and I can tell you that it looked just as clean at 5 p.m. as it did at 8 a.m. — major plus.

MAC Cosmetics Brow Sculpt
This pencil ($21) has some hidden powers! I used the Brun shade and although I felt like I was filling in my brows and not seeing results, the waxy formula is powerful. My first thought was to apply more pressure, but after adding more light strokes, I saw great results. I do advise taking advantage of the pointed tip — stencil around the shape using the angles of the pencil and use the wide part to fill in. Voila!

Benefit Cosmetics Goof Proof Eyebrow Pencil
Holy definition! Not only does this pencil ($24) come in the coolest geometric silver packaging, but the shape really makes it unique. The five-point pentagon-like tip makes it so easy to apply and shape your brows on the first try. The application of this pencil was impressively quick because of how smoothly it glides onto the skin and the angled tip lets you decide just how thick you'd like each part of your brow to be. I used shade 4 Medium and it was the perfect color to shape and fill my brows in.

Charlotte Tilbury Brow Lift
Upon first glance (and even after the first use) this pencil ($30) looks like your typical retractable angled pencil, but it's a three-in-one product that "lifts, shapes, and shades" your brows. I used the Super Model color, but before I even got to the shading of my brows I was blown away by how soft the brush was and I later found out that the pencil embraces the same gentleness throughout use.
The formula of this pencil is so smooth, and it colors in the brows nicely. The tip is fine enough to fill in the brow line and the flat side is mighty enough to fill in the shape. The third element of this pencil is the highlight feature. Twist off the side with the pencil and a highlighter will pop out (don't worry, I didn't realize this at first either). Putting a few dabs of the highlight under the arch will give your brow a major lift, no plastic surgery required!

Tom Ford Brow Sculptor
I used this pencil ($45) in Espresso and was immediately blown away by the tip. The calligraphy tip made it possible to use different strokes for each part of my brow and it was amazing. Although the pencil is more expensive than others, you're getting quality with this unique point. I highly advise using the sharpener (you can find it by twisting the side with the brush counterclockwise) when the pencil is worn down to get it nice and pointy. The formula is creamy but not too heavy, so your brows still appear to be filled in naturally. You know the shape of the pencil is special if the product includes a custom sharpener!

Too Faced Chocolate Brow-nie Cocoa Powder Brow Pencil
I'm a sucker for any beauty product that smells like chocolate; and although I unfortunately couldn't bite into this pencil ($23), it was still pretty sweet. While I couldn't get my hands on any of the darker colors, I was pleasantly surprised with how well even the light Taupe color filled in my brows. The formula glides onto the brows smoothly and is perfect for everyday wear. It's infused with cocoa powder and cocoa butter, so if you start craving chocolate after using this pencil, don't blame us!
Urban Decay Brow Beater
I definitely didn't expect this pencil ($20) to be so effective with such a fine tip, but boy, was I wrong. Because the product itself is so thin, I had a ton of control over the way I filled in my brows. Using the Warm Brown shade, I stenciled in the shape of my brow and then filled in with the same fine tip. The formula is smooth and nourishing and blends perfectly. Although I finished off with a gel product, as I've done with all the pencils I've tested, my brows looked equally as strong and defined with the Brow Beater alone.

L'Oréal Brow Stylist Definer
I used this L'Oréal pencil ($9) in Dark Brunette and it matched the color of my natural brows perfectly. The formula was on the waxy side, but because the product itself is so thin and precise it was easy to fill in. While the price of this pencil is hard to beat, my eyebrow area was admittedly a little smudged by the end of the day.

NYX Cosmetics Micro Brow Pencil
This NYX pencil ($10) may be micro, but it is seriously mighty. It worked just as well as any high-end product, and you cannot beat that price. Not only was the Brunette color perfect for my hair color, but it paired well with the gel I used. The formula is velvety, but not too creamy and is great for everyday use. I'm impressed. (Disclaimer: please disregard my sunburn in this photo.)

Revlon ColorStay Brow Pencil
This is definitely the creamiest pencil I've tried so far. I used this Revlon brow tool ($9) in Dark Brown and it was very pigmented. This would be great for someone who needs to add width and shape to the brow; but as someone who already has dark, coarse brows, it was a little too much for me. I didn't need to apply a lot of pressure to see the drastic effect, but this had more of a crayon feel than a precise pencil. The best part about this, however, was the brush. Brushing through my brows using the end of the pencil smoothed out the product very well.

Almay Brow Pencil
The new Almay pencil ($8) comes in two "all-inclusive shades," so I was a bit torn on which to use, but like I always do, I went with the darker shade (Brunette). The formula was very heavy, but I liked the shape of the tip a lot. Because it was creamy, it did smudge during the application process, but I cleaned it up easily, and honestly, the end result was perfect. As you can see in the photo, the Brunette shade was really dark, so I plan on trying the Dark Blonde shade at a later time, which could also be described as a light, golden brown.

Sania's Brow Bar Angled Mechanical Brow Pencil
They say not to judge a book by its cover, but once I saw this gold-plated pencil ($30) I was already sold. I was only able to try the Light shade (I typically would've gone for Medium), the color still worked well to fill in my brows and give them a totally natural look. Everything about this pencil was smooth, from the packaging to the removal of the cap and, most importantly, the filling of the brows. The formula wasn't too creamy or too waxy, but I did have to apply a little more pressure because I was using the lighter color. Also, the spooley brush was really smooth and precise. I'm a fan.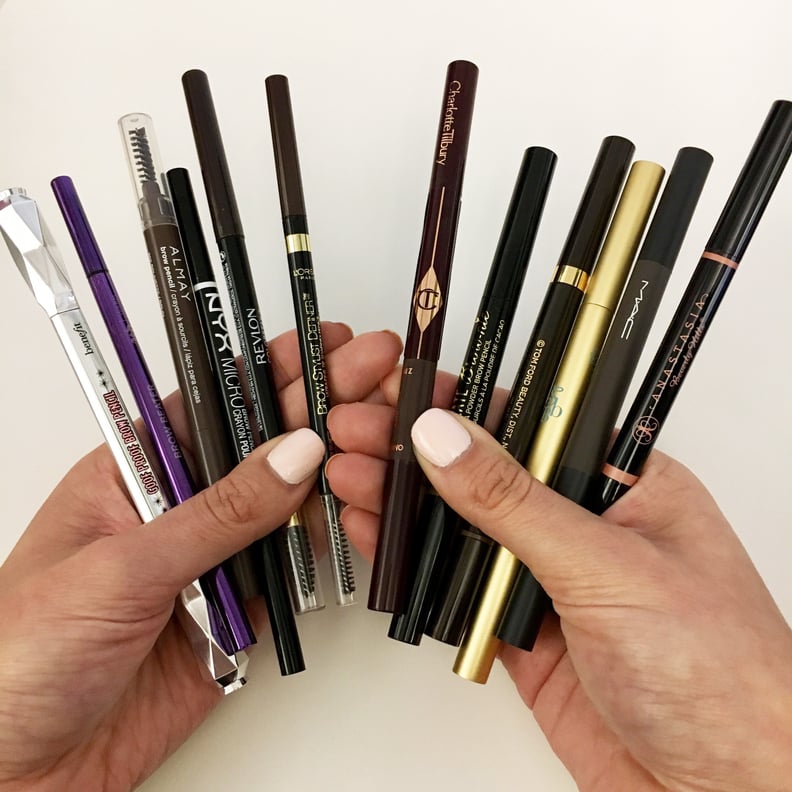 Final Results
After nearly a month of testing out eyebrow pencils (on one eyebrow), I'm proud to share that not once did I leave the house without remembering to do the other brow! Aside from my personal accomplishment, I'm admittedly surprised at how similar the results of 12 different eyebrow pencils were. While the photos may look incredibly alike, it's the formula and tip of each product that makes it unique — all eyebrow pencils were most definitely not created equal.