As POPSUGAR editors, we independently select and write about stuff we love and think you'll like too. If you buy a product we have recommended, we may receive affiliate commission, which in turn supports our work.
Hot styling tools, hair coloring, tight topknots, chemical styling — many of us put our hair through a lot, which often results in damage and loss of shine. Over time, this can lead to hair looking dull, frayed, and less defined. To combat this and help repair damage, deep-conditioning treatments and hair masks are typically first port of call. But second to that are glaze, gloss, and shine treatments.
Many hair gloss treatments were first offered in salons (and are still popular in-salon treatments) as add-ons for hair dyeing, but there are now plenty of at-home versions worth trying. For those without access to a salon, these at-home shine treatments can give your hair a new lease on life (think: healthy, glossy, vibrant) in a matter of minutes.
So, what is a hair gloss or glaze treatment, exactly? Technically speaking, they both pretty much do the same thing — add noticeable shine to your hair — although they do have a few small differences.
A gloss is a semipermanent treatment that adds vibrancy back into colored hair, evens out tone or brassiness, and adds shine. "If you have highlighted hair, what you're trying to do is eliminate either yellow or orange tones," Jack Howard, balayage expert and educator at Paul Edmonds salon in London, says. "If your hair is generally looking washed out, you want to either enhance the color or add a bit of warmth in there. So, essentially, you either want to enhance your color or neutralize tones through it."
Most gloss treatments are done in the salon, but there has been a spike in at-home versions, which often last four to six weeks. "The biggest difference between at-home and in-salon gloss treatments is simply the range of color possibilities," says Steven Picciano, hairstylist and national artist for Goldwell. "The stylist has the ability to create your perfect color, achieving the best possible application. It is much easier for your stylist to apply evenly and saturate well — two things that impact the end result of a color gloss."
A glaze treatment is similar to a gloss, but the results don't last as long; it tends to sit on the hair rather than penetrate your strands, making it more of a quick fix. Interested in trying a gloss or glaze at home but not sure where to start? We rounded up some of our favorites on the market ahead.
— Additional reporting by Anvita Reddy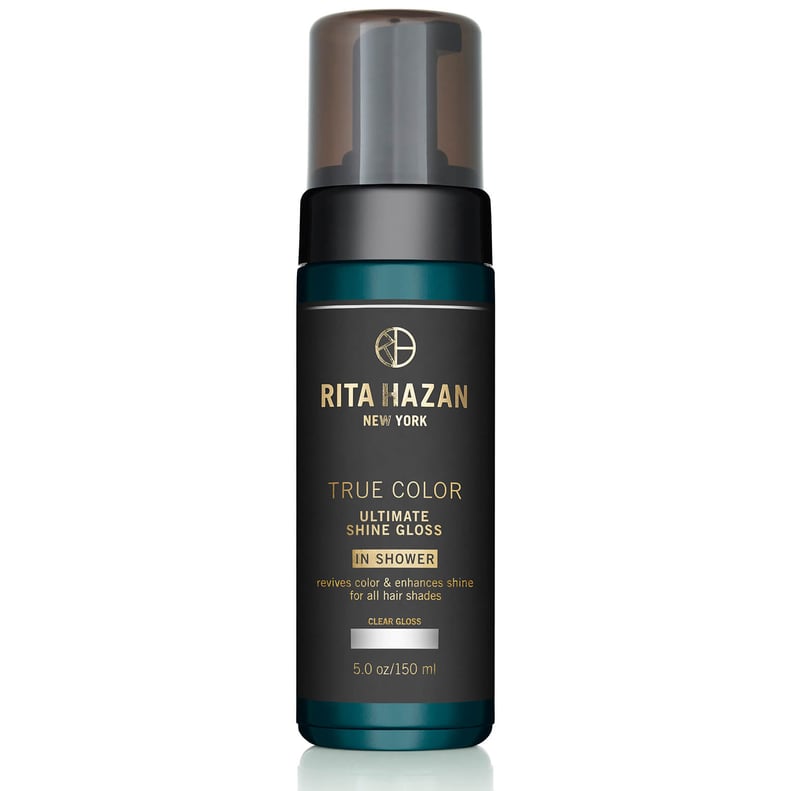 For Brown Hair: Rita Hazan True Color Ultimate Shine Gloss
One of the first glosses on the market, the Rita Hazan True Color Ultimate Shine Gloss ($26) is also one of the easiest treatments to use. The foam formula makes it a doddle to coat every strand with zero mess. Even better, you can do it quickly in the shower without waiting around for the formula to get to work: just shampoo your hair, apply the gloss, rinse immediately — or wait up to three minutes for a more vivid color boost — and then condition as normal.
The gloss is great for those with brown hair or darker tones looking to refresh color and add intense shine.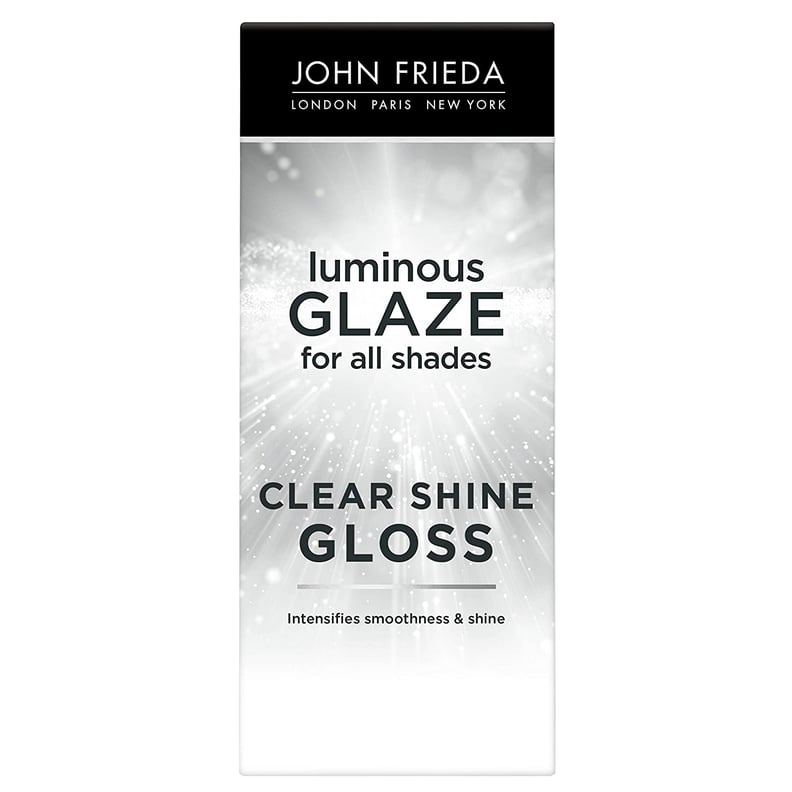 For All Hair Colors: John Frieda Luminous Glaze Clear Shine Gloss
Like it says on the bottle, the John Frieda Luminous Glaze Clear Shine Gloss ($13) is for all shades of hair. Since it's a colorless gloss, it doesn't contain ammonia or peroxide and won't deposit any dye or lighten your hair. Rather, it focuses on adding a shine so intense it dazzles. This treatment differs from many gloss formulas in that it can be used every time you wash your hair — many gloss treatments can only be used on a weekly or every-so-often basis.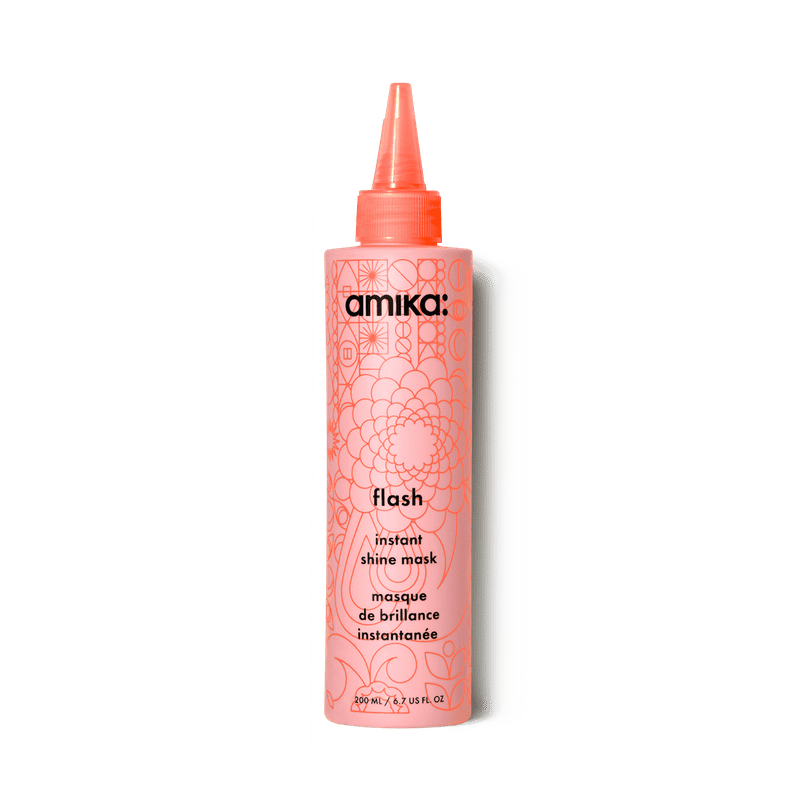 For All Hair Colors: Amika Flash Instant Shine Mask
If you're after salon-worthy shine in minutes, Amika Flash Instant Shine Mask ($26) is your answer. It does exactly as it promises: "delivers brilliant shine and moisture in just 60 seconds." The key is the amino acids in the formula, which smooth your hair from roots to ends and boost hair elasticity, making it less prone to breakage.
Thanks to its lightweight formula, the Amika Flash Instant Shine Mask is great for most hair types. Amika recommends that those with fine and oilier hair use the treatment in place of conditioner and that thick, coarser hair types use it after a conditioner on mid-lengths and ends. The quick application means it's super easy to incorporate into an existing hair routine. The shine treatment also smells amazing, which is always welcome in a hair product.
For Blond Hair and Highlights: Living Proof Color Care Whipped Glaze
Living Proof Color Care Whipped Glaze ($29) is a glaze treatment that comes in two options: light and dark. The light formula aims to brighten and counteract brassy tones, and the dark formula reduces color fade and dullness by depositing temporary dye onto your hair. In addition to adding color vibrancy, the formula also hydrates and helps prevent hair breakage. In other words, it's a win-win.
The application process differs from other gloss treatments in that it's used as a styling treatment on damp hair after shampooing and conditioning — no need to rinse.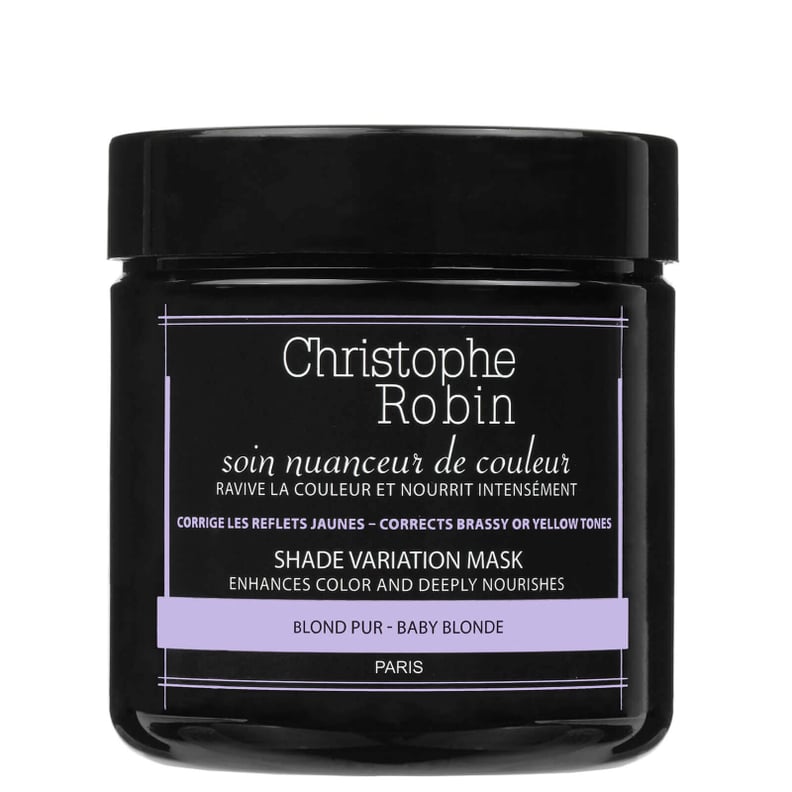 For Blond Hair and Highlights: Christophe Robin Shade Variation Mask
One for the hair-color devotees, the Christophe Robin Shade Variation Mask ($53) is one of the best at-home gloss masks for enhancing hair color, especially blond hues. The once-a-week mask aims to deeply hydrate your hair while neutralizing brassiness. It comes in five shades that suit most hair colors, and the enhanced color lasts three to five weeks.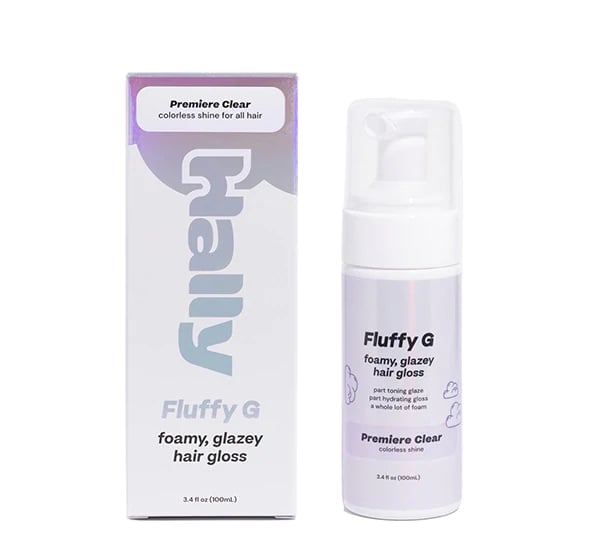 For All Hair Types: Hally Fluffy G
The Hally Fluffy G ($15) is a great option for both color-treated hair and natural hair color. It's an in-shower hair-glazing treatment that adds a clear coat of shine to your hair, giving it a mirror-like finish. It'll give you that high-shine "liquid hair" finish that Megan Fox and Kim Kardashian rock on the red carpets. With this treatment, all you have to do is apply the foam to wet hair in the shower, wait 10 minutes, rinse, and shampoo and condition as usual. Once you dry and style your hair, you'll notice that your hair feels smoother and softer, with no frizz. Plus, you'll have that reflective, glossy shine. One of our editors put it to the test and absolutely loved the results. It also comes in specialized treatments for color-treated blondes and color-treated brunettes.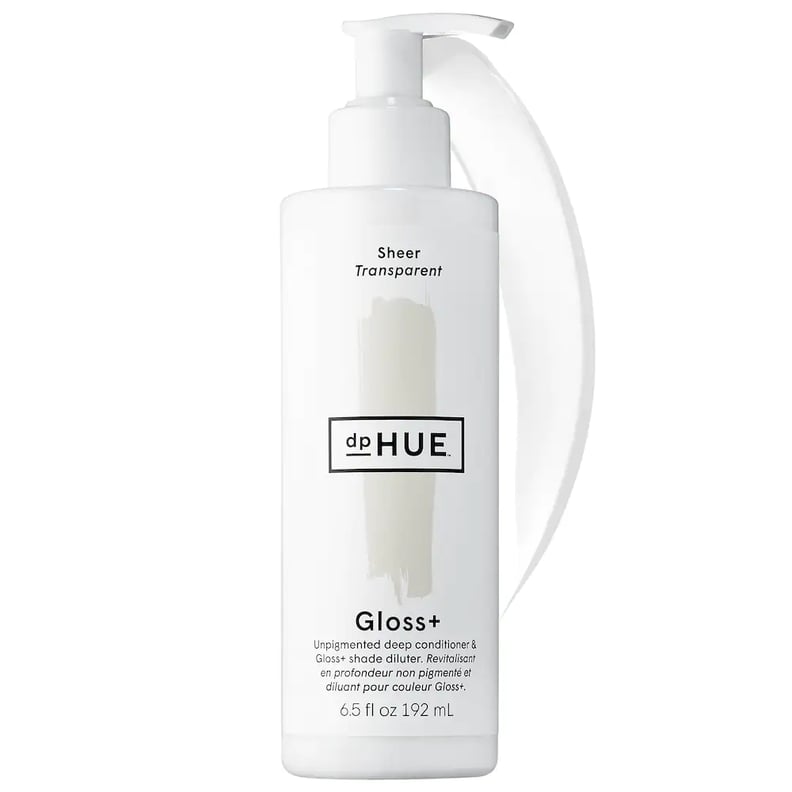 For Long-Lasting Color: dpHUE Gloss+ Semi-permanent Hair Color and Deep Conditioner
Th edpHUE Gloss+ Semi-permanent Hair Color and Deep Conditioner ($35) is a semipermanent hair color that's formulated in a deep-conditioning base that will revive your hair color in just one treatment. It's an all-in-one product that will leave your hair feeling soft, shiny, and vibrant. Great for all hair types and textures, it comes in a variety of shades — we're talking brown, blonds, and even reds, in addition to a clear version. Just apply the treatment on clean, damp hair; leave it on for up to 20 minutes; and rinse. One use can supposedly last up to 10 shampoos. If you don't find your exact hair color, you can mix a shade with the clear one to achieve your desired color.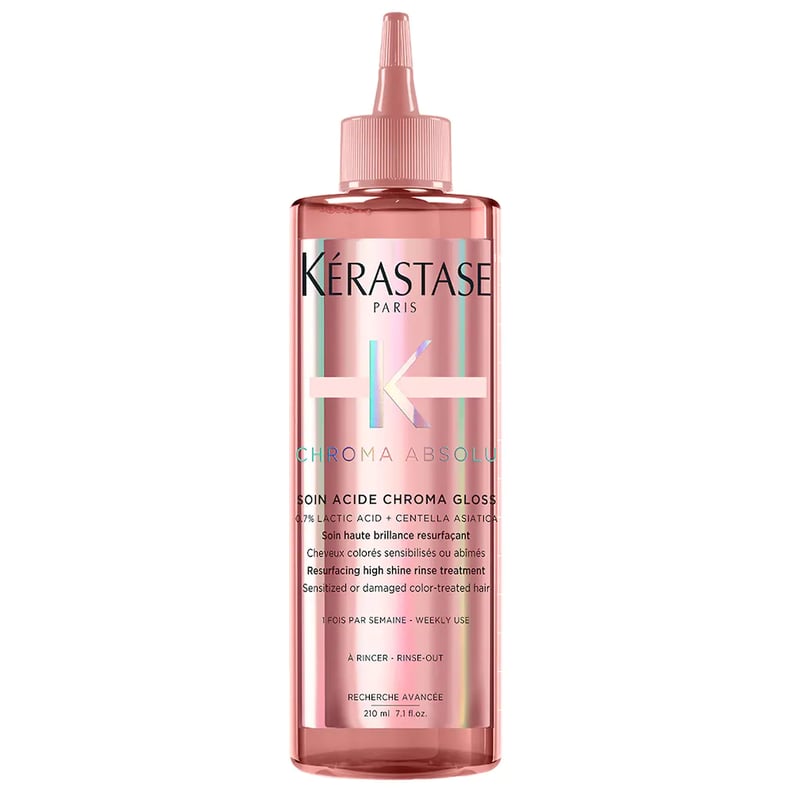 To Smooth and Reduce Frizz: Kérastase Chroma Absolu High Shine Gloss Treatment
If your color-treated hair is prone to frizz and flyaways, you need the Kérastase Chroma Absolu High Shine Gloss Treatment ($53). It's a rinse-out salon gloss treatment that uses lactic acid, tartaric acid, and amino acids to strengthen the hair while providing shine and vibrancy. The conditioning treatment also helps prevent further damage and color-fading. Apply it after your shampoo and leave it on for one to two minutes.
For Blondes and Brunettes: Pureology Color Fanatic Top Coat + Tone
If you have color-treated blond or brunette hair, the Pureology Color Fanatic Top Coat + Tone ($35) will keep your color vibrant and long-lasting. It's a high-gloss toning treatment that helps neutralize brassy orange tones. If you're a blonde, use the purple one. If you're a brunette, use the blue one. It leaves your hair feeling silky-soft, and the color toning and shine can last up to eight washes.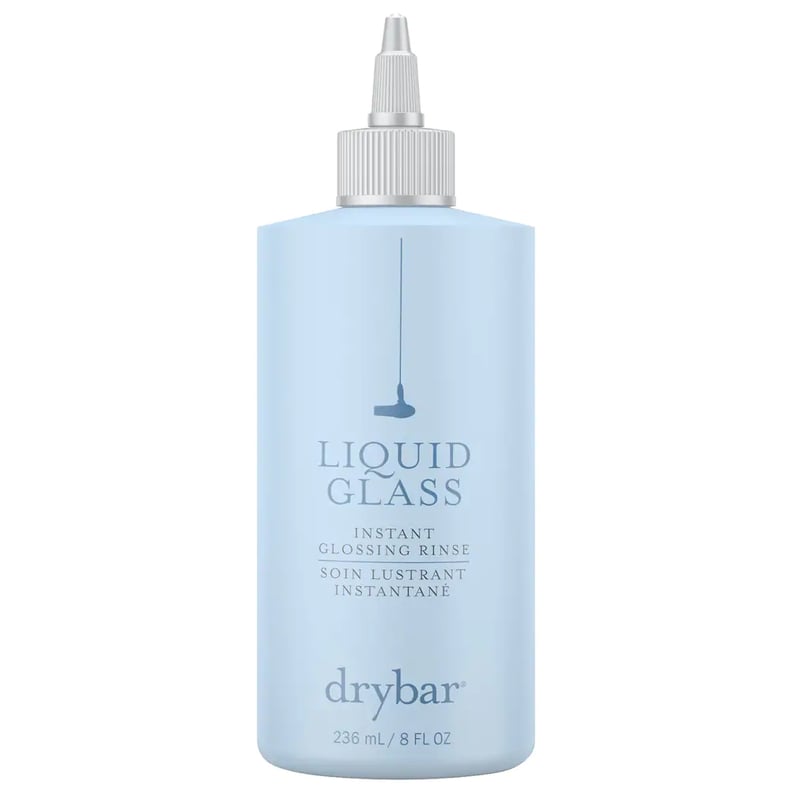 A Quick Treatment: Drybar Liquid Glass Instant Glossing Rinse
The Drybar Liquid Glass Instant Glossing Rinse ($34) claims to do its magic in just 10 seconds! It's a hair-gloss rinse you use after shampooing and before conditioner. Great for all hair types, it diminishes frizz and gives your hair a boost of shine and illuminating vibrance.