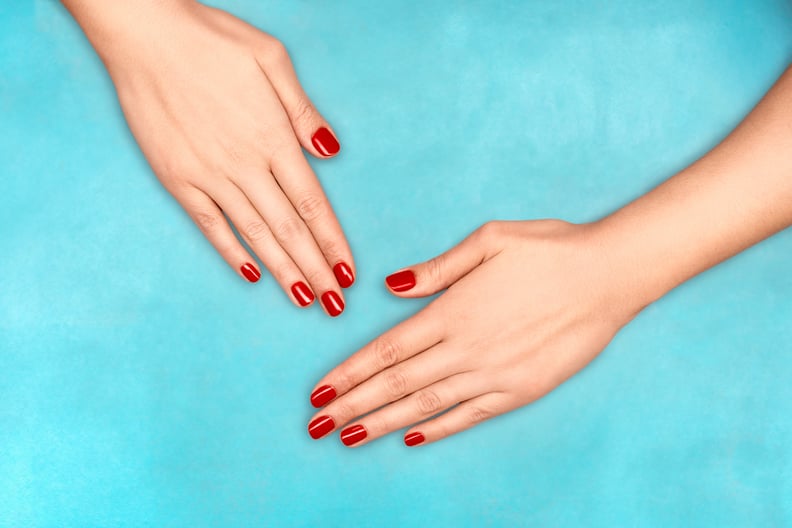 YouTube
YouTube
Most of us have been spending time at home self-isolating for a couple weeks now, which you might have noticed can take a toll on your nails. From constantly washing your hands to loading up on potentially drying hand sanitizer (not to mention skipping the routine trips to the salon), it would make sense if you've been more tempted to give your nails some extra attention these days.
Especially if you're a fan of nail art and with a little more time on your hands, now is as good a time as any to whip out your best nail polishes and tool kit and get to work. Looking for inspiration? Ahead, scroll through for some of our favorite at-home nail art tutorials that are easy to DIY.
— Additional reporting by Kirbie Johnson
Nail a Half-Moon Manicure With This Easy DIY Trick
The half-moon manicure has been all over in recent years, so we wanted to know how to get the look. If you're artistic, it's fairly easy to freehand, but here's a genius trick to mastering the style on both hands.
Showstopping Foil Nail Art in 5 Minutes or Less
Want to recreate the same manicure effect you might have seen at a 90s rave? Simply use foil to create this nail art look.
100 Easy Nail Art Ideas
These colorful nail art looks are a cinch to create; if you know how to draw a straight line, then you're already on your way. Wear these fun looks to a concert or for a big night out on the town.
10 Nail Art Designs Using a Toothpick
This is a no-tool nail art look, so only item you need is a toothpick. That's right: you can DIY them all without any brushes or dotting tools.
Wear Your Heart on Your Manicure
You've heard of wearing your heart on your sleeve . . . but wearing your heart on your manicure? Très chic, if you ask us. Inspired by designer Comme des Garcons, this Valentine's Day manicure is nothing short of designer.
A Nude Nail Art Look in Less Than 5 Minutes
One of the best ways to enhance a nude manicure is to add a subtle accent. And in this case, it requires only one coat of metallic polish and a strip of tape. The end result is a chic, eye-catching design that takes less than five minutes to complete. Let this sophisticated style be inspiration for your next manicure, and here's exactly how to do it.
Starburst Nail Art That's Easy to Do
For anyone who's thought, "Nail art? There's no way I could do that myself," you might want to think again. This brilliant starburst technique just requires scissors, tape, and some strategic painting. And once finished, you'll be impressed with the intricate, artistic geometric pattern that results. The best part? It only looks complicated.
The Ombré Manicure
Spice up an ordinary manicure by creating an ombré look. It's definitely eye-catching and easy to do at-home.
Make Your Own Nail Decals
Nail decals make it easy to get an elaborate, striking nail look. And now you can make them at home with this do-it-yourself technique. So grab some wax paper and your imagination. It's time to get crafty.
Fishnet Nails
Like you often see on the runway in the form of chiffon designs and bold, feminine prints, the beauty world's version involves chic, texturized manicures. Here's how you can recreate the fishnet style on your nails.
10 Easy Nail Art Designs Using Household Items
These cute and colorful designs are perfect for an at-home manicure because they don't require professional nail art tools at all — and can easily be done by using random items that you should have laying around your house.
22 Easy At-Home Nail Art Ideas
It's not that hard to get a salon-perfect manicure at home once you know all the great hacks that will save your time. (Our favorite comes a little after the two-minute mark, and involves your everyday hair band.)
5 DIY Nail Art Using Household Items
You don't need to spend money to get a perfectly done nail art manicure. Here is a tutorial that solely uses household tools you already own, like bobby pins or a newspaper.
5 Easy Spring Nail Ideas
Whether you're looking to create a floral design, marble nail art, glitter stripes, or gilded cuticle art this spring, this tutorial delivers.
5 Ways to Get Ombré Nails
This glitter ombré style is very on-trend, yet is still easy enough to DIY with just a few simple steps.