Miley Cyrus Shared an Easy Nail-Art Look That Needs No Tools During Her Instagram Live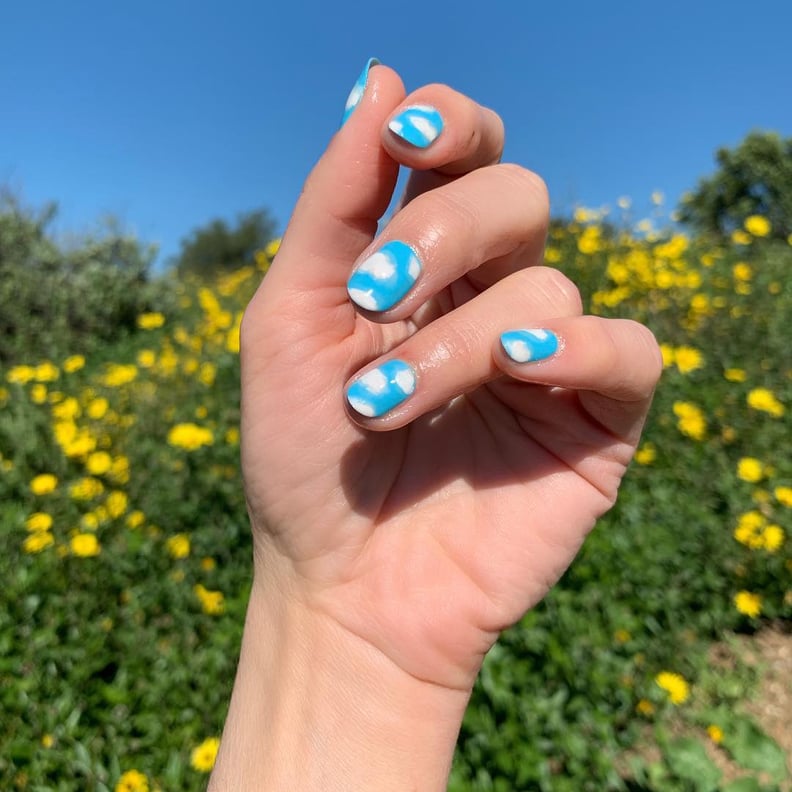 Miley Cyrus talked all things self-care and beauty on today's episode of her new Instagram Live show, Bright Minded. In the extended live stream, she covered everything from the DIY bang trim she recently gave herself (which she joked resembles that of Joe Exotic from Netflix's Tiger King) to how to experiment with makeup while staying home, and she even gave viewers an easy at-home manicure tutorial with help from celebrity manicurist Steph Stone.
Stone has worked with stars like Lucy Boynton, Lili Reinhart, Camila Mendes, and Billie Eilish and is responsible for some of Cyrus's best nail-art looks. Taking into account the current times, she shared a simple DIY nail-art tutorial that required no additional tools or supplies — just the nail-polish shades you already have in your kit and the "splotching" technique.
The manicure Stone created with Cyrus included three different nail-art designs: clouds, animal print, and flowers. It was so easy, Cyrus was able to re-create the look on herself as she followed along. Check out the step-by-step for the manicure tutorial ahead.
Take a Closer Look at All Three Nail Art Looks
With blue, nude, and sheer nail polish at the ready, begin by painting the base color of each of your nails. You should have one blue nail for the clouds, one nude nail for the animal print, and one sheer nail for the flowers. Stone used all Essie nail polish shades.
Stone explained the best technique for applying your nail polish to the base of your nail is by starting not too close to the cuticle, pushing in, and dragging down. Then, do another swipe of color on each side of the nail to finish.
Give each nail two coats of color before moving onto the splotching nail art.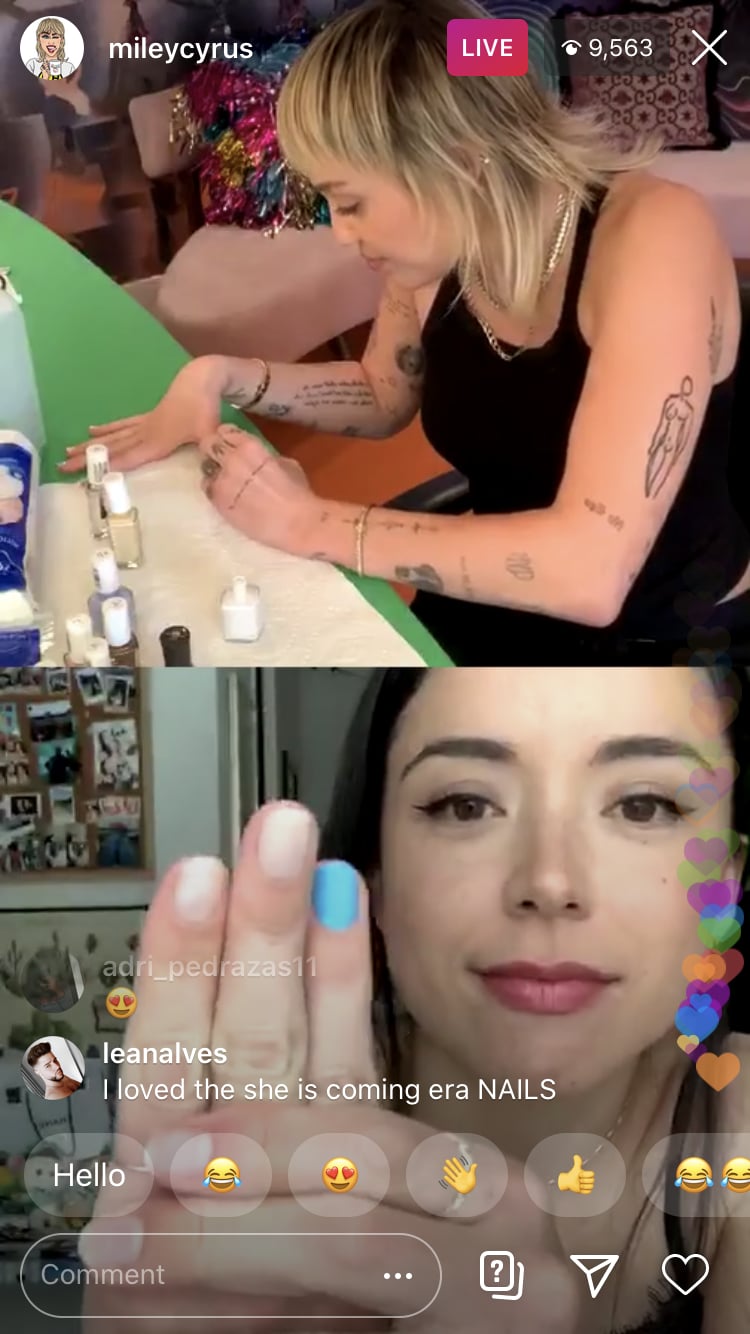 Cloud Nail-Art Tutorial
For the clouds, all you need is white nail polish. Begin by cleaning off your brush of all excess polish so there's barely anything there. Stone said this is the best way to be in control of the brush. Then, simply blob on little white dots clustered together to create a cloud. Depending on how big your nail is — Cyrus remarked that she has "baby nails" — you'll be able to fit anywhere from two to four clouds.
Pro tip: using this same tutorial but with black and white nail polish, you can create a cow-print nail-art design.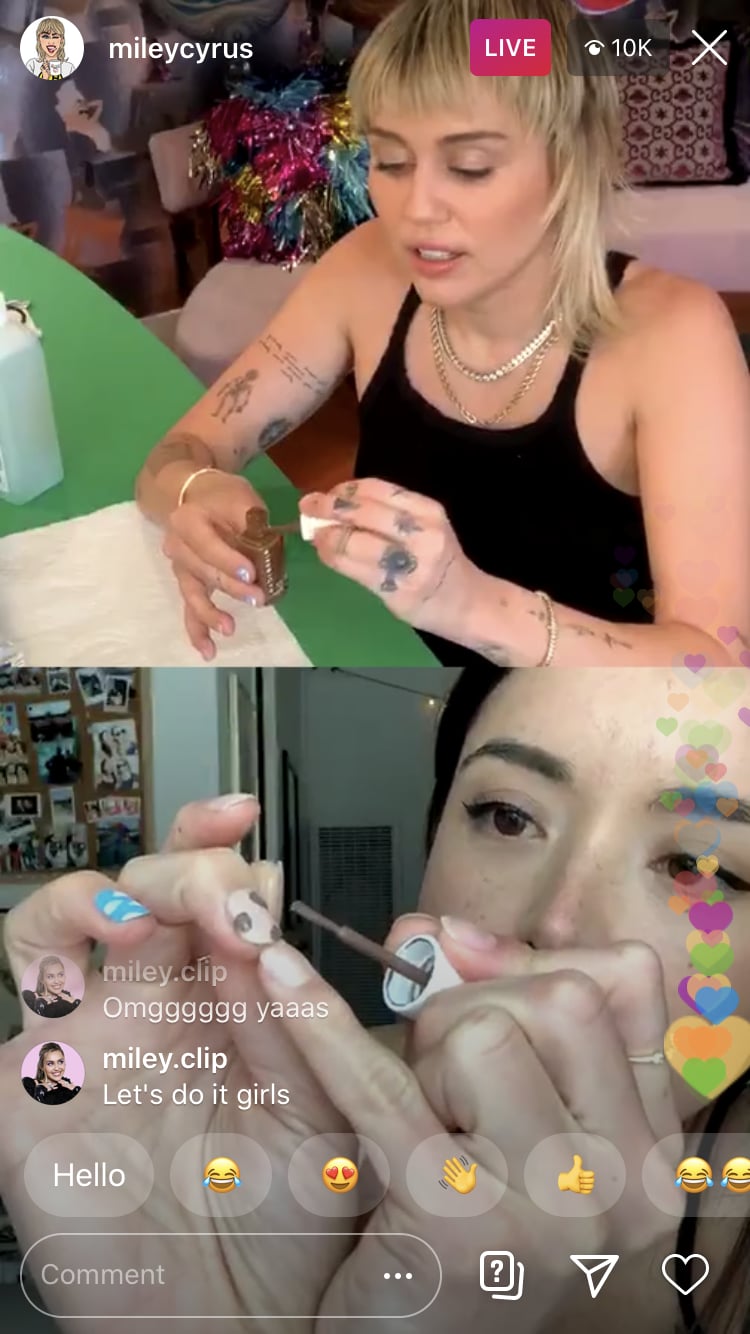 Animal-Print Nail-Art Tutorial
Now onto the nude nail: all you need are brown and black nail polish to complete the animal print. Using brown (and cleaning off the excess polish the same way you did for the cloud nail tutorial), splotch the nail with small dots. Stone said if you put a few dots on the side and base of your nail, it will look more like a nail-art sticker.
Then, with black nail polish, clean off the brush completely so there's barely any polish left — you'll use this to create the black squiggly lines on the animal print. By adding lines on either side of the brown dot, your design will start to resemble leopard print.
Stone advised that if this step is too hard for you, you can use items in your house, like a bobby pin or toothpick, to add the lines.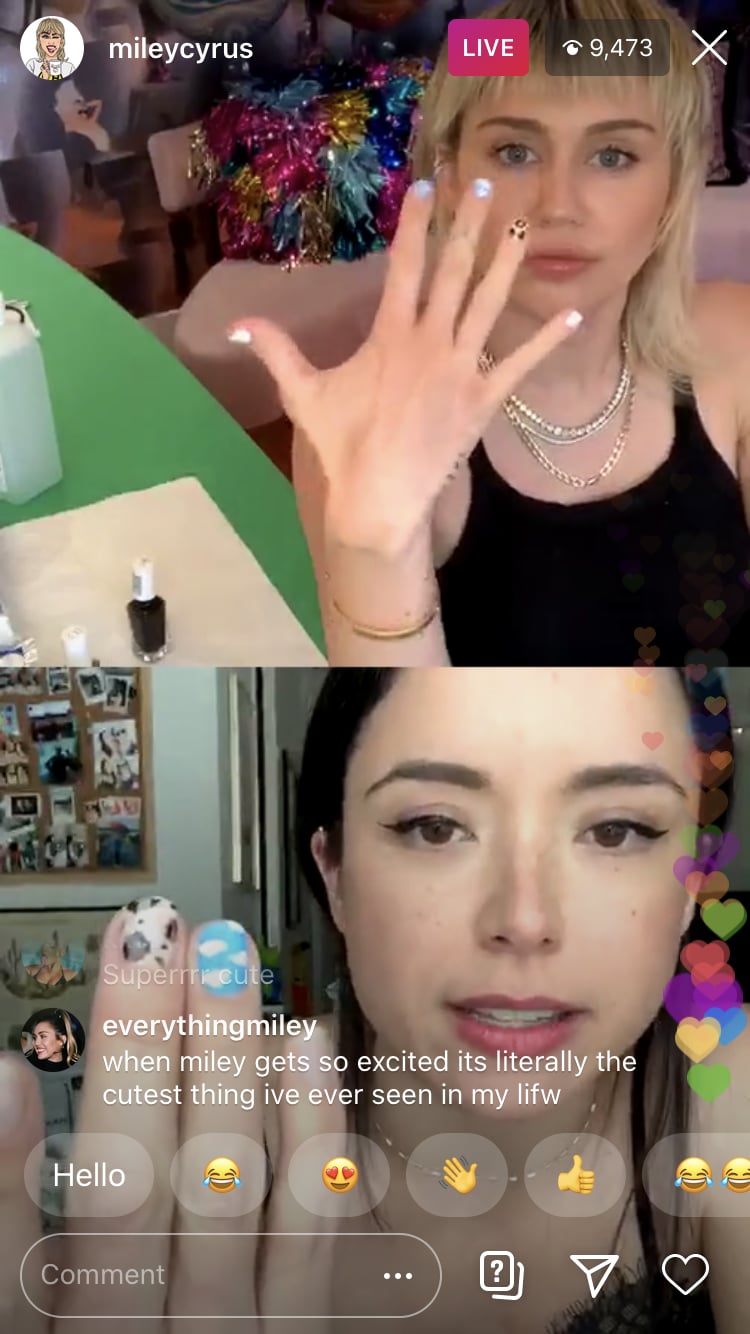 Flower Nail-Art Tutorial
Moving right along to the final design of the tutorial: the flower nail-art design. Working on the sheer nail, use pink, purple, or whatever nail-polish color you would like to create a flower by dabbing a single dot onto the nail. Then, using green nail polish, add two lines for leaves on either side of the flower dot (using the same technique as you did for the black lines in the animal print). As a final step, add a small dab of sheer polish to the middle of the flower to create its center.
Watch the full Bright Minded: Live with Miley Cyrus: Self Care Episode in the video, above.