As POPSUGAR editors, we independently select and write about stuff we love and think you'll like too. If you buy a product we have recommended, we may receive affiliate commission, which in turn supports our work.
For anyone with oily hair, it can feel like a constant battle to prolong the freshness of your hair and have it look like it needs to be washed every day. Even if you just showered that morning, by the end of the day, your roots can look oily and feel dirty and flaky, despite your best efforts. Finding a gentle cleansing shampoo that breaks up oil and balances your scalp is the secret to ensuring your hair always looks and feels fresh.
From affordable drugstore options to rich, luxurious formulas, we found plenty of shampoos formulated to keep your oily scalp in check. The tricky thing about having an oily scalp is you don't want to dry out your hair by overwashing it. Instead, you want to keep clean and balanced without stripping your hair or scalp of essential oils that keep it moisturized. There are a few things you can do to extend the time between washes, like using a dry shampoo or trying out hairstyles for greasy hair, but ultimately, shampoos formulated specifically for those with oily hair will be your best friend.
There is no one-size-fits-all magical number for how often you wash your hair, but with the right shampoo, you'll be able to keep that light-as-air, freshly styled feeling for longer. Ahead, we curated the best shampoos for oily hair to help you kick that oily residue on your roots once and for all. From shampoos with exfoliating properties to options with a minty cooling feeling, you're bound to find one (or a few) that fit your hair needs and price range.
— Additional reporting by Aly Walansky and Jessica Harrington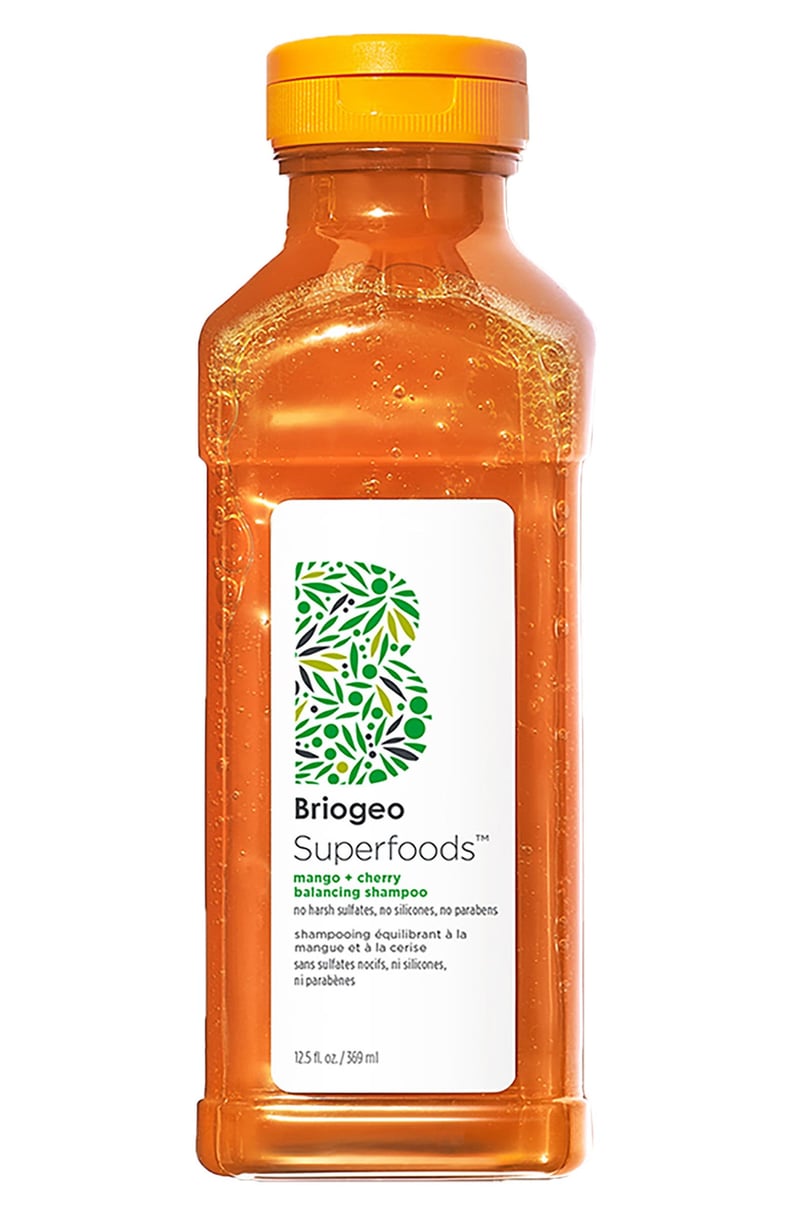 A Balancing Shampoo With Papaya Enzymes
Briogeo Superfoods Mango + Cherry Balancing Shampoo ($30)
Formulated with papaya enzymes, this smoothie-inspired shampoo from Briogeo delivers gentle exfoliation to help balance oil production in the scalp. The shampoo is also packed with vitamin C and E to help keep your hair healthy, bouncy, and grease free. It's great for all hair types and textures and even color-treated hair. Not only will this help balance the scalp, but it will boost shine as well. Plus, it smells absolutely delicious.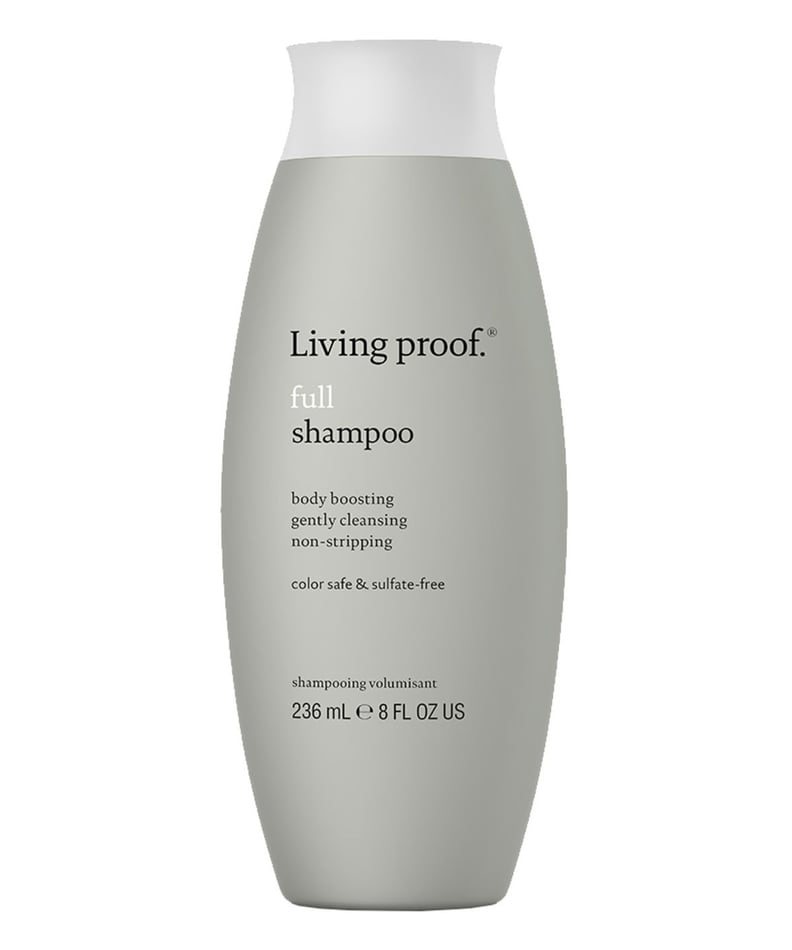 A Shampoo For Fine and Oily Hair
Living Proof Full Shampoo ($32)
An oily scalp can oftentimes lead to flat hairstyles. The Living Proof Full Shampoo can help your scalp stay fresh and balanced and deliver volume as well. This shampoo is formulated for those with finer hair types. It is lightweight and gently cleanses the scalp, removing excess residue. With just one use, you'll have fuller-looking hair that's soft to the touch and bouncy.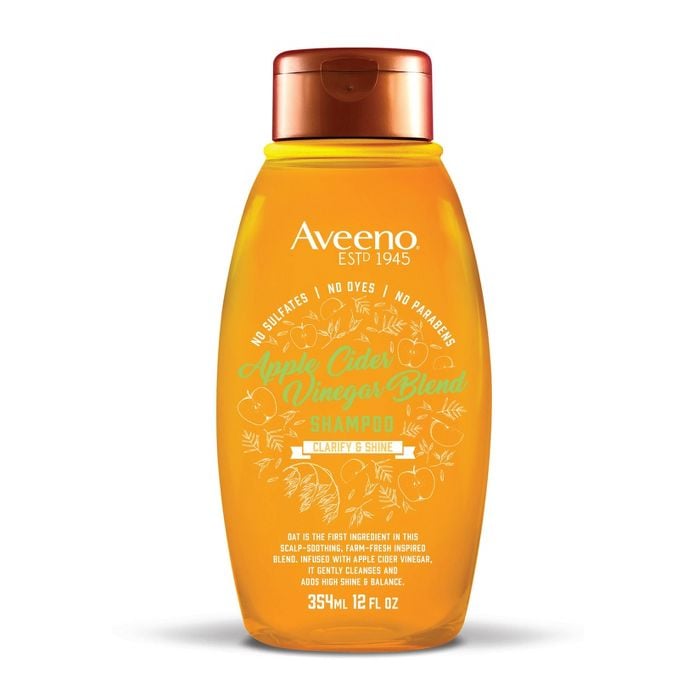 A Balancing Shampoo With Apple Cider Vinegar
Aveeno Apple Cider Vinegar Blend Shampoo ($11)
Aveeno's line is known for its gentle approach, with colloidal oat extract to soothe any dryness and irritation. Its Apple Cider Vinegar Blend Shampoo is a clarifying option that's perfect for those with oily scalps that feel irritated. It's formulated with apple cider vinegar and colloidal oat extract to deliver a scalp-balancing treatment that deeply cleanses the scalp while adding shine back into hair.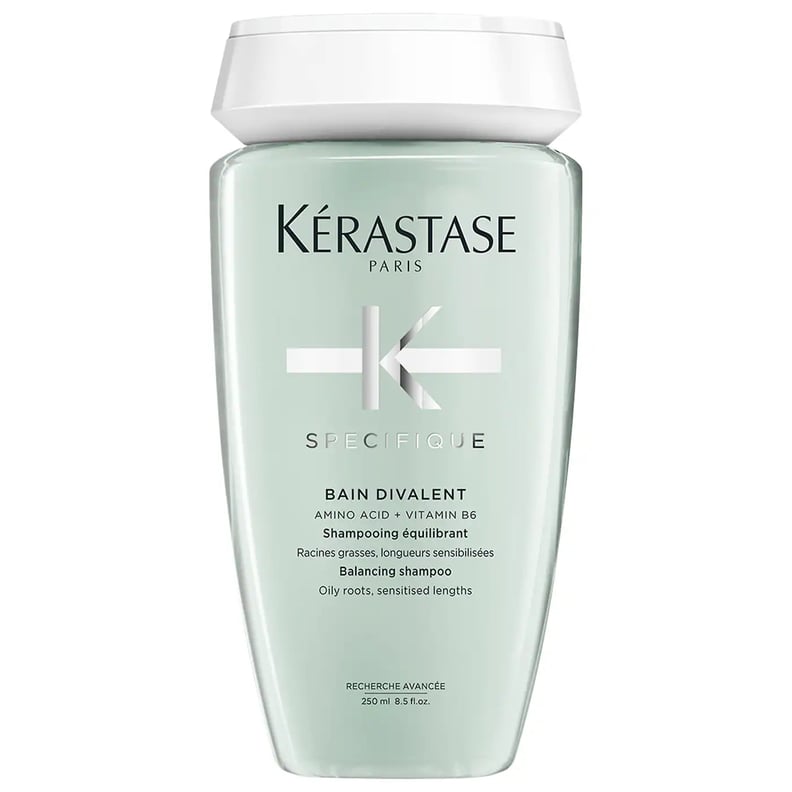 A Volumizing Shampoo For Oily Hair
Kérastase Specifique Bain Divalent Shampoo ($40)
Kérastase's Specifique Bain Divalent Shampoo addresses two of the main complaints about oily hair: greasy roots and flat ends. This balancing shampoo helps to remove excess oil and odor from roots while leaving hair soft and shiny. Great for all hair types and textures, this shampoo is perfect for anyone looking to add more volume to their hair. The lightweight formulation contains amino acids and vitamin B6 to hydrate each strand and help balance the scalp.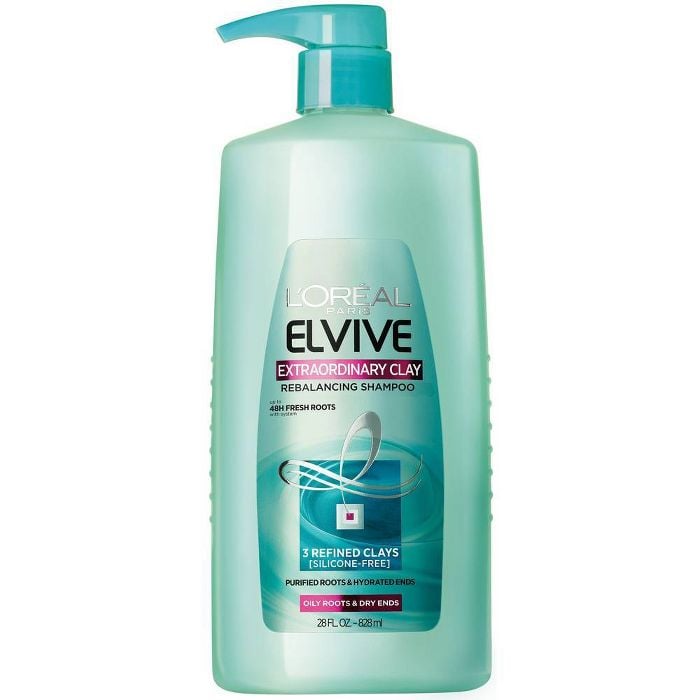 A Clay-Based Rebalancing Shampoo
L'Oréal Paris Elvive Extraordinary Clay Rebalancing Shampoo ($10)
The L'Oréal Paris Elvive Extraordinary Clay Rebalancing Shampoo is made for those who have dry ends and an oily scalp. It's packed with three types of clays to soak up oil and leave your roots refreshed while simultaneously hydrating the ends of your hair. It's designed to leave you with that freshly-washed-hair feeling for up to 48 hours.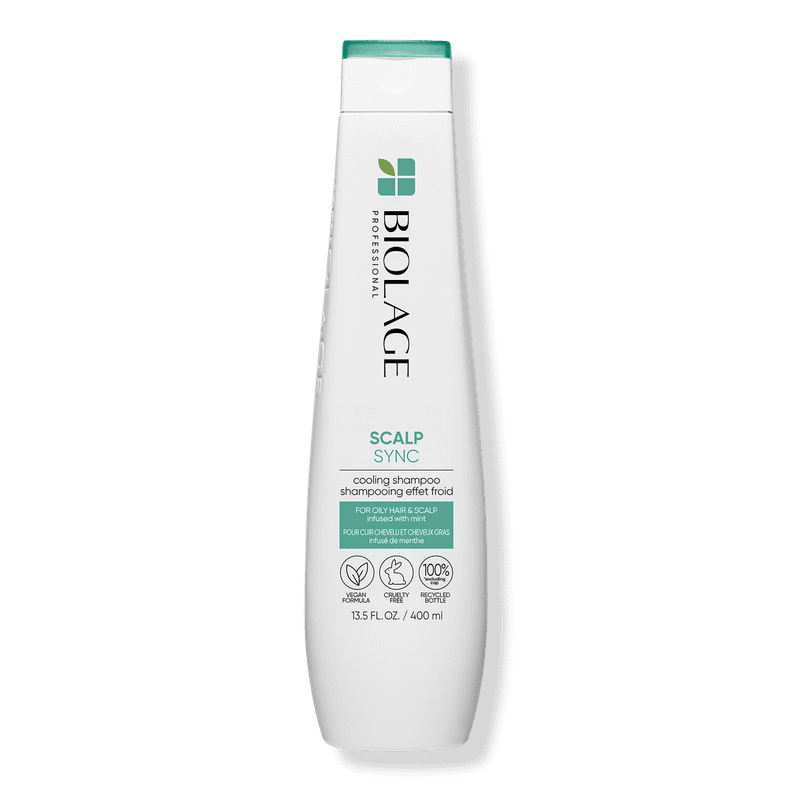 A Cooling Shampoo For Oily Hair
Biolage Scalp Sync Cooling Mint Shampoo ($23-$38)
If your scalp is oily and feels itchy or irritating, the Biolage Scalp Sync Cooling Mint Shampoo will deliver the relief you'll need. Formulated for those with an oily scalp and roots, this shampoo will cleanse away excess oil while delivering a cooling, minty sensation that awakens your senses. Your scalp will feel clean and balanced while your hair will look healthy and shinier than ever.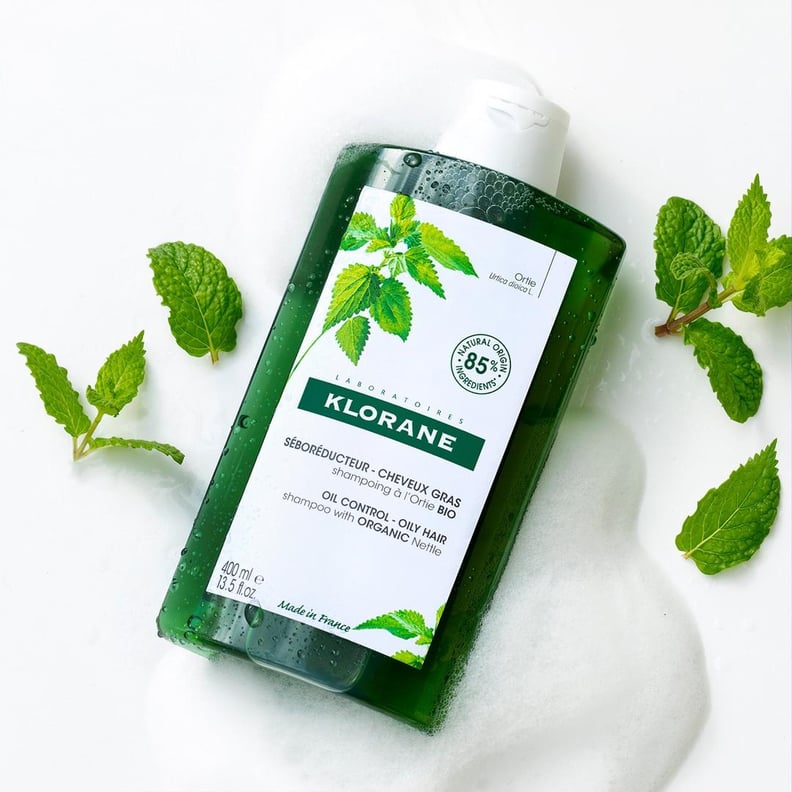 An Oil-Control Shampoo With Nettle
Klorane Oil Control Shampoo With Nettle ($22)
This shampoo from Klorane is formulated specifically for oil control. Its star ingredient, nettle, is known to help reduce excess oil production on the hair and scalp. The plant-based shampoo will leave your hair feeling refreshed and clean without overly stripping your roots. It promises to extend time between washes and keeps hair looking shiny but not greasy.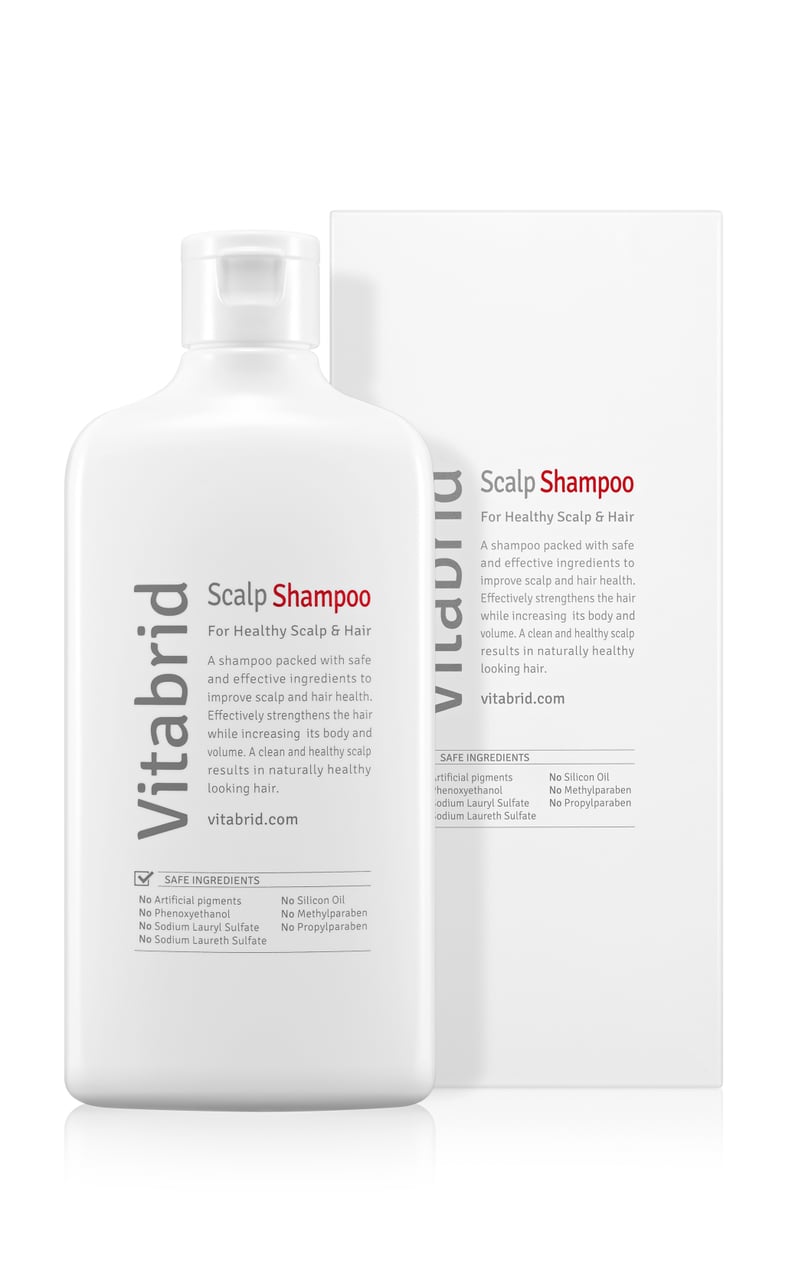 A Scalp-Cleansing Shampoo With Niacinamide
Vitabrid C12 Scalp+ Shampoo ($32)
Vitabrid C12's Scalp+ Shampoo is a K-beauty wonder packed with safe and effective ingredients to improve scalp and hair health. Unlike other shampoos that only remove sebum and surface contamination, Vitabrid's version fully cleanses while promoting root-to-tip hydration and moisture balance at the same time. The formula contains calming and balancing ingredients like Centella Asiatica extract, glycerin, niacinamide, licorice-root extract, rosemary extract, and more.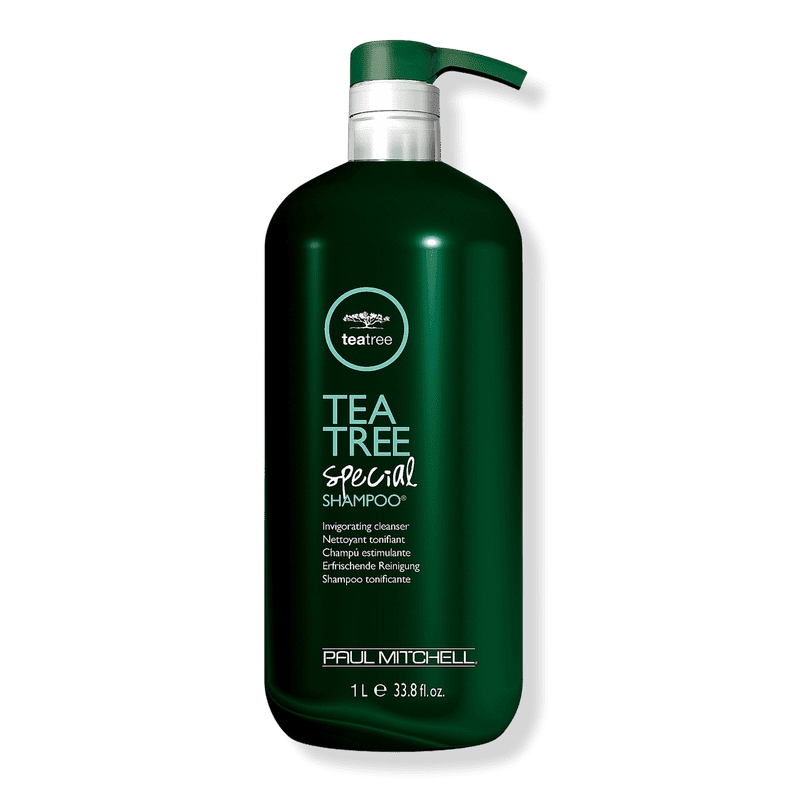 Invigorating Shampoo For Oily Hair
Paul Mitchell Tea Tree Special Shampoo ($18-$45)
With a refreshing tingly sensation, the Paul Mitchell Tea Tree Special Shampoo will make your wash days feel like a spa experience. This shampoo has a blend of tea tree, peppermint, and lavender that helps to clarify and balance the scalp with a touch of aromatherapy. It's ideal for all hair types, especially those with oily hair. It cleanses the hair thoroughly, leaving it feeling refreshed and weightless.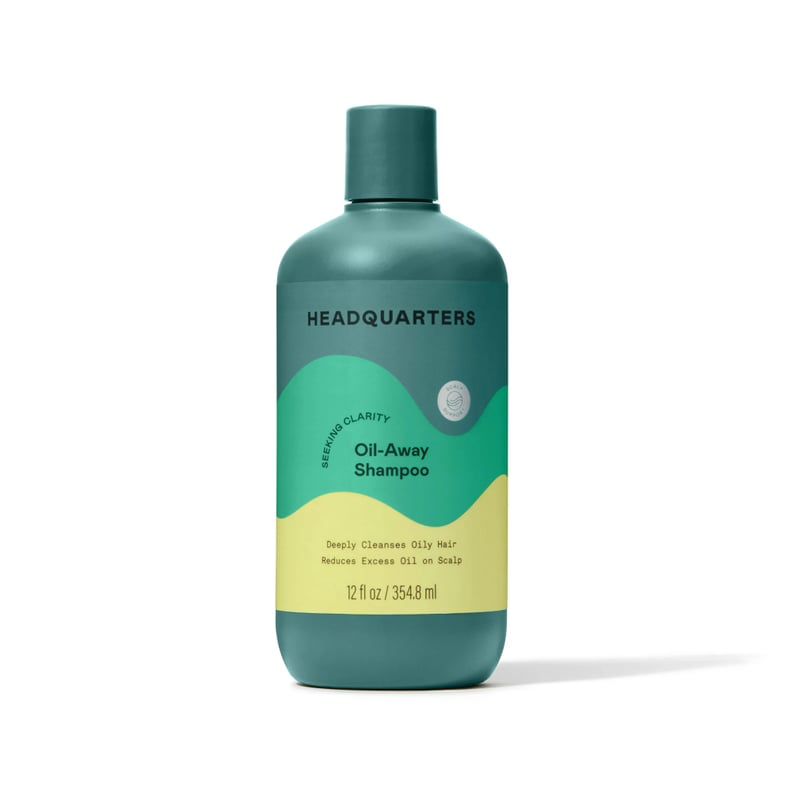 A pH-Balancing Shampoo For Oily Scalp
Headquarters Oil-Away Shampoo For Oily Scalp and Hair ($11)
Headquarters has three lines designed to address different hair needs, and the Oil-Away Shampoo clarifies and refreshes oily hair by targeting grease and dirt buildup. Its pH-balancing formula will make your scalp feel clean and fresh without overly stripping your roots. Your hair will feel less weighed down as well, and it's safe for all hair types, including color-treated hair. Plus, it smells like refreshing grapefruit and basil for a spa-like experience.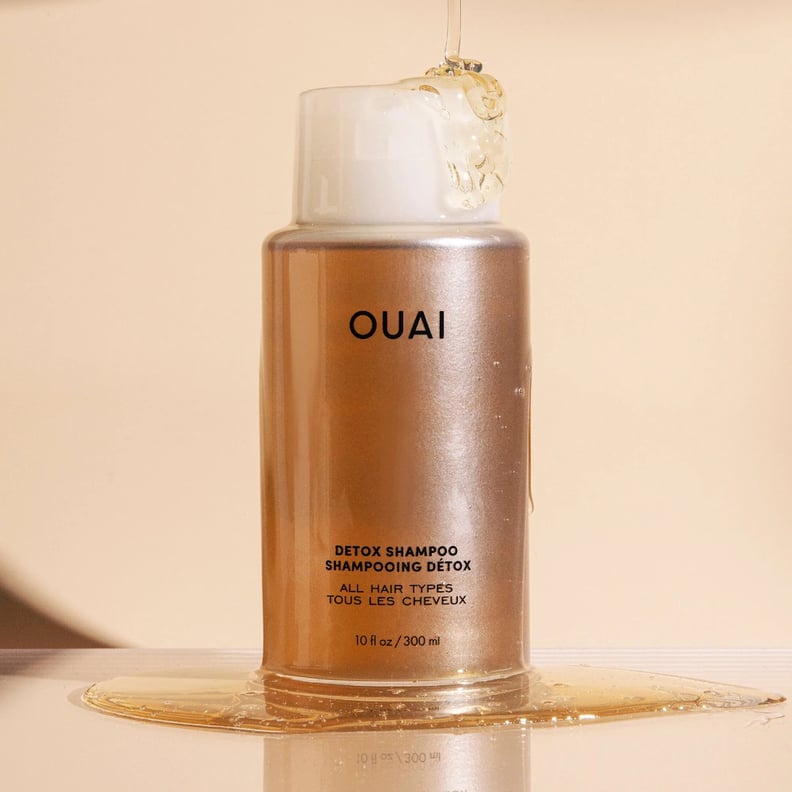 A Weekly Detox Shampoo For Oily Hair
Ouai Detox Shampoo ($32)
Ouai's bestselling Detox Shampoo is an editor-backed clarifying shampoo that helps eliminate buildup, flakiness, and excess oil. It has chelating agents and apple cider vinegar to exfoliate the scalp. It's nonstripping and color-safe due to hydrolyzed keratin, which helps soften and smooth the hair. Plus, you only need to use it once a week. Read our in-depth review of the Ouai Detox Shampoo.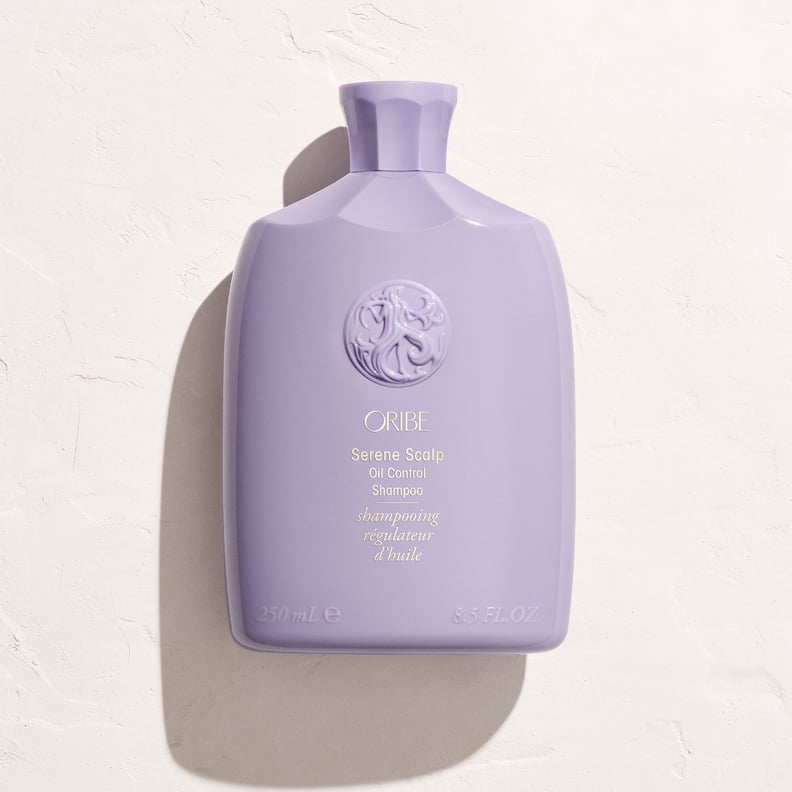 An Oil-Balancing Shampoo For the Scalp's Microbiome
Oribe Serene Scalp Oil Control Shampoo ($52)
Oribe's Serene Scalp Oil Control Shampoo is perfect for those who want to extend the time in between washes. Made for all hair types and textures, this shampoo is formulated specifically for your scalp's microbiome. It gently cleanses the scalp while regulating it with rosebay extract and green marine algae. Plus, with biomimetic amino acids and sugar-derived prebiotic, this shampoo creates a healthy and flourishing environment for a balanced microbiome, reducing the production of excess oil.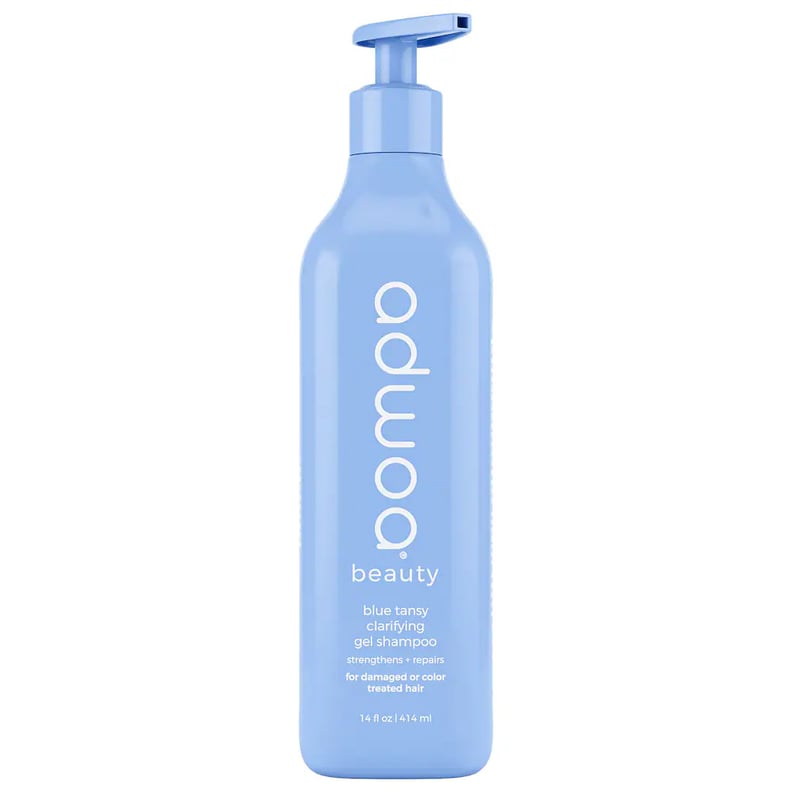 A Clarifying Gel Shampoo With Blue Tansy
Adwoa Beauty Blue Tansy Clarifying Gel Shampoo ($25)
If your hair feels dry and oily at the same time, you'll need a shampoo that helps balance out your scalp, like the Adwoa Beauty Blue Tansy Clarifying Gel Shampoo. It can remove buildup and excess oil while promoting hair growth and hydration. This shampoo is made for all hair types and textures, adding back moisture and shine while delivering a deep cleanse to the scalp. It's ideal for those who have buildup at the roots.