The All-Time Favorite Skincare Products Our Editors Are Loving This Month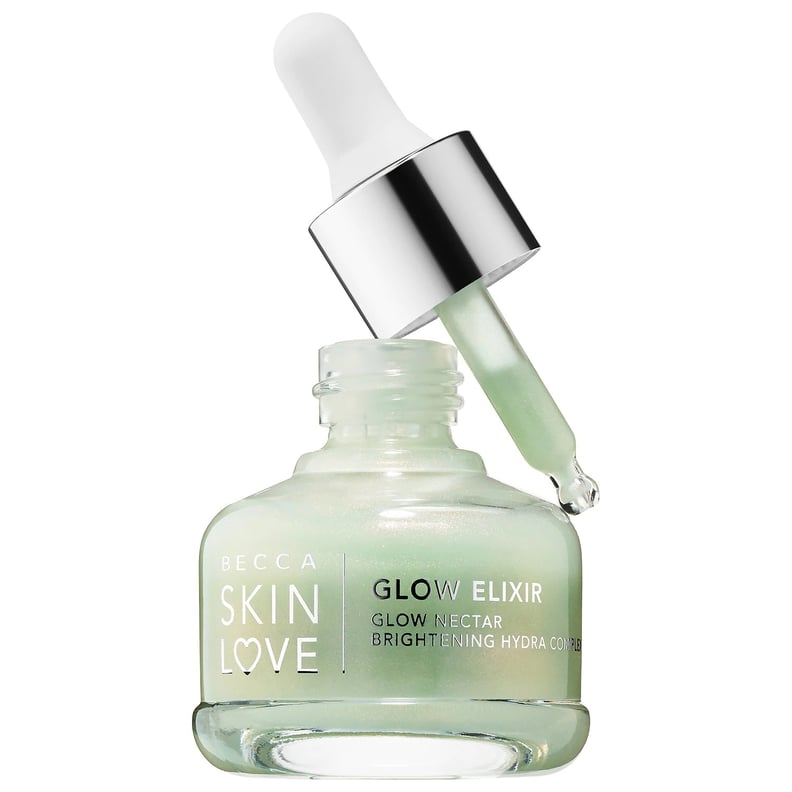 Courtesy of brand
Courtesy of brand
As POPSUGAR editors, we independently select and write about stuff we love and think you'll like too. If you buy a product we have recommended, we may receive affiliate commission, which in turn supports our work.
Numbers, while quite essential for the career trajectory of a psychometrician and financial analyst, are rarely considered by skincare consumers. That is, until you're googling the term to a whopping 554 million results, or scrolling through 44 skincare-related tabs on Sephora's drop-down menu to make shopping its thousands of products online more manageable.
Of the 84,000 seconds that make up a single day, you're likely only dedicating around 600 of them to your skin routine, rendering it 221 percent more difficult to narrow down which items are worth adding. So to help you sift through the fog of uncertainty, we've asked our editors to share the only skincare products you need to know about right now. No more math — just the rush that comes from finally solving the equation.
Ahava 24K Gold Mineral Mud Mask
"It's not every day you get to feel like Elizabeth Taylor circa 1963's Cleopatra, but then again, that's probably because Ahava's 24K Gold Mineral Mud Mask ($58) hadn't been introduced until this month. I've been painting gold onto my face like a true royal twice a week for a month, and, in addition to the fact that it leaves behind actual shimmer particles, the brightening formula has felt like flipping the light switch on my dull skin every single time. Hollywood, you can @ me." — Kelsey Castañon, senior beauty editor

Murad Outsmart Acne Clarifying Treatment
"The Murad Outsmart Acne Clarifying Treatment ($44) has been saving my skin through the humid weather. I always break out when it gets wet and hot outside but this lightweight serum has done wonders for my complexion. The combination of salicylic acid and glycolic acid has rid my skin of bacteria and therefore pimples." — Sarah Siegel, assistant editor, beauty and shop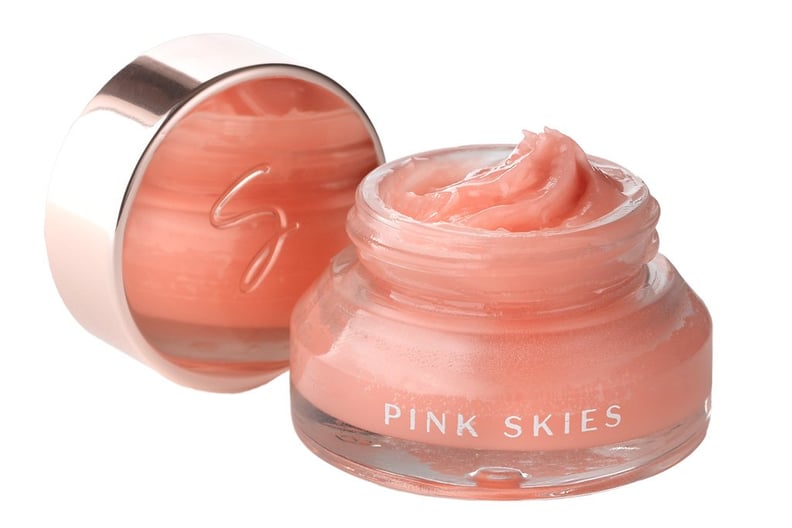 Girl Undiscovered Pink Skies Beauty Balm
"A prescription acne treatment I recently used left my face looking splotchy red, like I was permanently embarrassed about something awkward I just said — which I usually am, but I don't want the world to know that. Luckily, I discovered the Girl Undiscovered Pink Skies Beauty Balm ($32). Not only does it revive tired skin, get rid of dry patches, and make your face soft as a baby's you-know-what, but it also leaves behind a supercute pink flush. My cheeks look less, 'oh my God, my boss just caught me watching penguin videos at work,' and more 'oh my God, my crush just gave me their number.'" — Alaina Demopoulos, junior beauty writer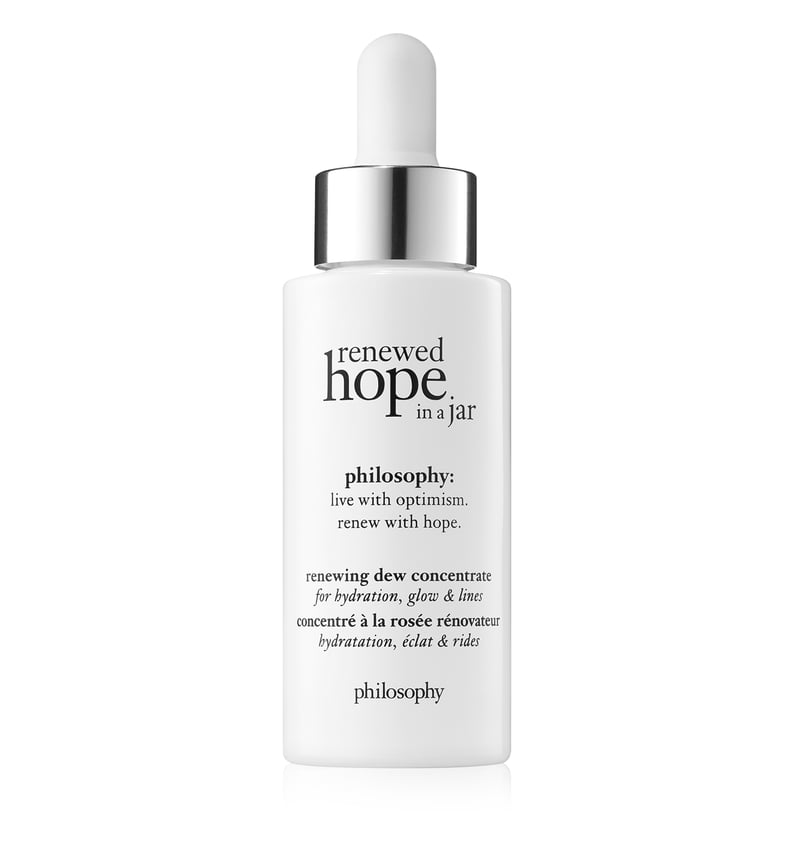 Philosophy Renewed Hope In A Jar Renewing Dew Concentrate
"While I'm fully aware of the all-encompassing suffocation that comes when you wear too heavy a face cream and step outside in 87 percent humidity, my skin still needs a hit of hydration despite the heat. That's why Philosophy's Renewed Hope In A Jar Renewing Dew Concentrate ($45) has been my saving grace this Summer: its water-like texture means it's lightweight enough so I won't want to cry in discomfort when I'm standing on the poorly ventilated subway platform every morning, but it's also packed with moisturizing glycerin and botanicals that keep flakes in check." — KC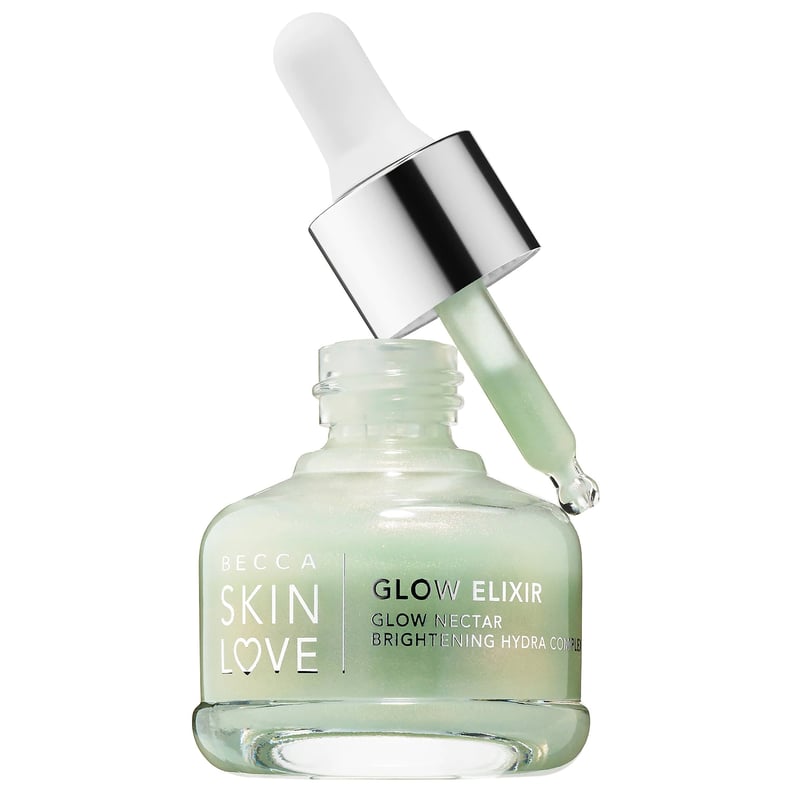 Becca Skin Love Glow Elixir
"Becca's Shimmering Skin Perfecter in Topaz is one of my favorite highlighters, ever. It makes my cheekbones glow like an expensive piece of pure gold. So when I found out that the brand was taking its first dabble into skin care, I had high hopes — and I wasn't let down. I've been using the Skin Love Glow Elixir ($48) before applying makeup and, I'll tell you, it's just as magical as my go-to. The lightweight formula has a cooling, watery texture that seeps into your skin and gives it a subtle glow that isn't overwhelming. I guess you can now say there's a tie for my favorite product." — Aimee Simeon, assistant beauty editor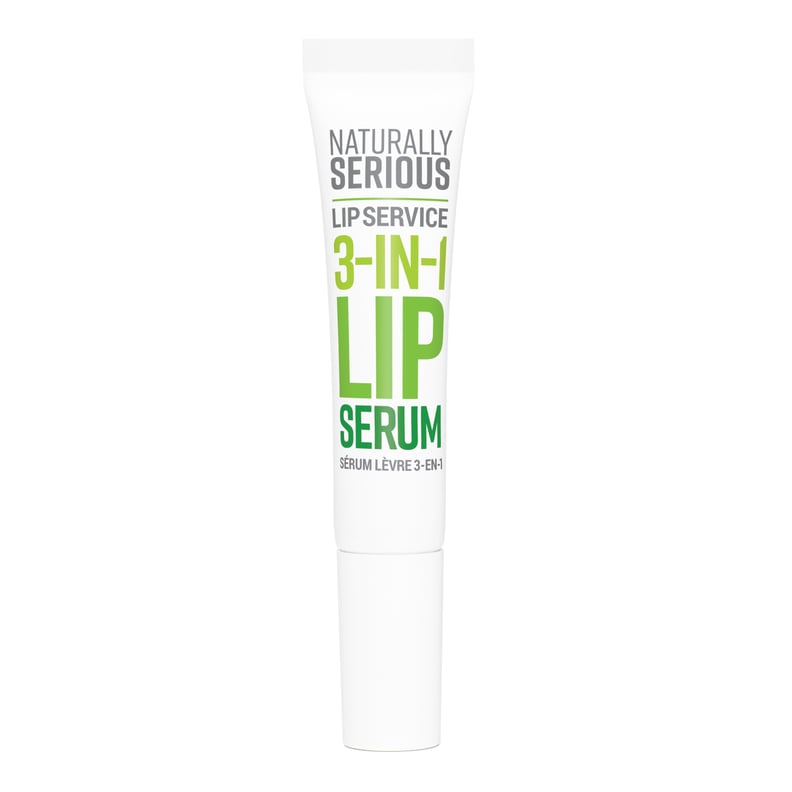 Naturally Serious Lip Service 3-In-1 Lip Serum
"I am a balm-lover. I'm too embarrassed to count how many I own, but I wouldn't be surprised if it was over a hundred. That said, I've never tried a Lip Serum ($16), such as this option from the new brand Naturally Serious. Though its standard applicator looks like it would dispense a gel-like balm, it actually contains what looks like a white moisturizer. It's trippy to put that on your lips, but I encourage you to do so right before bed. You'll wake up with really hydrated, unchapped lips, and unlike other quick fixes, the results really last." — AD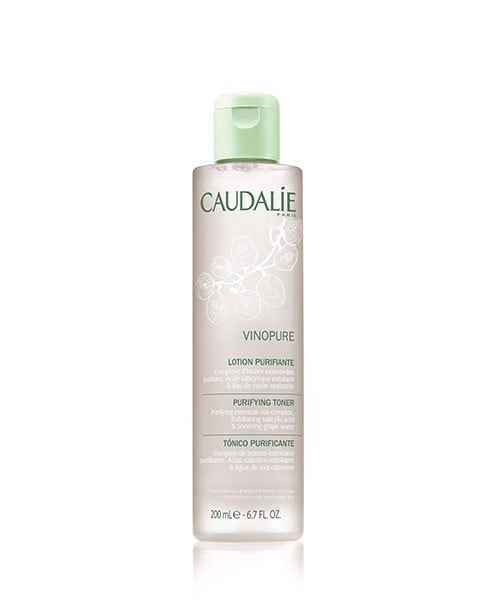 Caudalie Vinopure Purifying Toner
"Right next to candle snuffers and a bracelet that tells you how much water you drink, facial toners have long lived on my verifiable list of Things You Most Certainly Do Not Need. Then, one night after one too many merlots, I accidentally used the Caudalie Vinopure Purifying Toner ($28) as if it were a micellar water, clumsily squirting it onto a cotton pad and sweeping it over my face. It didn't take off all my makeup — the salicylic acid and essential oil-spiked formula isn't a remover, after all — but it did smell utterly delicious, which prompted me to try it the right way the next night, and the next, and the next. But I wasn't just tipsy: this stuff is actually good. Now I use it after I wash my face, where it dissolves any lingering foundation and leaves my skin feeling buttery soft. Maybe it's time I give my little list another look." — KC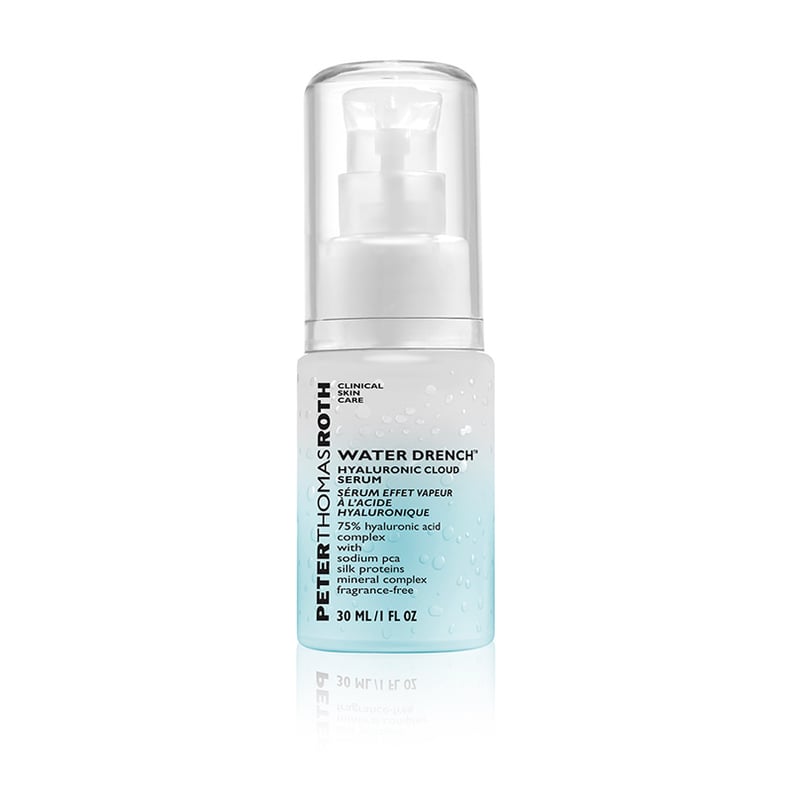 Peter Thomas Roth Water Drench Serum
"My skin is dry as f*ck, so I always look for serums that makes my face feel hydrated beyond when I first apply them. Peter Thomas Roth Water Drench Hyaluronic Cloud Serum ($65) has been that holy grail for me. It's 75 percent hyaluronic acid, which intensely hydrates my skin for hours. I massage one pump of this into my face and my dry, paper-like skin looks and feels immediately more plump and touchable, like it took a drink of water straight from a cloud." — AS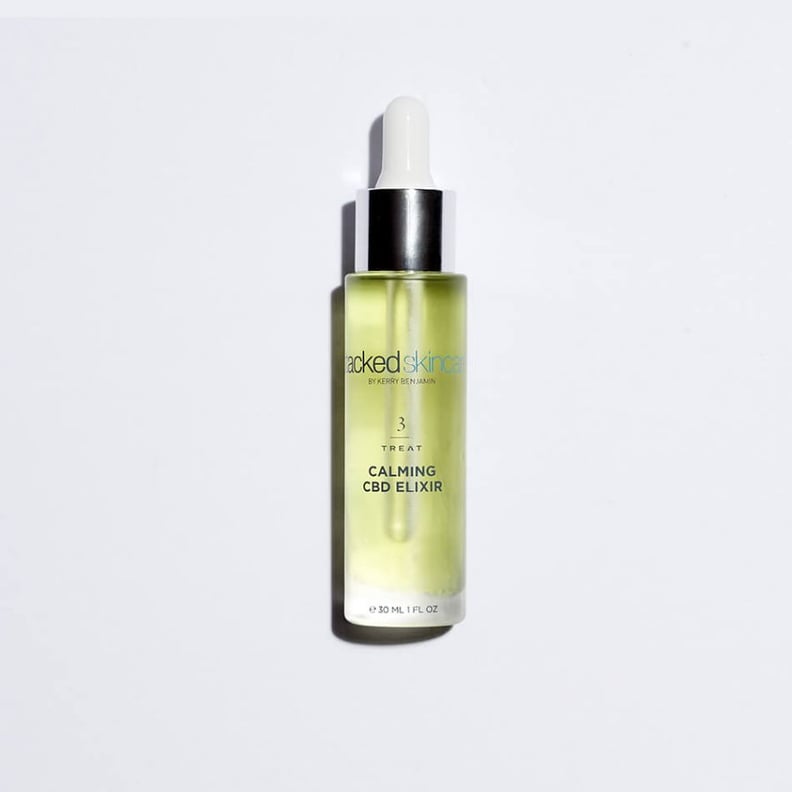 Stacked Skincare CBD Calming Face Elixir
"I've been cat-sitting a very enthusiastic feline all week, and I think if you were to make a word bubble of the things I've said most during this time, "calm down, cat!" would be at the top. Taking care of living things is not my forte, and the stress has started to show on my face. My complexion is super red, which is why I've been using the new Stacked Skincare CBD Calming Face Elixir ($120). It is made mostly of the cannabinoid and has anti-inflammatory properties, so not only does it de-puff, but it also works wonders as an overnight acne treatment. In addition, it contains rosehip oil, a favorite of Kate Middleton, to hydrate the heck out of thirsty skin." — AD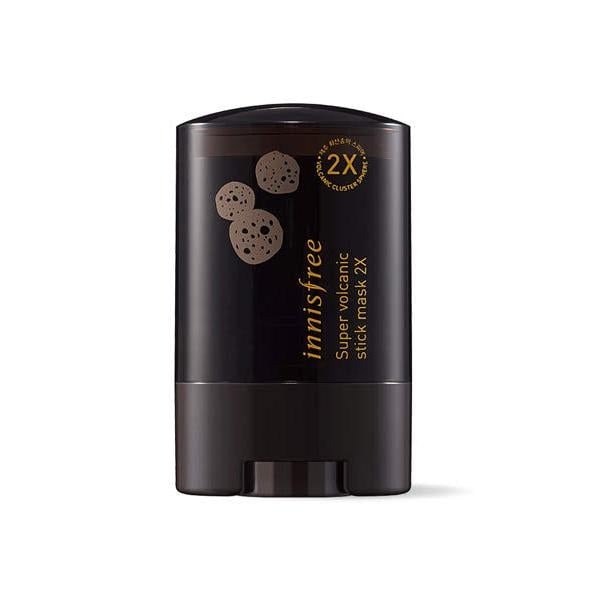 Innisfree Stick Mask with Super Volcanic Clusters
"I don't love when brands advertise a product as 'pore clearing,' as I think those two words are mostly marketing with few results. My one exception to that rule is my all-time favorite skincare product, the cult-favorite Innisfree Pore Clearing Clay Mousse Mask with Volcanic Clusters. This month, the K-beauty brand has released the mask in stick form, and it sort of looks like a little deodorant. Instead of swiping Innisfree Stick Mask with Super Volcanic Clusters ($12) over your pits, put it on your face. The applicator will dispense a little layer of goo over your face, which you can rinse off immediately. It's sort of a fast-acting version of its mama bear product, which requires that you leave it on for 20-30 minutes. If you don't have time to mask, but still want a clearer complexion, I'd recommend adding this to your skincare shelf." — AD
Ole Henriksen Goodnight Glow Retin-Alt Sleeping Crème
"Ever go on a date with someone so nice, so willing to go the extra mile that it would be a cardinal sin to let them go? That's how I felt when I met Ole Henriksen's latest masterpiece, the Retin-Alt Sleeping Crème ($55). It's not a person, obviously, but rather a super luxurious cream dressed with the ingredient bakuchiol — a natural alternative to retinol — to impress. Hear me when I say: you may not remember its name, but its potent wrinkle-fighting, dark spot-fading capabilities is something you will surely never forget." — KC