Why This $225 Probiotic Serum Is Worth Every Penny
Jessica Ourisman
Jessica Ourisman
As POPSUGAR editors, we independently select and write about stuff we love and think you'll like too. If you buy a product we have recommended, we may receive affiliate commission, which in turn supports our work.
Last year, my skin reached rock bottom with the diagnosis of perioral dermatitis. The stubborn rash of red bumps erupted from my nose, down my nasolabial folds, all the way to my chin, flaring in intensity intermittently. Even a cocktail of prescription medications would not heal it, and I could no longer use any exfoliants, vitamin C, or retinol without it flaring up. This went on for months.
My facialist, dermatologic nurse Natalie Aguilar of N4 Skincare, noted that my inflamed skin's microbiome (i.e. the part of the skin barrier made up of an ecosystem of benevolent microorganisms) was out of balance. She traced it back to a severely drying laser treatment for acne that had left me with extreme peeling and chafing on the tip of my nose, initiating the negative cascade into dermatitis. As board-certified dermatologist Leela Athalye, MD, explains, "When [oil stripping] practices disrupt the skin barrier [and microbiome], the skin becomes vulnerable to pathogenic bacteria. This creates dysbiosis, or disruption to the delicate balance of the microbiome, and can lead to dermatitis or other skin disorders."
It all made sense when I eventually caught my miniature schnauzer Delilah, who was later diagnosed with a bacterial and yeast infection on her paws, walking on my bed pillows. "The microbiome is a part of the skin barrier that plays a huge role in protecting you from bacteria, viruses, germs, and pathogens," says celebrity holistic aesthetician Melissa Imperial. Stripped of my natural sebum, my protective skin barrier and its microbiome were out of order, leaving me unprotected against the microbes on her paws. Once in a state of dysbiosis, the same active ingredients that I had used for years were hindering my microbiome's ability to regenerate.
To break this vicious cycle, I leaned hard into the microbiome skin-care trend and discovered BioJuve. "BioJuve is about restoring the skin ecosystem," says geneticist Thomas M. Hitchcock, PhD, the chief science officer of Crown Laboratories. "When you treat the underlying ecosystem [of microbes that make up the microbiome], you are changing what grows there [because] microbes react and produce according to the environment they are in." Treating the skin like an ecosystem of microbes, in turn, empowers the skin's innate mechanisms for health, immune function, and — as it turns out — much more.
The brand makes zero medical claims, but I had nothing to lose, so I made the best decision of my career and began using the BioJuve Living Biome Essentials Duo ($225). After adopting the brand's four-step system and changing nothing else in my diet or lifestyle, my dermatitis cleared up in five days. The next time I saw Aguilar, she was shocked, asking, "What have you been using?" I have since become so passionate about BioJuve that I bonded with the team at Tiev, a new medspa in Orange County — and one of the only practices in OC to carry this exclusive line — and have been going back ever since.
Keep reading to learn more about this $225 skin-care product, and why it's unequivocally worth the splurge.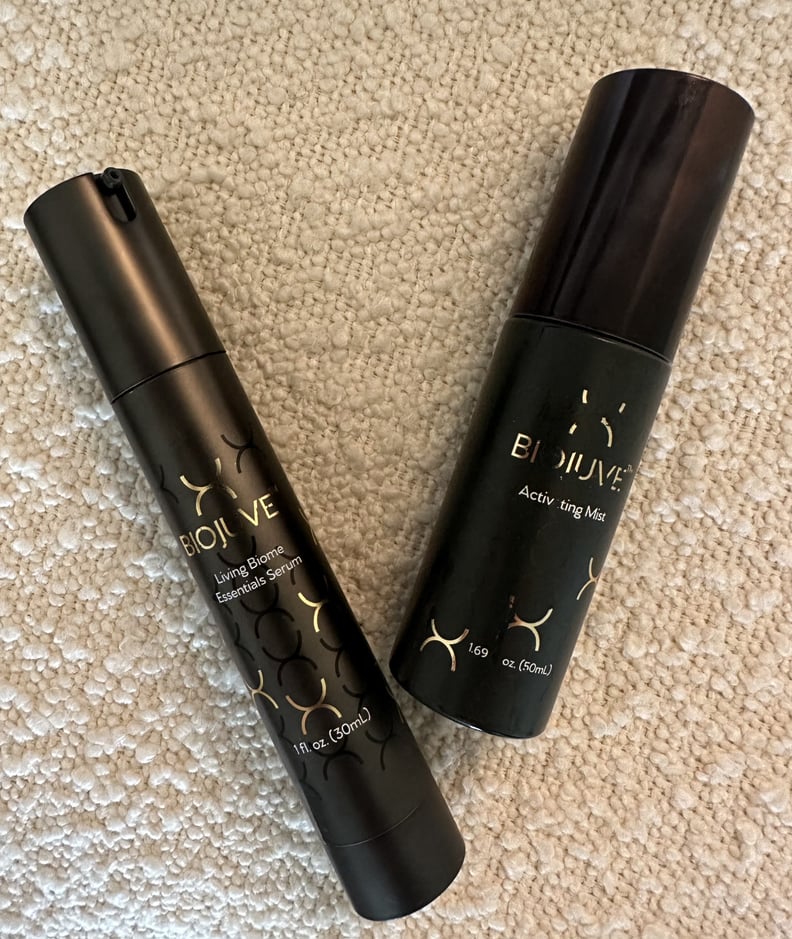 About the BioJuve Living Biome Essentials Duo
The key ingredients are called Xycrobes, a fermented subspecies of the skin-native C.acnes bacteria that has been shown in Journal of Cosmetic Dermatology to reduce wrinkles, even skin tone, reduce erythema, and improve skin texture, hydration, and elasticity.
Xycrobes have been genetically modified to only grow according to your skin's sebum production, preventing overgrowth or imbalance.
On the skin, they naturally produce propionic acid, an anti-inflammatory, antioxidant (i.e. free-radical-protecting), and tyrosinase-inhibiting (i.e. pigment-preventing) byproduct.
They regulate genes for barrier repair, cell turnover, and proliferation, making them a viable retinol alternative.
The formula is shelf stable due to its proprietary encapsulation method and two-part application system, meaning the bacteria are alive when they reach the surface of your skin.
The serum is nonocclusive, as is the entire line.
What I Like About BioJuve Living Biome Essentials Duo
I cannot emphasize enough how thrilled I am that this formula worked so quickly and effectively for my ailing skin. The study found that participants began to notice benefits in just five days, and that their improvements continued for the duration of the two-month study. Yet I was still highly skeptical because it is unheard of for any active ingredient to work so quickly. I gave it a five-day trial — and then continued.
Speaking formulaically, I appreciate BioJuve's encapsulation method. Because keeping probiotic skin care alive is always a challenge — they are living bacteria after all — the brand encapsulated the freeze-dried Xycrobes in an inactive state and included a mist to reawaken them before application. Once on the skin, Xycrobes feed on your skin's sebum and begin to proliferate to the optimal amount.
Lastly, I liked that the gel serum is not occlusive, because I have a skin type that clogs easily. The thicker texture of the serum feels like it would be occlusive, but Dr. Hitchcock explains it can't be, as occlusives keep out oxygen that is necessary for the microflora.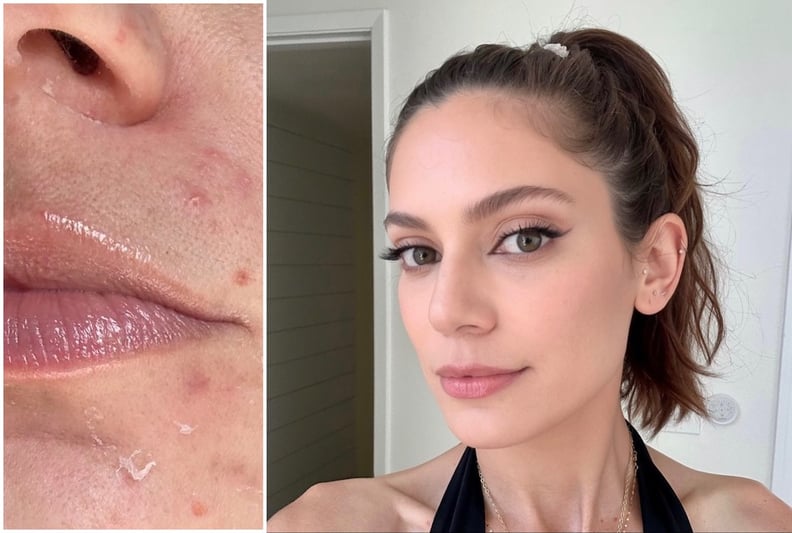 How to Use BioJuve Living Biome Essentials Duo
The best way to use the BioJuve Living Biome Essentials Duo is within a regimen that does not contain biome-harming ingredients and that does not strip your skin of sebum. (Keep in mind the serum has a sebum-moderating effect.)
You apply the serum at night, with a two-step process designed due to the proprietary encapsulation process mentioned above. First you add one pump of the gel serum into your hand. This is what contains the "mummified" Xycrobes. Then you spray several pumps of the activating mist into your hand and mix them together thoroughly into a paste. Doing so is important to ensure that they are reactivated before application; the Xycrobes are resurrected upon contact with the water in the mist, then applied to your face, where they work their magic.
The mist contains an emulsifier so that it can break through the gel serum and features a genetically modified form of a prebiotic sugar, arabinose, to feed the Xycrobes initially. Once applied to your skin, they feed on your sebum and settle into the follicle.
What to Consider Before Trying the Product
The most important thing to know is that while this is a healing product, it is also corrective. It is thus important to consider whether you are open to trying an alternative to retinol, because to use both simultaneously would be lessening the efficacy of this pricey product. This is exactly why Ashlyn Freitas, cofounder of Tiev, considers it the ideal offering for their patients who cannot tolerate retinol.
Optimal results do require a change in the way many of us reach for the tried-and-true "gold standards" in cosmetic dermatology, at least for a temporary trial while you use this serum. If you are simply too attached to the actives in your regimen, I hear you and have no judgment. It was easy for me to put on my skin on an "elimination diet" free of vitamin C, acids, and retinol because my complexion stopped tolerating them. But since this product is expensive, I do recommend getting your money's worth should you give your microbiome a chance to show you what it's got. While you do so, there are incredible microbiome-friendly products from the line and others that can work beautifully alongside it. I highly recommend DMK Beta Gel or DMK Betagen for added hydrating and healing, and I'm particularly fond of Editrix Wellness.
Finally, it is worth mentioning that part of what makes these Xycrobes so effective is they are derived from a skin-biome-specific bacteria, cutibacterium or C.acnes, as opposed to one from, say, the gut. This sets BioJuve apart from many other probiotic skin-care brands on the market and makes Xycrobes particularly adept at working within the microbiome, getting the most out of harnessing its evolutionary functions. "In healthy adult skin, cutibacterium, corynebacteria, and staphylococcus make up about 65 percent of the microbes on the skin, with different species of each, that work together like a symphony," says licensed aesthetician Jenn Mills. "When balanced, the microbiome has its own communication network and [functions], such as crowding out overgrowth of pathogenic bacteria and tempering inflammation."
I can now vouch firsthand that the magic of a healthy skin biome is transformative.
Is It Worth the Splurge?
So is it worth the splurge? Unequivocally, for all the reasons above, yes.
Rating:
★★★★★