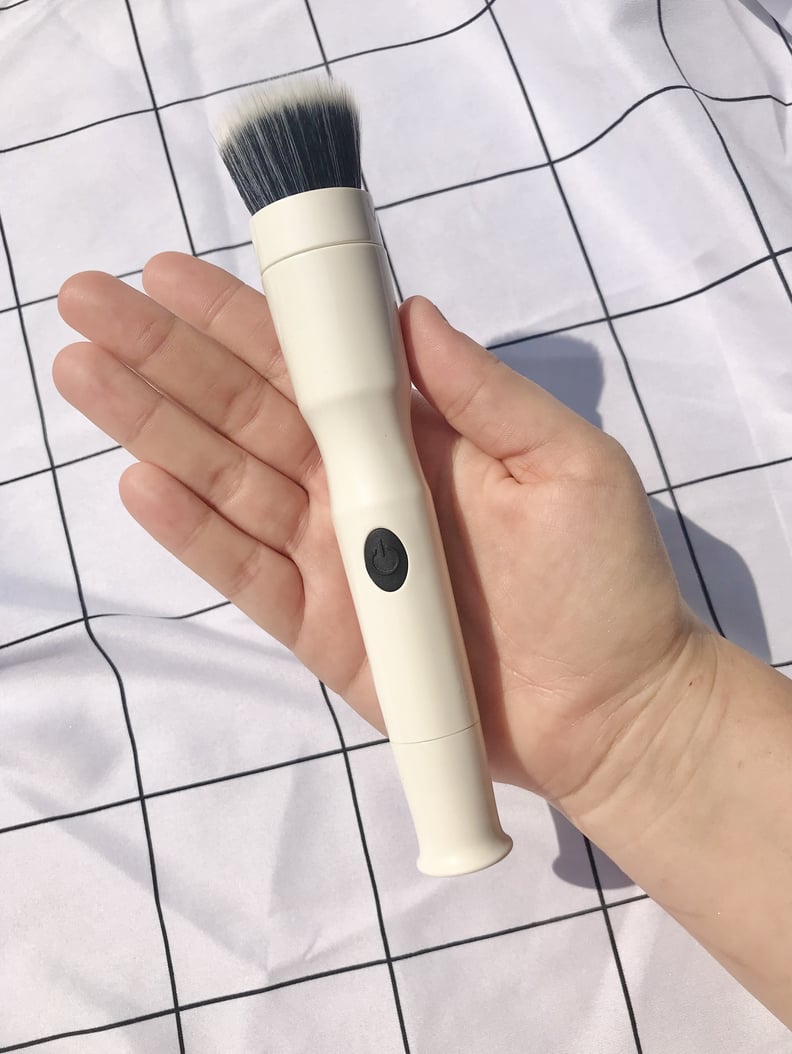 POPSUGAR Photography | Macy Cate Williams
As POPSUGAR editors, we independently select and write about stuff we love and think you'll like too. If you buy a product we have recommended, we may receive affiliate commission, which in turn supports our work.
When it comes to applying foundation, I'm typically a makeup sponge type of girl. Sometimes I go as basic as using my fingers. But when I was asked to try the blendSMART2 Powered Makeup Brush ($69), I was totally intrigued. I have seen the motorized brush all over Instagram and Facebook, but I wanted to find out if it's truly worth the hype.
I went all out and tested the blendSMART Holiday Glow Kit ($98), which includes three different brush heads. I opted for the foundation brush so I could see how well it worked the product into my skin. The assembly is easy; all you have to do is insert the included battery, then pop on the brush head of your choice.
My foundation has honestly never looked better; it melted into my pores and fully covered my blemishes in a way I have never seen.
I followed the directions on how to apply product, and I have to say, I was blown away. My foundation has honestly never looked better; it melted into my pores and fully covered my blemishes in a way I have never seen. I have used the brush every single day since receiving it, and I am still loving it. My sponge is collecting dust in my makeup bag.
To see how exactly this brush works in motion and how I applied my face makeup, keep reading. I will give you all the details. It's on Amazon, so good news — you can order it easily. Let's see the brush in action.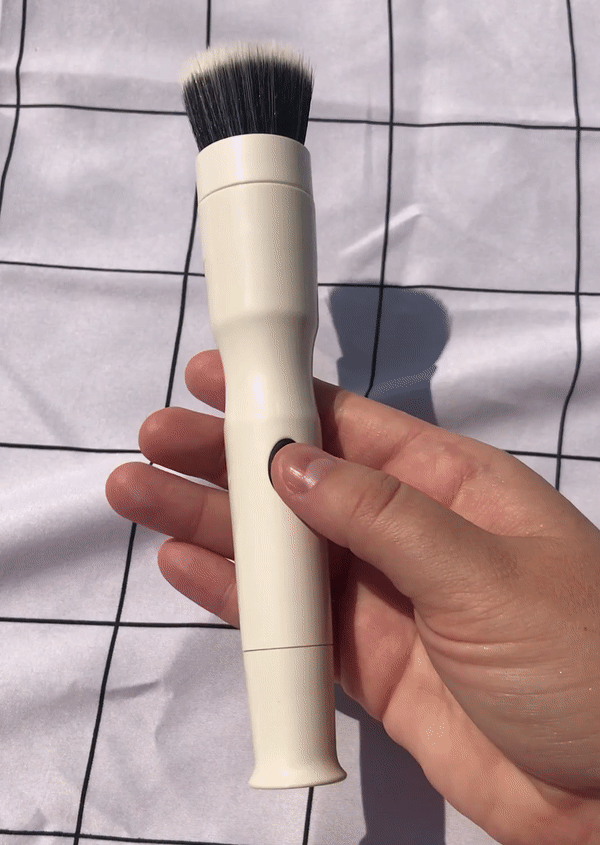 What the blendSMART2 Makeup Brush Looks Like Turned On
All you have to do is press the black button, and the brush head starts spinning. The bristles are made with antimicrobial fibers that gently stimulate and massage the skin to improve circulation and overall skin glow. It's really easy to work with.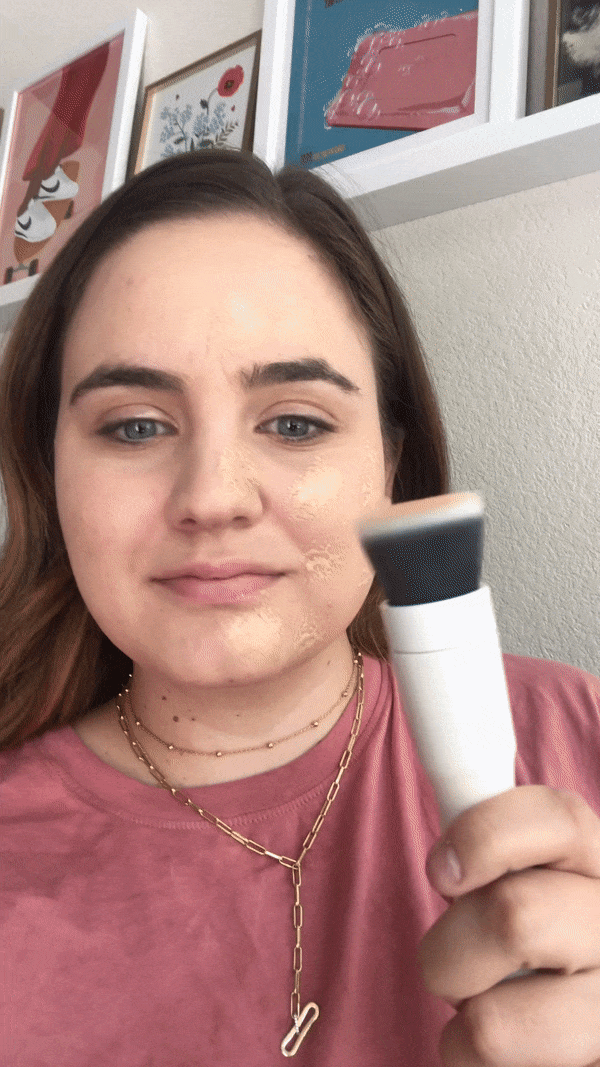 How I Use the blendSMART2 Makeup Brush on My Face
The directions say to apply the product onto the brush while it's turned off (important that it's off for this step so makeup doesn't fly everywhere!), then dot it on your face with the brush. In this video, you'll see that I start with spots of foundation all over my face. Then you turn the brush on and start blending the makeup into your face. I was scared it would splatter, but it didn't one bit.
The directions tell you not to move your wrist in a circular or sweeping motion because the brush will do the work for you. I have to admit, I couldn't help myself, as you can see, but I was still utterly shocked by how well the device blended my foundation. Not only did it do a better job than I ever could, but it also cut the application time in half. It was fast and easy.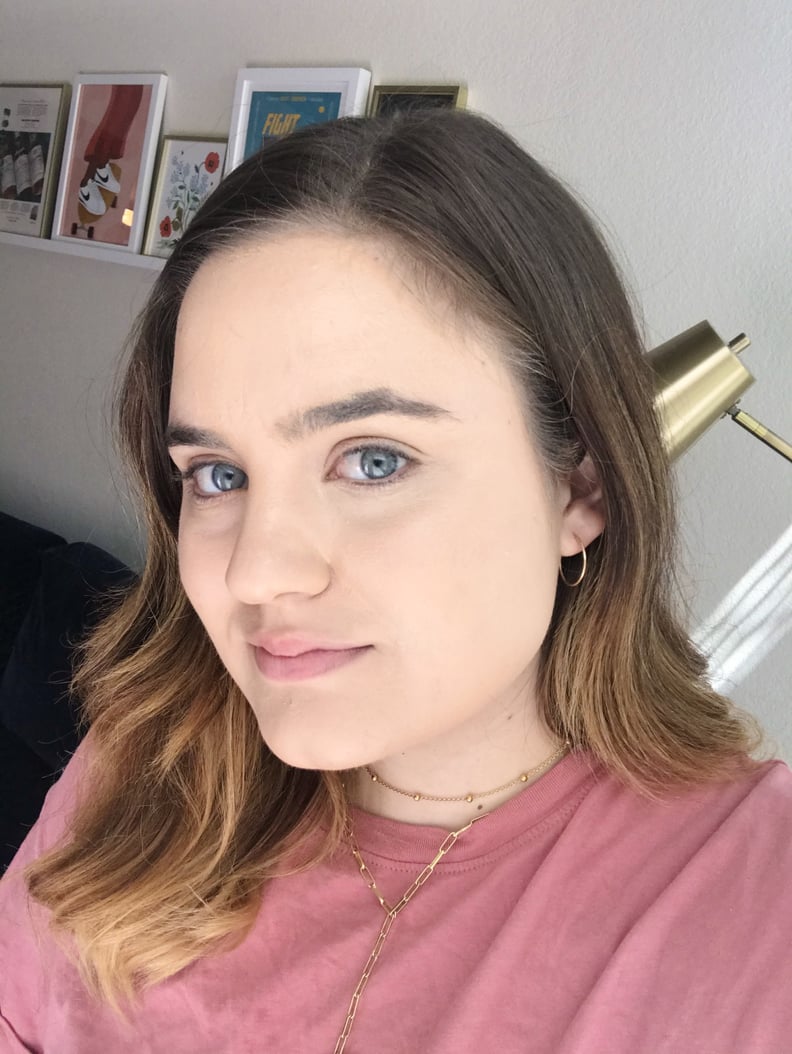 How My Foundation Looks After Using the blendSMART2 Powered Makeup Brush
This is my face with nothing but foundation on it — no other makeup. It gives me an airbrushed look I have never been able to achieve myself. It also does a great job of making sure I have no foundation line around my jaw. I am totally hooked on this motorized brush.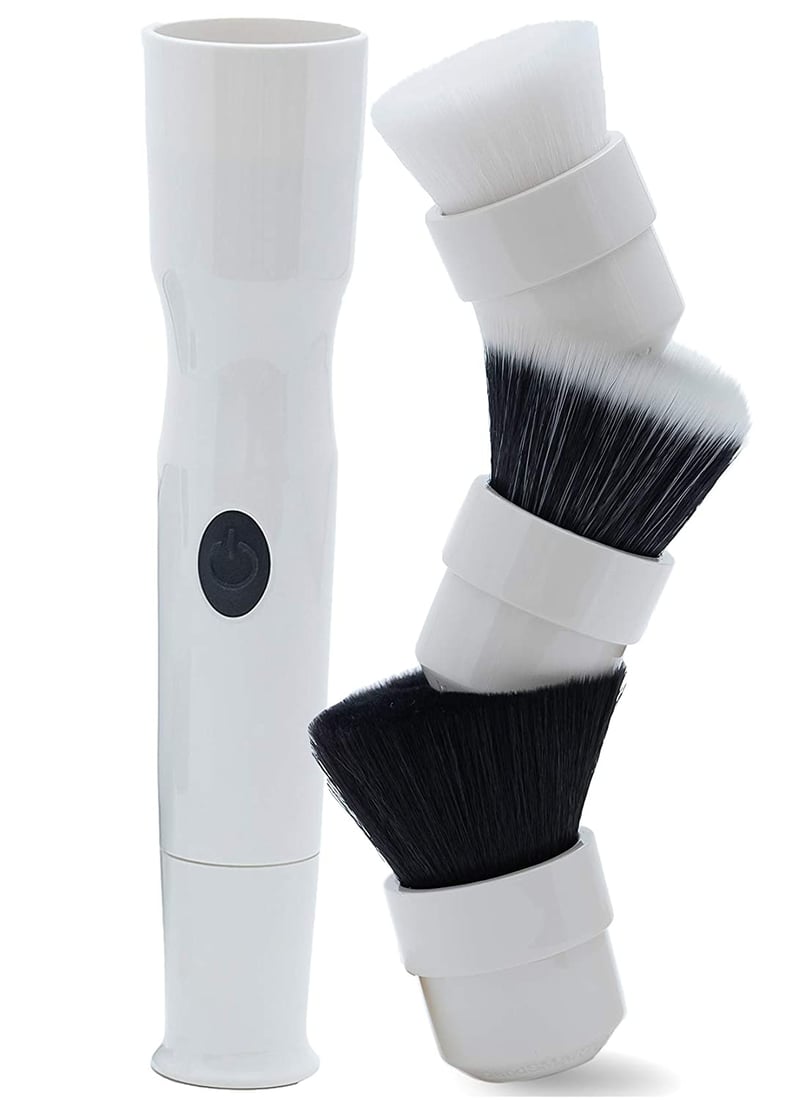 The blendSMART2 Makeup Brush Kit I Used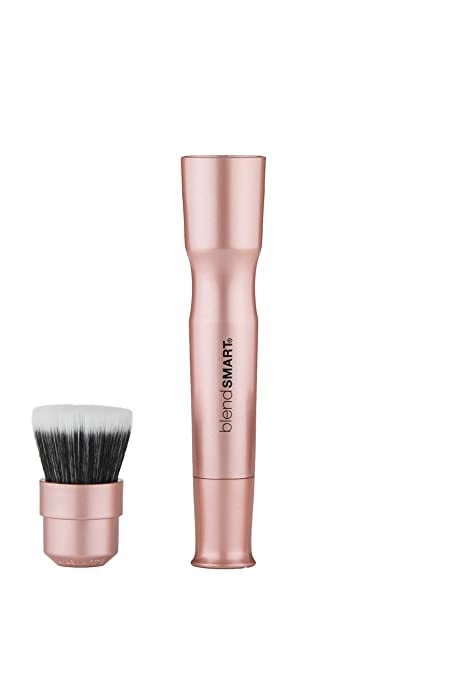 The Classic blendSMART2 Powered Makeup Brush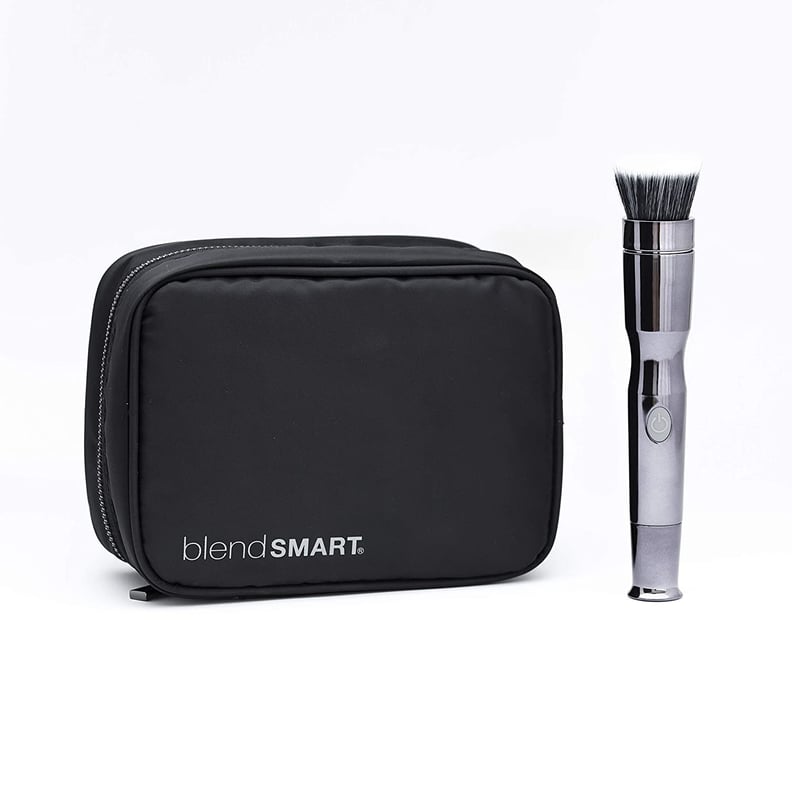 blendSMART2 Metallic Shimmer Rotating Makeup Brush Starter Set + Cosmetic Bag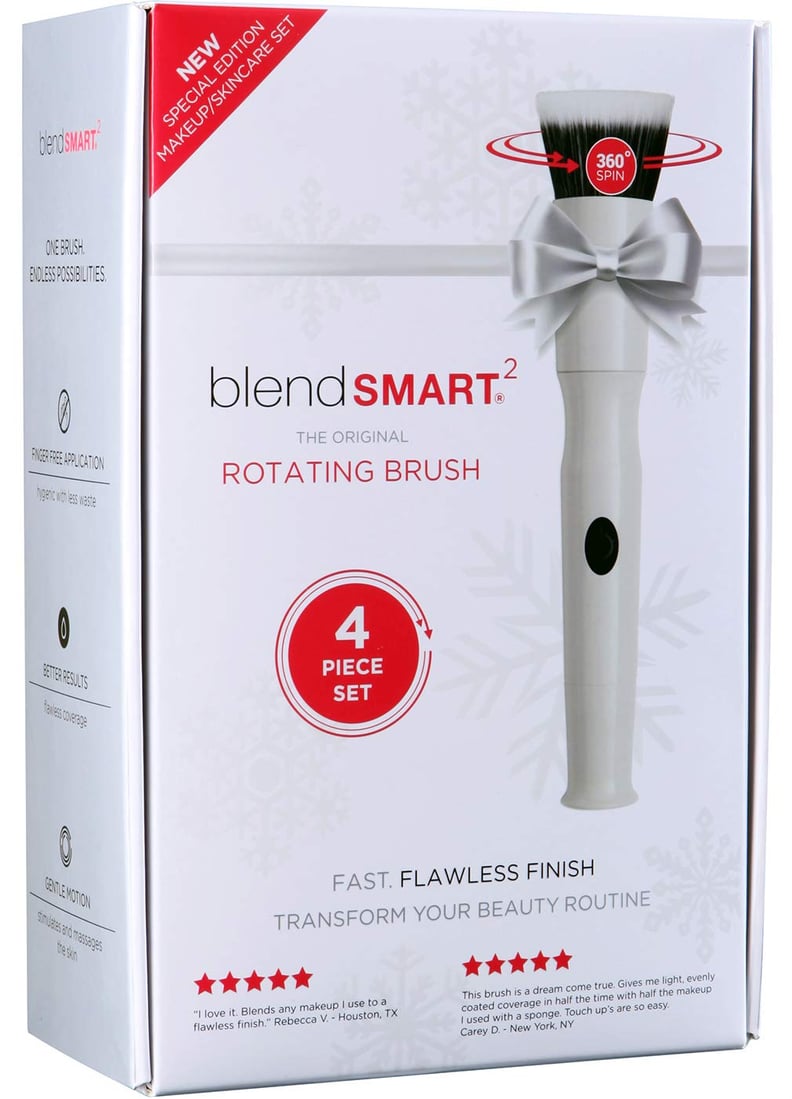 My Final Verdict on the blendSMART Holiday Glow Kit
I'll be recommending this blendSMART Holiday Glow Kit ($98) to everyone I know — I test hundreds of beauty products, and this is one of the most impressive devices I've tried in 2020.