I Tried Regency-Era Makeup Like Bridgerton: See the Photos
I Tried Regency-Era Makeup à la "Bridgerton"
As POPSUGAR editors, we independently select and write about stuff we love and think you'll like too. If you buy a product we have recommended, we may receive affiliate commission, which in turn supports our work.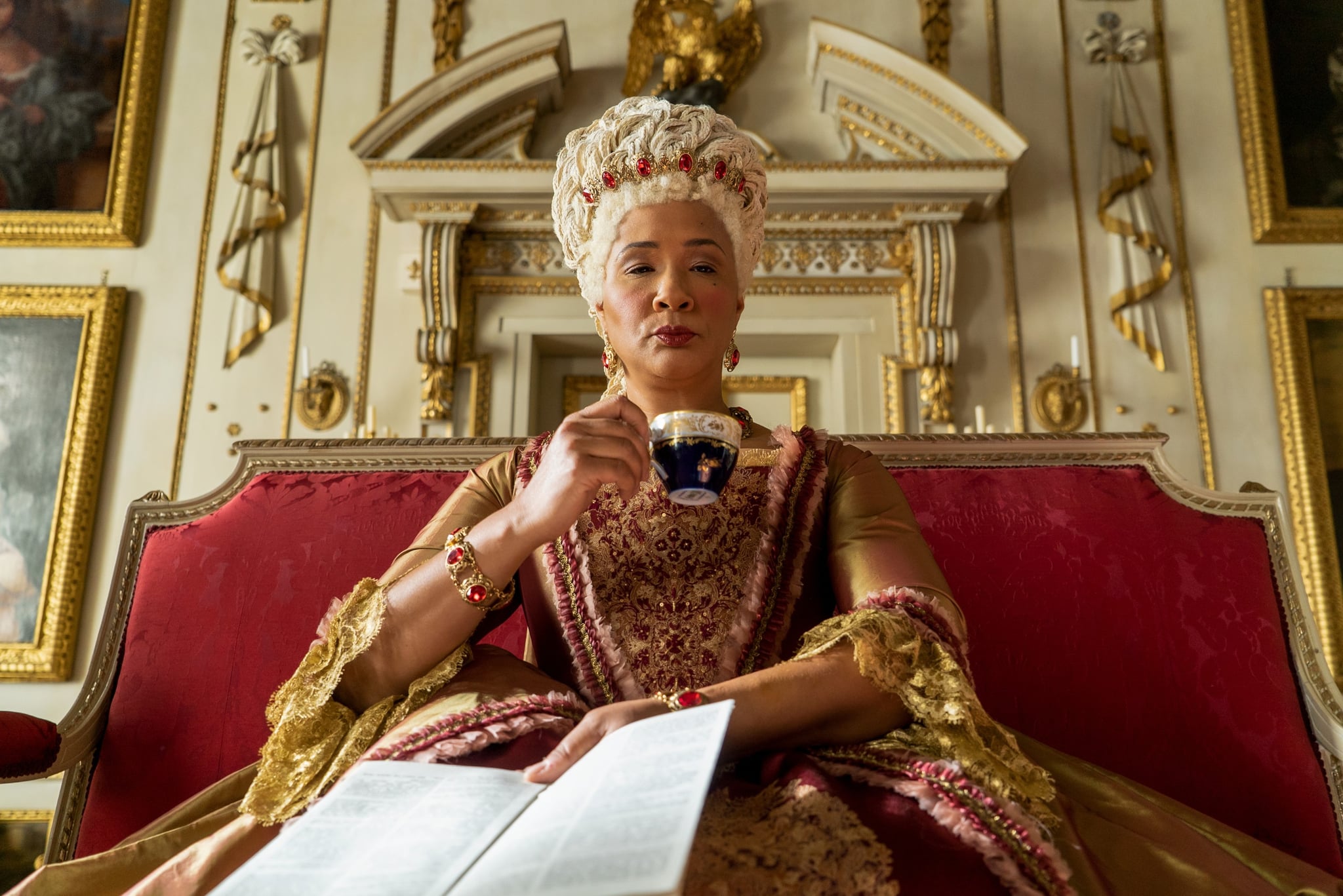 Image Source: Liam Daniel / Netflix

Season two of Netflix's "Bridgerton" premieres on March 25.
Season one of the show caused a rise in the "Regencycore" aesthetic.
One editor tried Regency-era makeup with tips from a professional makeup artist.
I, much like seemingly everyone else in the world, am waiting rather impatiently for the return of the hit Netflix series "Bridgerton." So much so that I am looking for any and every way that I can incorporate aspects of my favorite show into my daily life. I've rewatched season one countless times, figured out the easiest way to emulate a Regency lady's body-care routine, and even seriously considered getting a shag haircut like Phoebe Dynevor, the series's leading lady. As you can probably deduce, I am a little obsessed with this show.
Ahead of its return on March 25, I've decided to celebrate the countdown by doing my makeup exactly how anyone worthy of a mention in Lady Whistledown's papers would. While doing my research, I found that the makeup aesthetic from the Regency era actually has a name: "Regencycore."
Regencycore makeup was "worn in a very delicate way, never obvious or over the top," says professional makeup artist Aya Tariq. "The makeup of this time period went from championing the white, almost pasty face colorings popular during the French Revolution era to very delicate 'nonvanity makeup.'" Of course, I had to try it out for myself, so Tariq broke down how to get a modern-day Regencycore makeup look below.
Regencycore Makeup Step 1: Start With Clean Skin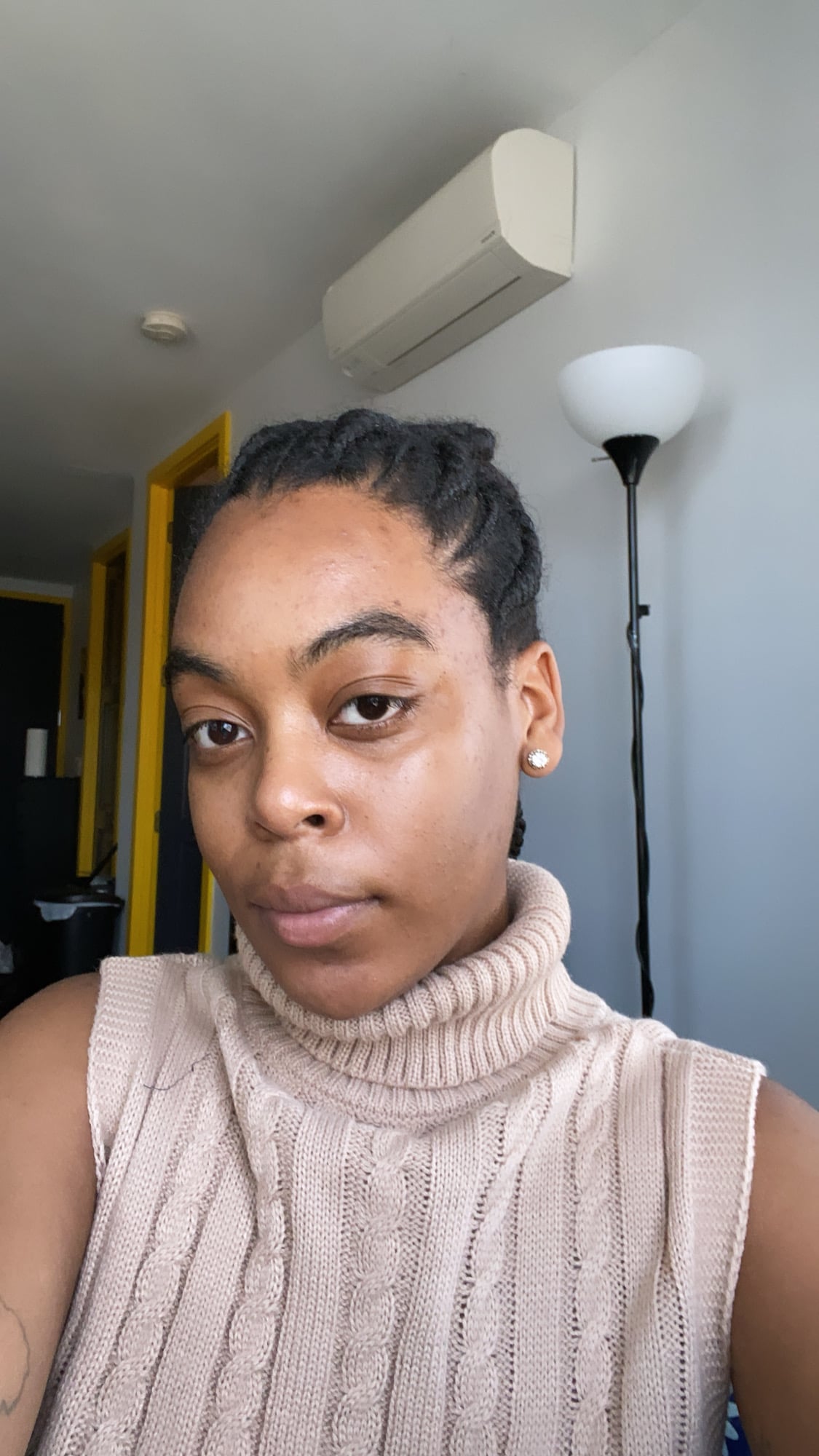 The first step in achieving Regencycore makeup is to start with a clean, moisturized base. This will help the skin look more radiant and keep your foundation from flaking. Tariq recommends cleansing and then going in with a hydrating toner. After washing my face, I used the Peach & Lily Glass Skin Veil Mist ($29). Tariq says to then apply a moisturizer and use a blotting sheet to blot away any excess shine or oil. I used the Embryolisse Lait-Crème Sensitive ($30) and a paper towel to blot.
Regencycore Makeup Step 2: Apply Your Complexion Products
For Regencycore makeup, an even complexion is a must. Tariq says to use a lightweight foundation product, "applying just enough to get rid of any redness." For people with acne, Tariq says to "point-conceal any blemishes using a full-coverage concealer."
I have post-acne dark marks, so I mixed the Danessa Myricks Yummy Skin Serum Foundation ($34) with the Rose Inc. Skin Enhance Luminous Tinted Serum ($49) for a glowy base that still offered some coverage. I applied the mixtures starting in the center of my face and blended outward.
To even out the complexion all the more, Tariq recommends you add concealer very lightly under the eyes, around the nose, and around the mouth, making sure to use a formula that is easy to blend but also buildable in case additional coverage is needed. I used the Nars Soft Matte Complete Concealer ($30) in the shade Amande.
Regencycore Makeup Step 3: Add Pops of Color on the Cheeks and Lips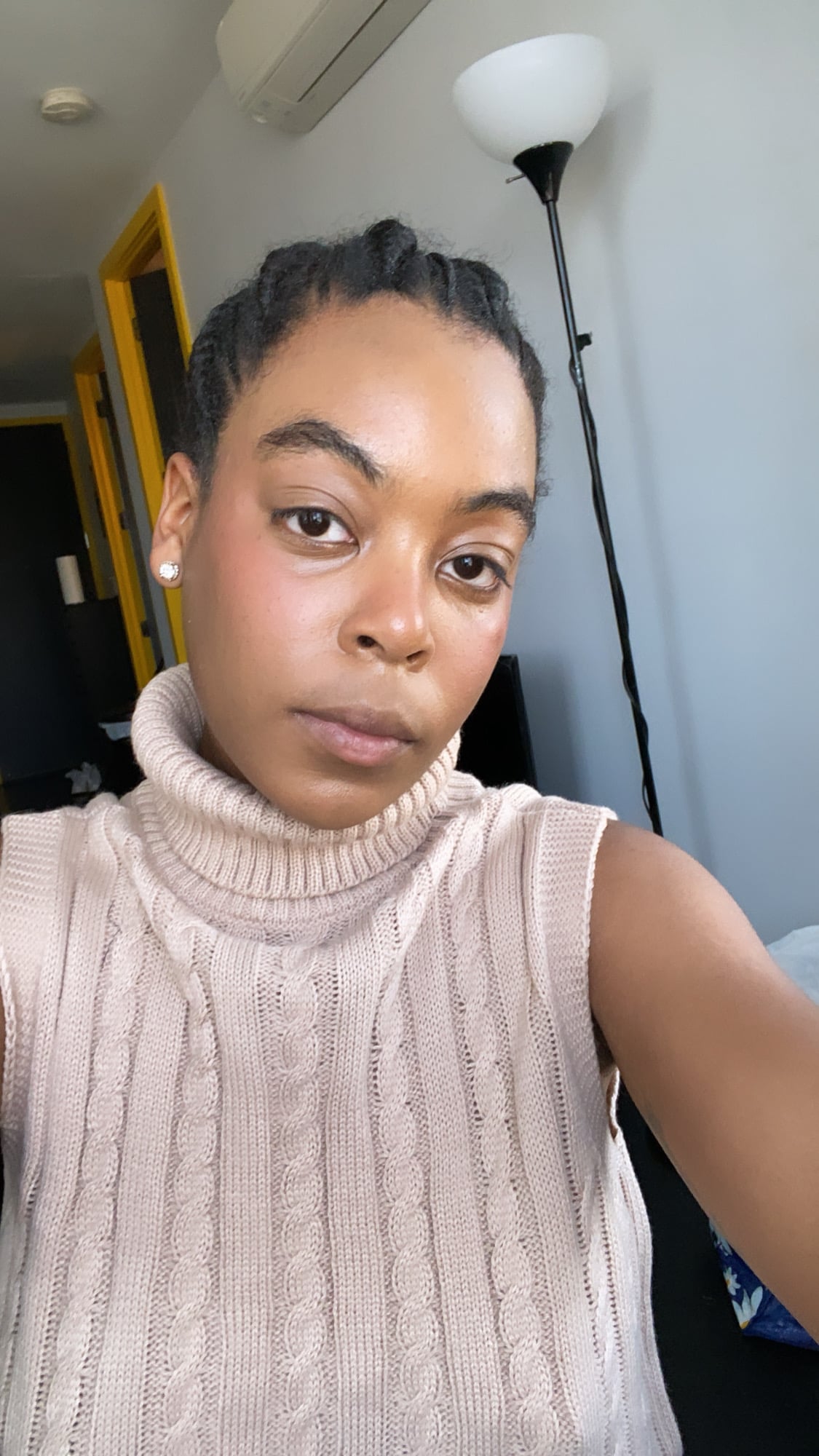 Next comes the fun part: color. Regencycore is defined by "no-makeup makeup when it comes to skin, and a whisper of color on the cheeks and lips," Tariq says. To achieve the appropriate amount of color, she recommends using a tint on the apples of the cheeks, where you would blush naturally, in a formula that is easy to blend with your fingers or a beauty blender. To make the look cohesive and natural, take that same color and pat it lightly on the lips.
For my pop of color, I took the Violette FR Petal Bouche Matte lipstick ($25) in the shade Amour Fou, and first applied it to the back of my hand. Then I took the product on my ring finger and tapped it lightly against my cheek to blend it out. I took the same product and also tapped it lightly onto my lips this time, which gave a red-wine-stained look. Tariq also said to make sure that the lips are not matte, so I added the Gisou Honey Infused Lip Oil ($32) on top.
Regencycore Makeup Step 4: Keep Brows Natural and Lashes Bold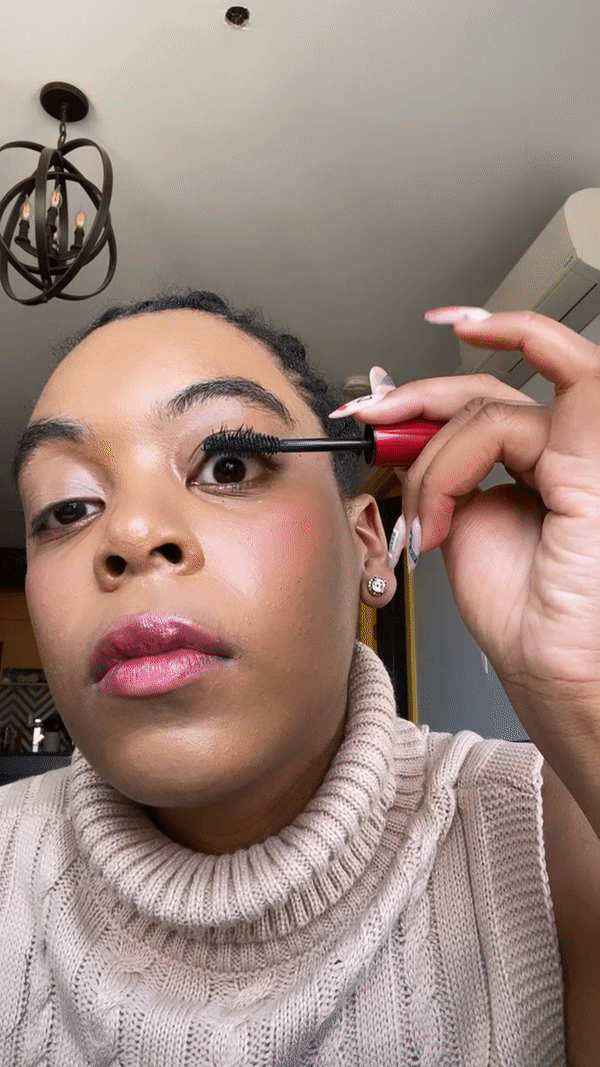 For brows, Tariq says to use a clear gel to set them in place but to also keep them at "a 45-degree angle." To set mine in place I used the Refy Brow Sculpt ($24) for an all-day hold.
Lashes are particularly important when it comes to Regencycore. "You want the lashes to have color but not to take over the look," Tariq says. During the French Revolution era, "people would darken their lashes using burnt cork . . . but as time went on, younger generations would stick to a more natural [lash] look."
To get this look, Tariq says to take your preferred mascara wand and clean it on a tissue to get rid of any access product, then apply whatever you have on the wand to the base of the lash to give the lashes a lift. I used the Kjaer Weis Im-Possible Mascara ($26) and applied most of the product to the base of the lash, then I took the brush upward to coat the rest of my lashes.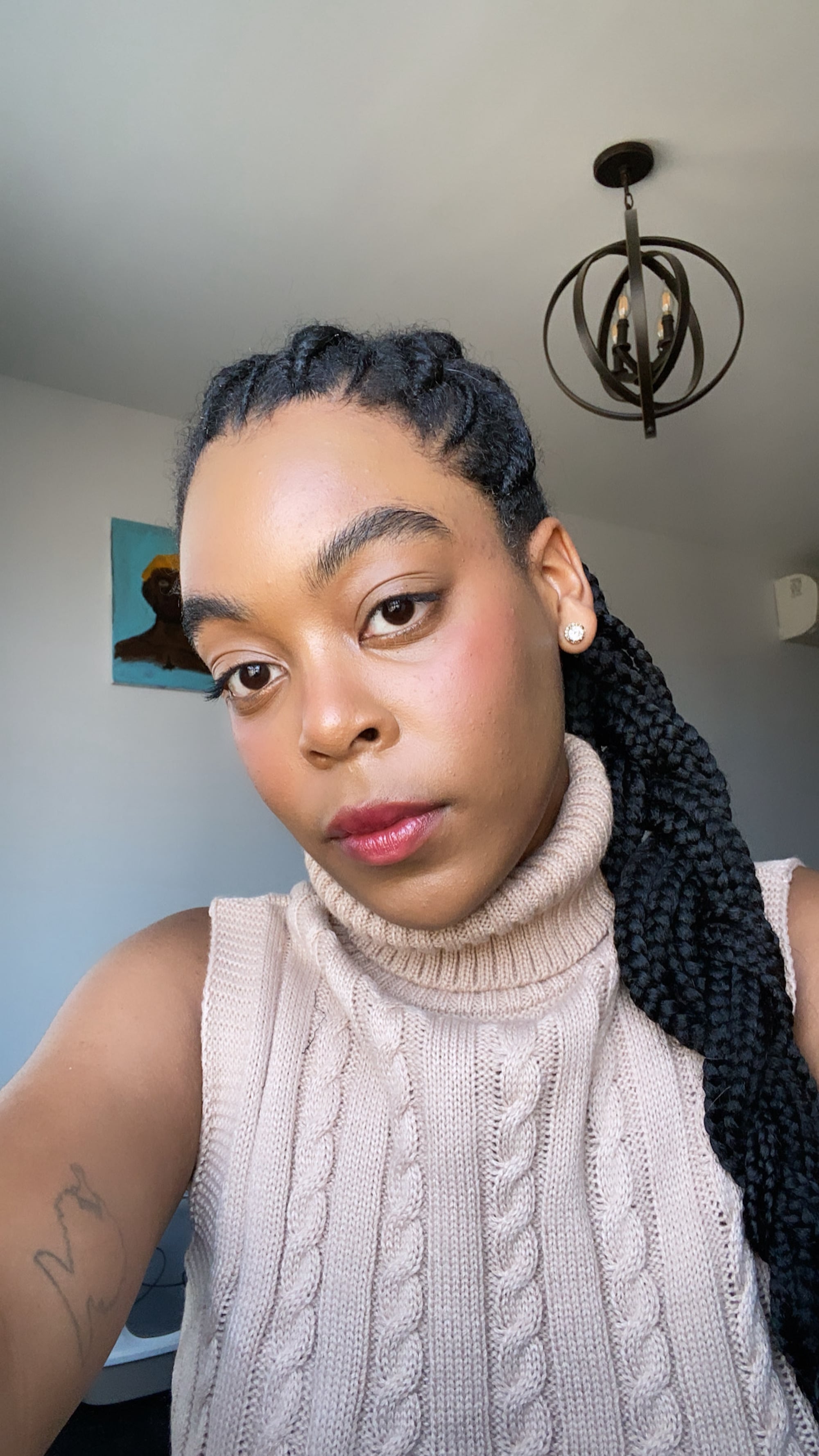 Overall, my Regencycore makeup felt fresh, fun, and honestly very spring appropriate. This is definitely a look I would re-create for everyday wear, as I only needed a handful of products and this makeup did not take much time to execute. While I can't force March 25 to come any quicker, I can wear my Regencycore makeup every day up until the "Bridgerton" season two premiere — and that feels just as fulfilling.
Image Source: POPSUGAR Photography / Ariel Baker