As POPSUGAR editors, we independently select and write about stuff we love and think you'll like too. If you buy a product we have recommended, we may receive affiliate commission, which in turn supports our work.
With the impact of Bridgerton's first season, it's no surprise that we're seeing makeup trends inspired by the Netflix original series. The show, its cast, and the myriad of beauty looks (both in the hair and makeup departments) have been on our minds ever since it graced our screens — and we're not alone. Celebrity makeup artist Pat McGrath was just as taken, which is why she collaborated with the series on a makeup line called the Bridgerton x Pat McGrath Labs collection. The packaging is dripping with references to the show, and the campaign features one makeup-trend prediction in particular that is sure to transform anyone who tries it into a 19th-century British socialite: "eye blush."
The Mthrshp: Diamond of the First Water Palette ($65) contains a new formula that McGrath has named "eye blusher" for its ability to be used on the eyes, cheeks, and lips. The creamy, pink-tinged powders are inspired by a product the makeup artist has had in her kits for years and kept secret until now.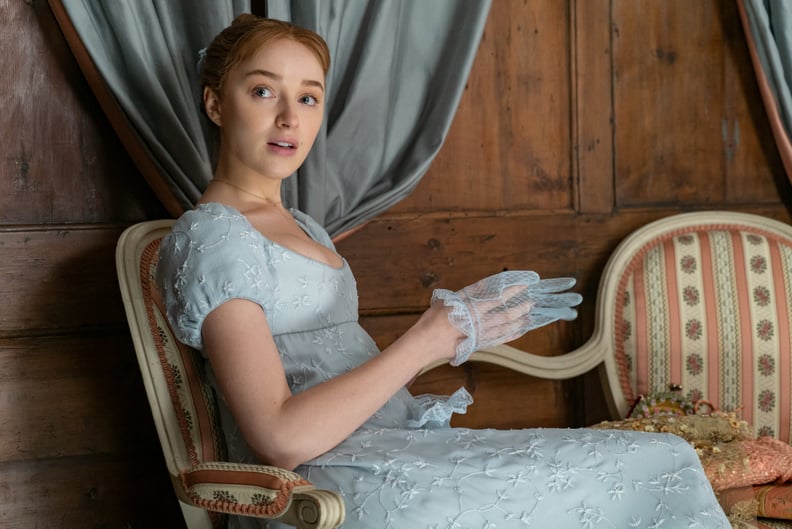 The area of application with this "eye blush" trend is key. Instead of focusing your blush in one area, you sweep it across the eyes, as well as the cheeks, temples, and lips for an all-over, ethereal glow, à la Daphne Bridgerton. McGrath uses the makeup technique in many of her editorial and runway makeup looks. It's similar in placement to the blush draping makeup trend that was everywhere in 2019 but different in that it's far subtler.
The placement of your cheek blush matters. While beauty-lovers on TikTok are experimenting with applying brush higher on the cheekbones in an upward line, the eye-blush makeup trend sees it going on the apples of your cheeks and then carrying up to the eyes.
Wearing pops of blush directly under the eyes was predicted to be a major trend this year by other makeup artists, too. "We are going to start seeing the trend of adding just a light wash of blush under the eye," makeup artist Melissa Hurkman previously tells POPSUGAR. "Doing this will help lift up your cheeks and add a flirty, cute appearance to your cheeks and center of your face."
While McGrath's original Diamond of the First Water Palette is currently sold out, you can mimic the look by using her Skin Fetish: Divine Powder Blush ($38) on your eyes as well.