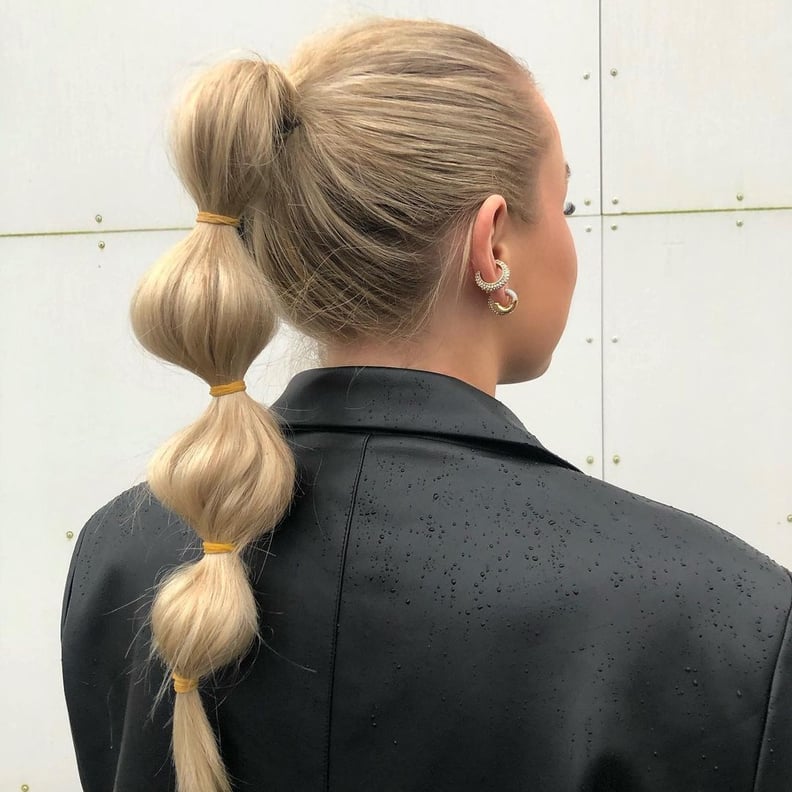 Bubble ponytails are a huge hair trend right now.
The chic look is easy to achieve in just a few simple steps.
Below, we break down the easiest way to achieve a bubble ponytail.
The bubble ponytail is the kind of hairstyle Carrie Bradshaw would wear in "Sex and the City." It is equal parts flirty and chic but offers a new twist on an old classic that's a little more fun. It also happens to be a current big hairstyle trend, so if you're looking for a cute go-to that's easy yet impactful, this one's for you.
After all, who doesn't want to be able to look cute without the need to heat style, spend hours sitting in front of a mirror, or even wash our hair, really? It's a tall order, but the bubble ponytail fits the bill. You've probably seen this chic updo all over social media, but what you may not realize is just how easy it is to re-create at home.
Step One: Gather your hair into a normal high ponytail at the middle or crown of your head and secure it in place with not one but two ponytail elastics. "I use two because the first elastic gets stretched out while securing the ponytail, so the second elastic is extra support and gives you more lift from the head, which you want for this kind of ponytail," Mark Townsend, Dove celebrity hairstylist, told POPSUGAR. "You don't want a droopy bubble ponytail, trust me." His favorite hair ties for this are Blax Clear Hair Elastics ($9) and Scunci Effortless Beauty Large No-Damage Elastics ($9).
Step Two: Grab your dry shampoo (the secret to every good updo, to be honest) to add fullness and texture without making hair stiff. "Liberally spray the ponytail with Dove Volume and Fullness Dry Shampoo ($7) and give the hair at the base of the ponytail a little teasing with a comb or brush to widen the ponytail and add volume," Townsend said. After you tease, brush out the rest of your ponytail so it's smooth and knot-free.
Step Three: It's time to create your first "bubble" by securing a new elastic a few inches down from the base of the ponytail. "Pull the hair between the elastics apart a little to stretch out the hair," Townsend said. Repeat this until you reach the end of your ponytail, and leave about two or three inches of hair free at the bottom.
Step Four: To finish off the look, give your whole head a light spritz of hairspray and smooth down flyaways with either a natural-bristle toothbrush or clean makeup spoolie. "Fun tip: you can use different-color elastics for a pop of color in the ponytail or to match your outfit of the day or your face mask."
Keep scrolling for more bubble-ponytail inspiration.