Confirmed: Byoma Skin Care Is Affordable, Refillable, and Worth the Hype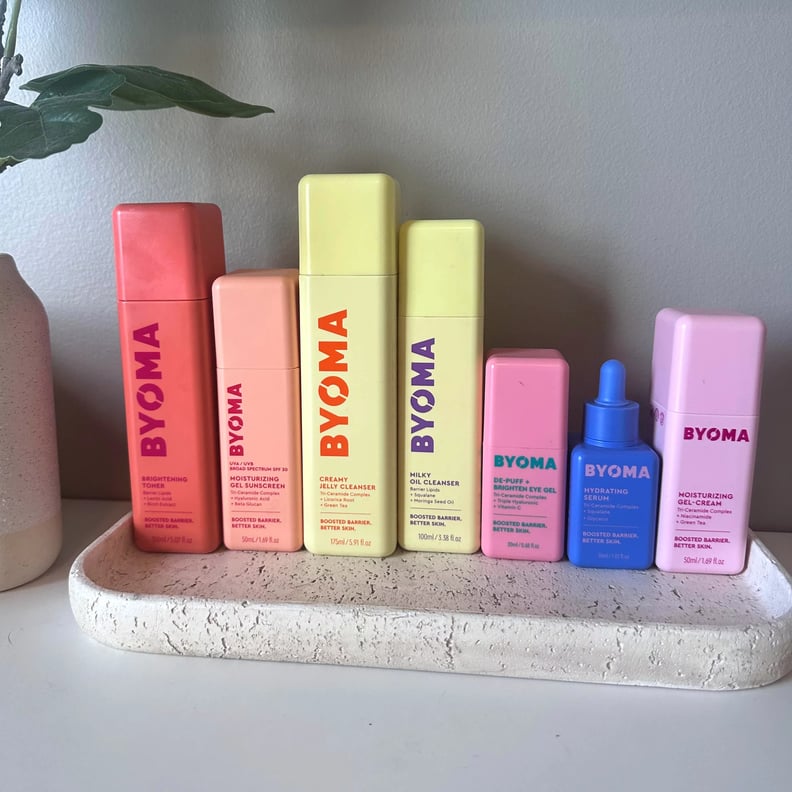 POPSUGAR Photography | Marisa Petrarca
POPSUGAR Photography | Marisa Petrarca
As POPSUGAR editors, we independently select and write about stuff we love and think you'll like too. If you buy a product we have recommended, we may receive affiliate commission, which in turn supports our work.
It's no secret that I'm a frequent Target shopper. I spend more time refreshing the retailer's new arrivals than I'd like to admit and swipe my card more often than I probably should. And while my dedication to the brand has resulted in a few impulsive purchases (like my new TV stand and underwire bikini), I've never regretted a single one. My most recent discovery? Byoma skin care. I discovered the line on Target's website, initially drawn in by the impressive number of positive reviews. As I dug deeper, I was thrilled to find there's a lot to love about the brand, starting with the fact that its lineup is carefully curated and anything but excessive.
The line features the essentials needed for a complete skin-care routine, from cleansers and serums to moisturizers and SPF. The best part? The prices are incredibly reasonable, ranging from $11-$19. Of course, I soon discovered that I was late to the party; Byoma's already garnered a following for its gentle yet effective formulas, eco-friendly packaging, and reasonable prices, making it a well-deserved crowd favorite. As you might guess, I was sold — I added seven bestsellers to my cart, and the rest was history. Ahead, I break down everything you need to know about the brand and what it did for my dry, dull skin.

About Byoma
Each product contains essential fats your skin barrier needs to function its best and look its healthiest.
Products are eco-conscious, refillable, and Target Clean.
Prices are reasonable; all products cost under $20.
The line is alcohol and fragrance-free (though some contain essential oils), as well as vegan and cruelty-free.
What I Like About Byoma
I've been using Byoma for a few weeks now, and there isn't a single product I'm not obsessed with. But even before trying them out, I fell in love with the packaging. It's colorful, and each product is housed in unique square packaging that's not just fun to look at but also designed to make them easier to ship, thus minimizing the brand's carbon footprint. What's more, the packaging is crafted from fully-recyclable mono-material plastic that can even be refilled, adding to the brand's impressive eco-consciousness.
Byoma's approach to skin care is all about nourishing your skin barrier, which is key to achieving your best complexion. Your skin barrier is made up of three important lipids: ceramides, cholesterol, and fatty acids. The brand has taken this into account by including a patented ceramide complex in each of its products, which helps support and replenish these essential fats, leading to healthier-looking skin. As a beauty editor who's seen a lot of unnecessary products in my day, I love how Byoma prioritizes skin-care fundamentals without skimping on the details that make them enjoyable from the colors to the textures and everything in between.
I know you're curious about what I purchased, so I'll spare you more background to get to the really good stuff. I ordered the essentials necessary for my daily regimen: the Brightening Toner ($15), Creamy Jelly Cleanser ($12), Gel Face Moisturizer SPF 30 ($19), Hydrating Serum ($16), Milky Oil Face Cleanser ($13), Moisturizing Gel Cream ($14), and De-Puff and Brightening Eye Gel ($13). Not only does my skin look plumper and brighter, but I also look forward to using these products daily due to their luxurious textures. And while I can't identify the exact product that led to the improvement in my skin, the collective impact of the line is undeniable.
How to Use Byoma
Using Byoma products is easy thanks to its clear and concise instructions that make it possible to incorporate them into your daily regimen without any confusion. You'll find the recommended usage time (morning, evening, or both) and its proper placement in your routine conveniently listed on the side of every product package, like below: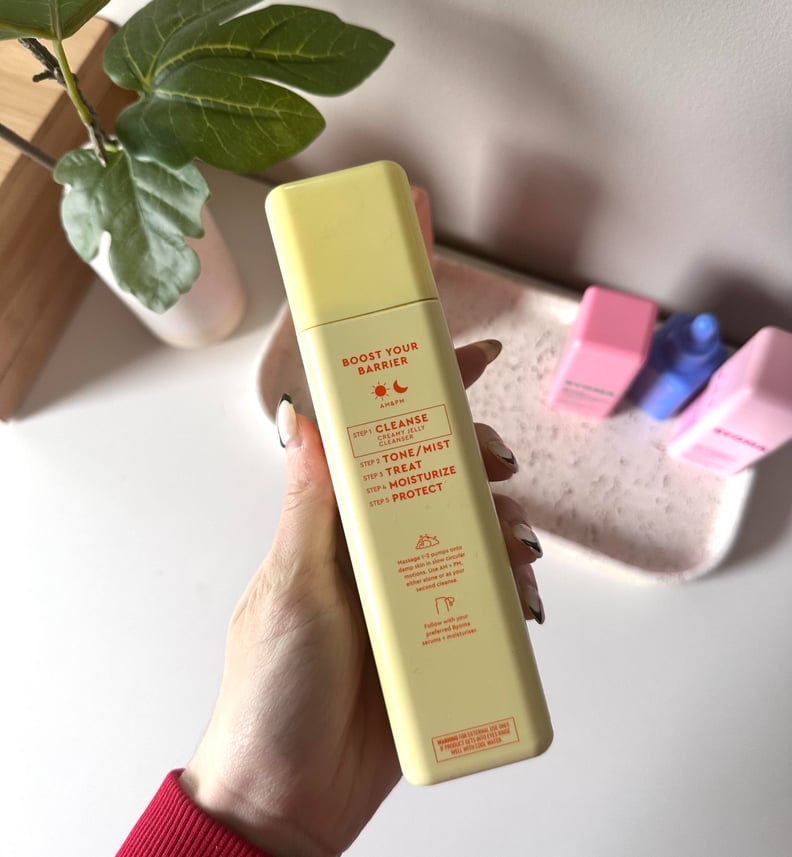 In the morning, I start with the jelly cleanser, the serum, moisturizer, and undereye gel, and finish with SPF. For my evening routine, I use the oil cleanser to remove my makeup, then follow it up with the jelly cleanser, toner, and serum. Instead of the SPF moisturizer, I swap it with the sunscreen-free moisturizer and complete the routine with the undereye gel.

What to Consider Before Trying Byoma
If you're searching for powerful actives like retinol. Byoma might not be your perfect match. However, it could be an excellent choice for those who want to provide their skin with some TLC. It's worth noting that overusing harsh products can cause skin barrier damage and result in dryness, breakouts, and redness; so if you're dealing with such skin woes, you might want to consider trying Byoma's gentler yet effective alternatives.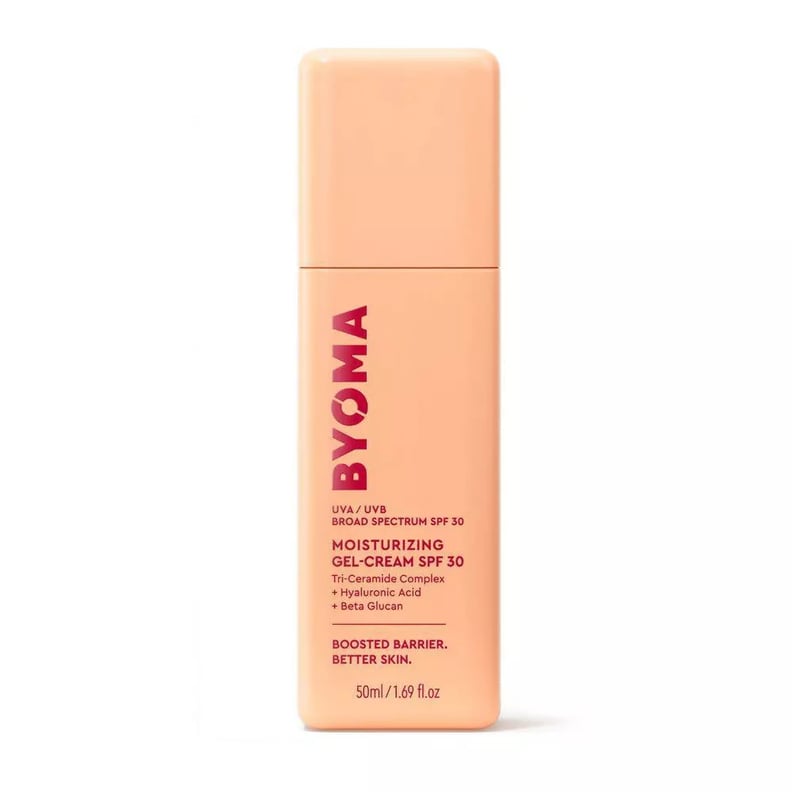 Moisturizing SPF
Byoma Gel Face Moisturizer ($19)

Choosing just one Byoma skin-care product to recommend is no easy feat, but if pressed, I'd have to recommend the SPF. Not only is it rare to find sunscreens that are enjoyable to use, but this one ticks all the boxes. Its lightweight formula is non-greasy, non-sticky, and refreshing, and thanks to its gel-like texture, it absorbs quickly into the skin without leaving a white cast. Shoppers seem to agree, with one raving that "the texture is luxurious and glides on my skin like silk," while another notes that "it melts into my skin instead of just sitting on my skin like most SPFs." The result? A glowy finish that looks and feels great.
Rating:
★★★★★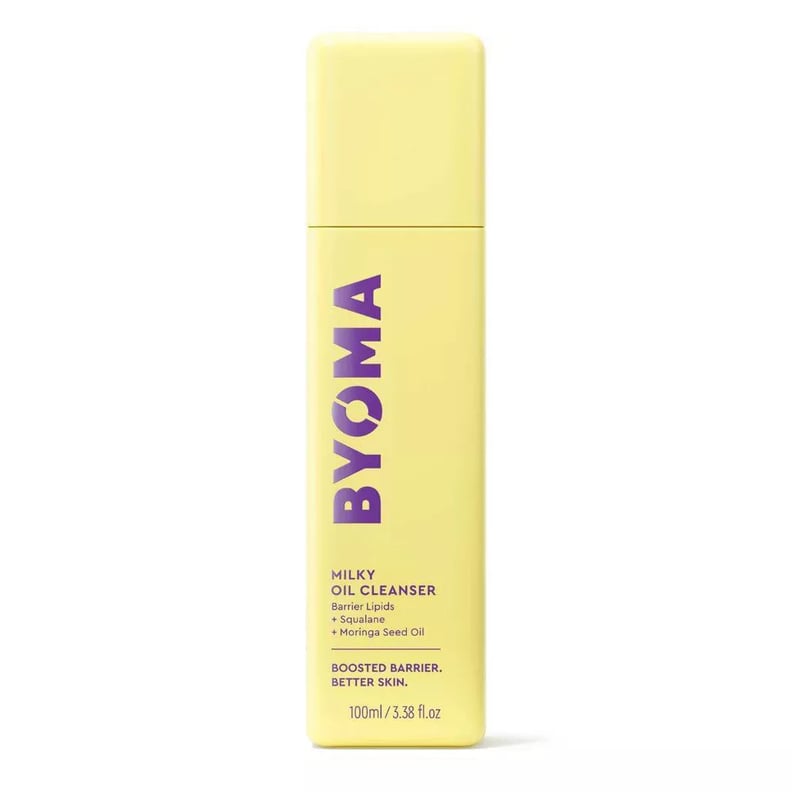 Makeup-Removing Cleanser
Byoma Milky Oil Face Cleanser ($13)

This face cleanser serves as the opening act in my nightly double-cleansing ritual, followed by the previously mentioned jelly cleanser. What sets this oil-based cleanser apart from others is that it transforms into a luxurious cleansing milk that easily rinses away with water, leaving no residue behind. (A word of caution, though: it contains rosemary leaf oil which gives it a refreshing and herbal aroma that I enjoy, but those with fragrance sensitivities may want to steer clear.)
Rating:
★★★★☆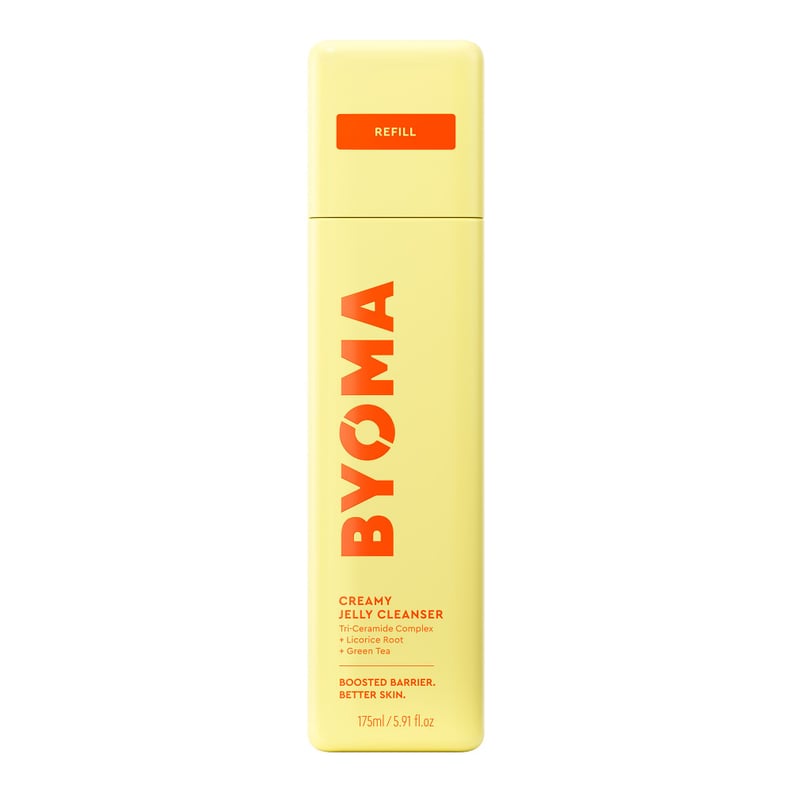 Hydrating Cleanser
Byoma Creamy Jelly Cleanser ($12)

Whether you use this jelly cleanser after the aforementioned oil formula as part of your double-cleansing ritual or on its own, it's a smart option for breaking down dirt and oil while maintaining your skin's hydration. It contains green tea and licorice root extract, both of which are rich in antioxidants that protect the skin from pollution and other external aggressors. And similar to the transforming oil cleanser, it transforms into a rich and creamy lather upon contact with warm water that feels moisturizing, not stripping.
Rating:
★★★★★
Brightening Toner
Byoma Brightening Toner ($15)
Formulated with lactic and mandelic acid — two alpha-hydroxy acids (AHAs) — this toner gently exfoliates the skin, improving tone and texture and promoting a brighter complexion. Unlike some other toners I've tried in the past, this one doesn't leave my skin feeling dry or tight but refreshed and rejuvenated. I use it after cleansing and before applying the hydrating serum, and I've noticed a significant improvement in the radiance of my skin. I've also read numerous reviews from those with oily and acne-prone skin who've said it also keeps shine and breakouts under control.
Rating:
★★★★★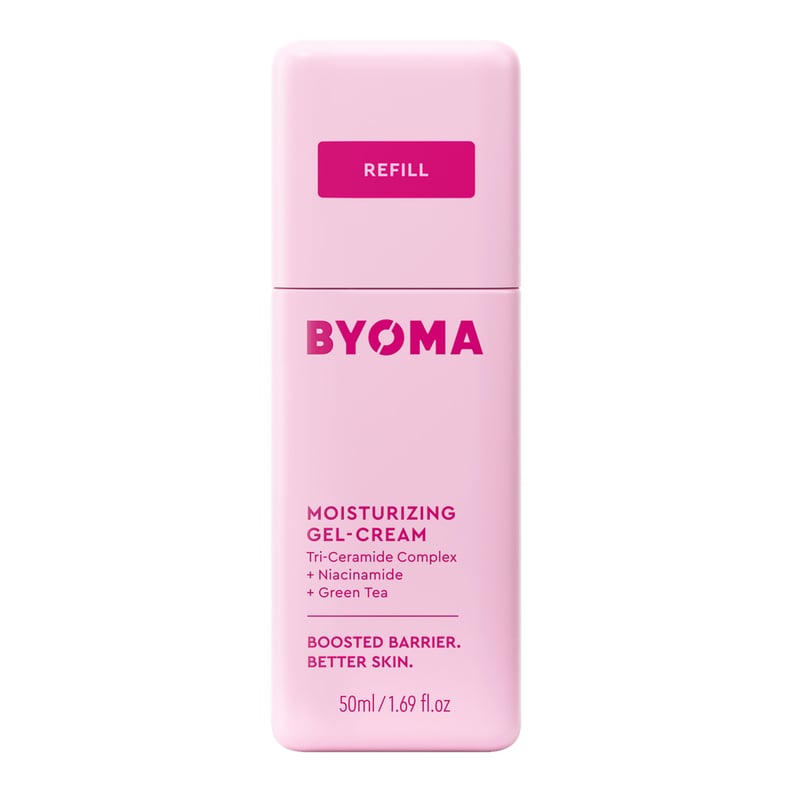 Byoma Moisturizing Gel-Cream
Byoma Moisturizing Gel-Cream ($14)

This oil-free moisturizer is a refreshing departure from heavy creams; it's super lightweight and refreshing, yet it still packs a punch with brightening niacinamide and soothing green tea. I can attest that it absorbs nearly instantly, as can numerous reviewers. Plus, the cooling gel-cream texture is particularly welcome as temperatures rise.
Rating:
★★★★★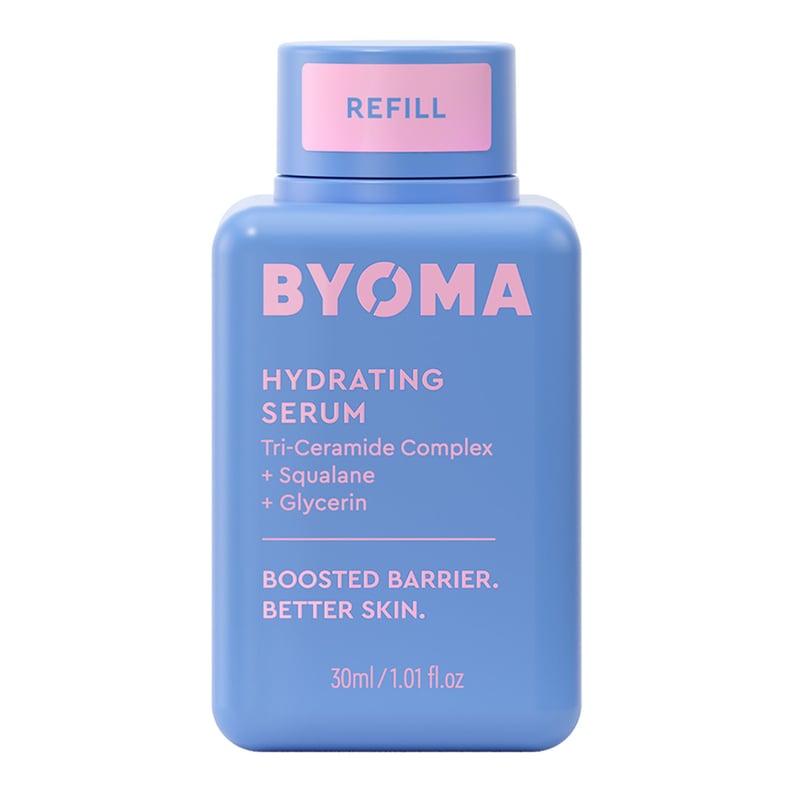 Hydrating Serum
Byoma Hydrating Serum ($16)
If you have dry skin like me, give your skin a replenishing dose of moisture with this serum, enriched with the hydrating powers of glycerin and squalene. It works to restore your skin's moisture levels, leaving it feeling plump, dewy, and radiant.
Rating:
★★★★★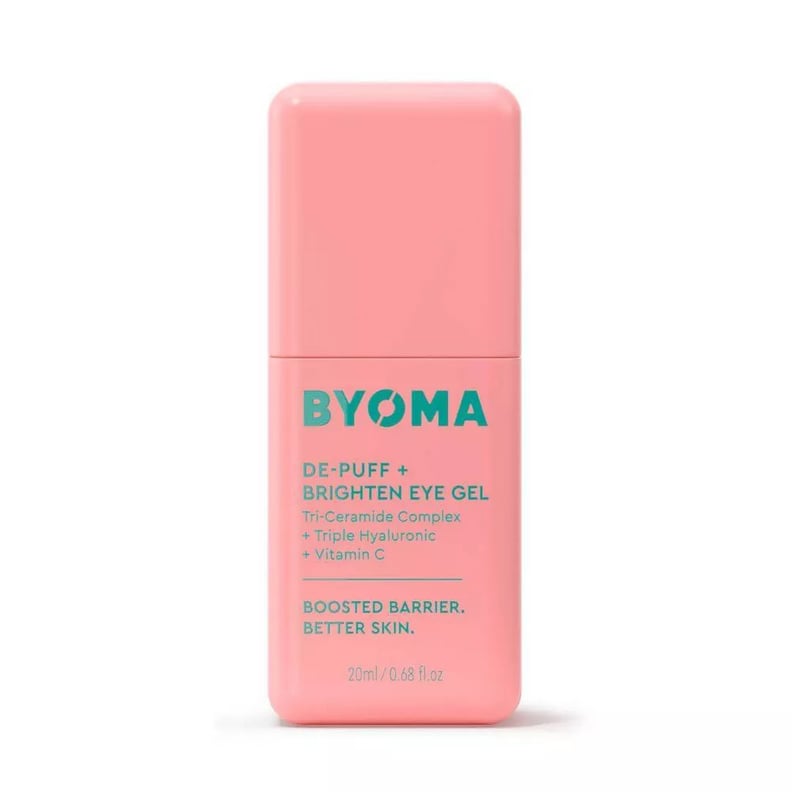 Undereye Gel
Byoma De-Puff and Brightening Eye Gel ($13)
This undereye gel contains vitamin C to help brighten your undereyes over time and hyaluronic acid for instant plumping and smoothing benefits. And thanks to its lightweight texture, it seamlessly blends into the skin, making it the perfect base for flawless makeup application. I can confirm that concealer glides over it seamlessly.
Rating:
★★★★★