Definition of AHAs and BHAs and Their Uses
AHAs vs. BHAs: Which One's Best For Me?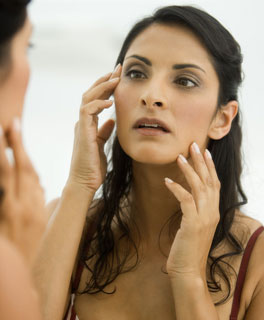 Need to clear up your skincare terms? I'm doing a series to help you do just that. Let's take on AHAs and BHAs. AHAs are always touted as prime ingredients in products, but are they really any better than cheaper BHAs? And what the heck are these things, anyway? To find out, just keep reading.
AHAs (alpha hydroxy acids)
Glycolic acid, lactic acid, and citric acid are all AHAs you're likely to find in your skin care. They, like other acids, facilitate peeling and thereby exfoliation. Low concentrations are shown to produce relatively little inflammation, which is good when you consider that inflammation and sensitization can make already acne-prone skin much worse. Different AHAs' molecules vary in size; one like glycolic, which has the smallest molecules and can penetrate skin most deeply, is best for treating deep acne blemishes. AHAs are very powerful, so if you have sensitive or thin skin, you probably want to give them a pass. AHAs are, however, great for aging skin, since their increased efficacy means they can decrease the look of fine lines. So if you've got aging concerns as well as acne, they might be the ingredient for you.
BHAs (beta hydroxy acids)
In cosmetics, BHA is usually another term for salicylic acid. Salicylic is good for younger, oilier skin, and for people whose acne doesn't go very far down under the surface of the skin. It also works wonders on blackheads and enlarged pores. Although it's more gentle than an AHA, BHA can still dry and sensitize skin, so it's best to use only as much as you absolutely need.