Camila Mendes Added a "Riverdale" Tattoo to Her Collection
"Riverdale" has introduced us to quite a few of our favorite actors over the years, and if they've made one thing clear, it's that they are lovers of body art — especially Camila Mendes. From joining her costars to get some best-friend ink in honor of the show ending to the whimsical fairy on her right shoulder, Mendes is a certified lover of straightforward fine-line designs that hold a deeper meaning.
Mendes got her very first tattoo, a simple script design that says "to build a home," after getting sexually assaulted as a freshman at New York University. "I feel home, that's been like my life motto," Mendes previously told POPSUGAR. "I got a tattoo here that says 'to build a home,' which is one of my favorite songs. It partially had to do with moving around a lot as a kid never having a home, but also now . . . building a home within myself."
The ink is located beneath her right breast and was the first of her now-three-piece collection. Her designs range from small portraits to larger, more eye-catching works of art. If you're as curious about Mendes's collection as we are, take a closer look at her tattoos ahead.
Camila Mendes's "To Build a Home" Script Tattoo
Though it is hardly ever on display due to its hidden location, Mendes has the phrase "to build a home" in cursive at the top of her left ribcage. She got the design after being assaulted in college, as well as in memory of her childhood, when she moved around a lot.
Camila Mendes's Fairy Tattoo
In February 2022, Mended paid a visit to tattoo artist Kaiju Ink, who drew a portrait of a fairy on her left shoulder. Mendes hasn't revealed the meaning of the design, but it was done in a fine-line style using a single needle.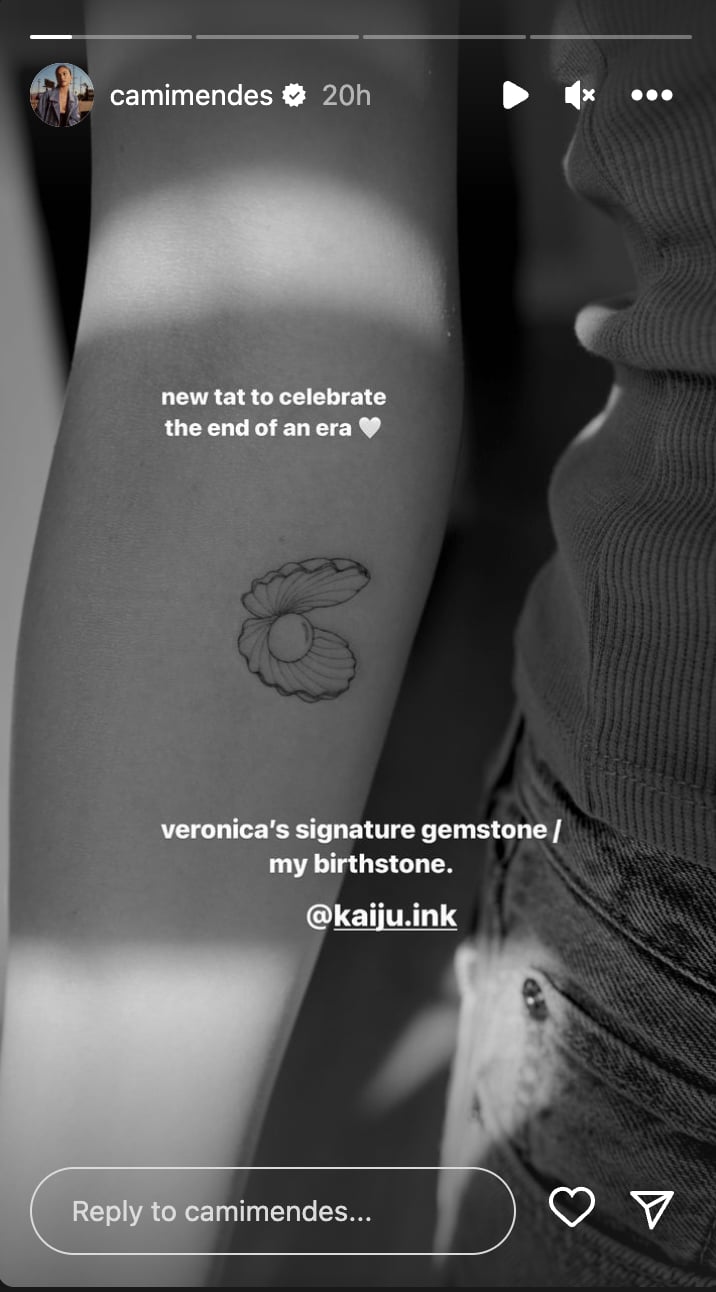 Camila Mendes's Pearl Tattoo
To commemorate the end of "Riverdale," Mendes got a tattoo of a pearl in an oyster. The reason? It's the actor's birthstone and her character's signature gemstone.