Cardi B Can't Stop Obsessing Over Her Pink Gravity-Defying Pigtails — and Neither Can We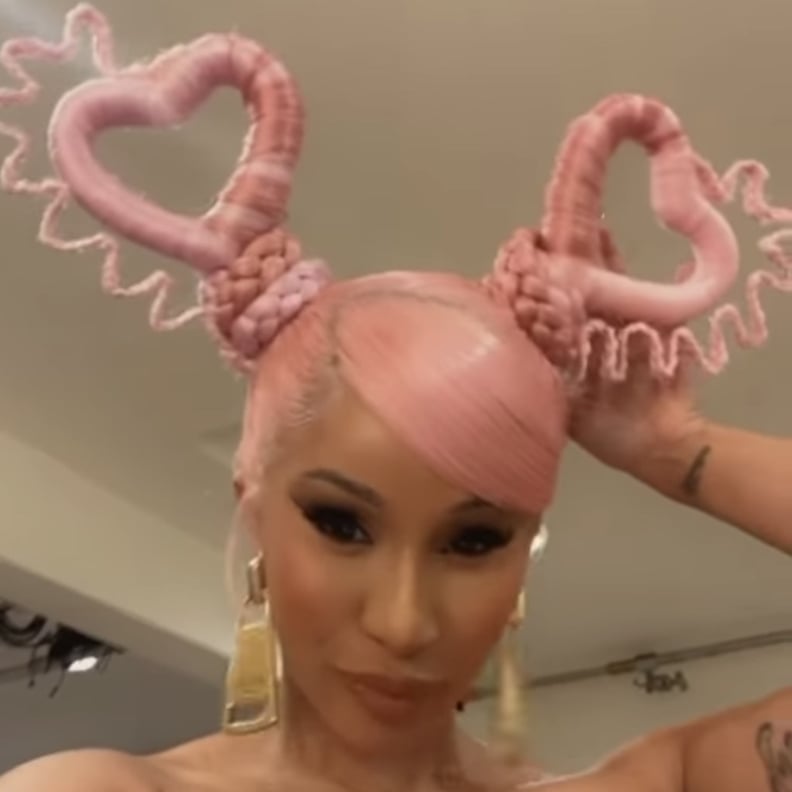 Just when we thought Cardi B had pulled out all of her best beauty looks of 2020 — yes, we're talking about her and Megan Thee Stallion's epic WAP music video — she served a gravity-defying hairstyle that stepped straight out of our candyland dreams.
On Wednesday, the 27-year-old rapper debuted her new pastel pink, heart-shaped pigtails on Instagram, which were created by her longtime hairstylist and wig specialist, Tokyo Stylez. The elaborate hairstyle featured two pigtails shaped into hearts (most likely using wire piping with hair wrapped around the piping to create the effect), with braids looped around the elastic, and finished off with braided, scalloped-edge detailing around the hearts.
Fans were quick to comment about the resemblance between Cardi's latest style and the over-the-top looks worn by characters in The Hunger Games movies. We're totally getting Cindy Lou Who vibes, too. Fans were also speculating based on Cardi's Instagram stories how long the hairstyle took to complete. In the comments section underneath Cardi's Instagram post, they concluded a guess of around three hours, which in hairstyling time is practically no time at all — especially when the outcome is a piece of actual artwork.
Get a closer look at Cardi's incredible heart-shaped pigtail hairstyle, ahead.