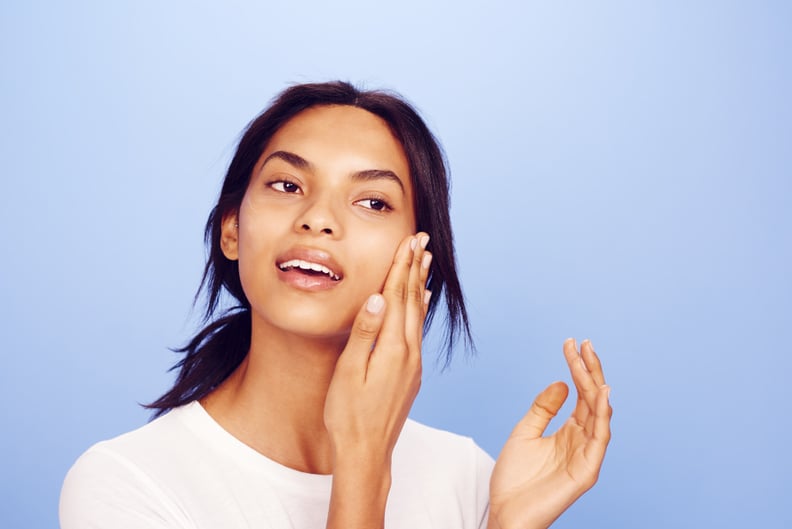 POPSUGAR Photography | Maria del Rio
POPSUGAR Photography | Maria del Rio
As POPSUGAR editors, we independently select and write about stuff we love and think you'll like too. If you buy a product we have recommended, we may receive affiliate commission, which in turn supports our work.
If you're spending more than $20 on your cleanser, there's a good chance you're overpaying. While cleansers can work wonders to wash the day away and dissolve makeup, they still get rinsed down the sink by the time you're done with them, so you're essentially rinsing away money that could be better spent on a nourishing serum or moisturizer instead.
"One of the biggest mistakes I see my patients make is buying expensive cleansers," Dr. Sonita Sadio of Sub Rosa Private Aesthetics explains. She tells her patients to ditch the expensive stuff and swap them out for cheaper options.
When it comes down to it, the goal of washing your face is to remove all traces of makeup, clean your skin, and maintain your pH balance. A cleanser at any price point can achieve these results, so why spend more? Here's a list of 10 cleansers that deliver results on a budget.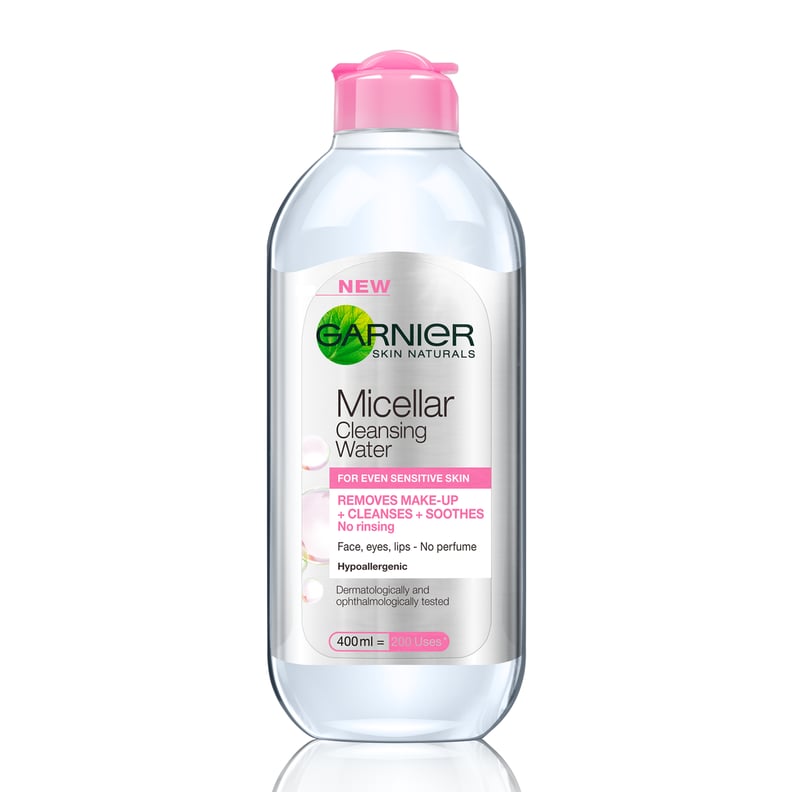 Garnier Micellar Cleansing Water
I personally use Garnier Micellar Water ($9) every morning and night. It allows me to go weeks without the need for running water. You just need to swipe a soaked cotton pad gently across your face to freshen it up. The formula essentially works as a vacuum to suction away makeup, dirt, and excess oil without drying out skin.
It's perfect for the days when you wake up late in the a.m. or find yourself too tired to actually wash your face with water at night. Plus, the gentle formula is safe for sensitive skin.
Fun Fact: According to Dr. Sadio , about five years ago micellar waters were a coveted cult beauty product in America because they were extremely hard to find. They were much more common in Paris (those lovely Parisians are always ahead of the curve). So if you wanted reap the benefits of a micellar water, you'd have to make the trek or have them sent from the City of Love.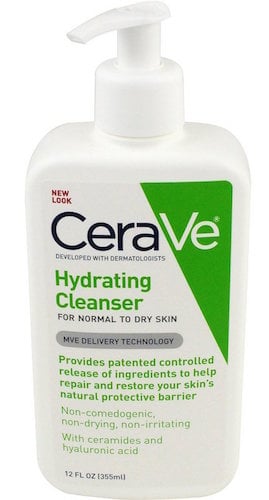 CeraVe Hydrating Cleanser
I've asked tons of dermatologists and estheticians what cleanser they recommend to their clients and hands down, the most common response I get is CeraVe. The mass brand's cleansers work on every skin type, and some of the products are even recommended for people with rosacea and eczema due to the super gentle formulas. If you suffer from dry skin, CeraVe's Hydrating Cleanser ($13) is a bargain for all the moisturizing, pH-balancing benefits it offers.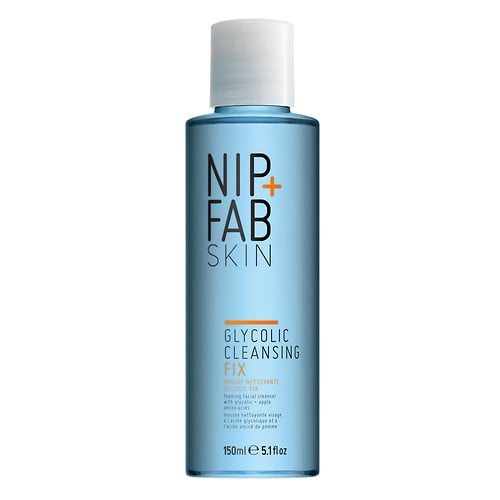 Nip+Fab Glycolic Cleansing Fix
Glycolic acid is one of the most powerful alpha hydroxy acids. It has the ability to brighten skin and tighten pores. More importantly, it promotes cell turnover by gently exfoliating them away sans any harsh scrubbing.
If you want to try it out, Nip+Fab's Glycolic Fix Cleanser ($8) is a great option. And if you really want to reap the benefits of the potent ingredient (because remember, cleansers can only do so much since they get splashed away), use it in tandem with Nip+Fab's Glycolic Fix Pads ($15) two to three times a week. Just be aware: AHA's cause increased sun sensitivity, so SPF is even more important when using any product containing them.

Art Naturals Clarifying Face Wash
If you're into all-natural, organic skin care and you have the tendency to get breakouts, this Clarifying Acne Face Wash from Art Naturals ($18) might be your new best friend. It is formulated with natural extracts to exfoliate away dirt and oil. And it also contains moisturizing and soothing ingredients, including aloe and cucumber, to ease the pesky redness and irritation that often accompanies acne.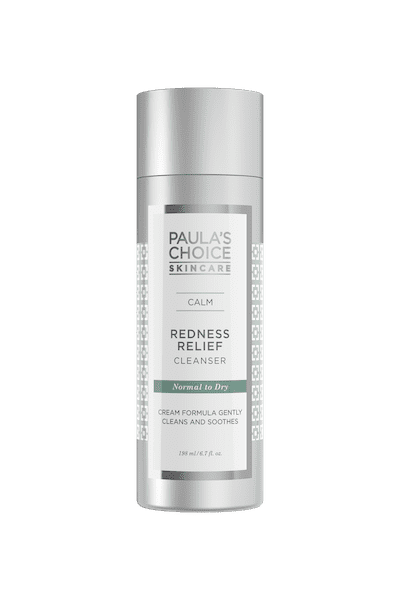 Paula's Choice Calm Redness Relief Cleanser
Those who suffer from redness, rosacea, or super sensitive skin have to be extra careful when finding a nonirritating cleanser. I consider Paula's Choice to be one of the best-kept secrets in the skin care world, and it offers products to fit the aforementioned needs. The brand's Calm Redness Cleanser ($17) is available in two formulas: one for people with normal to dry skin and another for those with normal to oily.
My skin isn't normally sensitive, but I swear by this to calm down redness or inflammation after I've overdone it with retinol or exfoliation.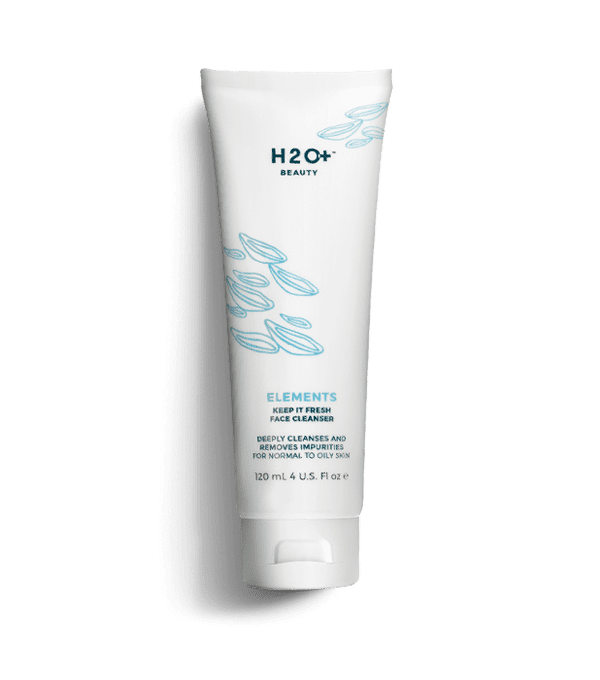 H2O+ Elements Keep It Fresh Facial Cleanser
This Keep It Fresh Cleanser from H2O+ ($20) is formulated with bamboo extract to dissolve dirt and excess oil without dehydrating skin. For the best results, use a dime-size amount and give yourself a nice little face massage for 30 to 60 seconds before rinsing.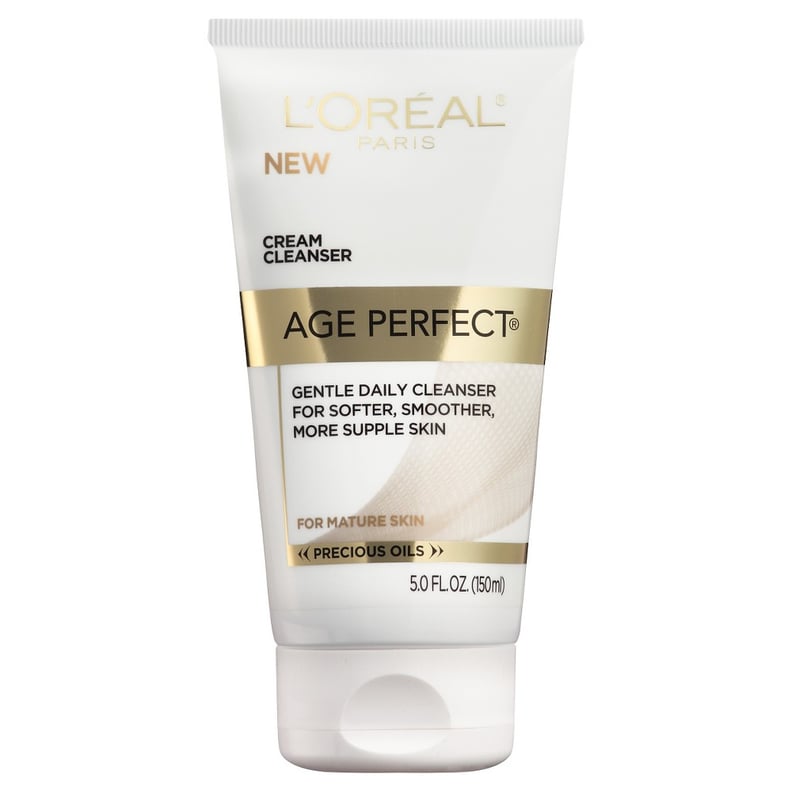 L'Oreal Age Perfect Cream Cleanser
If you want to incorporate a little antiaging magic into your routine, L'Oreal's Age Perfect Cream Cleanser ($6) is a steal. It smells like honeydew melon mixed with cucumber, and the oil-infused formula leaves skin seriously soft and nourished. It was developed by dermatologists to be used on all skin types, so even if you have super sensitive skin, you can give this product a whirl without having to worry about irritation.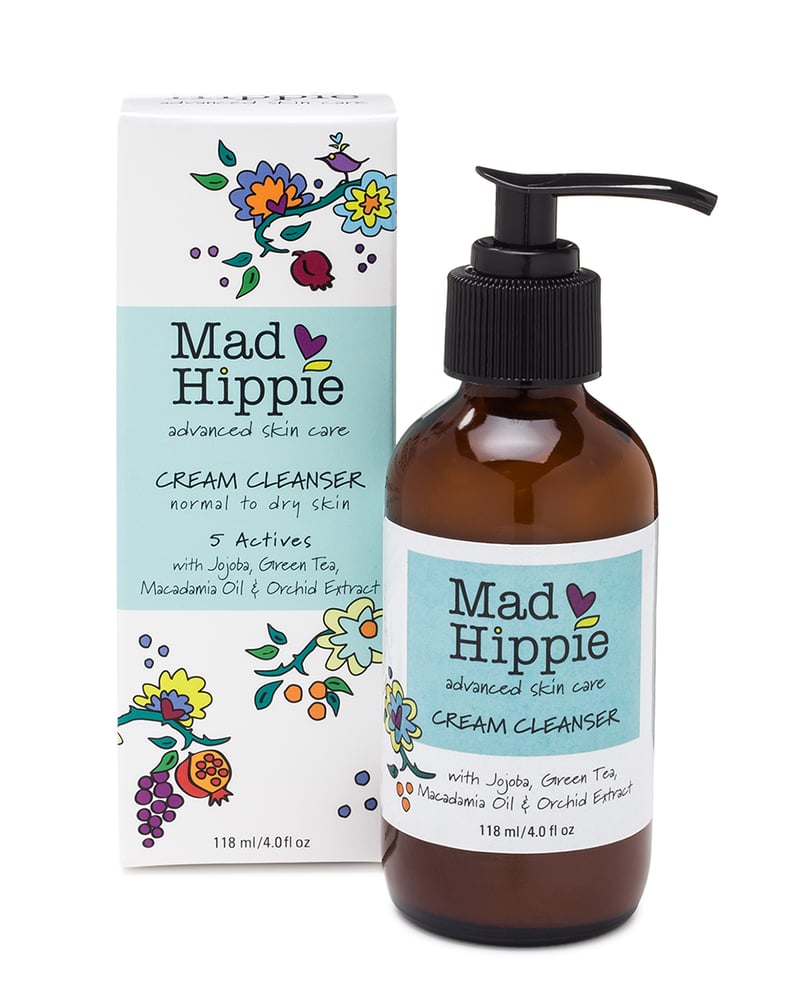 Mad Hippie Cream Cleanser
If the shabby-chic packaging alone of Mad Hippie's Gentle Clean Cleanser ($16) doesn't get you, the rockstar ingredient list will. It is formulated with jojoba oil to nourish skin, green tea to reduce inflammation, and sesame oil to offer antioxidant properties. The cruelty-free option proves you can score a cleanser that is both mindful and affordable.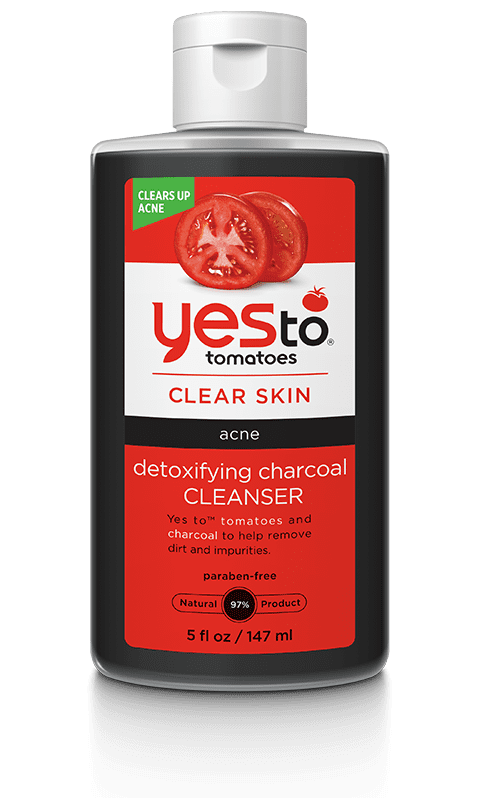 Yes to Detoxifying Charcoal Cleanser
If you ask any skin care lover to name a few of her favorite drugstore brands, Yes To will likely come up. As part of this tribe, I rely on the Yes to Tomatoes line for its gel-based Detoxifying Charcoal Cleanser ($11). It is formulated to draw away impurities, toxins, and bacteria from skin, making it a great option for those with oily skin. The results are fewer blemishes, a decrease in clogged pores, and a matte finish.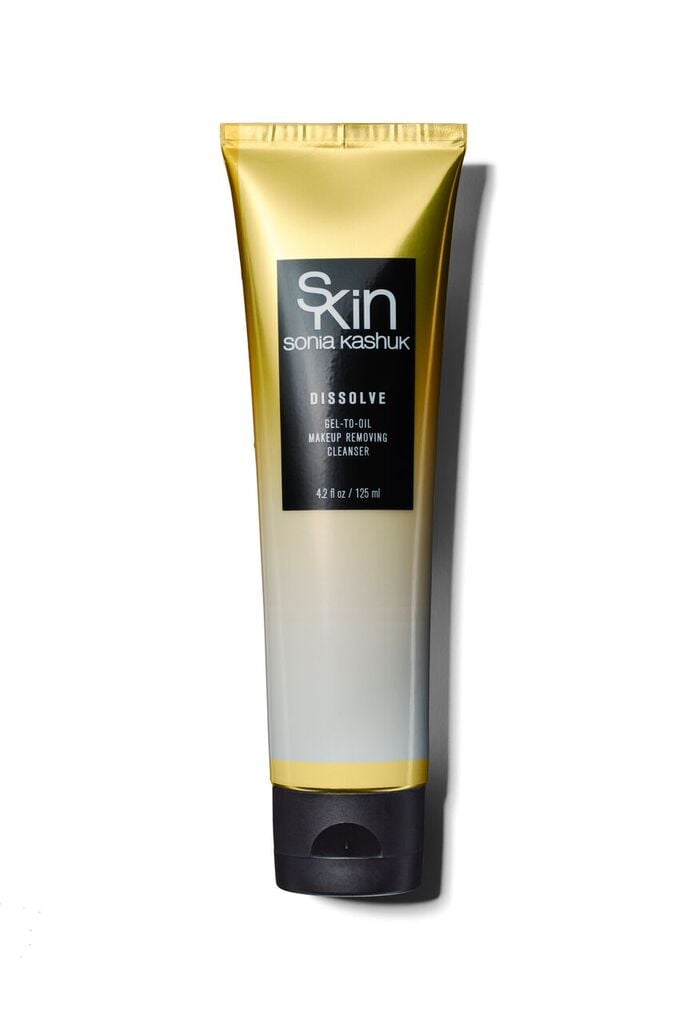 Sonia Kashuk Dissolve Gel-to-Oil Makeup Removing Cleanser
According to Dr. Sadio, if you wear heavy makeup (whether it be eye, lips, or face), breaking down the cleansing process into two steps makes a big difference when it comes to ensuring your face is truly clean at the end of the day. She suggests starting with a cleanser made specifically to remove makeup before lathering up again with another one designed to target your skin type. This affordable Sonia Kashuk Gel-to-Oil Makeup Removing Cleanser ($15) gets applied as a gel before transforming into a light oil. It melts away makeup and leaves your face squeaky clean.
Pro Tip: If you often find yourself with traces of makeup still in place after cleansing, try applying any nonfoaming cleanser to dry skin and letting it sit for two minutes before washing away. It makes all the difference in getting rid of stubborn makeup.