Chloe x Halle Talk Skin-Care, Self-Love, and the Oddly Satisfying Beauty Habit They Share
As POPSUGAR editors, we independently select and write about stuff we love and think you'll like too. If you buy a product we have recommended, we may receive affiliate commission, which in turn supports our work.
Three months in and 2021 has already proven to be an eventful year for Chloe and Halle Bailey. They are up for three Grammy nominations, released their much-anticipated "Ungodly Hour" music video in February, and created separate social media accounts (in addition to the joint account that boasts a collective 4.8 million followers). But their most recent big announcement has nothing to do with their thriving music career and, instead, everything to do with beauty. No, it's not a Chloe x Halle makeup brand (although we're still holding out hope for that one day) — the sisters were just named the new faces of Neutrogena.
The sisters' love for the affordable drugstore skin-care brand goes way back, which is why the partnership is a match made in heaven. Over a Zoom call, the duo shared with POPSUGAR everything from skin-care tips they learned growing up to the one part of their routines that "feels like taking your bra off."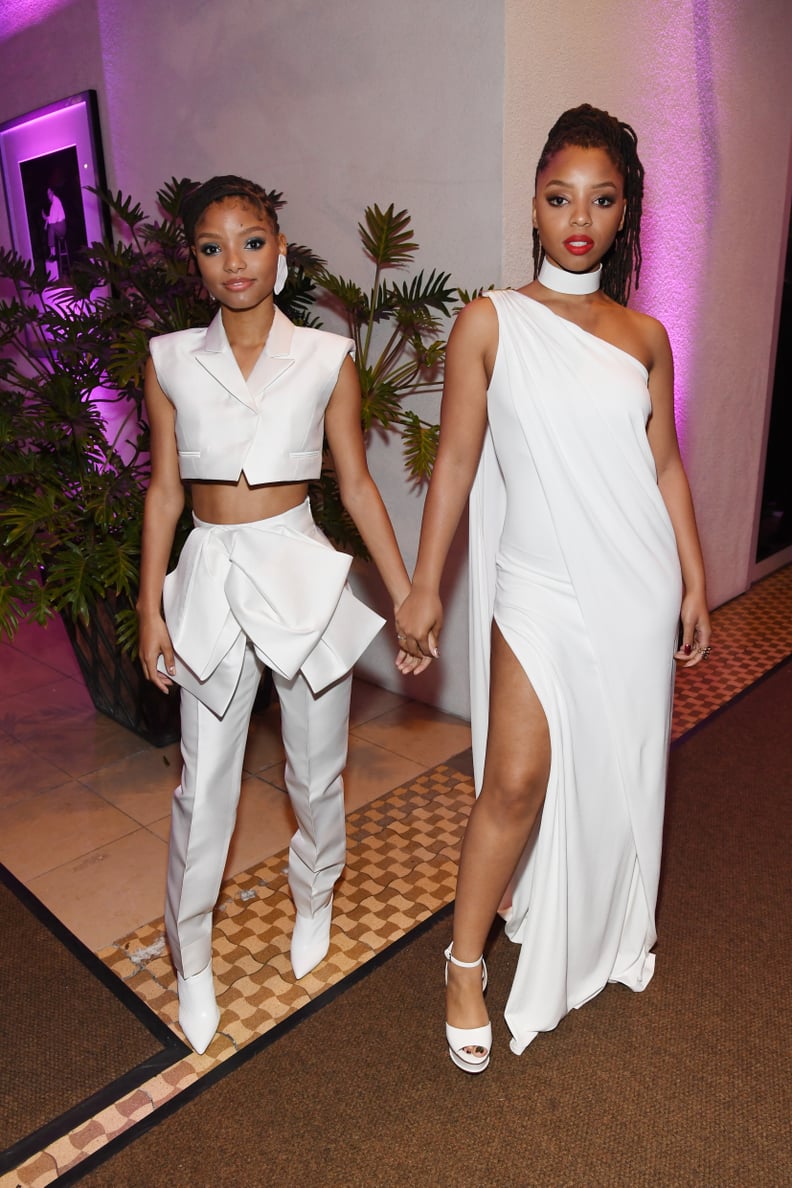 The Biggest Source of Beauty Inspiration For Them
Yes, Chloe and Halle are on TikTok, but that's not the main place they like to get their beauty inspiration. "We're always on YouTube watching these really cool beauty gurus online and getting little tips and tricks," said Chloe.
Still, there's no topping the duo's first source of skin-care and beauty advice: mom. "She's lived through it — she knows what works," said Chloe. The biggest tip they learned? Washing your face before bed. "It has taken me a very long time to grasp that concept, because I usually just wash my face in the morning, but now I do it at night, too. And for that, I'm proud of myself, and I call that growth."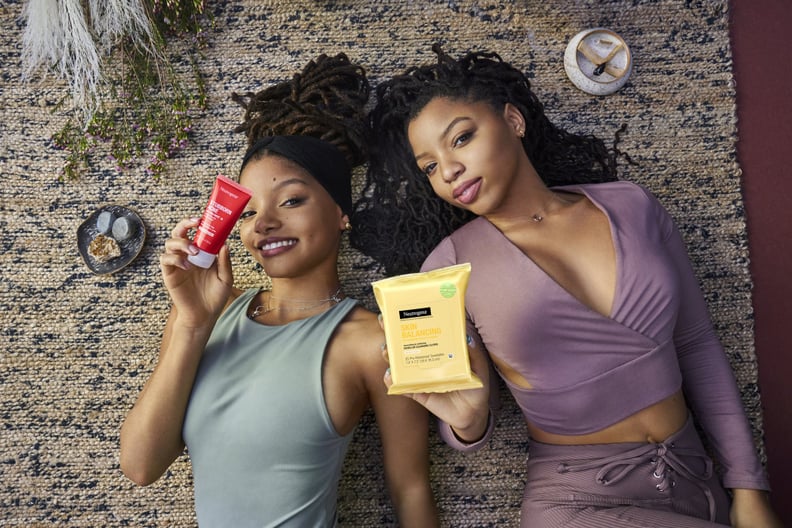 How Their Skin-Care Routines Have Changed Over the Years
Everybody experiences changes in their skin as they mature, but Chloe and Halle also had to balance the stress of being on tour. That didn't agree with Halle's acne-prone skin type.
"When we [traveled], there'd be different water everywhere, and my skin really reacted in different ways," said Halle. When she realized "these bumps just didn't want to go away," that's when she started to pay attention to skin care. "Neutrogena has been my support system for a long time, especially when I was going through those challenges." Now, to keep her oily complexion under control, she uses the brand's Oil-Free Acne Wash ($6), which she loves because it isn't too drying.
Chloe, on the other hand, fell into skin care via her love for makeup. "I love the process of doing it and getting all glam, but before I go to bed, I need to remove it really good or else I could get little breakouts," said Chloe. Her first step to removing a full face beat: Neutrogena's Skin Balancing Micellar Cleansing Cloths ($6). "It helps with my eyeliner, my lip stains, all of that," she said. "It just makes it so much easier to really get down to the nitty-gritty when it's time to cleanse my face."
Halle agreed, and added: "Removal is the best part. It's like taking your bra off."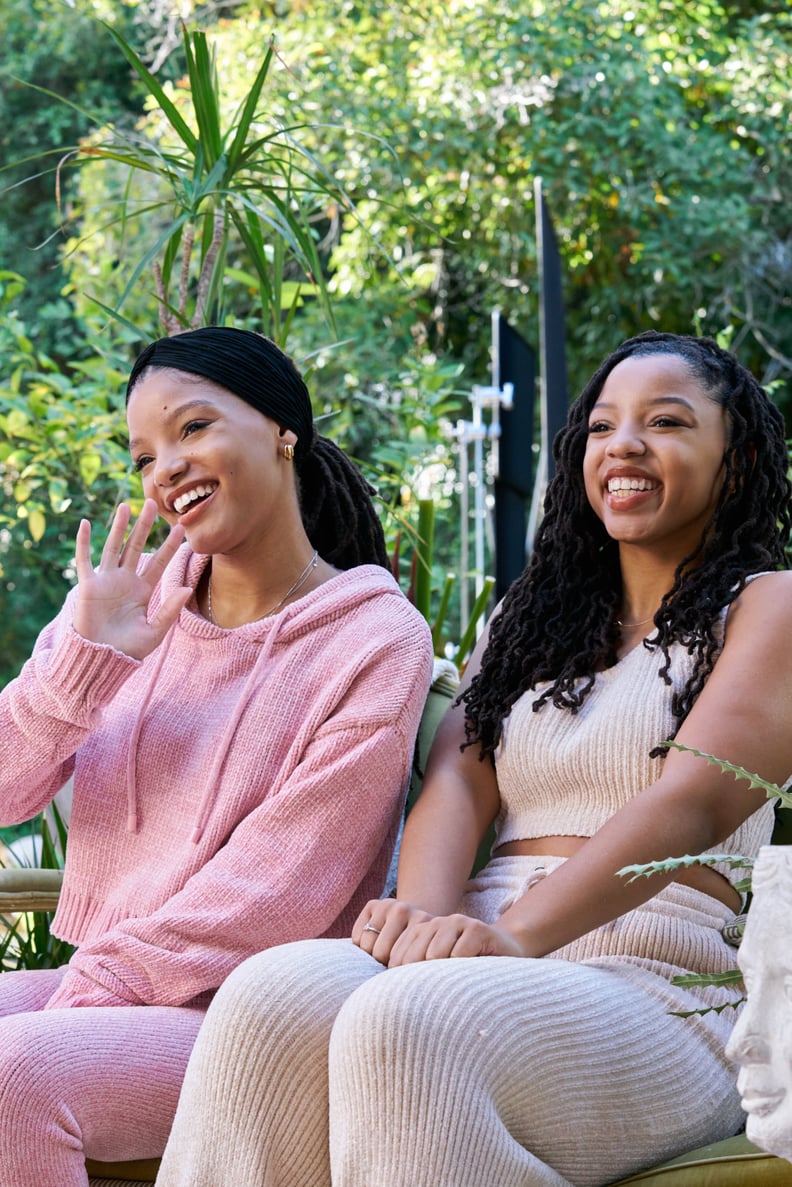 The 1 Guilty Pleasure They Both Love
Plenty of people watch pimple-popping videos on the down-low in fear of being judged, but the sisters have no shame in admitting watching extraction clips is one of their shared interests. "I always want to squeeze my pimples, and if it's a whitehead, I end up doing it," said Halle. "But then I'm like, 'Oh no, I regret it.'"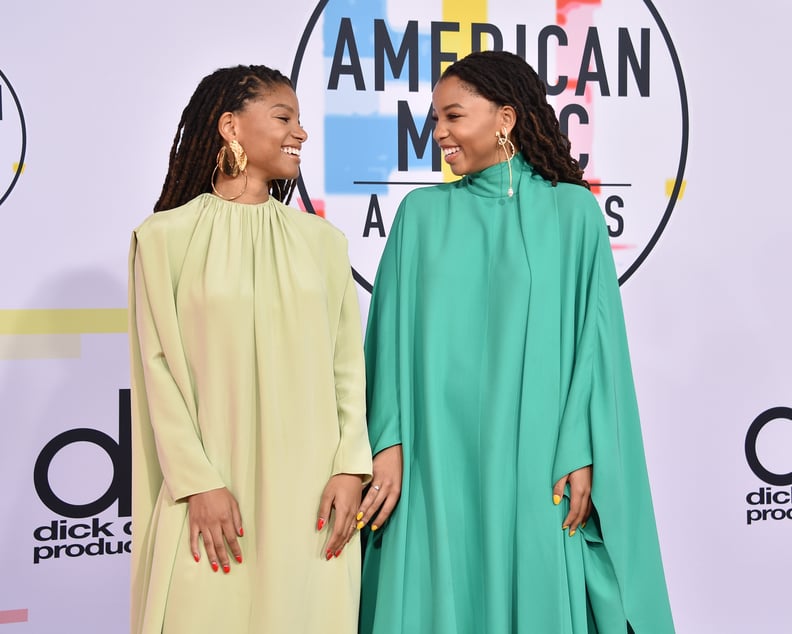 How They Practice Self-Love in a Challenging Industry
Practicing self-love is hard for any 20-something-year-old, but throw in fame and a stressful pandemic and it can be downright overwhelming. For Chloe, the little things like doing her makeup, prayer, music, the ocean, and food help her feel energized and refreshed. "I'm such a foodie; anytime I'm sad or I'm overwhelmed, if I just eat a good meal, I'm instantly happy again," she said.
For Halle, it's about taking time to reflect. "Being in this industry and everything, it's a lot to deal with," she said. "But at the same time, I love taking a step back and looking at the big picture and saying, 'You know what? Maybe this thing that I'm overanalyzing about myself doesn't matter. Maybe my flaw today is something that's beautiful.' So, I'm just constantly reminding myself that my imperfections are what make me me."