Chrome Nails Are Trending
Chrome Nails Are Trending — Here's How to Get Them at Home
As POPSUGAR editors, we independently select and write about stuff we love and think you'll like too. If you buy a product we have recommended, we may receive affiliate commission, which in turn supports our work.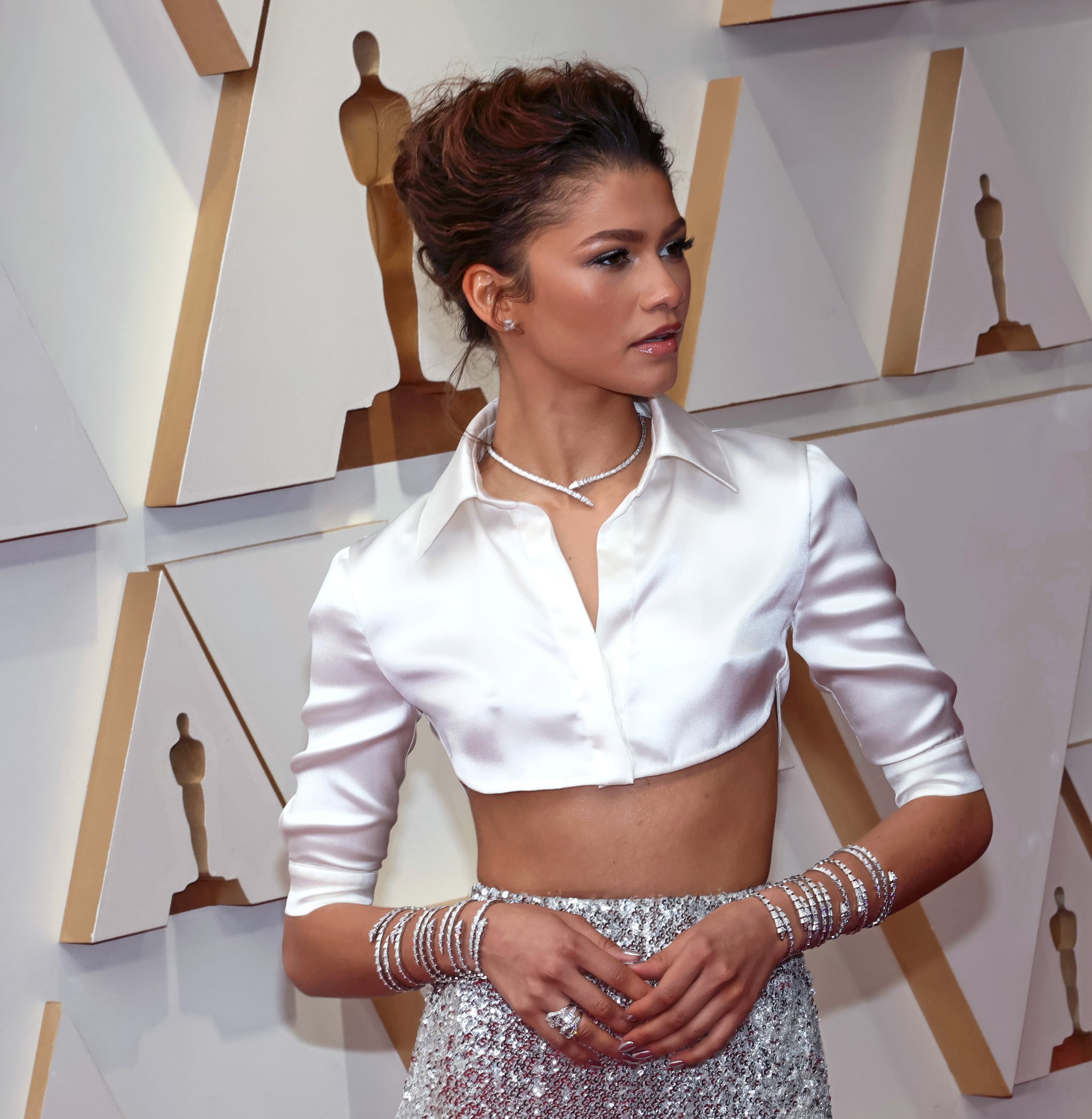 Image Source: Getty/David Livingston

Nail trends typically veer either minimalist and subdued or land firmly in the over-the-top, maximalist camp, but sometimes you just want to make a simple statement. That's where chrome nails come in. They're glam enough to be on trend and catch the eye, but understated enough to not clash with your daily wardrobe.
As seen on stars like Zendaya, Dua Lipa, and Rihanna, achieving chrome nails has as much to do with technique as it does with the polish or powder color. "Chrome nails are a type of nail design or polish that uses special ingredients in chrome powder to give a metallic, reflective, mirrored finish to the nail," celebrity manicurist and educator Julie Kandalec tells POPSUGAR. "Chrome can be used on the entire nail or in partially targeted areas of the nail bed as part of the design of the nail art."
While you can get virtually any color in a chrome finish, Kandalec says the most popular shades among her clients are more traditional hues. "Gold, rose gold, and silver are definitely the most popular colors I'm seeing," she says. If you want to get your own chrome manicure, Kandalec breaks down everything you should know about the trend, from the technique to how to achieve the look sans powder, ahead.
Background on the Chrome Nails Trend
The popularity of chrome nails has as much to do with access as it does the manicure's mesmerizing finish. "When it first came out, the chrome pigment was extremely hard to find and was very expensive — about $25 for a very small bottle," Kandalec says. "Now it has become more popular and is easier to find. You can find it pretty much anywhere nail products are sold, including most nail salons."
Nail Art on a Chrome Manicure
Like any other nail design, chrome works really well with the addition of nail art. "You can absolutely do nail art with chrome," Kandalec says. "Since you're going to sandwich the chrome pigment in between layers of nonwipe topcoat, you can rub the chrome pigment into the design and then finish it with another layer of topcoat that will lock it in."
How to Get Chrome Nails at Home
You can achieve chrome nails one of two ways: with chrome powder or with a nail polish that mimics a chrome finish. "Chrome isn't easily done at home, particularly because you do have to use a nonwipe topcoat, which is usually gel-based," Kandalec says. "However, there are a few nail polishes that have chrome finishes." Lights Lacquer's Nebula ($11), CND Shellac's Silver Chrome ($15), and Essie's Good as Gold ($9) are a few of her personal favorites.
If you do have access to the proper equipment (chrome powder and a gel topcoat), the process is fairly easy. "With the powder, you are going to sandwich chrome pigment in between layers of nonwipe gel topcoat," Kandalec says.
After prepping your nails, apply a regular gel polish base and cure it. Once cured, apply one layer of a nonwipe topcoat. "Once the first layer of topcoat is cured, take a tiny makeup sponge, like the Real Techniques Mini Complexion Sponges ($6 for four), dip the sponge in the chrome powder, then burnish the chrome pigment into the freshly cured nonwipe topcoat," she says. Once the color is placed, brush the loose pigment away, add another layer of the nonwipe topcoat again, and cure it one last time.
Trends are cyclical in nature, so it was only a matter of time before we saw chrome nails making their way back into the mainstream. Thankfully, chrome nails are much easier to achieve than some of the other trends making the rounds right now. Be sure to keep these tips in mind if you want to re-create the look yourself.