Cleo Wade's Must Haves: From Cozy Pajamas to a $12 Lip-Balm Set
Getty | Taylor Hill
Photo Illustration: Keila Gonzalez
Getty | Taylor Hill
Photo Illustration: Keila Gonzalez
As POPSUGAR editors, we independently select and write about stuff we love and think you'll like too. If you buy a product we have recommended, we may receive affiliate commission, which in turn supports our work.
If there were a rallying mascot for the word "mindfulness," it would be Cleo Wade. The author, poet, and activist is intentional in everything she does — from the moment she wakes up to the second she heads to bed.
This also translates into her every routine, including skin care and makeup. "My general approach to beauty comes from a place of care and celebration," Wade tells POPSUGAR. "When we look at beauty as something to celebrate in all of us, we are able to release the standards that have traditionally not made us feel great about ourselves. One way that we can celebrate that is through care in small ways and big, whether that is feeling beautiful because you had a really good night's sleep or taking that 10 minutes to put on a sheet mask. Beauty is more often something that naturally flows from us when we are taking care of ourselves."
"Beauty is more often something that naturally flows from us when we are taking care of ourselves."
It's also why this holiday season, she decided to partner with Burt's Bees on a lip-balm set that honors their mutual appreciation for self-care and self-love. "When I buy a product, I think about thoughtfulness and comfort. I think about supporting makers and creators that I find inspiring or share my own ideals or missions for what I think should be in the world. I also shop for things that I just simply like and think that's important, too."
In honor of the upcoming holiday, we're delving into all of Wade's go-to products that support that holistic approach to shopping. From cozy flannel pajamas to matching glitter high tops she shares with her kids, keep scrolling to read more about Wade's must-have items.
Cleo Wade's Morning-Routine Must Have: La Colombe Coffee
For Wade, coffee and alone time are crucial components of her a.m. routine — "especially if you have kids," she says. "I've gone through coffee times in my life and tea times in my life; lately, I don't know if it's because I'm writing, but I'm in a real coffee time. So I've been trying some different ones." More specifically, she's been cycling through a few favorites like the La Colombe Coffee Medium Roast ($14), as well as Brooklyn Roasting.
Pro Tip: Wade recommends carving out an allotted amount of time each morning to dedicate to yourself. What you do then is up to you: put on relaxing music, pour yourself a cup of coffee, or journal. "Just having 10 to 20 minutes every morning in your own energy with something warm and cozy — it's a recipe for calm," she says. "I don't look online or open emails. I just enjoy being in my own thoughts. There's so much in the world that can make you feel stressed and anxious throughout the day that to claim your time in the morning is so helpful."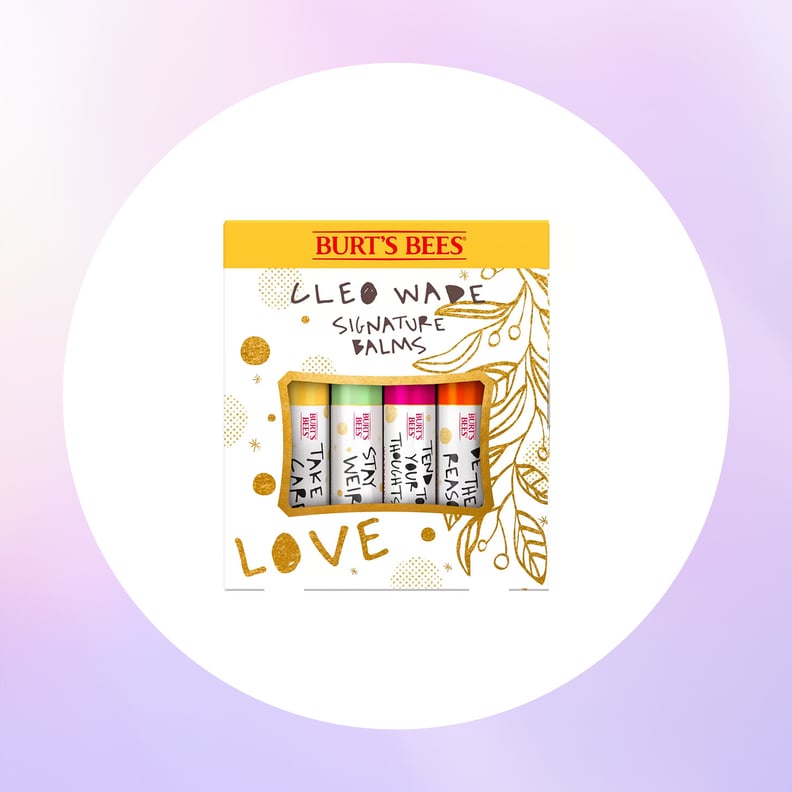 Cleo Wade's Affordable Must Have: Burt's Bees Cleo Inspired Lip Balm
When Burt's Bees approached Wade about curating the Burt's Bees Cleo Inspired Lip Balm Collection ($12), available at Target, it was a no-brainer. "The quality is amazing," she says. "With tinted lip balms, sometimes they can be a little too lipstick-y, or they can be too lip balm-y where they're not tinted enough. [Burt's] is the perfect match of both, where you feel like you have a strong, pretty color on, but you're not sacrificing moisture and have to reapply a bunch of times during the day."
Pro Tip: Because the lip kit includes four tubes of lip balm flavors (original, Watermelon, Sweet Mandarin, and Cucumber Mint), that means you can stash one in every purse or pocket you have so you're never left without. "As a mom, you forget everything everywhere," she says. "The likelihood that you're leaving the house and forgot your entire purse and don't have any lip balm is high, so the set is great. I use it so much."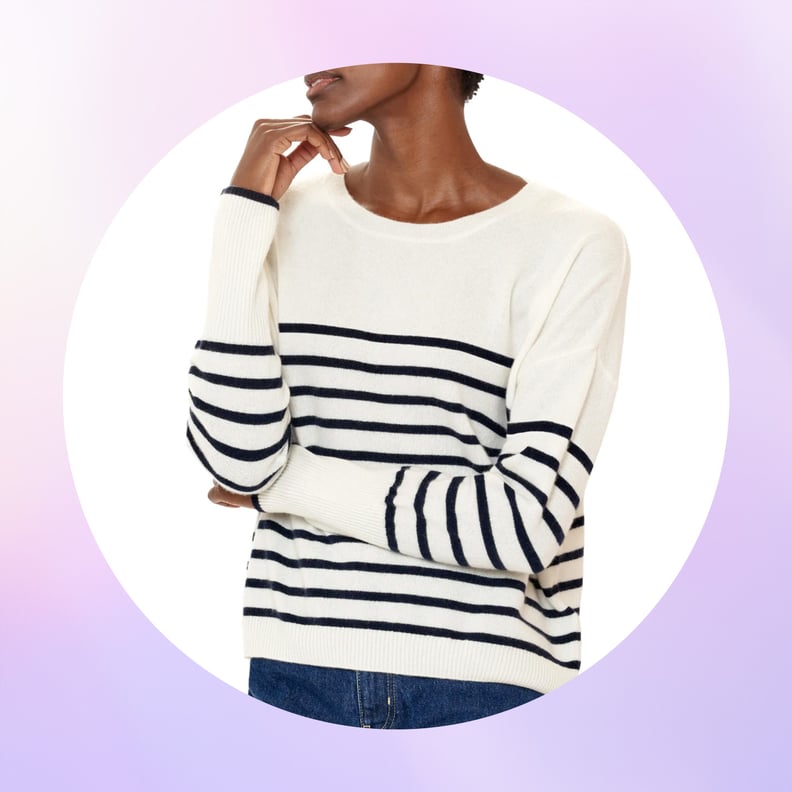 Cleo Wade's Investment Must Have: La Ligne Stripe Cashmere Sweater
The resolve to be comfy at all times is a common thread in Wade's life, and this extends to what she wears — and why she loves pieces like the La Ligne Stripe Oversize Cashmere Sweater ($295). "I'm a sweater person," she says. "My whole day is about being cozy."
Pro Tip: Be choosy about your fashion splurges. "What makes something worthy of being an investment piece is that it holds up," Wade says. "If you're going to spend hundreds of dollars on a sweater, you don't want it to fall apart quickly or not be able to be cleaned or be a high-maintenance piece in your life. I looked in my closet and thought, 'What have I had for a long time that's really held up well?' For me, that's a lot of my La Ligne sweaters I've had since the day they launched, which was five years ago. I've had them for five years, and they look just as good as they did the day I bought them."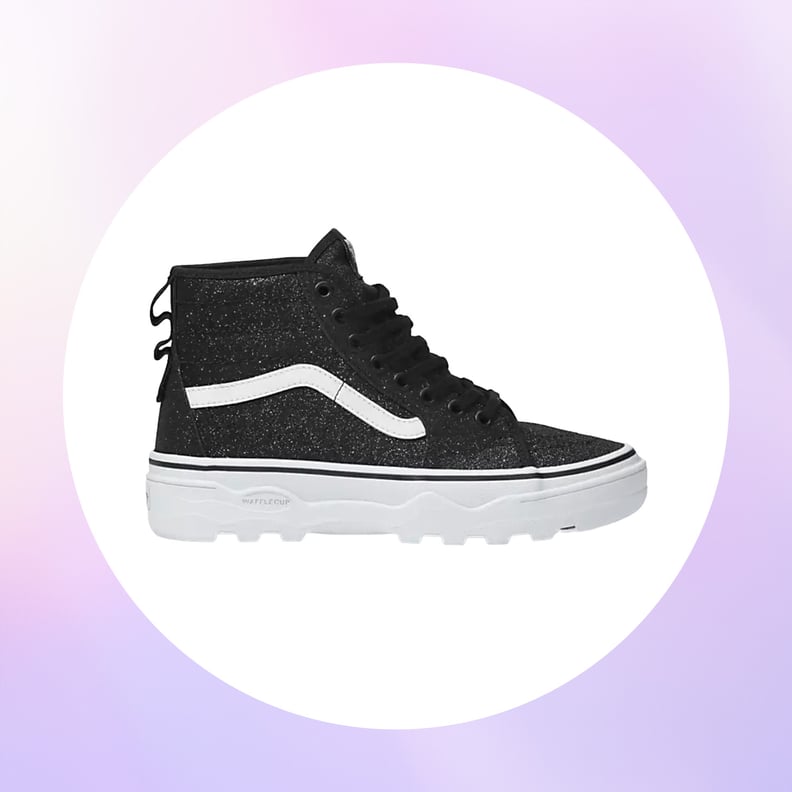 Cleo Wade's Sneaker Must Have: Vans Glitter High Tops SK-8 Shoe
First, Wade wants to be fully transparent: "I'm not really a sneaker person. I am someone who walks around barefoot all day, and since I work from home and there's no shoes allowed in my house, that's probably why." Still, she does like a good basic you can pair with jeans or a dress. A go-to Wade reaches for everyday are her high tops, specifically the Vans Glitter High Tops ($120). "My daughters and I all have the same ones."
Pro Tip: The brand also offers sneakers in toddler and child sizes — and come in an array of colors and designs — so you can match. "Vans are just a great shoe for kids because they get a little wacky," Wade says. "Both my kids have glitter high tops and pink-and-white and rainbow [shoes]. I don't have the kids that are in chic outfits. They're in tutus and weird sweatshirts and bucket hats and mismatched socks. And so the reason I like Vans is because they're not crazy expensive, so you can get a pair and match your kids, and you can all have your cool, weird shoes and weird outfits."
Cleo Wade's Sleep Must Have: L.L.Bean's Scotch Plaid Flannel Pajamas
"Have you ever seen the meme where one person in the couple wants the room to be 80 degrees and the other wants it to be 60 degrees?" Wade asks, because she can relate. "My partner likes to sleep in a freezing-cold room." That's why she asked for the L.L.Bean Scotch Plaid Flannel Pajamas ($79) for Christmas. "I also have a matching robe, and they are just everything to me. They're so comfortable. Before bed, I like to get very warm and cozy; I bring a tea to bed with me every night."
Pro Tip: It's not just tea that's part of Wade's bedtime routine but also setting the presleep mood completely: getting cozy, dimming the lights, and snuggling up in bed with a cup of tea and a book, any book, before turning in for the night. "One of the things I try and do is read five pages of any book. Reading helps calm our brain and switch gears in such an amazing way, but a lot of times we're like, 'I need to read 30 pages or a chapter,' but five pages is really attainable."