The Most Common Questions Hairstylists Get, Answered
7 of the Most Common Questions Hairstylists Get, Answered
As POPSUGAR editors, we independently select and write about stuff we love and think you'll like too. If you buy a product we have recommended, we may receive affiliate commission, which in turn supports our work.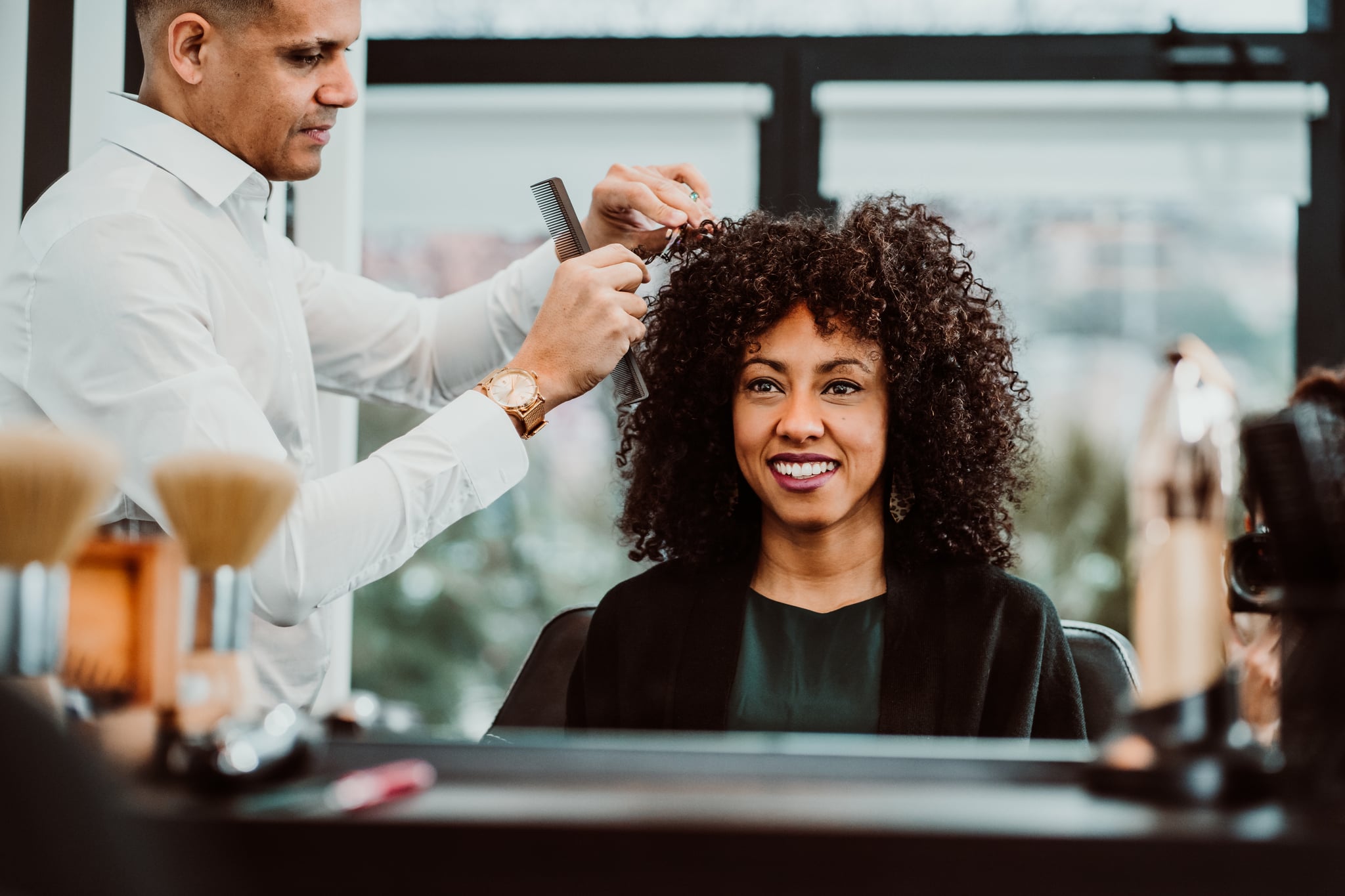 Despite making routine trips to the hair salon for regular trims, color touch-ups, and style changes, many of us are still in the dark when it comes to a lot of basic hair knowledge. How many times should I be shampooing a week? What products are right for me? What hairstyle suits my face shape? Our questions are seemingly endless.
As much as we love picking our hairstylist's brain as they cut, bleach, and blowout our hair, sometimes we don't always have time to pay a visit to the salon just to get a few hair questions answered. In those moments, allow us to be of some help. We asked four hairstylists to share some of the most common questions they get from clients and divulge the answers, and that's just what they did.
Keep reading to have all of your most burning hair inquiries answered by a professional.
How Often Should I Get a Haircut?
By far the most common question hairstylists hear at the salon is "how often should I get a trim?" And the answer depends on your hairstyle. "For those wanting to maintain a specific length and style, six to eight weeks is ideal," Nine Zero One senior stylist Lisa Satorn told POPSUGAR. Keep in mind that hair grows at an average rate of about 1/2 to one inch a month.
If you have a short hairstyle, you might want to consider getting it cut more frequently. "Short hair loses its shape quickly because it lies perfectly around the head shape, allowing it to accentuate features specifically where it rests," said Devin Toth, a hairstylist at Salon SCK in New York City. Long hair, on the other hand, can go a little longer without a trim — as long as it's healthy. "If you are trying to grow your locks, I suggest a trim at least every 10-12 weeks, but a masque or treatment is a must to help ends stay healthy," said Satorn.
Ultimately, Toth said, "Make a plan with your stylist and then stick with it."
How Often Should I Wash My Hair?
To wash or not to wash, that is the question. In short: "This completely depends on your hair type and needs," said celebrity hairstylist Annagjid "Kee" Taylor. "You should always listen to your hair and what it asks of you." Meaning, if your hair gets greasy you may need to wash it more; if it's on the drier side, you can probably wash less.
Some people love to wash their hair every day but Satorn cautioned against that because "it can throw off the natural balance of your scalp," unless you workout or get especially sweaty during the day — then it's fine.
Curly hair is an exception to this rule. "You should limit washing your hair with shampoo as much as you can, no more than twice a week," said Taylor. "I always like to recommend one pump of shampoo per wash. Working in a salon, I can tell you that you do not need more than that, especially in your second wash, and you'll end up saving more product (and money) in the end."
Am I Losing My Hair?
It's normal to lose on average 50 to 150 hairs a day, but hair loss at levels higher than that is something that many people face. That's why it probably comes as no surprise this question is by far one of the most common ones for Drew Schaefering, the master stylist at Rob Peetoom Williamsburg. "Throughout the course of the day, we lose many that we don't see, whether in the shower, a brush, or simply falling aside out of our way," he said. "However, this can become a bit more shocking if we wear our hair up for a day or two and don't brush our hair in between. With two days of wearing our hair up, when we finally take it down, we are looking at upwards of 300+ hairs that haven't been removed through routine physical actions." This can lead to what seems like an unhealthy amount of hair falling out all at once, but it's perfectly normal.
There are a few factors that can impact your body's natural hair growth and shedding phases. One thing to consider is the weather. "It is common to see cycles of this occur during changes in the weather and temperature," said Schaefering. "Many of [us] seem to shed more hair during the warmer months, as there is better blood flow and circulation to every part of our body (including our hair follicles), resulting in a renewal of hair growth cycles." Your diet can also affect your hair's growth. If you're not getting enough nutrients from foods you can experience slower growth. "Make sure that you are getting a well-balanced diet and consider supplementing with fish oil, vitamin E, and biotin to maintain healthy hair, skin, and nails."
What Color Should I Dye My Hair?
We've all probably uttered the phrase "what do you think?" to our stylist a hundred times. If you're unsure what color to dye your hair and you can't ask a pro directly, Taylor said, "I always recommend only going two or three shades lighter or darker than your natural hair color to ease your way into it." Keep in mind it's a lot easier to gradually keep darkening or lightening your hair in phases than it is to go back.
"If you want to really go all out, buy a wig with the color that you're aiming for and try it," said Taylor. "You'll get an easy 'dye job" without the hassle, damage, or surprises — that's a win-win."
How Can I Keep My Blond Hair From Getting Brassy?
Brassiness is a blond's number-one enemy. "The best way to keep your hair from getting brassy is to use a purple-pigmented, anti-brass shampoo and mask once a week," said Toth. "My absolute favorites are Bain Ultra-Violet Purple Shampoo ($35) and Masque Ultra-Violet Purple Hair Mask ($62) from Kérastase's new Blonde Absolue haircare collection. They're both ultra-nourishing products that contain highly-concentrated violet pigments that neutralize and remove brassy and yellow undertones in your hair. After you apply each of these products, leave them on for two to five minutes before rinsing them out."
What Shape Is My Face?
If you've ever found yourself staring far too long into the mirror trying to determine "Is my face oval? Diamond? Square? Heart? Oblong? Round?" you're not alone. However, Schaefering said the answer isn't that simple. "Very few of us are naturally one of these shapes through and through. Most of our face shapes are made of different pieces from each put together."
To help you get to the bottom of this question, think of your face as being broken down into three sections both vertically and horizontally. "The vertical breakdown will show us what part(s) of our face is the longest, looking at the hairline to the top of the cheekbones, the cheekbones to the jawline, and the jawline to the chin," said Schaefering. "The same thing goes when we look at the horizontal breakdown of our face. Between the top, middle, and bottom portions, which is the widest, middle and skinniest?"
Taylor said, "Sometimes the haircuts that you see trending online won't always work for your face shape," which is why it's helpful to determine what yours is before getting a cut.
How Long Will My Blowout Last and How Can I Extend It?
We get it: you spent a pretty penny at the hair salon to get a perfect blowout and you want to get the most time out of it as possible. "A salon blowout can actually last quite a long time if you care for it properly," said Toth. The first step to making your blowout last days and days is to leave it alone. "You should avoid sweating, so don't spend the day outside if it's hot and humid, and don't go to the gym for an intense workout," he said. "Avoid touching your hair with your fingers to ensure your follicles stay as clean and oil-free as possible."
Once your hair does hit that inevitable oily stage, it's time to reach for some dry shampoo. "Changing your hair part, restyling the face-framing roots at the hairline, [and] backcombing the crown," according to Toth, also help. When it comes to sleeping, Satorn added: "Semi-loose space buns (make sure to tuck those ends carefully to avoid kinks) are a great way to preserve your curls. For those that have a beautiful, straight blowout they want to preserve, flat wrapping your hair [in a] silk scarf is the way to go."