I Tried the Bleached-Brows Hack from TikTok: See Photos
I Tried the Bleached-Brows Trend at Home, Sans the Bleach (and Risk)
As POPSUGAR editors, we independently select and write about stuff we love and think you'll like too. If you buy a product we have recommended, we may receive affiliate commission, which in turn supports our work.
Seen all over the runways during Fashion Week and on celebrities like Gigi Hadid, bleached brows are having a resurgence this year. Regardless of how they're worn, bleached brows add a sophisticated edge to any makeup look and are the perfect accessory to add an editorial, high-fashion finish to your routine.
I wanted to re-create the look at home, but when researching, I found that bleaching my eyebrows entails chemical processing of my brow hairs that can have some unpleasant side effects if done incorrectly, so I went looking for an alternative. Enter: TikTok.
User @elizecouv shared her own bleached-brow hack that has garnered over 300K views, which only requires three products to get the look: concealer, setting powder, and a spoolie. In just a few seconds, she applied concealer to her brows, brushed it out, and was left with the exact same look that I saw on the runways. Needless to say, I had to try it.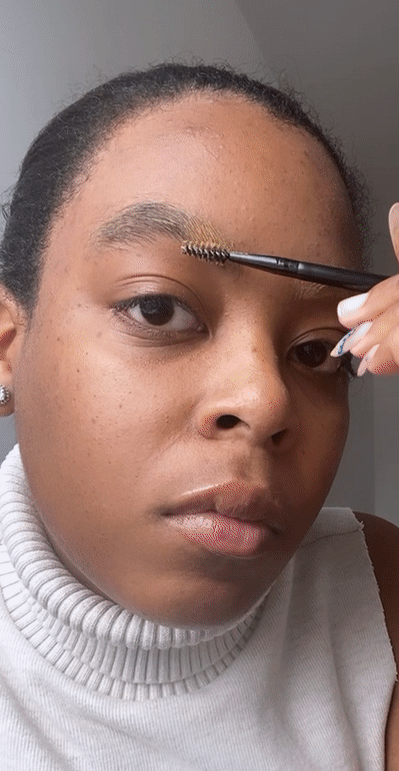 For my products, I chose the E.l.f. Hydrating Camo Concealer ($7) in the shade Tan Sand, Laura Mercier Translucent Loose Setting Powder ($39) in the shade Translucent Honey, and the E.l.f. Brow Lift Applicator ($4).
To start, I took the doe-foot applicator in the concealer and applied the product in three dots directly to my eyebrow. I then took the spoolie end of the applicator and brushed the product through my brow hair. I found that I had a significant amount of product to clean up using this method, so for my other brow, I took the spoolie and coated it in concealer first, then applied it to my bows. Long story short: this was the way to go.
This method not only meant less mess, but when I was applying the product, it was also much easier to control exactly how much pigment ended up on which part of my brow. It even required fewer coats to fully saturate the hairs compared to the first method. When I set both brows with the loose powder, the small gaps in opacity from the first method I tried became much more noticeable. This only further cemented the fact that this hack works best when the concealer is first applied to the spoolie, not directly onto the brow.
Overall, this is an extremely handy trick to have on hand, and I really loved the results. Now that I know applying the concealer to a spoolie first will give me the most seamless results, I will definitely stick to this technique when I re-create the look at home.
Though this hack will never truly be as seamless as actually bleaching my brows, if you're someone who is as indecisive as I am, it's the best way to try out bleached brows without the commitment.
Image Source: POPSUGAR Photography / Ariel Baker