Dazzle Dry Mini Nail Kit Review With Manicure Photos
This 4-Step Nail Kit Is My Secret Weapon to a Long-Lasting Manicure
As POPSUGAR editors, we independently select and write about stuff we love and think you'll like too. If you buy a product we have recommended, we may receive affiliate commission, which in turn supports our work.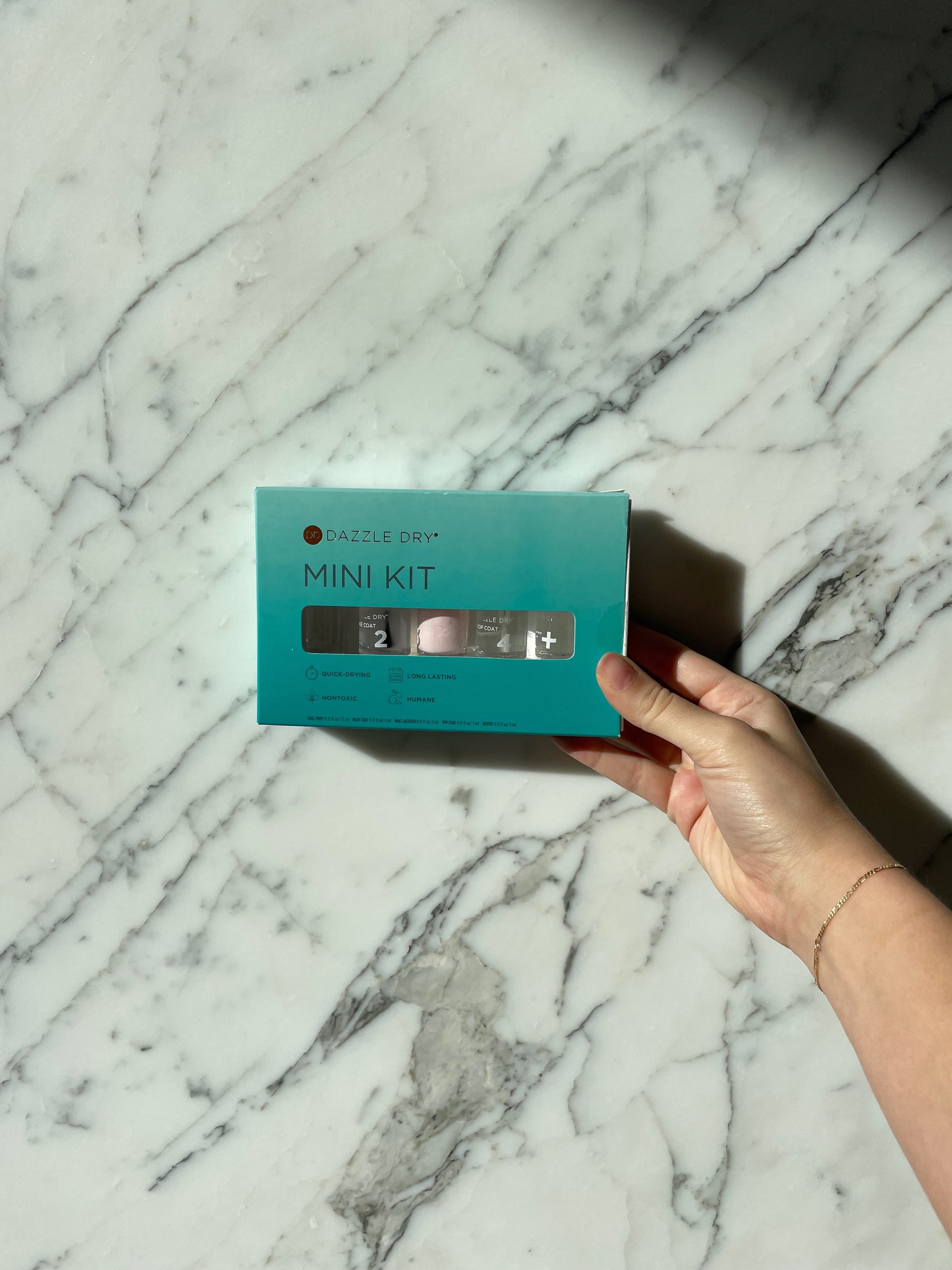 Dazzle Dry is a healthy gel-alternative nail system.
The brand's four-step system is gaining popularity for its quick drying time and long-lasting formula.
One editor tested the Dazzle Dry Mini Kit and was impressed with the results.
For as long as I can remember, I've had an image of a woman's nails with the most beautiful milky-white color painted on them pinned on one of my Pinterest boards. I've searched high and low to try and find the exact nail polish color to no avail. I've even brought the photo to salons and tried mixing different polish colors in an attempt to find a winner, but I've always come out empty-handed. I eventually came to the conclusion that I needed to give up my search, so imagine my surprise when a few months ago, while my boyfriend's parents were visiting, I noticed his mom was wearing a nail color that looked identical to what I had been searching for. When I asked what it was, she told me it was part of a kit by a brand called Dazzle Dry.
Developed by bio-organic chemist Vivian Valenty, Dazzle Dry is a healthy gel-alternative four-step nail system. The products are formulated with polymer technology that enables the polish to expand and contract with the nail, which means the polish is long lasting without doing long-lasting damage. The entire Dazzle Dry line is hypoallergenic and formulated without reactive ingredients, animal byproducts, or animal testing. Instead, they're formulated with vegan alternatives.
The Dazzle Dry Mini Kit ($35) is a four-step system that includes five different items: the Nail Prep (used to clean the nail before application), a mini base coat, topcoat, and nail lacquer (in a color of your choosing), plus a product called Revive (which can be used to restore the consistency of the topcoat or nail lacquer if it becomes too thick). The Dazzle Dry site also has over 150 different color options, which makes finding the perfect color an absolute piece of cake.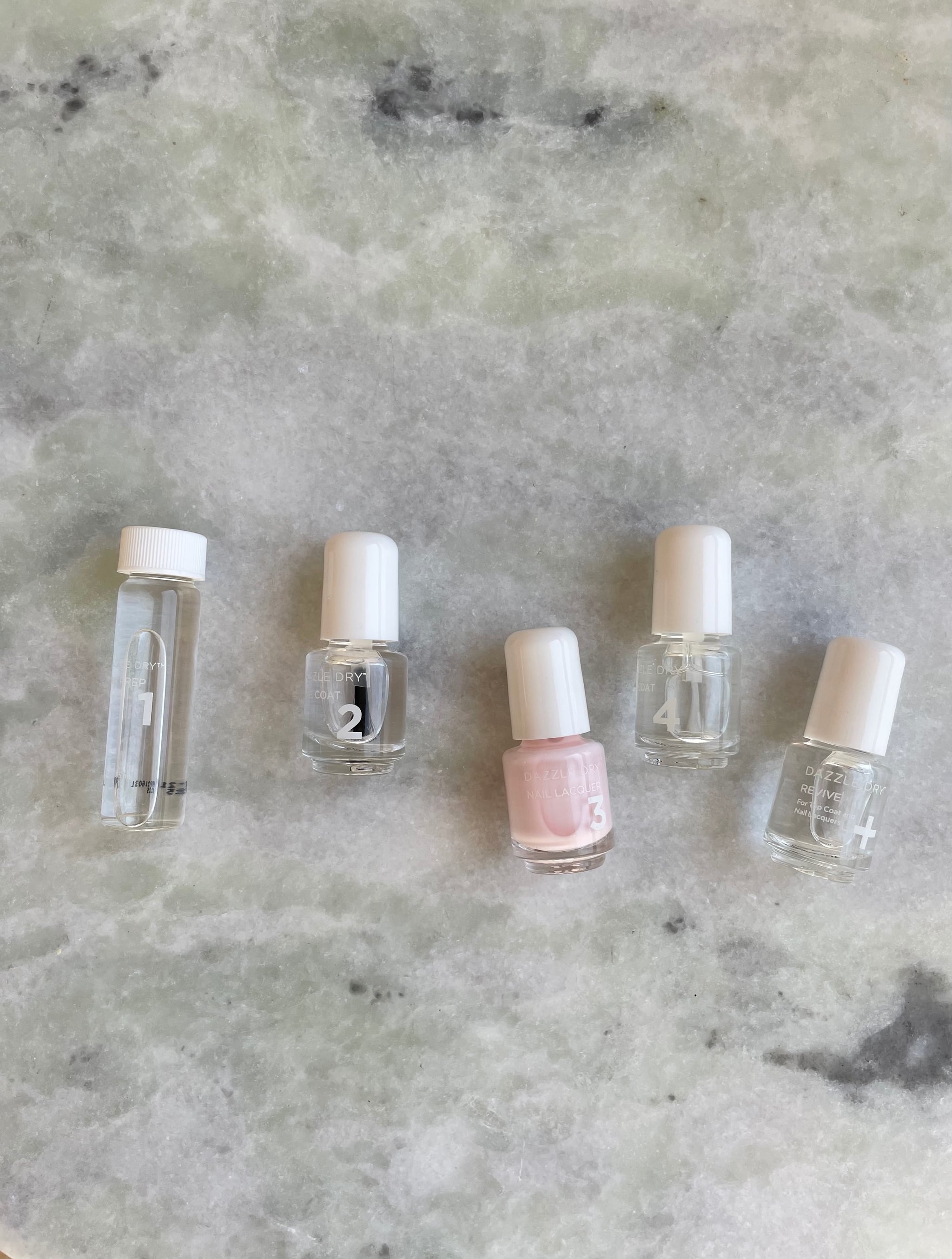 Although the idea of Dazzle Dry initially intrigued me, it took a while for me to actually take the plunge and try it out. Up until a few months ago, I was getting gel on my nails religiously every two to three weeks. I liked having my nails a bit longer, and without the addition of gel polish, they were flimsy and fragile at best. The last time I took my gel off, I realized how much damage the constant gel had been doing to my nails. They were thin and brittle, and I noticed that pieces of my nails seemed to be breaking off almost daily. I decided then that I needed to cut my nails short and give them a chance to heal, which made it the perfect time to put it to the test.
Before application, I started by swiping each nail with the included Nail Prep to remove any oils or lotions leftover on my nails. I then applied two coats of base coat to each nail and let each coat dry matte. I made sure not to get any lacquer on my skin to avoid any future lifting of the product. Next, I applied two coats of nail lacquer to each nail, again allowing each coat to dry matte and avoiding painting on my skin. Lastly, I painted each nail with one coat of topcoat. Then, following the instructions included with my mini kit, I waited five minutes for everything to dry completely.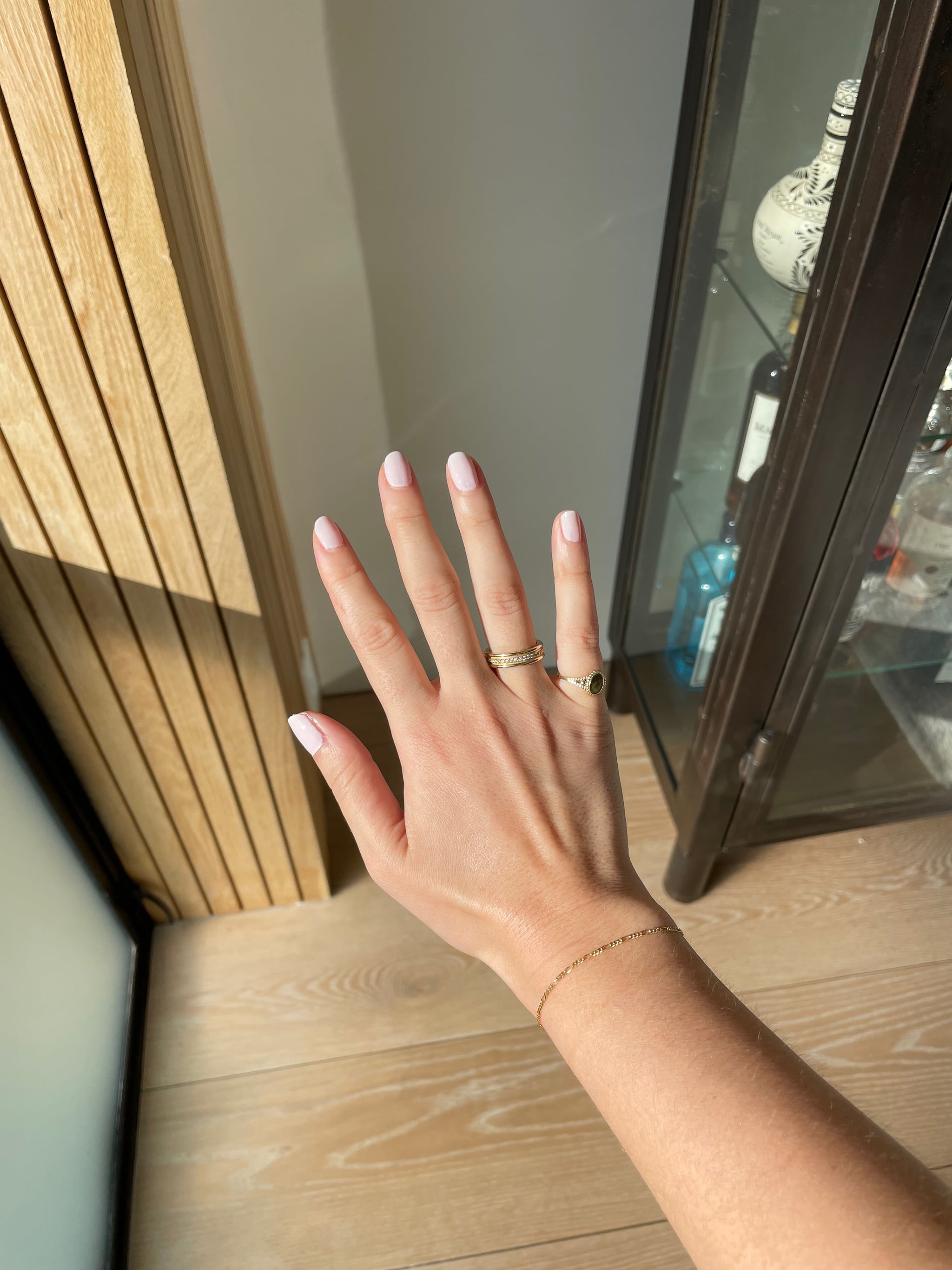 Although I'm surprised to admit it, the nail lacquer was actually dry after five minutes, and I could get back to scrolling my TikTok feed and eating my beloved hot Cheetos faster than you can say "manicure." All in all, the entire process took probably 15 minutes total, which is a vast improvement from the time it usually takes me to paint my nails. There were absolutely no LED lights, dryers, or fans involved — just me and my quick-drying, dazzling new nail kit.
I'm even more surprised to admit that in the days that followed, my manicure actually lasted. Typically, with any nail polish that isn't gel, my nail polish is chipped within the first day or two of wear. I even recently had my nails painted by a robot (yes, you read that right), and my nails chipped almost immediately after getting them done. My Dazzle Dry manicure even lasted me through a dishwashing extravaganza, which is more than I can say for any other regular-polish manicure I've ever had. Plus, I'm excited about the prospect of finally letting my natural nails heal and get back into tip-top shape.
If you're someone who likes to have their nails done but are looking for an alternative to gel or acrylic that's safer for your nails, Dazzle Dry is the product for you. It's easy to apply, dries quickly, and lasts — it's pretty much everything you could ever want in a nail product.
Rating:

Image Source: POPSUGAR Photography / Renee Rodriguez