I Tried a $200 Celeb-Loved Facial, and My Skin Has Never Looked Better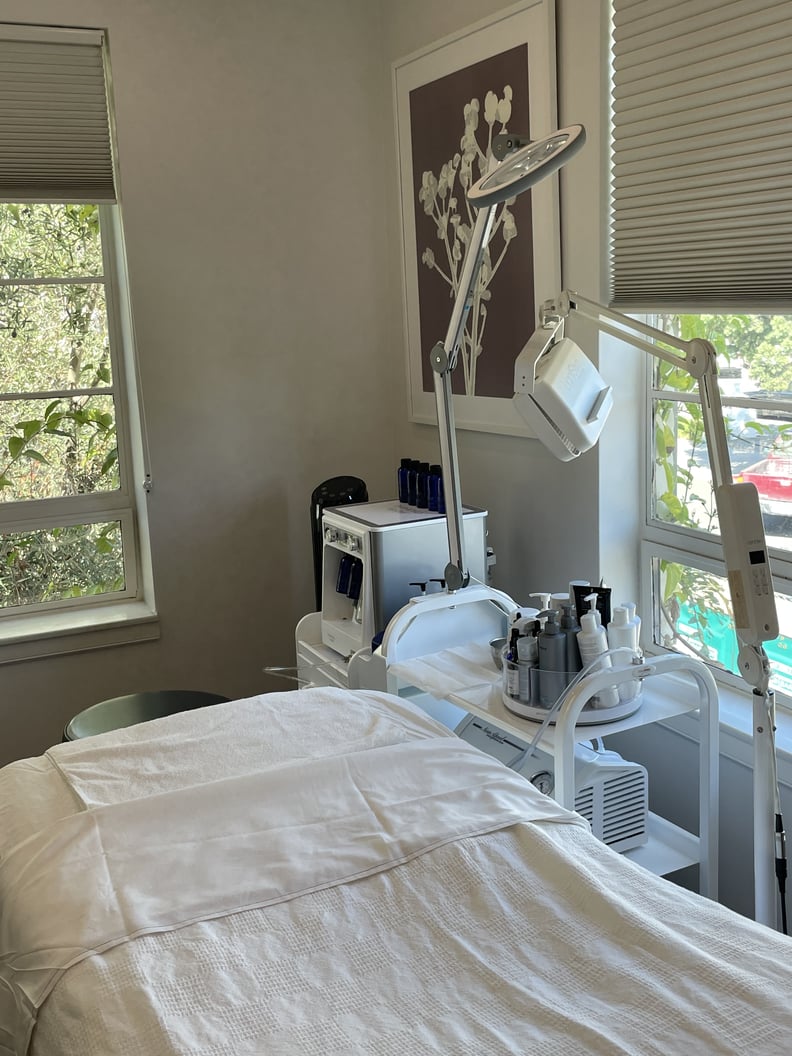 POPSUGAR Photography | Renee Rodriguez
POPSUGAR Photography | Renee Rodriguez
Every editorial product is independently selected by our editors. If you buy something through our links, we may earn commission.
To say I have problematic skin would be putting it lightly. I've had issues with hormonal acne for years, my dermatitis is known to flare up at the drop of a hat, and I've even dealt with steroid acne caused by the overuse of cortisone. I haven't found a miracle treatment or product that leaves my face looking perfect every single day, but I have found that skin cycling and regular facials do help keep my skin looking healthy and fresh as often as possible.
Typically I get your run-of-the-mill facial, but when I heard about a facial called DiamondGlow, a treatment loved by celebrities like Chrissy Teigen, I jumped at the chance to try it out for myself.
What Is a DiamondGlow Facial?
"DiamondGlow is a facial treatment that incorporates exfoliation, extraction, and infusion," SkinSpirit medical aesthetician Dali Gandara tells POPSUGAR. The facial utilizes a wand with a diamond-encrusted tip (real diamonds, BTW) paired with medical-grade serums to target specific skin concerns. "The treatment is fully customizable, from serum and diamond grit to vacuum pressure," Gandara adds.
The treatment utilizes three different serums to target specific skin-care concerts. They include a brightening serum to target hyperpigmentation and bring dull skin back to life, a vitamin C serum to hydrate and infuse the skin with antioxidants, and a clarifying serum made with bakuchiol (a plant-based retinol alternative) to target the bacteria that causes acne.
The entire treatment takes 30 minutes and promises zero downtime.
What to Expect During a DiamondGlow Facial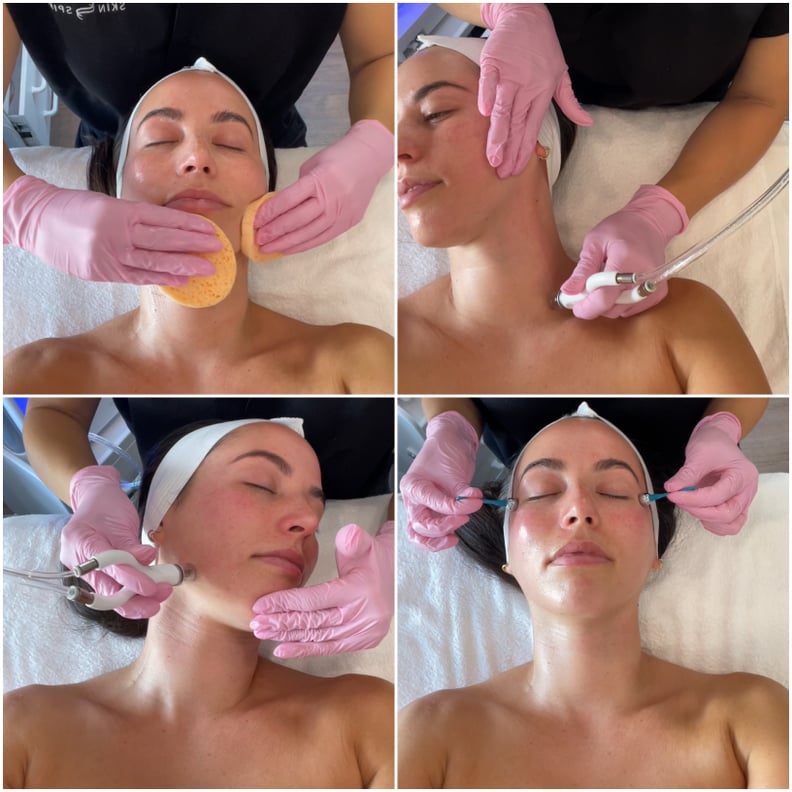 To try out the celeb-loved treatment, I visited SkinSpirit in Beverly Hills and met with Gandara in person. We spent a few minutes going over my skin concerns and goals and then started the treatment.
After thoroughly cleansing my face and décolletage, Gandara selected the clarifying serum (to combat acne breakouts I was experiencing) and the appropriate diamond-tip grit for my skin-care goals (the lower the grit, the more intense the exfoliation). From there, she began tapping my neck with the diamond tip, which dispersed serum directly onto my skin. Next, she moved the hand piece in downward strokes starting at my jawline.
She then did the same thing on my cheeks, chin, and forehead, except she moved the hand piece from the center of my face outward and then downward to encourage lymphatic drainage. Lastly, she treated my nose. "Typically, this is a congested area, so I turn the pressure up quite a bit to ensure thorough extractions," Gandara says. "The hand piece does an incredible job of removing stubborn blackheads and whiteheads."
The diamond tip felt similar to a cat's tongue (or microdermabrasion, if you're familiar) and wasn't uncomfortable at all, and even though I have sensitive skin, I actually enjoyed the way it felt on my face.
Gandara then switched over to the smooth tip, which she used to deposit a hyaluronic acid serum onto my neck, face, and nose, as well as my lips and around my eyes. "This is the step that leaves the skin feeling plump and hydrated." Afterward, she applied a layer of SkinMedica's TNS Advanced+ Serum to help target signs of aging, eye cream, lip balm, and the Alastin HydraTint Pro Mineral Sunscreen ($60), which I promptly fell in love with after just one use.
Results From a DiamondGlow Facial
When I took a look at my face in the mirror immediately after the treatment, I was shocked to see how great my skin looked. It was luminous and glowing, and it felt soft and supple to the touch. Plus, later that night when I applied makeup before going out to dinner, all of my products went on smoother than ever.
I've tried the DiamondGlow facial twice now, once with the clarifying serum when I was having a bad breakout and once with the brightening serum. Both times my skin looked practically flawless after the treatment, and I felt confident leaving the session knowing that my skin was looking its best.
Although potential side effects of a DiamondGlow facial can include redness, tightness, stinging, and burning — I didn't experience any issues whatsoever, even with extremely sensitive skin.
Gandara recommends this treatment every four to five weeks to maintain the best version of your skin, and I've vowed to continue doing it regularly because it truly does leave my skin glowing.