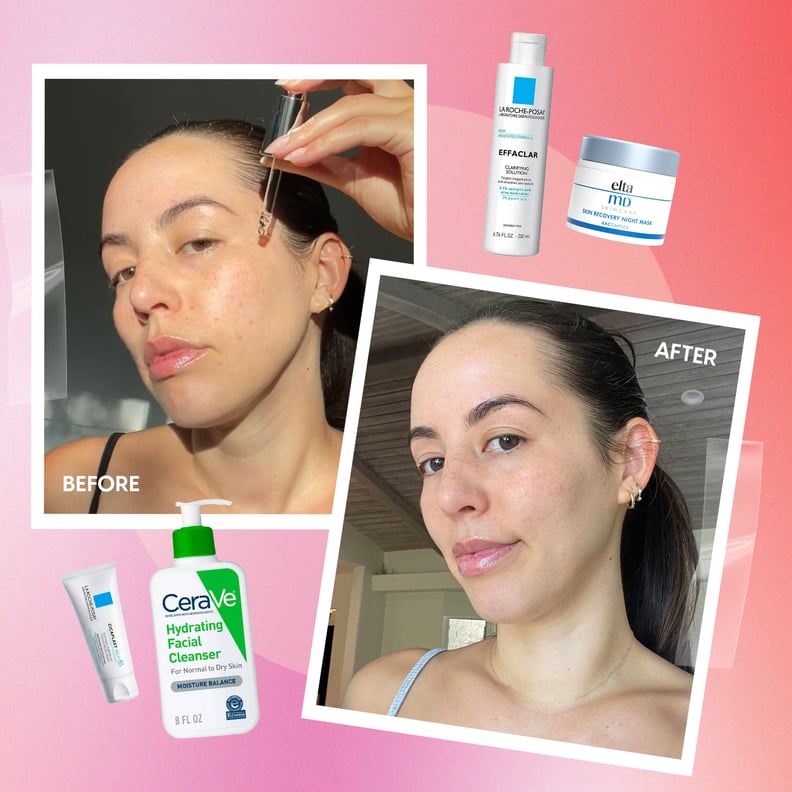 POPSUGAR Photography | Renee Rodriguez and Illustration by Becky Jiras
POPSUGAR Photography | Renee Rodriguez and Illustration by Becky Jiras
Every editorial product is independently selected by our editors. If you buy something through our links, we may earn commission.
My relationship with my skin has not been easy. For the first 20-ish years of my life, everything was smooth sailing, but when I hit my mid-20s, things started to go downhill. I began experiencing hormonal acne that only an oral medication could abate, I got dermatitis from over-exfoliation, and I even had to fight off a few instances of steroid acne.
When I heard about a new practice called "skin cycling" going viral on social media, my initial thought was that it was just another beauty fad. However, after giving it a try for myself on my sensitive, acne-prone skin, I can safely say the process has completely changed my routine for the better.
For the uninitiated, skin cycling is a four-night skin-care practice created by Whitney Bowe, MD, a board-certified dermatologist and founder of Dr. Whitney Bowe Beauty. Typically, night one of the cycle focuses on exfoliation (using a chemical exfoliant, not a physical scrub). Night two prioritizes retinol, and nights three and four center on recovery, where you let your skin rest and use hydrating products to repair your skin's moisture barrier.
Although the most common regimen is based on a four-night schedule, skin cycling can be customized to fit your specific needs. "You can make small tweaks based on your skin type and your goals," Dr. Bowe previously told POPSUGAR. For example, if you have sensitive skin or rosacea, you can add in an extra recovery night. Or if you have acne-prone skin like me, Dr. Bowe suggests cutting out one of the recovery nights to make it a three-night cycle: exfoliation, retinol, recovery, repeat.
All of the incidents with my skin over the past few years have understandably left me nervous when it comes to testing out new skin-care treatments, but after a few weeks of dealing with dull skin and acne around my chin that just plain wouldn't go away, I decided to give skin cycling a try. Here's how it went.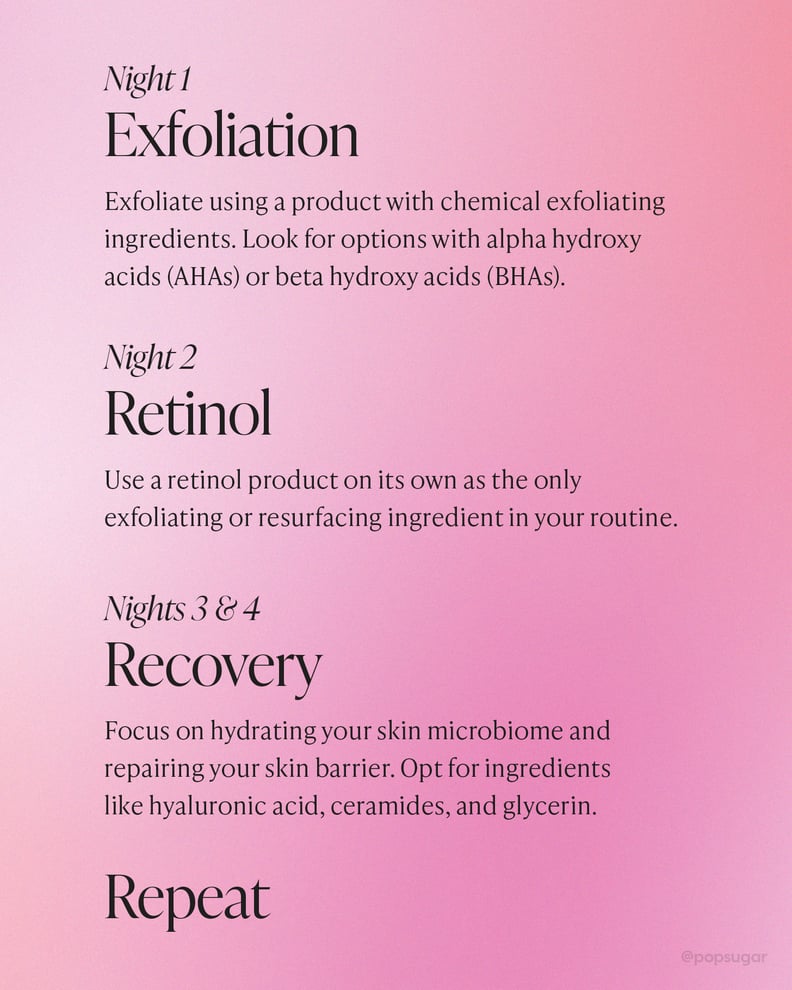 Night 1: Exfoliation
I was most nervous about this night because traditionally, I only exfoliate my face if I'm applying a sunless tanner, which isn't often. My skin is sensitive, and I was worried about how it would react to not only a new product but also an entirely new category. After doing some research, I decided to try the La Roche-Posay Effaclar Clarifying Solution Acne Toner ($20) because I had heard great things about it, and it features two ingredients (salicylic acid and glycolic acid) that I know from past experience don't irritate my delicate skin.
After washing my face with the CeraVe Hydrating Cleanser ($13), I applied the clarifying toner to a cotton round and swiped it all over my face. After letting it sit for a minute, I finished up by layering on a moisturizer. Although I didn't notice anything dramatic happen after my first use of the exfoliant, the next morning, my skin was distinctly softer.
Night 2: Retinol
"Retinoids are one of the most powerful ingredients to include in your skin-cycling routine," Dr. Bowe previously told POPSUGAR. "However, if you try to use them too frequently or layer them with other potentially irritating ingredients, you end up with inflammation rather than results."
I've been using tretinoin, a topical retinoid prescribed by my dermatologist, off and on for the last four years, and initially, the results were great. However, when an aesthetician told me she thought overuse of tretinoin was making my skin too thin, I stopped using it altogether, so I was hoping that Dr. Bowe's method would allow me to add it back into my routine.
After cleansing my face and letting it dry completely, I applied a pea-size amount of tretinoin to my face and neck. After letting it sit for five minutes, I applied a moisturizer all over my face. If you have sensitive skin, you can opt to apply moisturizer as a barrier prior to applying your retinol, but I found that applying it directly to my skin yielded the best results.
Night 3: Recovery
Recovery night was the easiest part of the routine for me because it was what my skin was most used to doing night after night. After washing my face, I applied the EltaMD Skin Recovery Night Mask ($50) to damp skin. Although this product is meant to be used as a mask, I've found that I love utilizing it as a moisturizer for daily use. It leaves my skin feeling soft and hydrated, and it doesn't cause acne breakouts.
If I'm feeling extra dry, I add in the La Roche-Posay Cicaplast Balm ($18), a soothing cream that helps relieve irritation. I first learned about this product through TikTok, and I think it might be magic. It helps banish any flakiness on my face, and I've even seen people on social media talk about how it's aided in eliminating their cystic acne.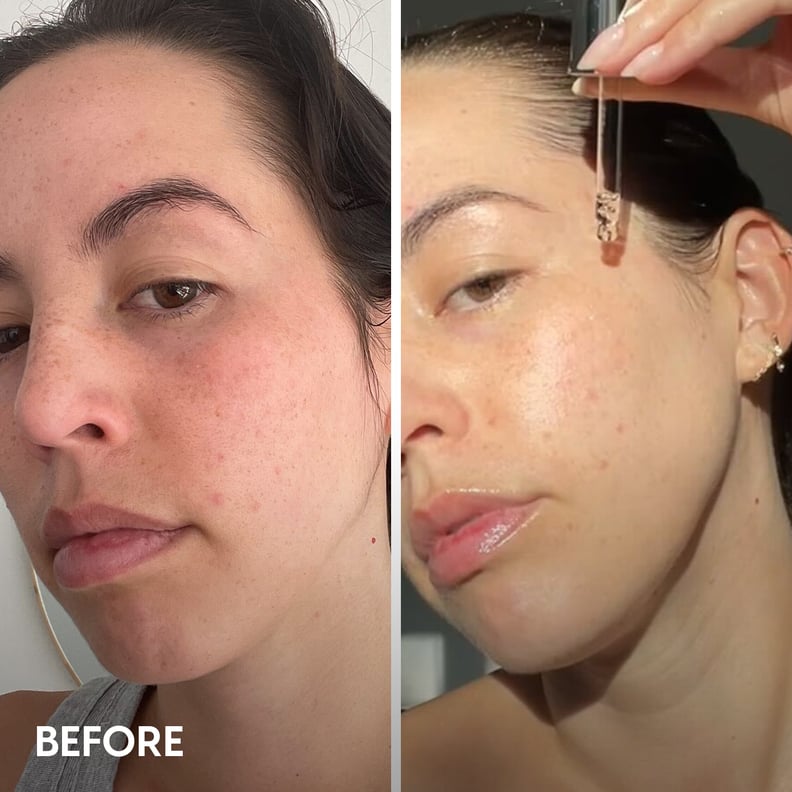 The Results
While I didn't notice any dramatic differences in my skin within three nights, after repeating the skin-cycling process for two weeks, I was sold. Even though I have sensitive skin, this process allowed me to add retinol back into my routine and start exfoliating regularly. My skin has felt softer, looked better, and felt less irritated ever since I started.
Skin cycling has also introduced me to some amazing products. The clarifying toner that I use for exfoliation has become a product I use to spot-treat breakouts, and the Cicaplast Balm has become my saving grace for the dry, dehydrated skin around my nose. Plus, rotating the use of these core products has greatly decreased the number of blemishes that pop up, and it's even helped get rid of stubborn blackheads I've had on my nose for years.
I had a facial right before I started skin cycling, and the aesthetician commented on my clogged pores and redness. I recently went back for another facial with the same aesthetician, and she couldn't believe how much my skin had improved in a little less than two months. Consider me a skin-cycling believer.