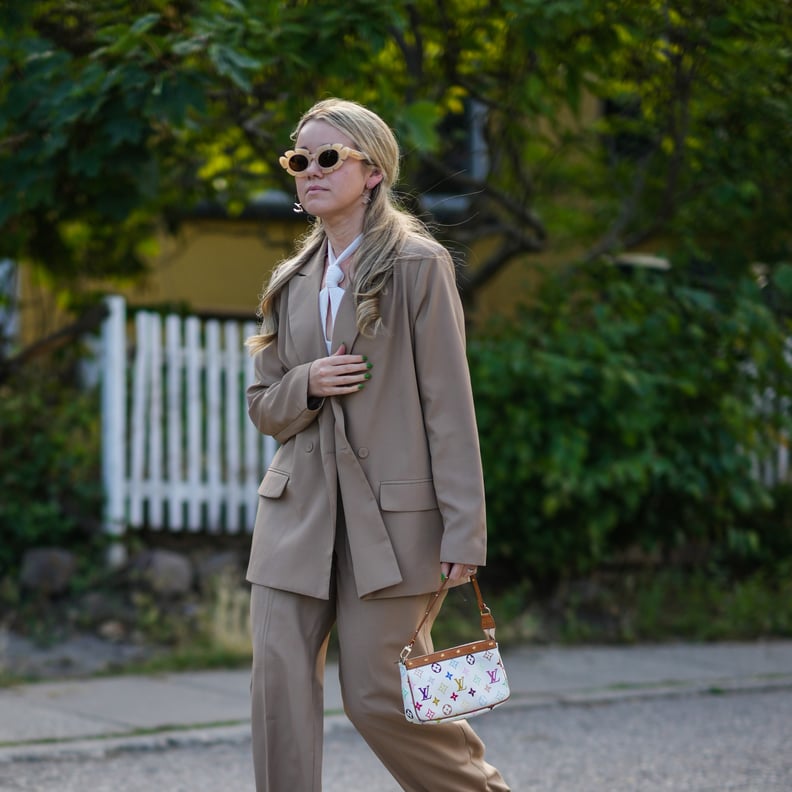 You may be firmly in the camp of never wanting summer to end, but there are a few things about fall worth looking forward to. The change in the weather signifies that it's time to start packing away your denim cutoffs and switch out your brightly colored wardrobe for a more muted palette with deeper, warmer colors — and that extends to your manicure. While we don't see minimalist trends like Hailey Bieber's glazed-doughnut nails or the '90s-inspired supermodel manicure going anywhere anytime soon, we're ready to start embracing earthier tones, and a new trend called "dirty martini" nails is the perfect way to do so.
The nail trend has seen tons of iterations all over social media, including tiny olive nail-art decals and even designs meant to mimic the actual martini glass. However, the most effortless take on the trend we've seen thus far is nails painted an all-over olive-green color. Celebrities like Selena Gomez have recently been seen wearing a "dirty martini" manicure with an olive-green hue, and it's a shade that pairs perfectly with fall's chunky knit sweaters and dark denim jeans.
This past year, green has definitely been having a moment. We've seen neon green, sage green, and even "bottega veneta" green each have their turn in the spotlight, and now it's time for the dirty-martini-inspired yellow-green hue to take its position at center stage.
Whether you want to go all out and ask for olive nail art at your next salon appointment or you want to keep it simple with an all-over color in the perfect green hue, the dirty-martini manicure has something for everyone. Keep scrolling for our favorite takes on the nail trend.
Martini Nails With Glass Details
The only thing more important to a martini besides the olive is the martini glass you pour it into. This nail art look plays on all the essentials with a milk-bath manicure base.
Martini Nails With Red Pits
Love the olive-green nail color but want to add a little something extra? Using a detail brush and red polish detail, draw on a circular olive "pit" to each nail.
Green Martini Nails
Paint on a classic olive-green hue — bonus if it has a shiny finish to play up the cocktail feel — for easy, minimalistic martini nails.
Martini Nails With Tiny Olive Details
It's all in the details: keep your natural nails clear from any polish, and use a fine-tip nail-art brush to paint on tiny, glimmering olives in various spots at the base of the nails. The result is a simple martini manicure with a negative-space effect.
Martini French Manicure
The olive-green nail color also works as the perfect substitution to the white tips in a classic french manicure.
Martini Nail-Art Details
There are a lot of components to a good martini that you can then use as nail-art decal: the olive pick, the martini glass, the inevitable poker card you'll be throwing down . . .
Dark-Green Martini Nails
If the traditional bright olive-green color isn't quite your style, try a deeper tone of the hue.