Your hair, just like your face, deserves a little extra TLC every now and then. It goes through a lot of stress from heat styling and coloring, not to mention other environmental factors, and can benefit from an intense leave-in treatment. But if you don't already have a hair mask in your hair-care collection, you don't have to go to the store or shop online for one. A hair mask is an easy thing to whip up with ingredients found in your kitchen.
Similar to DIY body scrubs and face masks, you'll be amazed at how simple the recipes for homemade hair masks can be. Mixing your own treatment only adds a few extra minutes to your self-care routine and can be a budget-friendly alternative to expensive store-bought products.
So, if you're planning a spa night from the comfort of your own home, don't forget to treat your hair, too. Ahead, find five easy at home hair mask recipes to try in your spare time.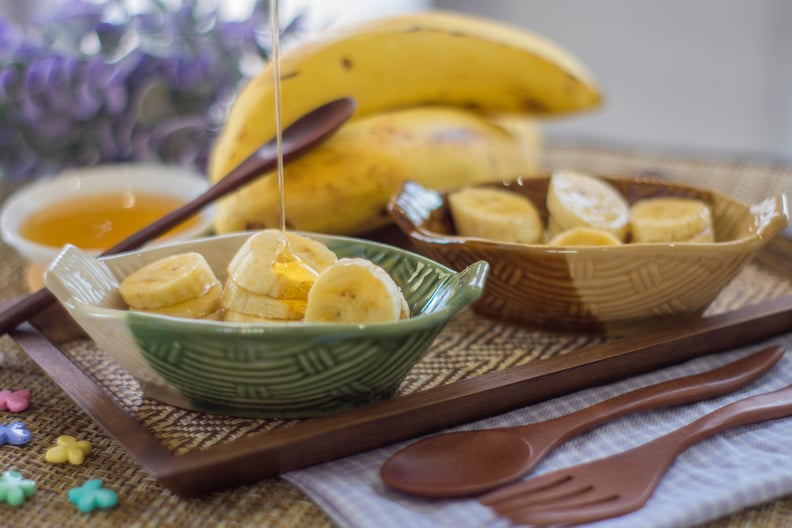 The Hair Saint DIY Mask
Ona Diaz-Santin, celebrity hairstylist and salon owner of 5 Salon & Spa has a recipe that she calls, The Hair Saint DIY Mask. It provides your hair with deep moisture and aids in reducing breakage, and is rich in antioxidants and vitamin.
Ingredients:
½ cup of whole milk
1 banana
2 tablespoons of honey
3 teaspoons of avocado oil
5 drops of Gotu Kola extract
Directions:
Blend all of the ingredients into a bowl and apply to freshly shampooed hair. Work the mixture from the ends of your hair, up to your scalp. Leave it on for 30 minutes with a plastic cap overtop, before shampooing it out. Then, style as you normally would.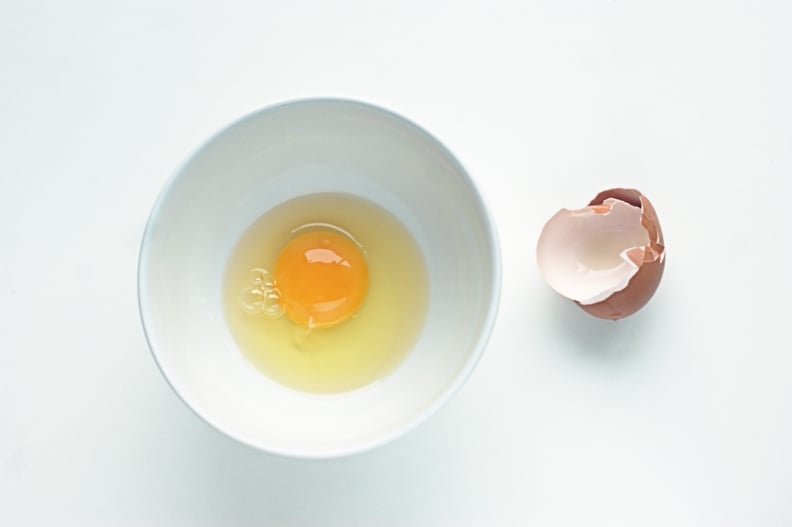 DIY 2-in-1 Mask
Ada Rojas, founder of Botanika Beauty, has a two-in-one hair mask and scalp exfoliator recipe that helps repair dry, brittle hair and balance the pH levels of your scalp.
Ingredients:
2 large eggs
1 aloe vera stem
2 tablespoons castor oil
A splash of lemon juice
2 tablespoons brown sugar
Directions:
For the hair mask, crack two large eggs into a blender, add the stem of aloe vera, and two tablespoon of castor oil. Apply the mask to your hair from mid-shaft to ends and let it sit for 30 minutes before rinsing it off.
For the scalp exfoliating portion of the mask, follow the same procedure as stated above but add in the lemon juice and brown sugar. Gently massage the mixture into your scalp and then let it sit for 15 minutes before rinsing. Follow up by shampooing and conditioning your hair as normal.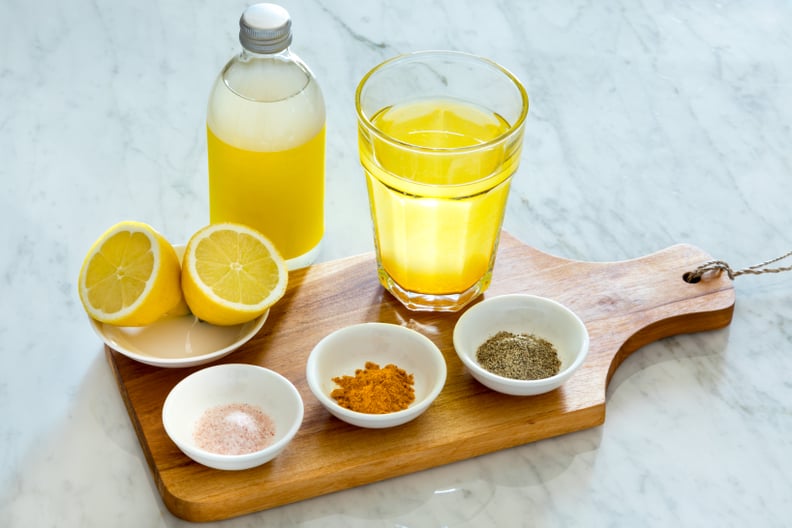 Apple Cider Vinegar and Lemon Hair Mask
"This mask works great to help remove shampoo and product buildup on the scalp and hair," said celebrity hairstylist Michelle Cleveland of her all-natural detoxifying hair mask.
Ingredients:
2 tablespoons of apple cider vinegar
1 cup of water
1/2 a lemon juiced
Directions:
Mix together all three ingredients in a bowl. Shampoo your hair as normal but don't condition. Apply the mixture onto your scalp and massage it in, working it down into the roots of your hair. Leave it on for 10-to-15 minutes and rinse it out.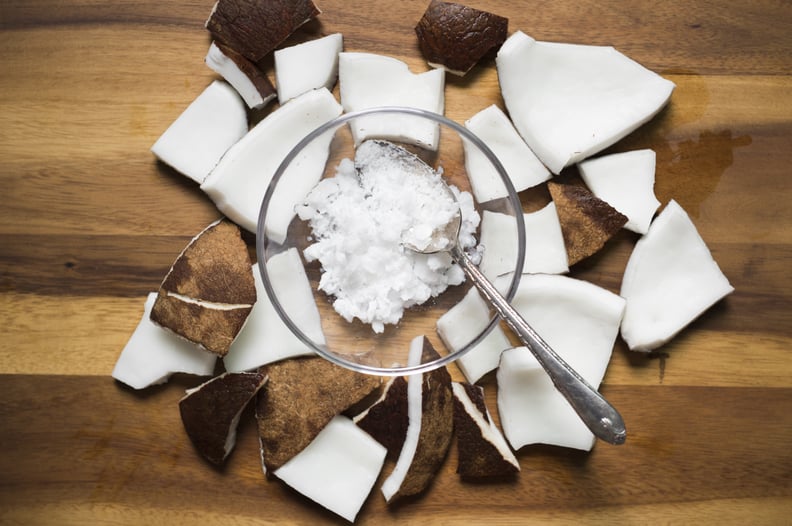 Coconut Oil and Honey Hair Mask
To deep condition hair, Cleveland swears by this two-ingredient mask. "This mask works great for hydrating and giving hair a healthy shine," said she.
Ingredients:
1 tablespoon of organic coconut oil
1 tablespoon of organic honey
Directions:
Melt equal parts coconut oil and honey in a bowl to room temperature and mix thoroughly. On wet hair, work the mixture through from roots to ends and leave on for 20 minutes to sit. Then, rinse well and shampoo and condition as usual.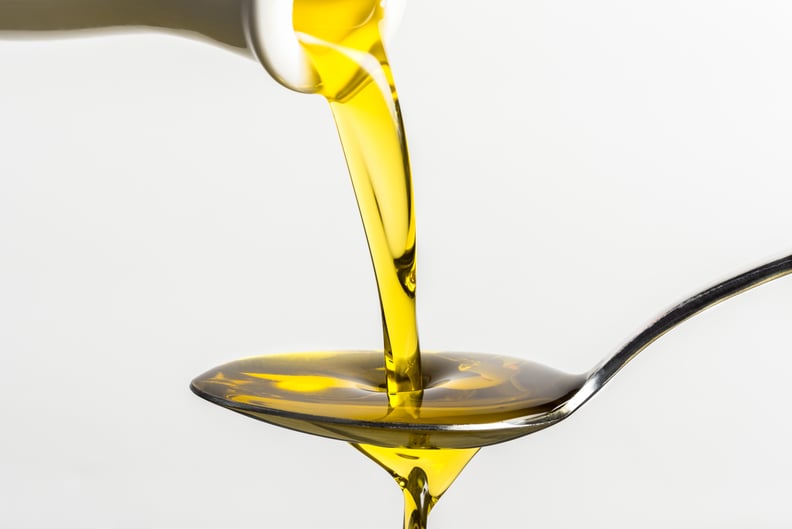 Overnight Olive Oil Hair Mask
Roy Teeluck, celebrity stylist and owner of Roy Teeluck Salon, recommended a simple, one-ingredient hair mask. "Olive oil works wonders for dried out, damaged hair," he said.
Ingredients:
Directions:
Using pure olive oil, coat your hair and leave it on to soak overnight while you sleep. "I also recommend wrapping your hair in a towel or shower cap to keep the heat and olive oil in," said Teeluck. When you wake up, rinse it out thoroughly and wash your hair as normal.