As POPSUGAR editors, we independently select and write about stuff we love and think you'll like too. If you buy a product we have recommended, we may receive affiliate commission, which in turn supports our work.
Finding a face wash that makes my skin feel clean but not too clean has always been a challenge. I like the deep-clean feeling when using grainy or chemical exfoliants, yet sometimes they are too harsh, leaving my skin tight afterward. Even though I have regular cream and gel cleansers I love, once I was introduced to this Dr. Barbara Sturm Darker Skin Tones Enzyme Cleanser, I couldn't imagine my beauty routine without it.
I usually associate foaming powders with cleaning my bathroom, not cleaning my face in my bathroom, but I'm a total convert to this powdery texture now. I had heard rave reviews of Dr. Barbara Sturm products in the past, yet what really drew me to sample the Darker Skin Tones line was its connection to Angela Bassett. After all, this line was developed in partnership with the actress, and if my skin could look half as good as hers does, I was already halfway sold.
Sure, it may be too soon to tell how my skin will look in my 60s, but it's not too soon to realize how good it feels and looks right now. In fact, I like this product so much, I was inspired to give myself a little chemistry lesson. Learn what this Dr. Barbara Sturm cleanser does (and see how foamy it gets) ahead.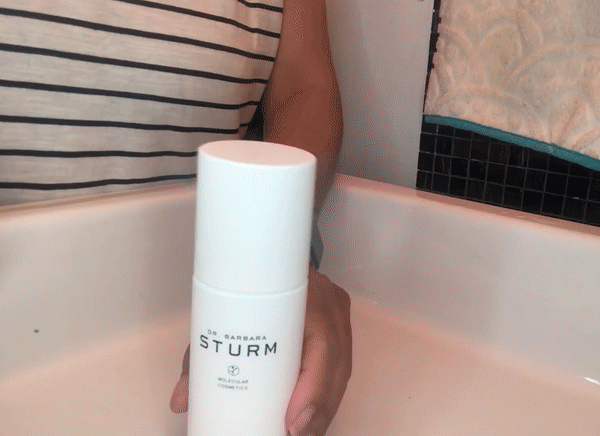 How Dr. Barbara Sturm Darker Skin Tones Enzyme Cleanser Works
How to use it: Sprinkle a dime-size amount of this powder on one palm before adding a few drops of water on top. Rub your hands together until bubbles form, and spread it all over your face (avoiding the eye area). Then add a bit more water to your hands and gently massage in before rinsing off with water.
What it does: Inside, there are lipase and subtilisin enzymes that break down the keratin protein in skin when added with water. That decongests skin by removing dead cells, excess oil, and other clingy debris (like makeup or pollution particles). As a bonus, there's ascorbic acid to brighten . . . but not lighten my darker skin at the same time.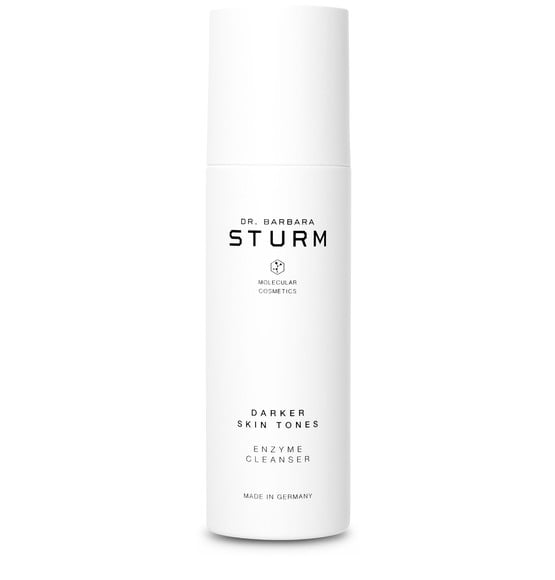 Why I Love Dr. Barbara Sturm Darker Skin Tones Enzyme Cleanser
This Dr. Barbara Sturm Darker Skin Tones Enzyme Cleanser ($75) is like a mild peel and foamy cleanser in one, and I like that my skin feels and looks smoother as if I exfoliated. I use it only a few times a week now, opting for this on days when I'm actually wearing makeup, but I've used it more frequently as part of a double-cleanse back when I wore much more. (There's also an Enzyme Cleanser that's not specifically meant for darker skin if that suits you better.)
I have been using this same bottle since late last year and find it to be a good value, especially since I've already run out of my other face wash in that same time frame. And not only do I love that it feels like a mini science experiment to mix it up on my hands first, but powder also means I can pop some in a little travel jar and not need to worry about another liquid taking up space in my TSA-approved bag. You can be sure once I'm ready to travel again, I'll be ready with this in hand, too.
Love all things beauty? Can't get enough products? Come join our Facebook Group Real Reviews With POPSUGAR Beauty. There are lots of fun conversations happening there, as well as all the product recommendations you could ask for — not just from us but community members, too.