Deciding Between Dyson's Supersonic Hair Dryers Just Got Easier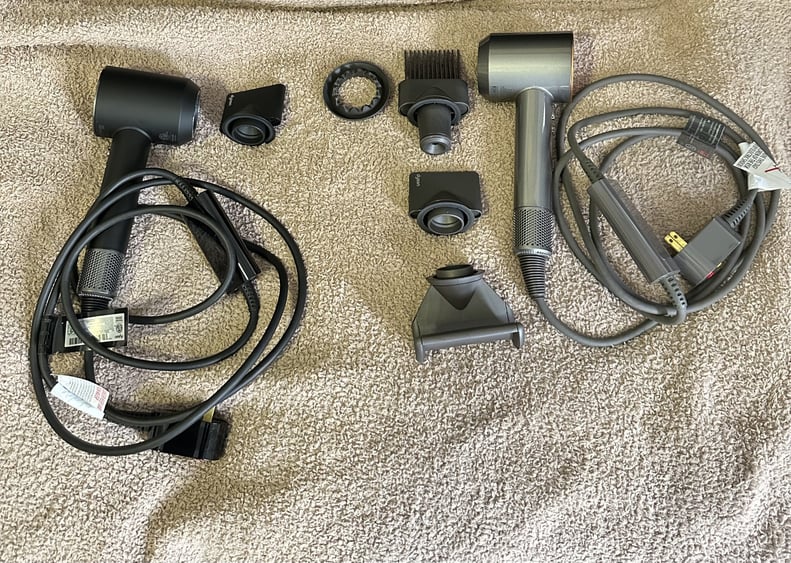 POPSUGAR Photography | Ariel Baker
POPSUGAR Photography | Ariel Baker
Every editorial product is independently selected by our editors. If you buy something through our links, we may earn commission.
There is a reason that I and other editors continue to recommend Dyson hair tools year after year: they are simply some of the best styling products on the market. From the iconic Airwrap Styler ($600) to the new Airstrait Straightener ($500), these products continue to set the standard for hairstyling appliances across the beauty industry.
With that being said, it can't be denied: they cost a pretty penny. Still, if you're looking for a high-powered hairdryer, Dyson's Supersonic ($480) is the bar — and our editors agree. At a little under $500, however, it is still one of the more pricey options out there. This is why Dyson has come out with the least expensive option yet: the Supersonic Origin ($400).
Described as the simplified version of the original, this iteration of the dryer costs $80 less and has fewer attachments, presumably to streamline at-home use. While $400 isn't exactly affordable, with the holidays coming up, a few strategically placed wishlists and gift cards could help you snag a Dyson hair tool with a little more ease than it would be if you opted to buy any of the original iterations. Of course, there are some key differences between the two tools, so we broke them down for you ahead.
About the Dyson Supersonic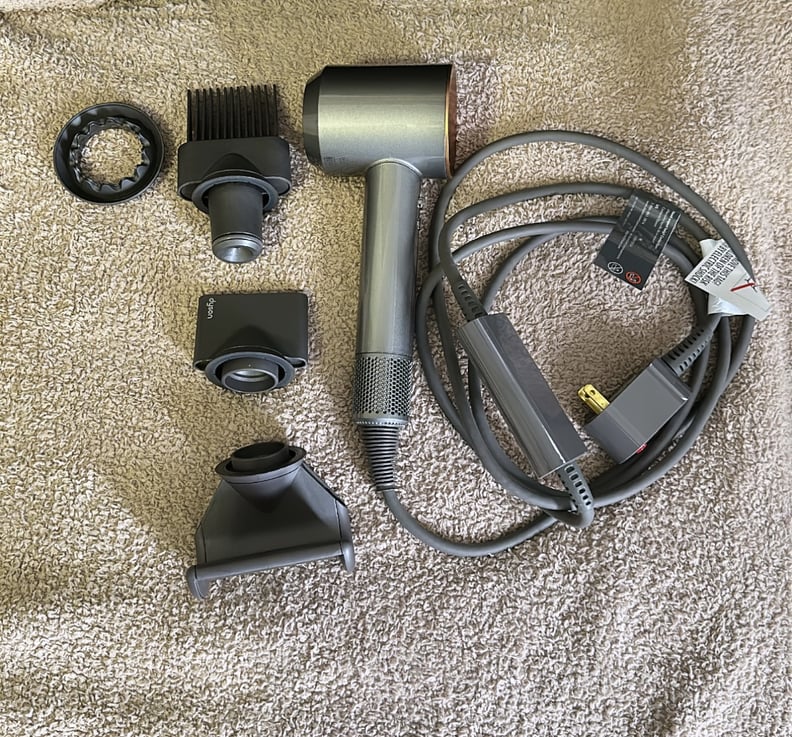 It comes with five attachments: a wide-tooth comb, diffuser, gentle airflow tool, styling concentrator, and flyaway smoother.
It features three speed settings and four heat settings, including a cold shot option.
The highest temperature it reaches is 212 degrees.
Price: $480
About the Dyson Supersonic Origin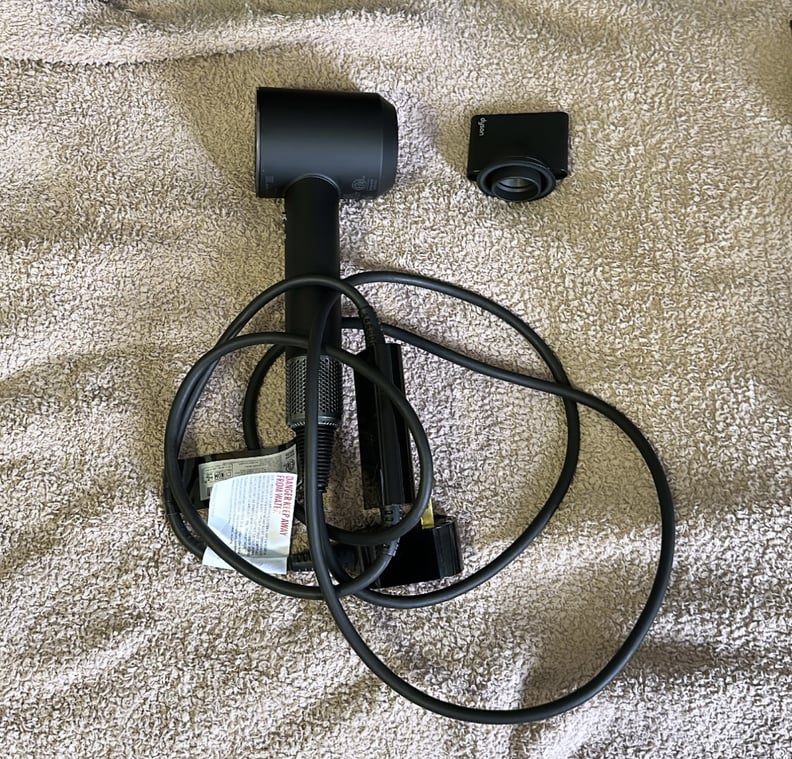 The Dyson Supersonic Origin comes with one attachment: a styling concentrator.
It features three speed settings and four heat settings including a cold shot option.
The highest temperature it reaches is 212 degrees.
Price: $400
Dyson Supersonic vs. Dyson Supersonic Origin: The Differences
It is worth noting that the brand refers to the original Supersonic as a dryer for professional hairstylists (in fact, licensed stylists can get a discount to save money on the tool if they wish). The devices tout all the same features, save for the attachments that come in the box. Still, the accessories may be a good thing outside of a salon if you are a hair enthusiast and like to experiment with different techniques to drying and styling you hair. I am someone who tends to want to get the blowdrying process over with as quickly as possible, so I tend to stick to the attachment best suited for me at home: the wide-tooth comb. It's pretty rare that I touch any of the others, and when I do sew-ins, I usually reach for my Airwrap.
Now, the Supersonic origin offers somewhat of a solution by only offering the concentrated styler, but my immediate thought is that it alienates coily and curly haired customers. If you're anything like me, trying to manually blow-dry my hair with a concentrator and brush is a recipe for a knotted, frustration-inducing disaster. People with longer, more coily hair types will likely see their drying time increase using this tool, which negates the purpose of the blowdryer all together. While the Supersonic's velocity is its secret weapon, the combination of the concentrator and curly hair is bound to take much longer than just using the wide-toothed comb attachment.
Thankfully, the original Supersonic attachments do work with the Origin, so you can buy them separately if you had one in mind. Still, at an average of $40 a piece, this would bring your total back up to $440. At that point, I would personally stick with the original and just play around with the attachments included when I want to have some fun with my curls.
Which Dyson Supersonic Is Worth It?
The ideal solution with the Origin would be to provide the hair dryer and let consumers pick an attachment that works best for their hair types. As it stands, the Origin with the styling concentrator obscures what is probably Dyson's greatest success when working with curly and coily hair: the speed at which it dries. If you have fine or wavy hair, the Origin is perfect if you want to save a decent amount of money on a Supersonic. However, if you will primarily be using any other attachment, I recommend sticking with the original.