Why the Dyson Supersonic Hair Dryer Will Always Be Elite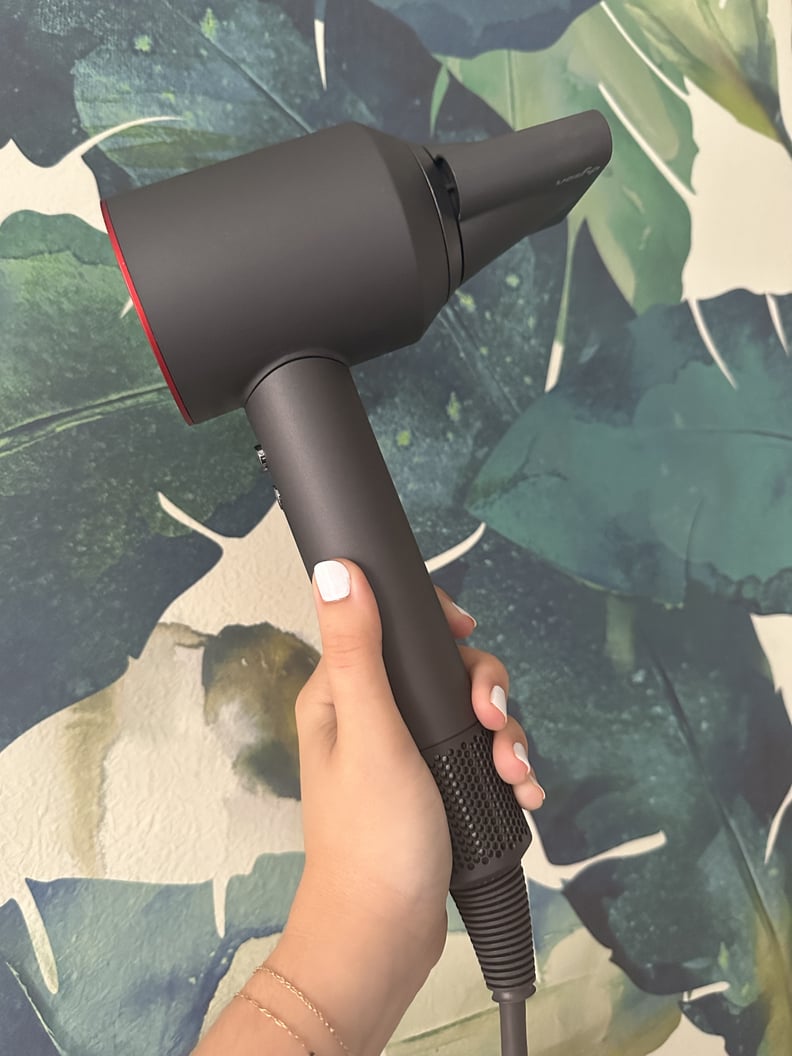 POPSUGAR Photography | Jessica Harrington
POPSUGAR Photography | Jessica Harrington
Every editorial product is independently selected by our editors. If you buy something through our links, we may earn commission.
For decades, it felt like there was only one type of straightener and curling iron. Now, there are wet-to-dry tools like the Dyson Airstrait and GHD Duet Styler, all-in-one options like the Shark FlexStyler, hair wavers, and blowout brushes galore. Even the classic hair dryer has seen some major innovations — and leading the way has been the Dyson Supersonic ($430).
Besides its vacuums, Dyson may be best known for its cult-favorite Airwrap, but the Supersonic Hair Dryer has been around for much longer, launching back in 2016. There's a lot to love about this powerful hot tool — namely, how fast it works. Though the Airwrap also has hair-drying capabilities, it doesn't quite compare to the speed at which the Supersonic works. There's a reason you'll find it in hair salons everywhere. Quality hair tools can be a big investment, so if you're trying to decide if the Dyson Supersonic Hair Dryer is worth the splurge, keep reading for my full review.
About the Dyson Supersonic Hair Dryer
It works on all hair types.
It comes in a few different colorways: silver, blue, pink, red, and gold. (I have the red and gray colors.)
Five accessories are included: the flyaway attachment, the styling concentrator, the diffuser, the gentle air attachment, and the wide-tooth comb.
The tool has a digital motor that produces high-pressure, high-velocity air to dry hair quickly.
It measures air temperature 40 times a second to help regulate heat.
It has four heat settings, including a cold shot, and three speed settings.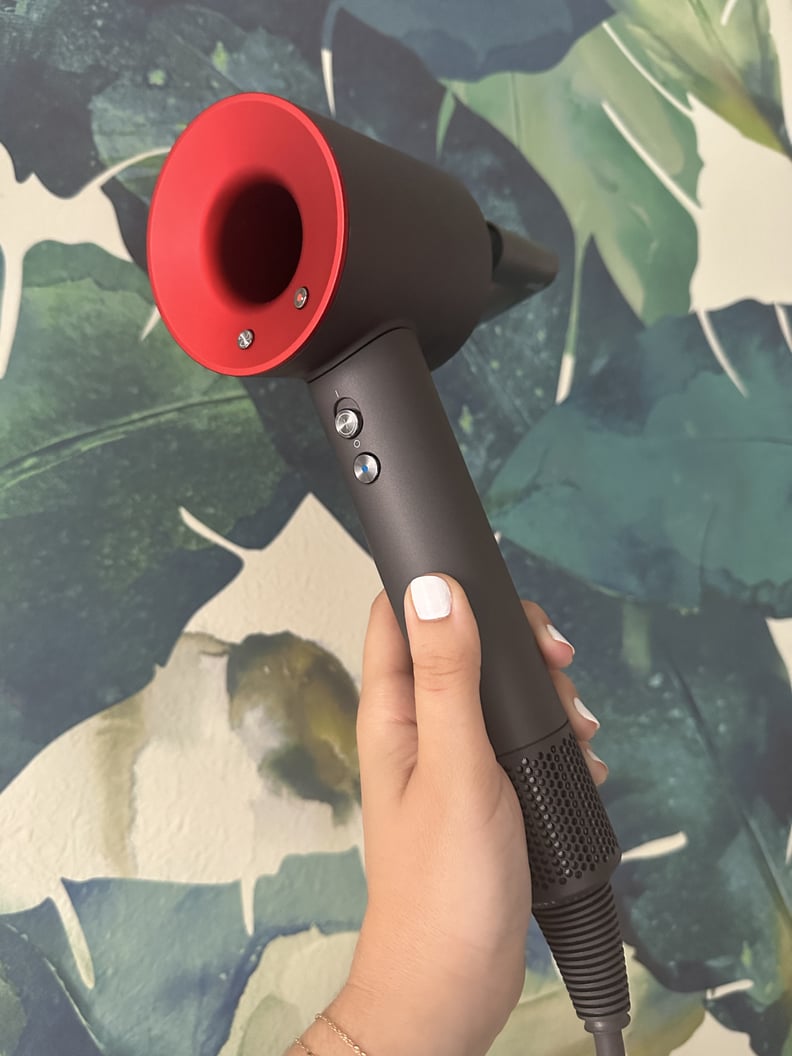 What I Like About the Dyson Supersonic Hair Dryer
I never used to blow-dry my hair because it would take longer than I had the patience for (which, admittedly, wasn't very much), and it'd leave my wavy hair with a halo of frizz. All it took was using the Supersonic Hair Dryer once, though, to discover that it would challenge everything I knew. What's most impressive to me is how fast it works. Rough-drying my hair with the gentle air attachment takes 10 minutes, tops. This is good because my fiancé and I occasionally fight over it, but his cropped hairstyle only needs a quick, five-minute blast of air to dry it. Then it's rightfully returned to its true owner (me).
Another major perk of the Supersonic is how lightweight it is. Anyone who's ever spent 10-plus minutes with their hands above their head attempting to maneuver a round brush knows how crucial this is. It's powerful, without being heavy or super loud, which just makes using it all the more enjoyable.
Over my years of owning it, I've used it a myriad of ways — to rough dry, give myself an attempted '90s blowout with a round brush, and to diffuse my curls. The five attachments are secured with a magnet so they easily snap into place and stay put. Though frizz is a natural, perfectly normal part of having hair, if you are looking to cut down on the amount you get from heat styling, the Supersonic emits negative ions to counteract any frizz that may be triggered by the heat. What's also worth noting is how shiny it makes your hair. You can see a real difference in mine when I air-dry it or use a different hot tool.
How to Use the Dyson Supersonic Hair Dryer
With the Dyson Supersonic, the possibilities may not be just as endless as the Airwrap, but this tool still offers a lot of versatility. For my fine, medium-length hair, I'll use it on the medium heat and speed setting. The five attachments allow you to create a variety of styles. I use the styling concentrator, diffuser, and gentle air attachments the most.
When I want to wear my hair with a wave, I will use the diffuser to dry it to about 80 percent, then I'll air dry the rest of the way. On the other hand, when I'm looking to do my hair with a curling iron or straightener, I'll use the gentle air attachment to rough dry it to completion, focusing primarily on my roots. Then I'll go in with my other hot tools to style. The last way I use my Supersonic Dryer is to give myself a sleek blowout — although I'll be honest, since owning a blow-dry brush, I rarely do it the old-fashioned way anymore. For this style, I'll use the long, narrow styling concentrator attachment, which directs the air in a more controlled manner toward your brush. When styling my hair this way, I'll use the cool shot to lock in the loose waves I'm creating.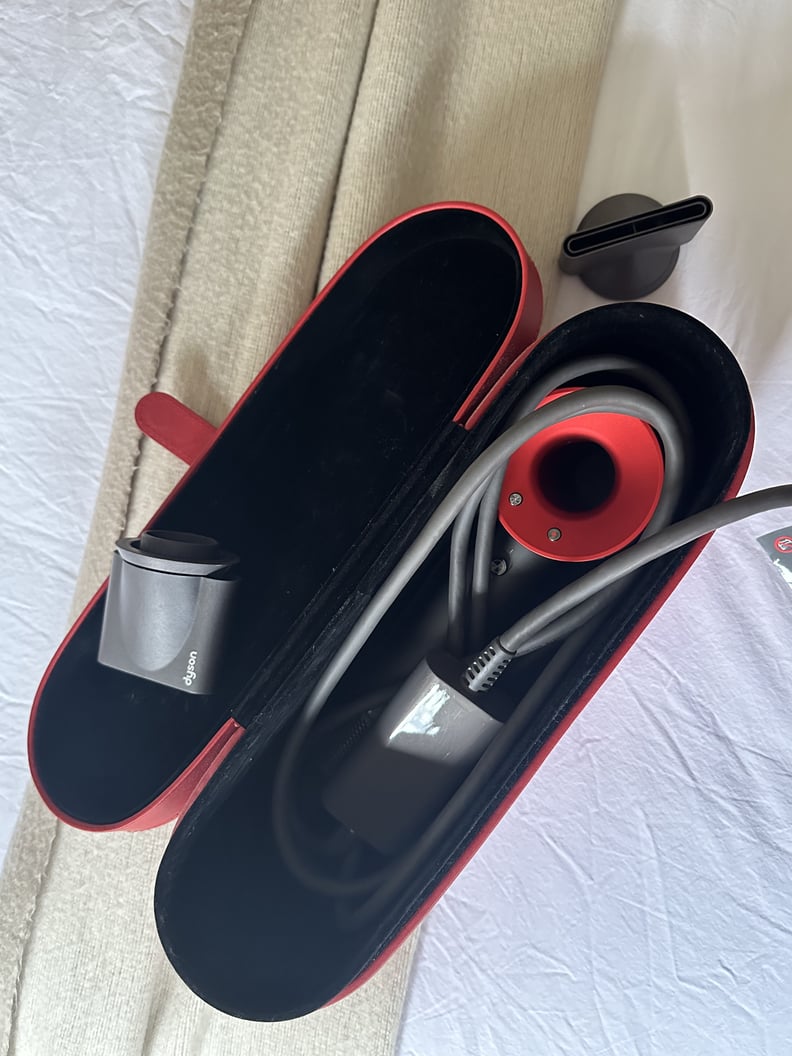 What to Consider Before Trying the Dyson Supersonic Hair Dryer
If you're looking to build out your hot-tools collection, Dyson has a wide range of options, which can make choosing just one all the more difficult. The Supersonic Hair Dryer is great if you're looking for a straightforward blow dryer to use every time you wash your hair. Blowouts with a brush and diffusing curls are super easy with this tool. However, if you want something that offers even styling possibilities, the Airwrap may be the better choice for you. It has more capabilities with the curl and brush attachments, plus the ability to rough dry hair.
Is the Dyson Supersonic Hair Dryer Worth the Splurge?
Like all Dyson products, the Supersonic Hair Dryer is an investment. Priced at $430, it's about $170 cheaper than the Airwrap but still pretty pricey. That said, you can trust that the tool is high quality, offering you years of use. Dyson also has a two-year parts warranty program with its tools. If you blow dry your hair often, you'll likely find it's worth every penny.
Where Is the Dyson Supersonic Hair Dryer Available?
The Dyson Supersonic Hair Dryer is available at the brand's website, Sephora, Ulta Beauty, Neiman Marcus, Saks Fifth Avenue, Best Buy, and Amazon.
Rating: ★★★★