Paid Content For
e.l.f. Cosmetics
Your Makeup Will Love This Game-Changing Primer — but Your Skin Will Love It Even More
Paid Content For
e.l.f. Cosmetics
Summer heat is no joke. Between powerful rays, sweltering temps, and high humidity, staying cool and fresh is not an easy feat. Even more challenging? Avoiding a makeup meltdown. When the forecast (or your busy schedule!) calls for makeup that won't quit, there's no better product to turn to than primer. And when it comes to primers, Jelly Pop Dew Primer ($10) by e.l.f. Cosmetics can pretty much do it all.
As POPSUGAR editors, we independently select and write about stuff we love and think you'll like too. If you buy a product we have recommended, we may receive affiliate commission, which in turn supports our work.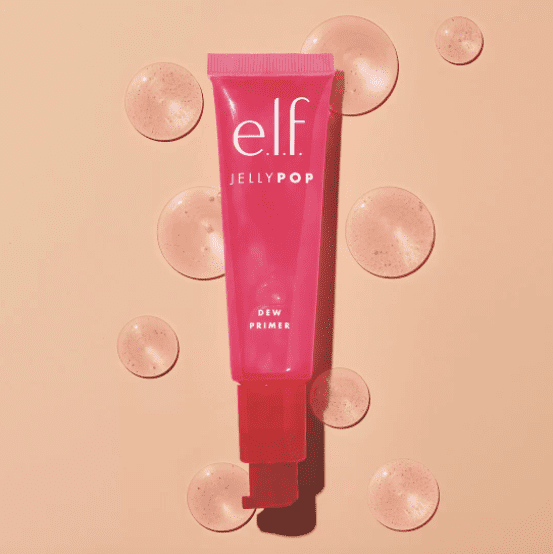 For those who aren't familiar with makeup primer, primers hold the key to long-lasting makeup. They grip products, create a smooth base for application, mattify and prevent shine, and color correct. What we love about Jelly Pop Dew Primer is that it does all of that and then some. Not only does it ensure your makeup stays put, it's also hydrating and even boasts ingredients that majorly benefit your skin. So in other words, it's hard-working and multitasking.
Here's how it works: while most primers have a creamy consistency, Jelly Pop has a unique gel texture, which acts like glue to grip foundation, eyeshadow, and even lipstick. What you're left with is a flawless canvas to apply your makeup on — one that'll stay fresh all day long (and if that's not confidence-boosting, we don't know what is!). But the best part is that, while it holds strong, it's also gentle on your skin (a major win for those who may be sensitive). Packed with nourishing ingredients like hyaluronic acid and niacinamide, as well as vitamins A, C, and E, the innovative formula is ultrahydrating and smoothing. Meanwhile, a burst of watermelon extract makes this primer a refreshing summer treat for your senses.
No matter your skin type, wearing a primer — especially in the summer — will help your makeup look its best, which in turn will help you feel your best. But, don't just stop there. Opt for an affordable option that works overtime to keep your complexion glowing — it's a win-win!