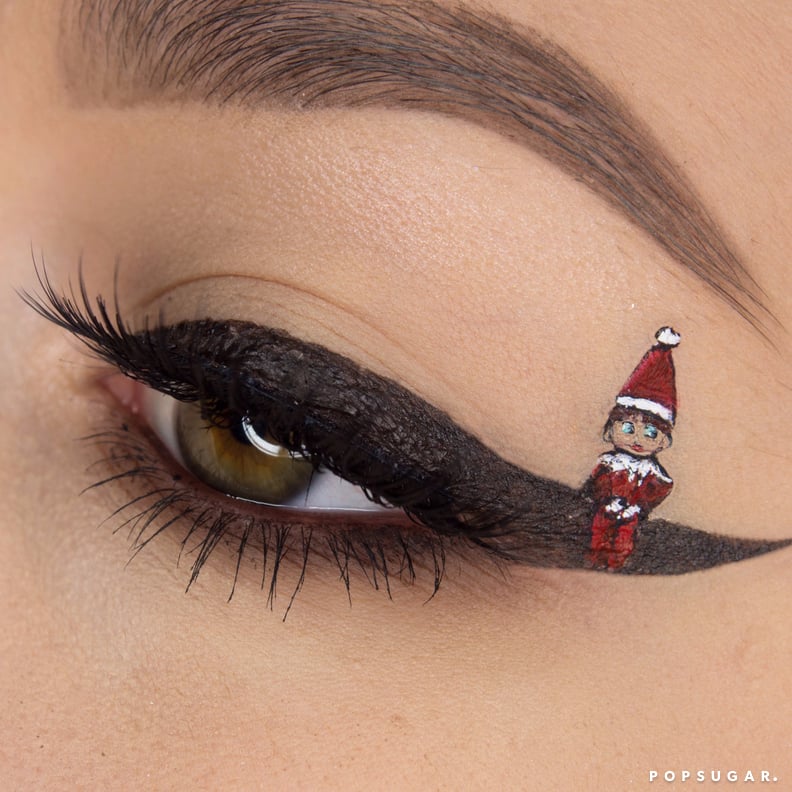 Courtesy of Meghan Rusk
Courtesy of Meghan Rusk
We've already tried candy cane and Tiffany & Co bow-inspired eyeliner art ideas, and makeup guru Meghan Rusk is giving us new inspiration on Instagram. Via her handle phunky_town, Meghan is showing off some serious drawing skills. She has used makeup to create unique Winter and holiday motifs on her eyelids, including snowflakes, bells, bows, and — our favorite — an Elf on a Shelf!
"I love creating liner looks, and the holiday season is my favorite time of the year," Meghan told POPSUGAR via email. "I leave the decorating around the house until last minute to avoid my pets from tearing them down, which bums me out. I decided I would combine my passion for makeup and the love of the holiday season to create fun looks to make up for the lack of holiday decorations around my home."
Obviously we needed to know more specifics about the Elf on a Shelf look. "My family never took part in the Elf on the Shelf activities," she said. "I didn't know what it was until a few years ago when my friends, who have children, posted daily updates on the 'trouble' the Elf has caused around their home. I figured it would be a fun way to spice up a liner look for the holiday season."
Good news is, Meghan says you can totally try these ideas at home! "One tip I have for people who want to try creative liner at home is to keep practicing and be patient!" she said. "There are days where I have to redo my makeup four times to get it right! You will be frustrated at times and want to give up, but don't. Once you nail it, you will be so happy that your hard work paid off." Well, hers certainly did!
Keep reading to see images of all of these festive eye makeup ideas!