Meet Miranda Burnet, the Genius Entrepreneur Behind Flash Tattoos
Temporary tattoos used to be those cheap-looking, kitschy body decorations we sported as kids during birthday parties or teenagers at football games. Flash Tattoos has changed all that. By upping the aesthetic and using the tattoos in place of jewelry, these commitment-free tats have become a major phenomenon and beauty staple at music festivals.
Miranda Burnet, founder of Flash Tattoos, started this project as a hobby that flourished into a booming business — in just under a year! Based in Austin, TX, Burnet spent seven years at a furniture wholesaler working in product development before turning the tattoo gig into a full-time job. Read on to learn more how this metallic, statement-making body art came to be in our exclusive chat with Miranda!
POPSUGAR: What inspired Flash Tattoos? Was there an "aha" moment?
Miranda Burnet: The idea sparked while I was creating mood boards for inspiration on some new furniture projects I was working on at the time. I came across an image of beautiful women applying intricate patterns of 24-karat gold leaf on their bodies in a magazine. Intrigued by these elegant and expensive adornments, I wanted to put a fun spin on couture jewelry to create a captivating line that was not only beautiful but also fun and affordable. My affinity for bold jewelry and accessories was the driving force behind Flash Tattoos.
PS: What would people be surprised to know about you or Flash Tattoos? Do you have any real tattoos of your own?
MB: Probably that I don't have real tattoos! Coming from a creative background, I am constantly exposed to new ideas that I find totally inspiring. It's tough to find a design that I would love to have permanently inked on my body, so no . . . I don't have any real tattoos. I think that's a very common reason why a lot of people don't have a tattoo but love the look [of it]. In my opinion, the beauty of Flash is enhanced by the temporary nature of the tattoos. Each is fleeting, ephemeral — to be gazed upon and enjoyed in the now, before it is gone. Of course, once it is gone, you can always just apply another one!
PS: I've seen a few other metallic tattoo brands on the scene, but you were the original. What makes yours unique?
MB: It's really exciting and humbling to see how excited people were about our product when we introduced it last year, and it's so awesome to think about how Flash Tattoos launched the metallic tattoo trend. Prior to Flash Tattoos, temporary tattoos were typically just a thing for kids to enjoy, but I wanted to create a version that appealed to sophisticated women.
The combination of innovative and original thinking, top-quality materials, and a uniquely modern and refined design sense have made it an immensely popular accessory amongst celebs, stylists, editors, bloggers, and fashionistas everywhere. Another unique angle is that we don't make the Flash Tattoo experience just about the product — it encompasses a lifestyle that we promote through our creative direction, packaging, design, Instagram, and beyond. We enjoy showing the product in context to its surroundings, like where our customers are wearing it and how to style Flash in cool new ways for different occasions.
PS: Any tips or tricks to applying these? What's your favorite way to wear them?
MB: You want to make sure your skin is clean and dry — no lotions, self-tanner residue, etc. You'll also want to avoid putting oil-based products on or near the tattoo once it's applied. Other than that, it really is as easy as just wetting a damp cloth and applying it to your skin!
My personal favorite way to wear Flash is layering bracelets together, and I love the "wanderlust" or "salt. sea. sand" tattoos (from the Goldfish Kiss collection) on my collarbone.
Every once in a while, I'll rock the Dakota eyebrow design since it makes such a glam statement. It's so exciting to see all the creative ways our customers style their Flash — there's no wrong way to wear it, and to each their own!
PS: I know it's only August, but Halloween is already in full swing on Pinterest. Any ideas you can share that incorporate Flash Tattoos?
MB: It really depends on the pack, but we love the idea of taking designs from the Sofia and Goldfish Kiss collections and dressing up like a mermaid. We collaborated with L*Space to create a mer-girl look for the runway show during Fashion Week in Miami this year, and we were obsessed. We've also seen people take the lightning bolt tattoo and pretend to be Harry Potter!
Writer's note: In addition to creating these gorgeous (yet fleeting) looks, Miranda is giving back. Many of the collections have charitable components. For instance, the Goldfish Kiss H20 collaboration gives five percent of the proceeds to Waves For Water, an organization dedicated to providing clean drinking water in impoverished areas. The henna-inspired Sheebani collaboration donates five percent of the proceeds to The Miracle Foundation, which benefits orphanages in India.
And in case you want a no-costume costume, use these photos as inspiration for Halloween!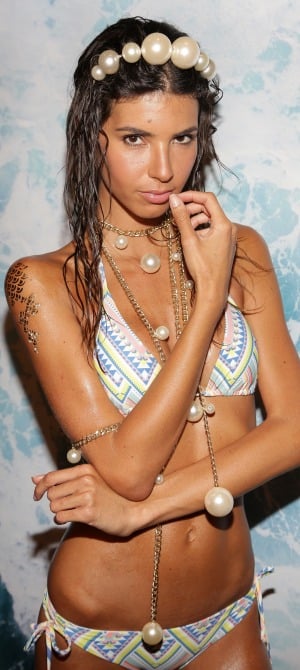 Mystical Mermaid
Flash Tattoos collaborated on a mermaid girl look for the La Mer show at Mercedes-Benz Fashion Week in Miami. Source: Flash Tattoos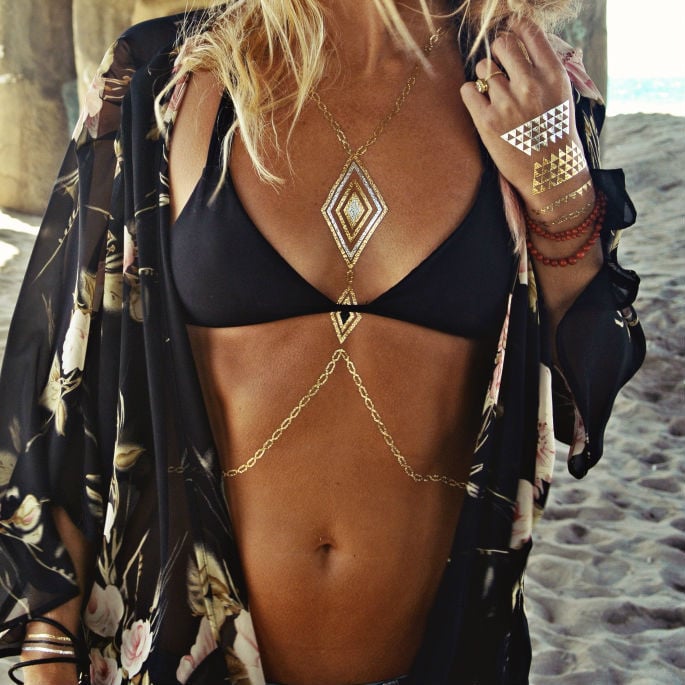 Beyoncé
Beyoncé is known to wear a few body chains — you won't have to worry about pulling and tugging at this one all night! Source: Flash Tattoos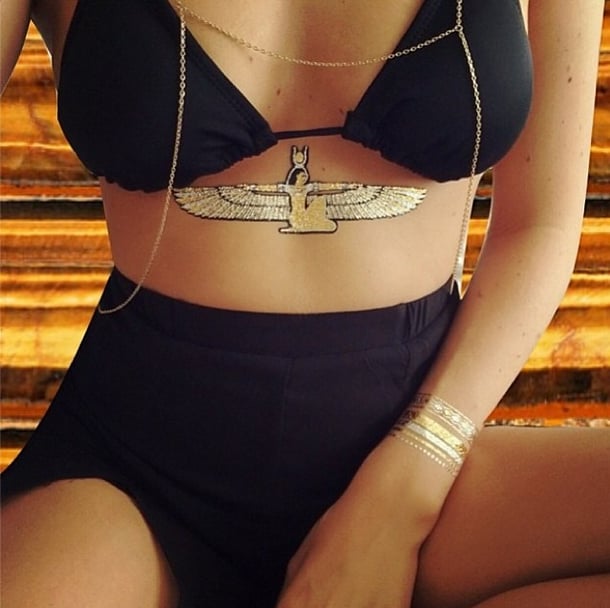 Rihanna
Rihanna has her phoenix tattoo right underneath her breasts. This one won't hurt and comes off with some water and oil! Source: Flash Tattoos