Give Your Face a Bubble Bath With GlamGlow's First-Ever Sheet Mask
Unless you live in a cave, you've seen the viral bubble mask photo that had every beauty junkie on the internet saying, "NEED." Now, GlamGlow is answering our prayers with a new bubble mask of its own and get this — it's a sheet mask (the brand's first!)
Formulated with green tea, bamboo, and charcoal, GlamGlow's Bubblesheet deep cleanses and detoxifies the skin in just three minutes using 3D bubbles. It reinvigorates the skin with a tingling feeling and is so effective it can even remove makeup. The brand suggests using it once a week but, not gonna lie, it seems so fun that we're tempted to put this on every freakin' day.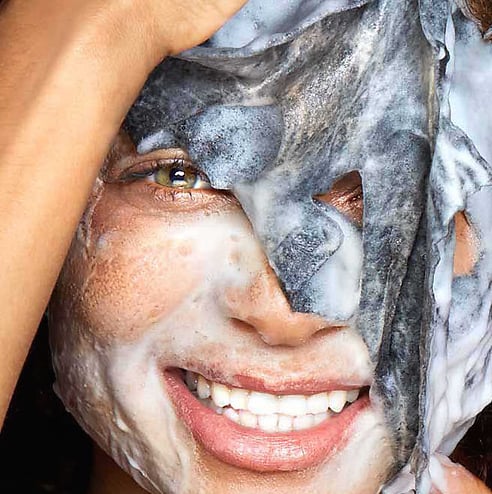 Bubblesheet is part of a whole set of new cleanser launches from GlamGlow: Super Cleanse ($32), the popular cream-to-foam cleanser now updated with charcoal technology, and Galactic Cleanse ($36), a meteorite powder-infused jelly balm cleanser that melts away makeup.
Bubblesheet and Super Cleanse are both now available on glamglow.com and sephora.com, and Galactic Cleanse drops August 24.