13 Halloween Makeup Ideas That Somehow Look Even Better With a Face Mask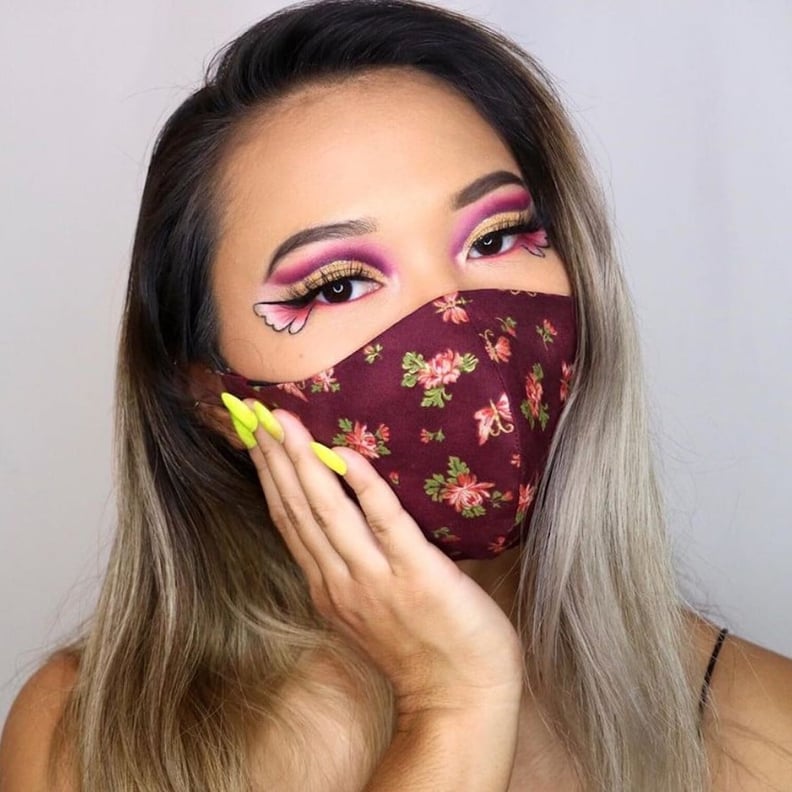 As POPSUGAR editors, we independently select and write about stuff we love and think you'll like too. If you buy a product we have recommended, we may receive affiliate commission, which in turn supports our work.
There's a fairly good chance we'll still need to be wearing facial masks on Halloween, but that's OK. There are plenty of ways to incorporate a cloth mask into your costume. After all, wearing one on Halloween isn't anything new, just the reason for wearing one this year is. Instead of doing it solely for aesthetic purposes, wearing a face mask this holiday will help keep you safe from COVID-19, too.
Many Halloween makeup ideas are already centered around wearing a mask — simply layer a reusable one under the existing part of your costume to protect yourself and others against the virus — and the ones that aren't can easily be adapted to include it. Looking to be a skeleton this Halloween? Wear a skull-printed mask or try drawing your own skull design on a plain white fabric mask. If anything, look at it as an excuse to only have to put makeup on the upper half of your face.
Ahead, we're sharing a few Halloween makeup ideas that can easily be worn with a face mask.
Cat Halloween Makeup With a Face Mask
Make your classic cat Halloween makeup look safe by adding a leopard-print mask. Try the Face Mask Leopard Print Mask ($9) instead of drawing on a cat nose.
Hip Hop-Inspired Halloween Makeup With a Face Mask
The silver rhinestone mask adds a level of glam to this hip hop-inspired Halloween makeup. You can make your own with hot glue and rhinestones from a craft store or try the Bling Face Mask ($10).
Vampire Halloween Makeup With a Face Mask
This vampire Halloween makeup look is great for a last-minute costume idea. It's all about the eyes and a strong brow.
Butterfly Halloween Makeup With a Face Mask
The butterfly eye makeup trend is all over Instagram this year and it will no doubt make an appearance on Halloween, as well. You can create this makeup look using bold eyeshadow colors and liquid liner and match the colors to your favorite face mask.
Rainbow Halloween Makeup With a Face Mask
Bright rainbow makeup will always look cute for Halloween. Instead of applying rainbow makeup around your mouth, opt for a rainbow-printed face mask, like this Rainbow Face Mask ($9).
Pumpkin Halloween Makeup With a Face Mask
Plenty of popular pumpkin makeup looks already cover the lower half of your face so it's easy to adapt for this year's festivities. Focusing your makeup application on the upper half of your face and using a face mask on the lower half makes the look even easier to create. If you don't want to draw your own, try the Hot Topic Pumpkin Smile Fashion Face Mask ($13).
Blood Tears Halloween Makeup With a Face Mask
You can create these blood tears and smokey red eye makeup with all drugstore products from NYX Professional Makeup.
Sleeping Beauty Halloween Makeup With a Face Mask
Put a modern spin on your traditional Disney princess makeup look this Halloween with bold eyeshadow and a matching face mask. This pink makeup and rose-printed cloth mask are reminiscent of Sleeping Beauty.
Pineapple Halloween Makeup With a Face Mask
Creating a cute fruit-themed Halloween costume just got a whole lot easier. By focusing the design on your eyes, it will really make them pop.
Skull Halloween Makeup With a Face Mask
Euphoria Halloween Makeup With a Face Mask
Give your Halloween look a splash of color and shimmer. A tie-dye mask to match will certainly pull the look together.
Ghoul Halloween Makeup With a Face Mask
If you lean more toward dark and spooky for Halloween costume ideas, this look is definitely worth a try. Plus, it's super easy to find a black and white mask to match.
Ghost Halloween Makeup With a Face Mask
Try this cute ghost-makeup idea if you want something simple that will still get you in the Halloween spirit. Get this Ghost Face Mask ($15) to complete the look.