Love it or hate it, there's no denying the buzz that surrounds Hulu's new holiday film Happiest Season. I'd need several hours and the help of a therapist to unpack the drama between Abby and Harper (played by Kristen Stewart and Mackenzie Davis) that left viewers so divided, but I hope we can all agree on one thing: we've got to talk about the hair. From Abby's platinum lob to Riley's sexy blowout to Harper's wig (yep, it's definitely a wig), I knew I needed to get the details on these looks from the source: the film's key hairdresser, April Schuller.
Schuller, who previously worked with Stewart on Charlie's Angels, told me she aligned with director Clea Duvall's vision for this project. Schuller embraced the "openness to be creative" that came with the opportunity and paid careful attention to the script when crafting meaningful styles for each character. Her designs take the tiniest details into account, resulting in looks full of hidden meaning.
"Clea, from the beginning, stated that she wanted [Harper's family] to be this 'brown canvas,'" Schuller explained. A simple glance at the brunettes filling Harper's childhood home and you'll understand why Abby stood out in stark contrast. When Abby came in, "she was already an outsider having this bright blond hair," in addition to harboring the secret of her and Harper's relationship. Schuller took Stewart blond and added length to her look at the time of filming, ensuring she provided that onscreen shock against Harper's family.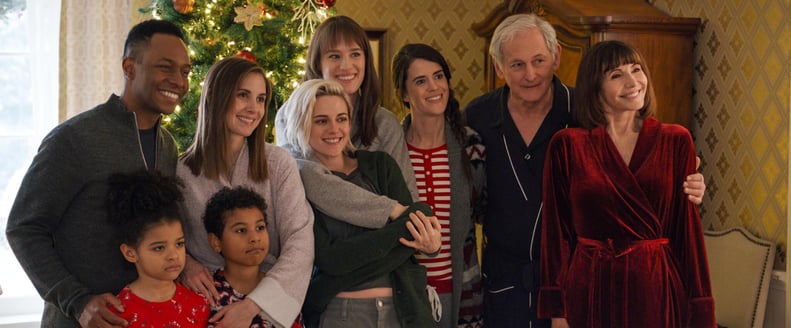 Yet, Abby wasn't the only one whose personality was made manifest through her hair. Harper's sisters, Jane and Sloane's (Mary Holland and Alison Brie) distinctive styles brought their inner selves out into the open. Schuller took the idea of an "uptight and rigid" Sloane and gave her a "really sleek, refined, and put-together" lob that expressed her tense nature. On the other hand, Jane's look needed to signify her "very unique" role in the family. Schuller wanted Jane's "lovable, fun, quirky" nature to "come out in her hair" using braids, accessories, and more carefree styles.
When Davis showed up on set, she couldn't have been further from Harper's brunette shade and bangs. She had a chin-length blond bob that stylist Tina Fabulic covered with a wig to give Harper the desired "conservative look" and length.
"With Harper, she's more natural before she goes home, when she's with Abby," Schuller said. "That's supposed to be her true self. When she goes home she's trying various hairstyles." Harper's lack of consistency signifies her long-held insecurities and her deep desire to be perfect for her parents: "She's always trying to get her mother's approval, so she's making her decisions on her wardrobe, and her hair, and her makeup trying to not be nitpicked."
It may not have been a therapy session, but these explanations certainly answer some questions. Now BRB while I rewatch for the fourth time to try and catch some of these hairstyle nuances.