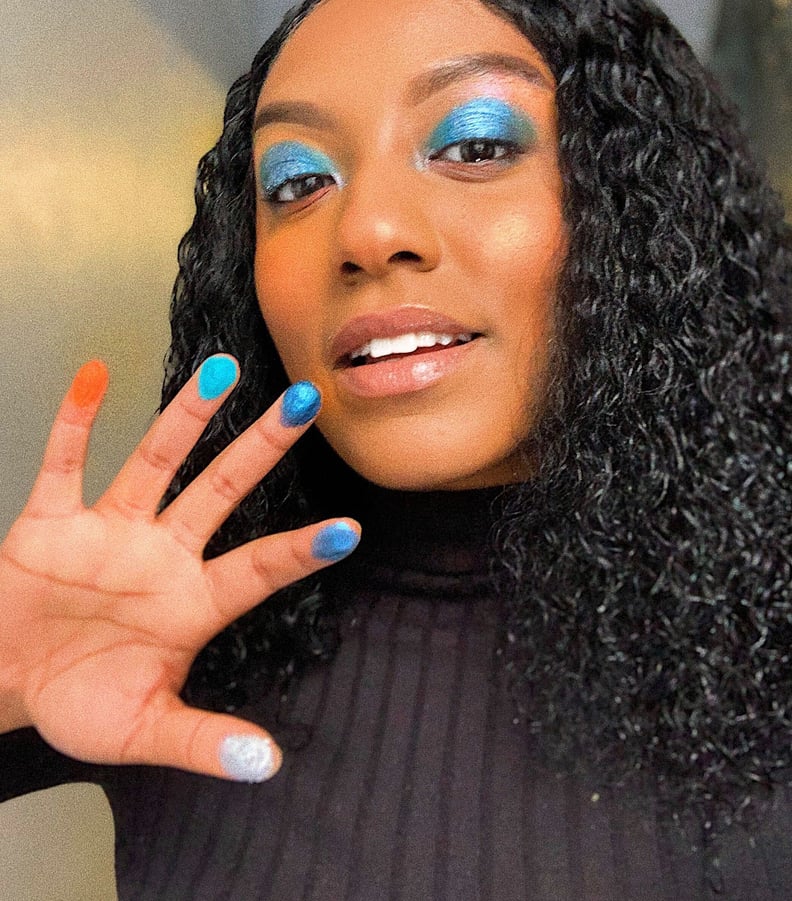 POPSUGAR Photography | Rachael Edwards
POPSUGAR Photography | Rachael Edwards
As POPSUGAR editors, we independently select and write about stuff we love and think you'll like too. If you buy a product we have recommended, we may receive affiliate commission, which in turn supports our work.
Last week, I was going through my Instagram and went into a spiral. I promise it wasn't too deep, but I did notice that I've been playing it way too safe when it comes to makeup. Galas, parties, even industry events, and I didn't bother with a lash. Listen, we all have our preferences, but the more I mature and learn about makeup, the more I choose to give myself permission to be adventurous. Playing it safe is not my ball game.
With brightly colored makeup, some of my hesitation comes from insecurities about drawing negative attention to myself — it makes me anxious, but I've harbored that for way too long. It's high past time to break that cycle by trying out fun eyeshadow palettes that give me real-life emoji heart eyes. Lady Gaga's latest from Haus Laboratories — the new Limited-Edition Stupid Love Eye Shadow Palette — did just that. It's like a mirage of looks we've seen from the singer compacted into 18 high-intensity shades. Keep scrolling to see the results.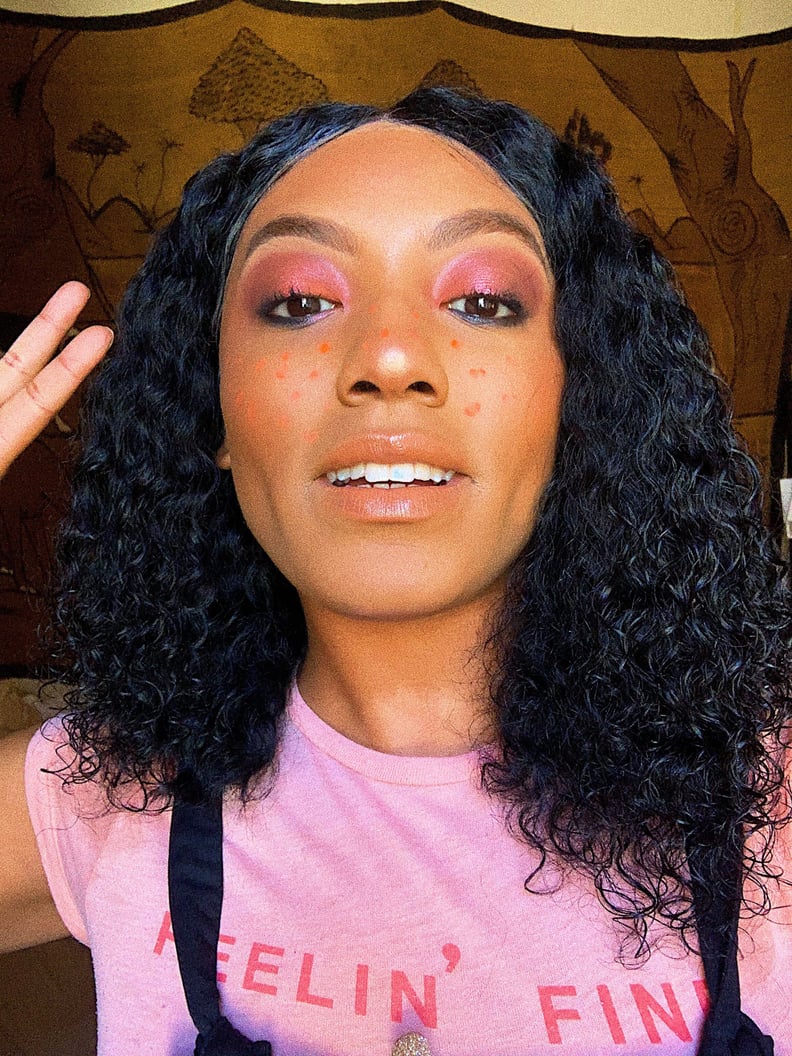 Look #1
For the first look, I wanted to test out the metallics and multireflective shades. After I primed my eyes, I used my middle finger to apply the shade Sour Candy right to the center of my lid. The color swatches a shimmery pink, but as my body heat warmed the shade, it lent a striking coppery color. Though it's metallic, I was pleased that the makeup application was not crumby or blocky. And because I love convenience: I can use my fingers!
For the corners of my eyes, I chose the brown matte shade Stupid Love. It was an effortless blend that warmed up the shimmery edges of that copper shade. I was shook to discover the metallics and mattes were able to work harmoniously together. Nothing's worse than applying different finishes and they don't blend well or compromise another shade. That was not the case here.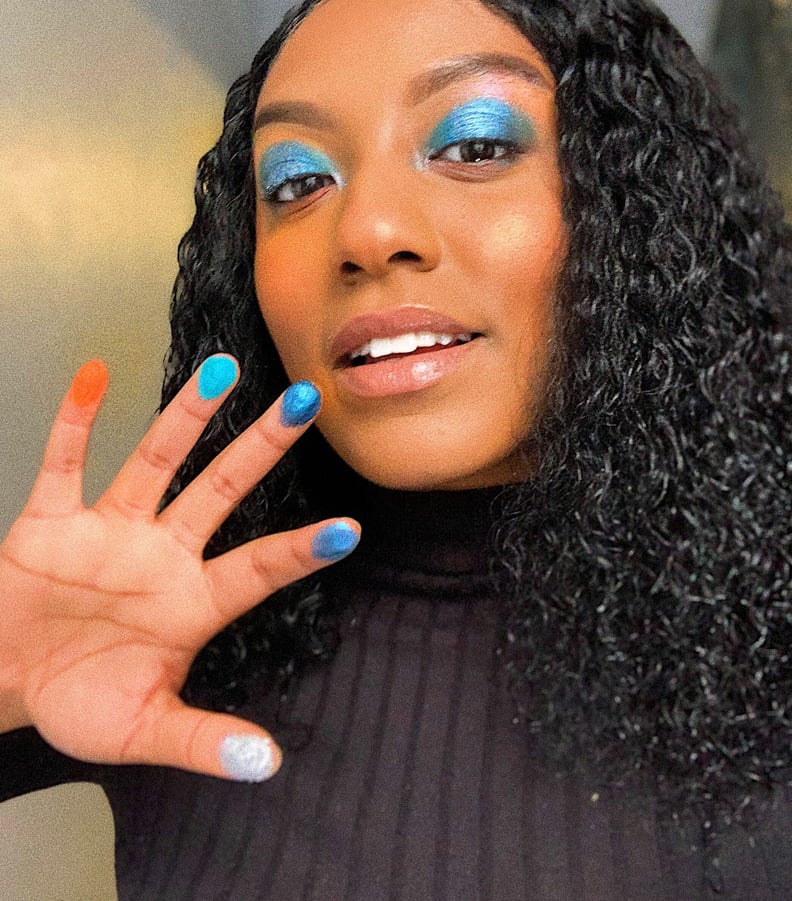 Look #2
For my next look, it was time to get into the blues and whites (*rubs hands together like Birdman*). Before going in, I had to remind myself that it is OK to not have an idea in mind. Palettes should be playful.
I started off using Rain on Me (which you can see here on my index finger). This color is as sheer as they come but has an incredible, multireflective look. You're sure to showstop with that shade alone. On the outer corners of my eyes, I grabbed for the shade Peace (ring finger), blending it into the metallic blue for cohesiveness. When I say I did not use one eyeshadow brush, I mean it. The texture is so silky that it makes application easy for using your fingers. The shades are buildable, so I took the rich metallic blue named Fun Tonight (middle finger) and patted it right on top of Rain on Me.
Metallics can be tricky, but this palette's formula is buildable, making creating looks so easy and fun. I finished off the top of my lids with one more metallic shade (because I couldn't get enough), Free Woman (thumb). The color payoff is great; I only needed a little product, and it went a very long way. To darken my lower lids, I went for Enemy, a matte orange, to brighten up my eyes.