Besides your spouse ( . . . and family and BFFs, of course), your wedding day hairstylist and makeup artist are two of the most important people you'll have by your side before exchanging vows. Not only do you want professionals who understand and can execute your vision, but it's also important to find artists you feel comfortable around and trust.
After doing extensive research — 10 years of writing in the beauty industry helped! — and forming tight-knit relationships with talent, I found the perfect team for my own nuptials. Because I couldn't have been happier with my wedding day glam squad, I spoke with them to get advice on how everyone can have a positive experience.
Before you start your search, know this: hairstylists and makeup artists who work with brides are of a rare, special breed. Not only do they love working in high-pressure environments, but the best ones also know how set the tone for a fun, relaxed day. I learned quickly throughout my trials that energy is almost as important as skill.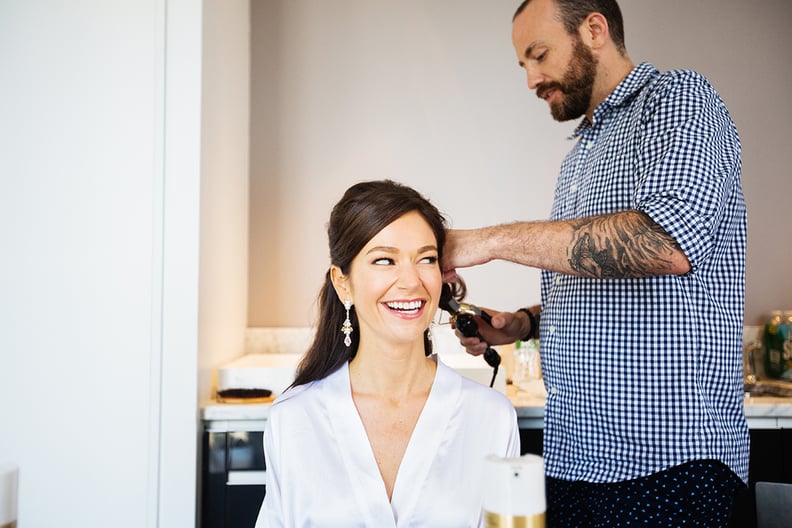 Start With Referrals
Chances are, you know someone (or have a friend who knows someone) who recently got married in your area. Referrals are your best bet when trying to find a wedding day hairstylist and makeup artist.
Unfortunately, there's no mega online bridal database that lists "The Best Of" in each state, but you can start with Google.
"Make sure to research 'bridal hairstylist' and 'bridal makeup artist,' so you find good talent that loves working with brides," commented Liam Carey, who was the hairstylist for my big day and is the owner of Broome and Beauty in New York City. "For many talented artists, weddings just aren't their thing," he said.
If the talent you find is eager to work with brides, they'll have some sort of online presence that showcases their work so you can get a feel for their style. They might even have some press, which establishes credibility as experts in this arena.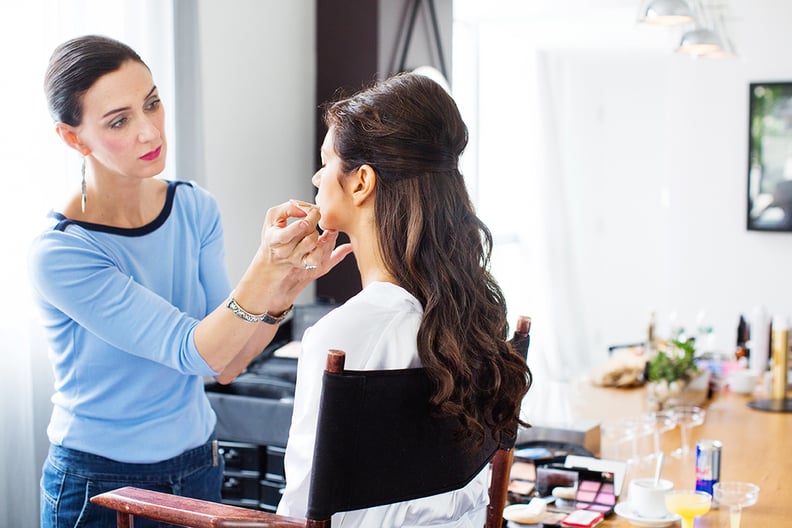 Schedule Pre-Interviews
"A simple phone call before a trial will show you if the person you're interested in working with is punctual (a wedding day must), and give you a feel for their overall energy and enthusiasm about working with you," explained Maribeth Madron, my bridal makeup artist and global brow expert for Maybelline.
Besides skill and an understanding of your vision, professionalism, trust, and personality are major players when it comes to finding your nuptial beauty pros. You can save yourself time and money by scheduling calls with the talent you're interested in doing trials with before booking them. This way, you also can get logistics like availability and pricing out of the way, so you can use the time at your trial to focus solely on the true art.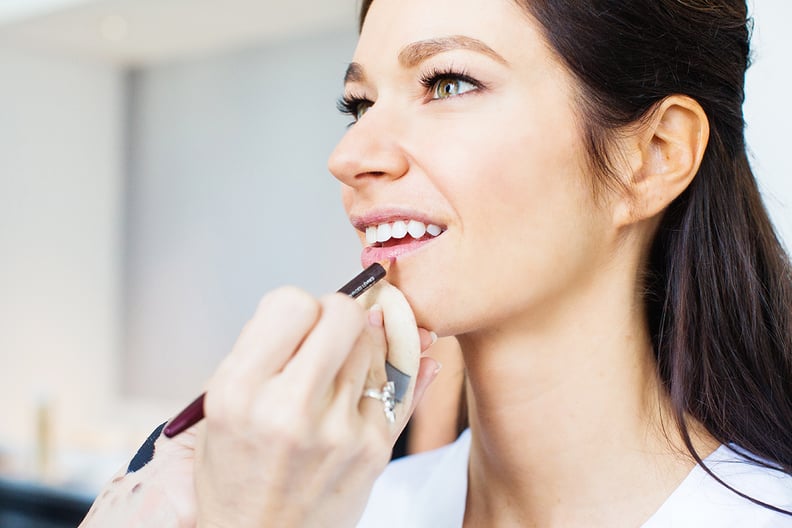 Book Your Trials
According to Madron and Carey, brides book an average of two to three hair and makeup trials before deciding on their wedding day artists.
"If you live in a big city, booking your trials a year in advance isn't ridiculous," commented Madron. However, if you're from a small town, you can wait to do your trials until about six months before the big event. If possible, try to schedule your beauty test when you have a party or fancy dinner to go to that evening. Most of the time, trials aren't free, so you'll want to get your money's worth!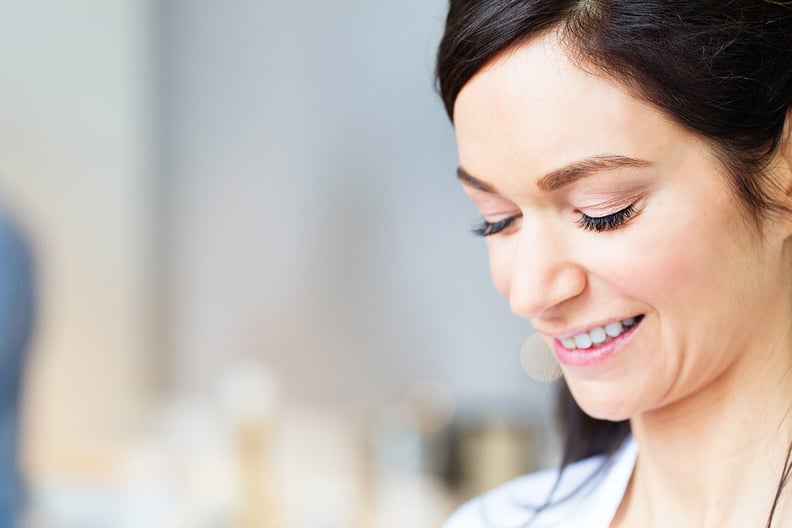 Prepare For Success
"The biggest mistake brides make when doing a trial is in what they wear," explained Carey. "I've had brides come in for their trials wearing bulky turtlenecks and it just doesn't make sense, because the look doesn't translate well."
It's imperative for both hair and makeup trials that you wear a button-down blouse the color of your dress. This way, you have ability to slide it off your shoulders and mimic your gown's neckline. This will help you get a feel for the complete look.
Planning on getting a spray tan before your wedding? Get one before your makeup trial, too, but opt for a golden glow over a bold Miami tan, which could look dated or severe in photos. By booking spray tans before makeup tests, it'll help you nail down your bridal tanning specialist, as well as give artists a sense of your day-of complexion.
Most brides don't know how to articulate exactly what they want their hair and makeup to look like for their wedding day, but the old adage is true: a picture says a thousand words.
"I ask brides to bring in photos of when they felt their prettiest so I can understand what they mean when they say things like 'natural' and 'dramatic,'" explained Madron. "To some, natural means Kardashian contoured and to others, it's understated." I opted for a ballet-inspired look full of peach and bronze tones that simply accentuated my features.
For your stylists, it's essential that you bring in your veil or any hairpiece you may be wearing, along with extensions if needed. Carey recommends using human hair clip-ins if you plan on wearing your hair half up/half down to create the illusion of thicker, fuller hair. (I used tons of clip-ins!)
For both trials, don't forget to bring your bridal jewelry, a picture of your dress, photos of your color palette (flower choices work), and inspirational images pulled from red carpets or Pinterest. These will all help your specialists craft the perfect look for you.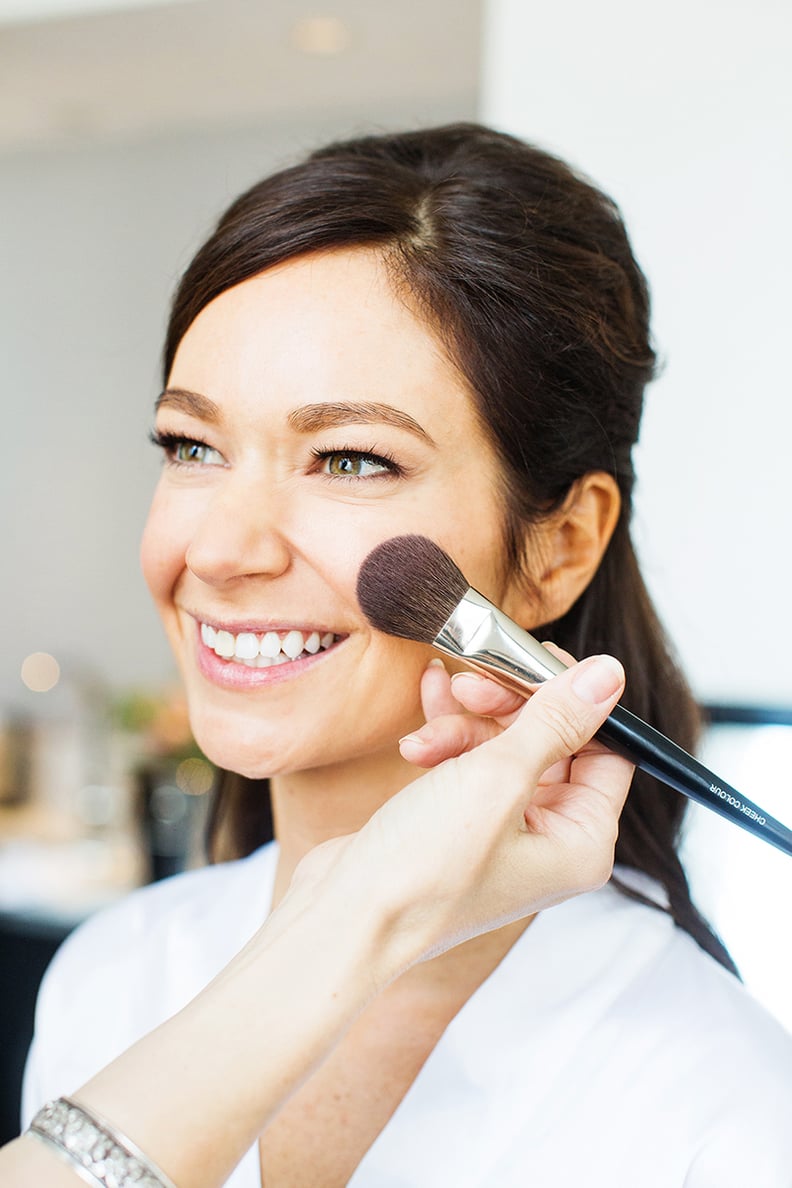 Have an Open Mind
"Your trial acts as a blueprint for your wedding day, but things change," said Carey. "You need to leave room for the unexpected and let go of some control."
Some brides know exactly how they want their hair and makeup to look and others are unsure, but either way, your beauty tests should be a collaborative process between you and your artists. After leaving your appointment, you'll know you found the right expert when you trust their judgment and are confident with their talents.
When doing your makeup trial, know that the color palette may be tweaked a bit on your big day depending on the season and your skin tone (after all, your wedding is still six months to a year away), so instead of seeking the exact brand and color names of products being used, focus on skill.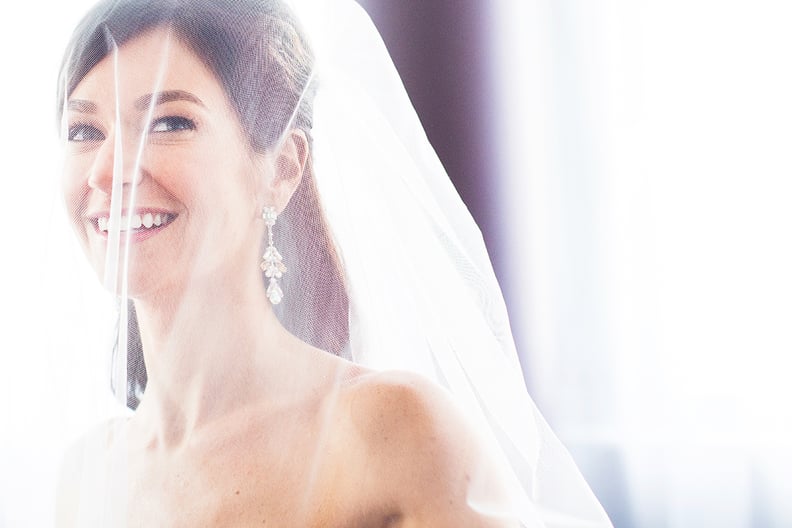 Test Out Your Look
Post-trial, live in your look for the rest of the day. Take pictures of your hair and makeup not only for future reference, but also to see how they translate in photographs. Those snapshots may even convince you to use hair extensions or go a little less dramatic with your eye makeup on your wedding day.
Test out your makeup in different lighting, too. "When looking at celebrities on a red carpet, their makeup looks perfect, but as soon as they get inside award shows, most look washed out," Madron stated. Your bridal makeup should not only last without touch-ups (except lip color), but it should translate effortlessly from day to night, outside and in candlelight.
I was fortunate enough to have had long-standing relationships with Madron and Carey, so the vibe on my wedding day was fun, pretty calm, and full of positive energy. When making your decision on who to book for your bridal glam squad, seek that effortless connection.
On the day of your ceremony, the members of your bridal beauty team are the ones protecting you from your overcaffeinated photographer, chatty mother-in-law, and anxious bridesmaids. Most importantly, though, they're going to help you feel and look your most beautiful on one of the most special days of your life.