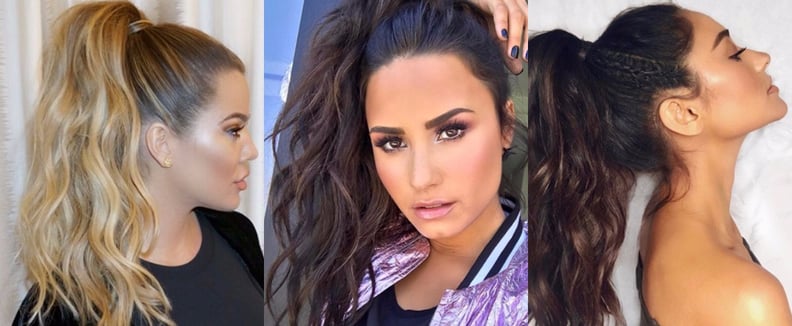 Instagram | justinemarjan
Every editorial product is independently selected by our editors. If you buy something through our links, we may earn commission.
While ponytails are a signature hairstyle for lazy days, they can also make an elevated, powerful look. It's all in the execution. If you're looking for inspiration, look no further than celebrity hairstylist Justine Marjan, the queen of ponytail porn. She's the master of a textured, voluminous high ponytail and has done the look on countless clients including Khloé Kardashian, Chrissy Teigen, Shay Mitchell, and Demi Lovato.
"A great ponytail is all about the profile," Justine told POPSUGAR. "You want to make sure that when the hair is completely pulled back from the face that your side profile looks amazing."
As we've seen with the half-updo trend, placement is key for pulling off the hairstyle. "I suggest using the nose and cheekbones as a guide for high ponytails and lips and jawline as a guide for lower ones," Justine said, "Think about if you were drawing a straight line back from your jawline and cheekbone, in the same angle. Where they land at the back of the head will be your most flattering placement."
For example, take a look of this shot Justine took of her work on Shay Mitchell. From the side, the ponytail aligns perfectly with her cheekbone.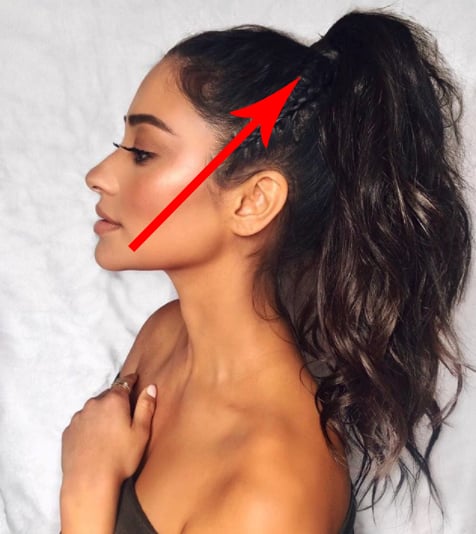 Justine also filled us in on how she gets that perfect "messy" texture in her ponytails. First, she uses a thickening spray, like Oribe Maximista Thickening Spray ($38) or Tresemmé Beauty Full Volume Touchable Bounce Mousse ($5). Then, she blow-dries hair with the nozzle attached, making sure to dry the back of the hair upwards and the front of the hair back ("so that you will have clean hairlines," she explained). Justine then preps hair by styling it with waves using the GHD Soft Curl Iron ($200) before pulling it up.
Next, Justine uses Ouai Texturizing Hair Spray ($26) and spritzes it on a brush. Then, she gathers the top half up into a ponytail. She adds the bottom half with another elastic. Justine does this method instead of gathering hair all at once because it "creates a more stable base for the ponytail" and "creates more lift."
To finish, she back combs the ponytail with a Mason Pearson brush ($150) "for added fullness." Voilà!
Now, excuse us while we indulge in more #ponytailporn. Yes, we're making this a thing.