Despite trying a variety of other professional beauty treatments over the years, I had never gotten a spray tan until I was 23 years old. Like any other person trying something new, I texted my best friend (who's also a beauty editor) to ask her about the general protocol leading up to my appointment — when should I shower? Do I need to exfoliate before? Then I asked, "How naked do I get?," and she responded, "Like fully naked."
I can't even begin to explain how many times I've asked that question, if not out loud to a friend then to myself in my head, before a beauty appointment. I'm the type of person who wants to go in with all of the details so I know what to expect, but for so many beauty treatments — be it for laser hair removal, a facial, waxing, a massage, or a spray tan — no one really tells you just how undressed you should prepare to get.
While the general consensus will always be "get as naked as you feel comfortable with," you probably don't want to get too naked if you don't have to . . . you know what I mean? Don't get me wrong, in these types of pro appointments, they have seen it all and probably wouldn't bat an eye at you whether you leave your bra and underwear on or not, but still, it helps to know your options.
If you've found yourself wondering the same thing about an upcoming appointment, we asked the experts to answer that burning question for different beauty treatments — so you can feel a little better about baring it all.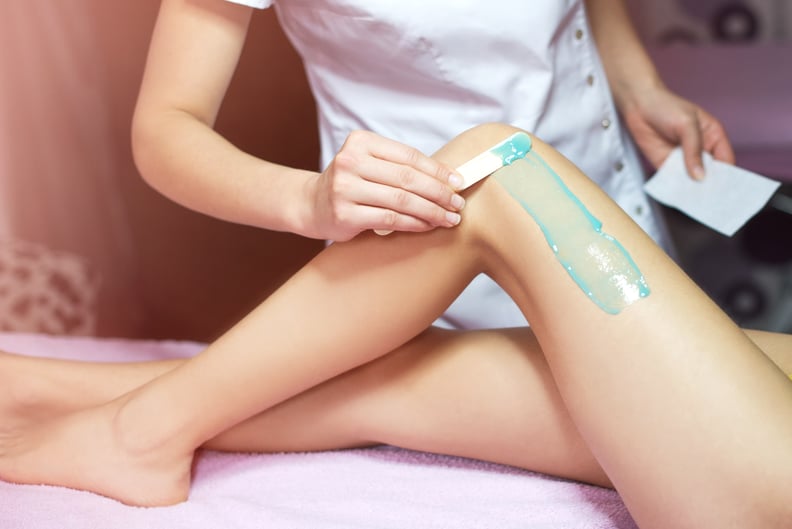 How Naked Do You Get For a Waxing Session?
If you're getting your arms or legs waxed, you can easily keep the majority of your clothes on. (For your armpits, you should expect to take off your shirt unless it's sleeveless, but you can keep your bra on.) It's the more intimate areas, however, that require less covering.
"If you are receiving a full bikini or a Brazilian bikini wax, you want to go ahead and take any underwear off," said Gina Petak, European Wax Center's education manager. "To get the best results with all the hair removed, you don't want to have anything in the way of your wax specialist and the waxing service." For a bikini-line wax, you can keep your underwear on, but you may be asked to move it to the side at some point.
For these types of treatments, Petak recommends wearing loose dresses that can easily be pulled up or comfortable shorts (and breathable cotton underwear to avoid irritation after the fact) that can be taken off easily during the appointment.
"Don't worry about being modest; our wax specialists specialize in waxing, and this is what they do," she said. "Our centers see thousands of guests weekly, and the Brazilian bikini service is our number one service."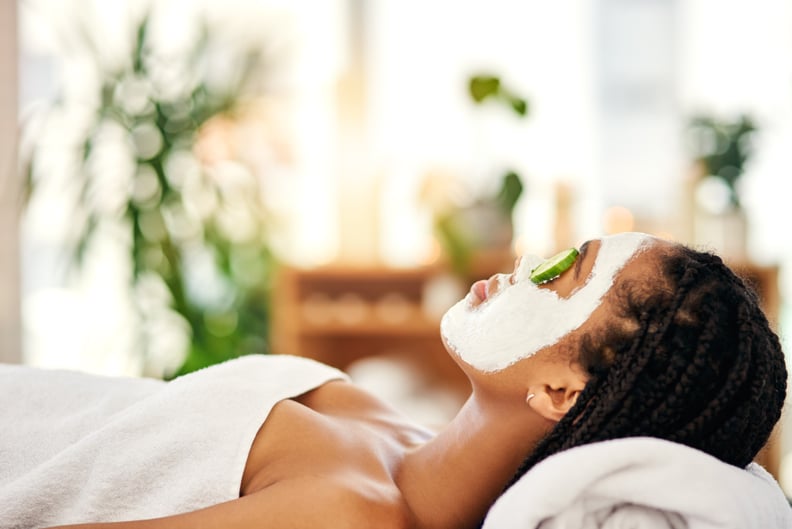 How Naked Do You Get For a Facial?
A facial is easy, right? It's on your face, so there's no need to get undressed — but that's not always the case. "[Facialist] Joanna Czech famously said that your face starts at your nipples, and as hilarious as it sounds, it's true," said Sofie Pavitt, celebrity aesthetician and OleHenriksen brand ambassador. "The decollate is as sensitive and delicate as the skin on your face, so I always want to treat that area. I provide robes at my studio, which keep my client comfortable and gives me access to the decollate, neck, shoulders, and back as well as the face."
If you're in a private room, you may be asked to lie under a towel or put on a robe. That means you can take off your shirt and your bra (if it's not strapless) if you're comfortable with that.
At facial bars, where you're likely sitting next to someone else in close vicinity, you should wear a shirt with a low neck like a tank top or strapless top but keep your clothes on. This allows you to experience the full treatment without your clothing getting in the aesthetician's way.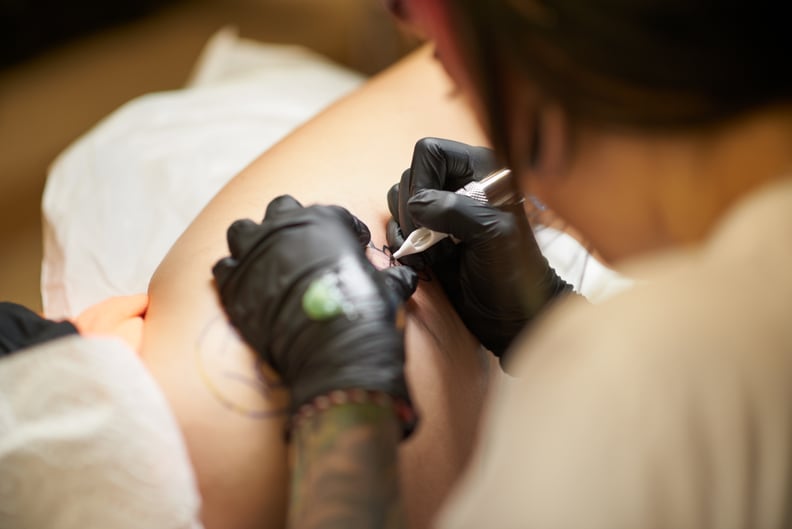 How Naked Do You Get For a Tattoo?
Unlike an arm, leg, or shoulder tattoo, ink on more intimate areas like your hip, side, lower stomach, butt, side boob, or sternum requires less clothes. Because tattoo parlors are often very public, open places, you likely won't want to get completely naked, said Debbi Snax, Atlanta-based tattoo artist.
"I recommend long, loose maxi dresses for tattoos on your hip or side," Snax said. "You can pull it up and wrap yourself in it so you're still covered. We'll give you coverings, like dental bibs, but we can only do so much. It's better if you have something flowy on."
For side boob, sternum, or chest tattoos, she recommends loose shirts, camis, leotards, and deep V-neck tops: "Things we can lift," she said. "If it's giving you an impression on your body, then it's too tight and you shouldn't wear it."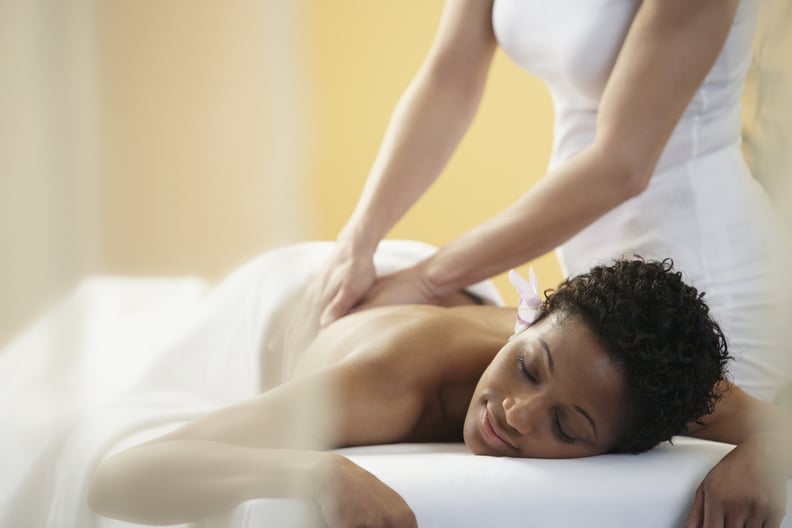 How Naked Do You Get For a Massage?
Of all the beauty appointments out there, you can expect to get the most undressed for a massage — but don't worry, you'll still be covered during the treatment.
"As a full-body massage is targeting every part of your body, some level of nudity is required," said Jason Goldberg, founder and CEO at SpaSeekers. "You'll be asked to remove your clothing apart from your undergarments (unless you want to get fully nude), and then the therapist will drape a towel over your bottom to protect your modesty."
You shouldn't feel the least bit bashful because, again, they're professionals and this is standard. "The therapists are professionals and will ensure you feel comfortable throughout the treatment. If at any point you feel uncomfortable, just let them know — you're in control," Goldberg said.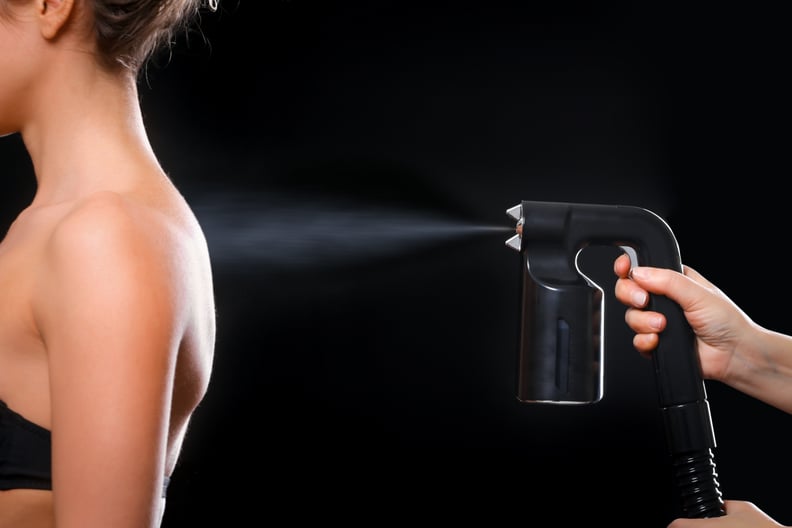 How Naked Do You Get For a Spray Tan?
The beauty of a spray tan is that it allows you to get full-body color without any tan lines — but that's only if you get completely undressed.
"Whatever you leave on, you will have a tan line, so I always recommend going naked," said Sophie Evans, St. Tropez skin finishing expert. But you have options. "Most people wear the tiny disposable underwear provided," Evans said. "This allows the spray tanner to lift up and get rid of any lines if need be. If you leave your own underwear on, this can't happen and will leave unwanted tan lines."
If you do decide to leave on your underwear for the session, make sure it provides as little coverage as possible and you don't care if it gets stained.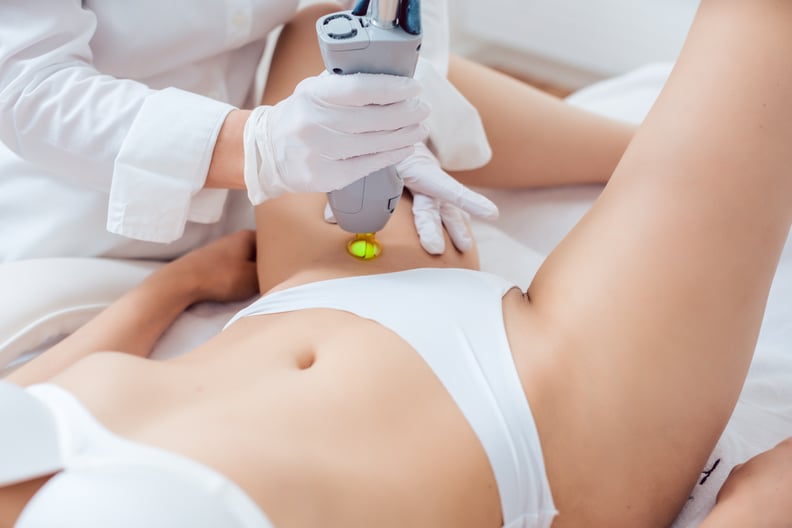 How Naked Do You Get For Laser Hair Removal?
Similar to a waxing appointment, just how naked you should get depends on the area you're getting treated. For an underarm session, you can leave your shirt on as long as the sleeves can be rolled up. "By rolling the sleeve up right towards their shoulder, the underarm area is exposed, thereby allowing the technician to treat the area," said Christian Karavolas, laser hair removal expert and founder of Romeo & Juliette Laser Hair Removal. "Normally, one keeps their bra on."
For your bikini line, you have options. "Keeping the underwear on is fine, as the bikini line covers a few inches outside and a few inches inside," Karavolas said. "One can also wear disposable underwear that could make the treatment much easier." Again, the technician may ask you to pull your clothing to the side during the appointment.