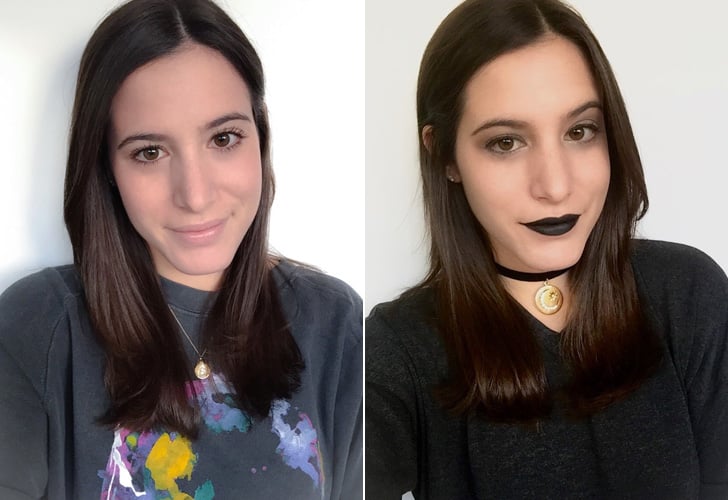 POPSUGAR Photography | Samantha Netkin
POPSUGAR Photography | Samantha Netkin
As POPSUGAR editors, we independently select and write about stuff we love and think you'll like too. If you buy a product we have recommended, we may receive affiliate commission, which in turn supports our work.
When it comes to beauty, I'm not a risk-taker. The extent of my morning makeup routine (seen above on the left) typically consists of a few swipes of mascara and some blush, mainly because I never quite mastered the art of a cat eye or smoky shadow. After a brief encounter with dark lipstick piqued my curiosity, I challenged myself to wear one of the most extreme makeup trends — grunge — for a full work week.
Grunge beauty, which is inspired by the traditional moody style, became popular in the '90s and has made a serious comeback in 2015. There are three basic elements that are essential to nailing it: a matte face, smoky eyes, and dark lips. Once these are accounted for, adding colors or products can tweak the look to fit any unique style or facial feature.
There are almost 200,000 grunge hair and makeup YouTube tutorials out there right now and the hashtag #grungemakeup has been used on Instagram over 12,000 times! One of the most well-known celebrities to adopt the trend is Kylie Jenner, who is known for her signature mauve over-lined lips. Factor the stats in with Kylie's fierce interpretation of the fad, and I was sold. That, along with the drastic difference between grunge and my basic look, made it feel more intimidating — and necessary — to try.
I learned a lot about myself and makeup over the course of the week. If you're considering undergoing a similar challenge, know that if you have beginner beauty skills, applying this type of look is tough. It takes skill and patience, neither of which came easily to me. That said, the physical and emotional transformation that occurred over the course of five days was a pleasant surprise. I went from insecure to confident about my technique, and I'm no longer reluctant to make a statement with my beauty style. Even better, I found some of my new favorite products along the way!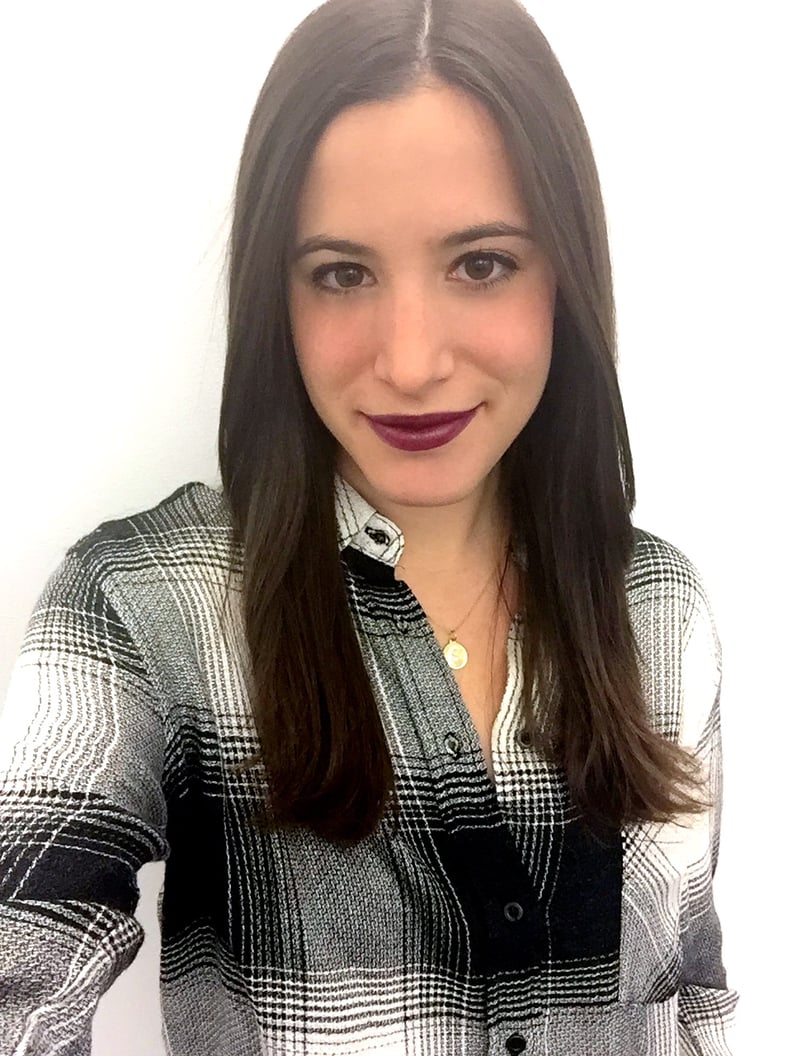 Day 1
Taking baby steps seemed like the least traumatic way to approach this challenge. So on day one, I simply amped up my everyday routine of mattifying foundation, blush, and mascara with a superdark purple lip. "Today will be a breeze," I thought to myself – but man, was I wrong.
The walk from my apartment to my office is about seven minutes long, but it felt like a decade. I kept my head down almost the entire time, convinced that every passerby gave me a funny look. I had never felt so unlike myself . . . but after compliments from co-workers and the stamp of approval from my boyfriend, my apprehension for my dark lip turned into enthusiasm.
One thing that took a little getting used to was keeping up with the high-maintenance makeup. Applying and re-applying my lipstick is something I've never done so frequently in one day, so it was an adjustment to say the least.
Products: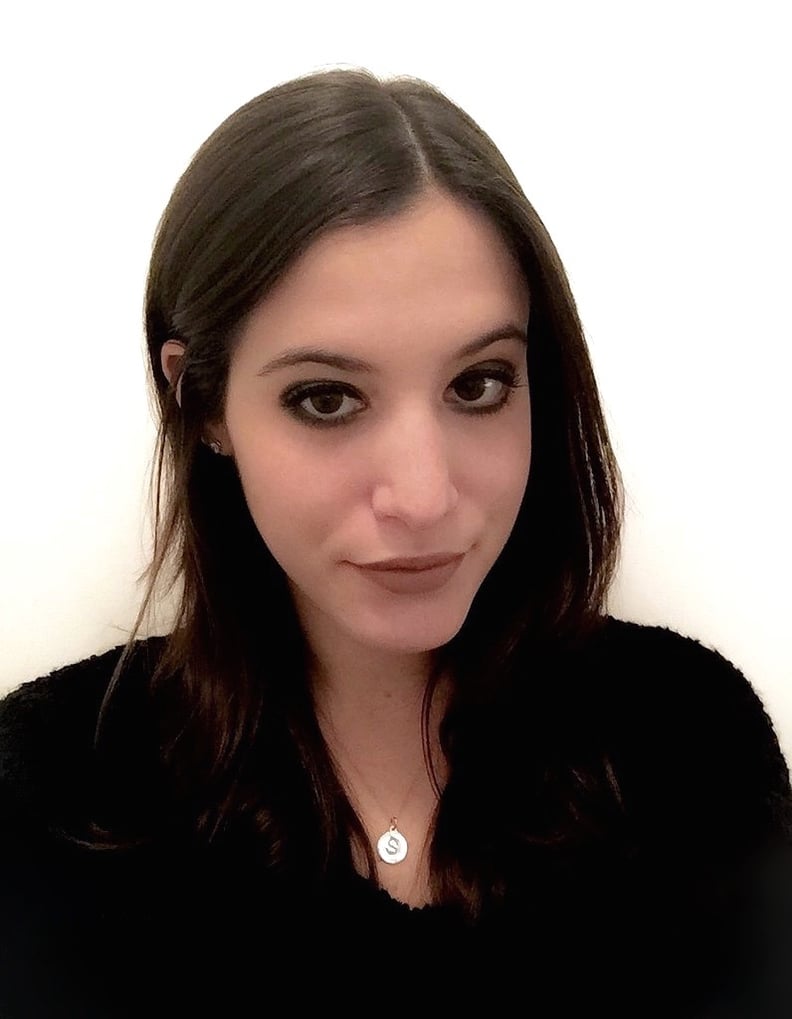 Day 2
On the second day I woke up a full hour earlier than usual to ensure I had enough time to put on my face. I was ready to look drastically different!
I opted for green eye shadow and a nude lip, because I thought the colors complemented each other. Plus, a neutral pout seemed understatedly cool against a bold eye. Though I was anxious about my makeup application skill, this look was suprisingly easy to do. I started with a light, skin-toned base and buffed the darker shadow below and slightly above the lid crease. Then, I applied a thin layer of the same shadow below my eye to add even more drama. It turns out eyeshadow isn't rocket science after all.
I also grew quite fond of the lip color because it wasn't too dark but it still added a level of complexity to my look. It's now a part of my regular regimen: foundation, blush, mascara, and a not-so-boring lip.
Products: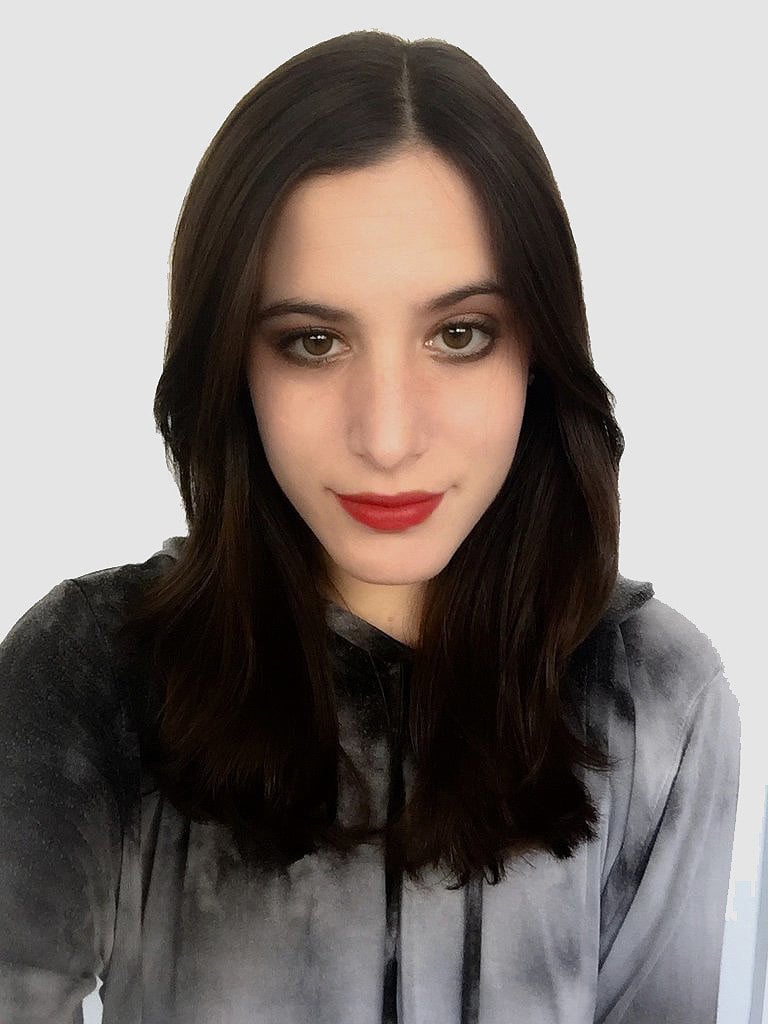 Day 3
The red lip was even more high maintenance than the lip from day one (RIP to the Starbucks cup that became more like a crime scene). I basically avoided eating and drinking, which didn't sit well with me. And something about my makeup combined with the top I wore made me feel like a Cullen. Overall, day three wasn't a walk in the park and because this face didn't look so on trend, I vowed to go edgier the following day.
Products: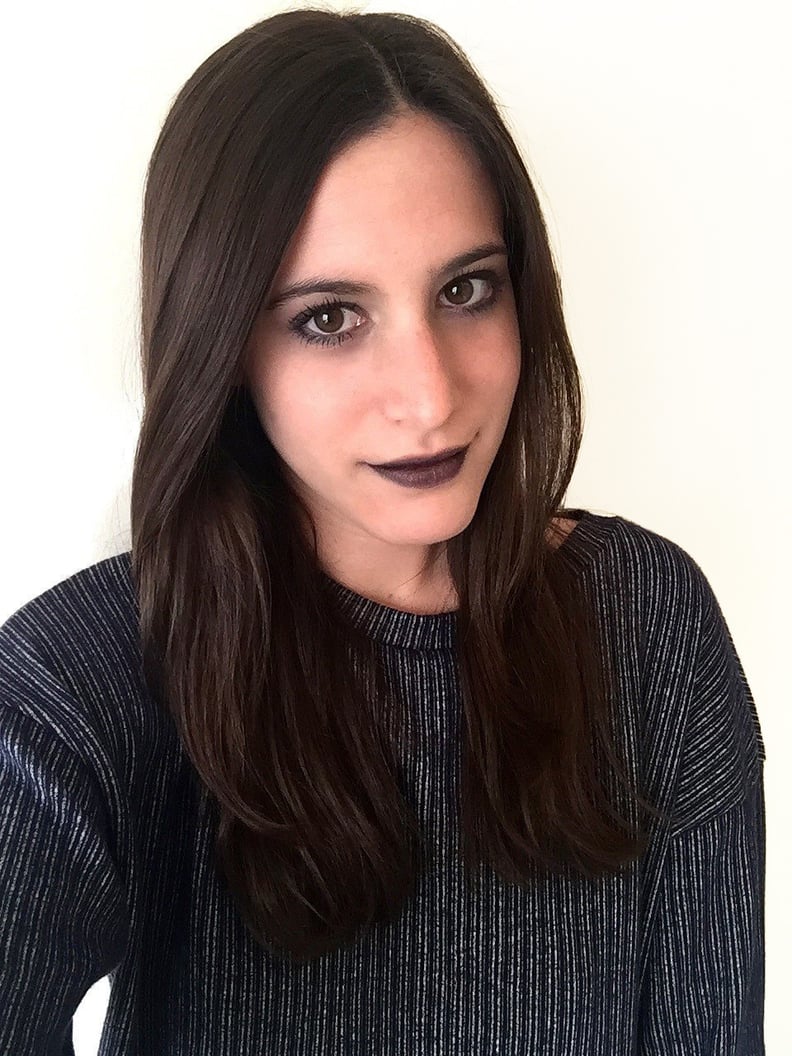 Day 4
On day four, I was laser-focused on taking my makeup to the next level. Naturally, going darker was the answer. There's definitely a fine line between grunge and goth, but executing that difference was tricky. Since my eye makeup turned out more striking than I expected, I made an effort to keep the lip color as sheer as possible by applying a thin layer of black lipstick and adding an iridescent gloss on top in order to avoid veering into goth territory. A classic smoky eye is something I've never felt comfortable applying on myself. With the tools and the shadows I used for the grunge test at my disposal, though, it seemed way less intimidating.
This was by far the most dramatic look I had done so far in the challenge — and in my life. It was also the true pinnacle of this whole experience, because of how surprisingly pleased I was with my makeup. One thing I've always dreamed of being able to do is simply pull off a smoky eye. As a teenager, I would get my makeup done for special occasions and I'd marvel at the artist's work, completely stunned by her ability to make me look so extraordinary. And now, I had finally achieved it.
Products:
Day 5
By day five, I was riding the high that came from waking up to a new look every day and was sorry that it was coming to an end. The challenge had induced an extra level of excitement to a routine workweek. A silver eye and jet-black lip were the perfect way to end the experiment, and I felt so comfortble that I even threw on a black choker for good measure!
I was proud of myself for not only following through with the challenge, but for proving that I'm more capable than I thought I was. My beauty routine is no longer "basic" with this experience under my belt. And I've even found myself gravitating toward edgier products that make me feel sexier and, honestly, cooler.
The beauty world is such a fun place with endless opportunities to play with your personal style. There's definitely a level of laziness associated with why I had never achieved these looks before. A little effort goes a long way, and I went from feeling skeptical and uneasy to completely embracing the new me – and I wouldn't trade that (or my new Kat Von D lipstick) for the world.
Products: